| | |
| --- | --- |
| SOUTH KOREA FACTS | |
| Total area: | 98,480 sq km |
| Population: | 48,846,823 (July 2006 est.) |
| Capital: | Seoul |
| Major language: | Korean |
| Major religions: | Buddhism, Christianity. (47% of Koreans state they have no religious affiliation) |
| Life expectancy: | 72 years (men), 79 years (women) (UN) |
| Monetary unit: | won (KRW). 1 USD/1 GBP/ 1 Euro = 939.380 KRW/1,846.45 KRW/1,253.55 KRW - www.xe.com 27 March 2007) |
| Internet domain: | .kr |
| International dialling code: | +82 |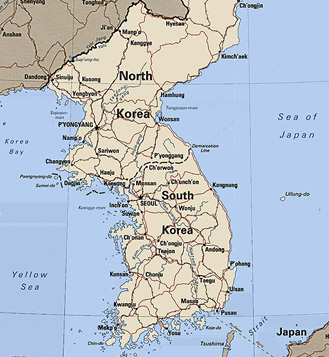 Country name

Conventional long form: Republic of Korea
Conventional short form: South Korea
Local long form: Taehan-min'guk (though South Koreans generally use the term "Han'guk")
Abbreviation: ROK
South Korea is a safe, modern, and generally friendly country that offers some of the best birdwatching in Asia. It does, however, remain something of an "unknown quantity" to many people, even to the swelling number of birders just across the water in Japan. This section, originally written by us for the Korea National Tourist Organization website (go to www.knto.or.kr) aims to provide a few answers to some of the most commonly asked questions by visiting birdwatchers.

As a point of interest this section of an image of Earth's city lights was taken from a full-size photograph created with data from the Defense Meteorological Satellite Program (DMSP) Operational Linescan System (OLS). Originally designed to view clouds by moonlight, the OLS is also used to map the locations of permanent lights on the Earth's surface.
An immediately obvious point to note is the urbanisation that now surrounds much of the Yellow Sea and the almost total darkness of the DPRK (North Korea) compared with the brightly-lit ROK to the south.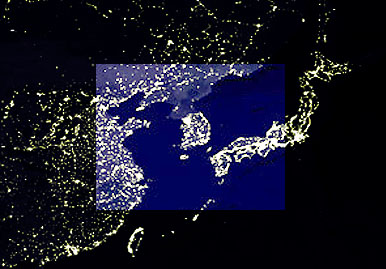 Satellite image of East Asia at night.
Photo © NASA.
When is the best time to visit?

This depends of course on which species you want to see. We've posted a year round calendar, go to "The Korean Birdwatchers' Year", which should help in this respect.
Up to now though, most overseas birders have visited in mid-winter (December-February), with a growing number also coming in late April and May. Local birders also prefer these times, but September is best for Spoon-billed Sandpiper, Chinese Goshawk migration and some species like Pechora Pipit, while October is also a really great month to visit.

Where are the best birdwatching sites?
Korea has no network of reserves or protected areas yet. Birdwatching is therefore very dependent on local knowledge and up to date information, and new birding sites are being found each year.
In general, though, the best tidal-flats and (sadly) reclamation lakes are found along the west coast, the best bays along the south coast, and the best seabirds along the east coast. There are also several outstanding islands for finding migrants.
In slightly more detail, most of the best birding is on the west coast, either on estuaries (Ganghwa, Yeong jeong Island, Saemangeum, and Geum River and estuaries), reclamation lakes (Seosan Lakes and Haenam area), or offshore islands (Daehuksan, Gaego [formerly spelt Kago], and Eocheong Do). However, there are some wonderful areas in the south (Jeju, Suncheon Bay, Nakdong Estuary, Joonam reservoirs and Guryongpo Peninsula), on the east coast, and in the north (e.g. Gwangneung National Arboretum and the Cheorwon Basin in the DMZ). Beyond these places, for more casual birdwatchers, there are plenty of interesting sites within or near Seoul (e.g. Bukhansan and Namsan, the Han River at Beomsam Island ) and other major cities (e.g. Daejeongdae Park in Busan)
Is there anyone who can guide me? Do they speak English?
Birdwatching is still very small scale in South Korea, but growing rapidly (with more than a thousand birdwatchers nationwide by 2002). Governments, both national and local as well as some organisations, have started to try to provide some kind of information service and at a few sites have also started to provide local guiding (e.g. at Seosan, Cheorwon, Joonam and the Han and Geum rivers). In several areas, local birdwatchers, though limited in English, are high in enthusiasm and really enjoy "sharing" their sites with visitors when they have the time. Several such birdwatchers run very attractive websites.
We of course offer guiding ourselves in either English, Korean, or Japanese. For more details go to
Tours/Guiding
.
What about bird books or videos covering the region? Any recommendations?
The best English-language guide covering Korea is the Field Guide To The Birds Of Korea, with text by Lee W-S, Koo T-H & J-Y Park (LG Evergreen Foundation, 2000: ISBN 89-951415-1-4).
As it lacks detail on some species, especially those recently added to the Korean list, this is best supplemented by Japanese photographic guides: one of the best of which is probably the Japan Wild Bird 550 Series, ISBN 4-8299-0163-2, (written in Japanese, with English and scientific bird names).
Fieldguides covering adjacent regions are also useful: C. Robson's A Field Guide To The Birds of South-east Asia (New Holland Publishers: ISBN 1-85368-313 2) is very good, as is the Collins Bird Guide (text by Svensson L & P.J Grant, published by HarperCollins: ISBN 000 219728 6.) which covers European species, many of which also occur in Korea.
There are several English-language videos covering the birdwatching hotspots of Beidaihe and Happy Island in China, at the northern end of the Yellow Sea, which gets a number of the same migrants as Korea, but the only one in English covering Korea itself is our own highly recommended video Birds of South Korea. Details of this highly-rated video, released in 2002, are on this website.
Are there any good websites with information or images of Korean birds?
At present, the only regularly updated, English-language website with information on Korean birds is our own.
There are, however, a number of very beautiful websites, with stunning images of Korean birds, many with extensive galleries and names of birds given in both English and Korean: a word of caution though - image sizes are large, and without Broadband can take a long time to download. Many are on the usual search-engines and are quite easily found.
What about travel to and inside Korea?
South Korea is very accessible, with international airports and also ferry terminals connecting with Japan, China and Russia.
Dependent upon your nationality, visas might or might not be required (please check at your nearest Korean embassy or consulate).
European or US passport-holders do not require a visa to enter Korea, and can remain here 90 days legally.
Most visitors to Korea arrive at one of three points: the Incheon International airport, built on reclaimed tidal-flats 1 hour west of Seoul; Busan International airport in the southeast of the country; or Busan ferry terminal, if travelling between Southern Japan or the Russian Far East and South Korea.
From Incheon International Airport visitors have several choices: car hire, bus or taxi.
Buses run regularly into the central Express Bus terminal in Seoul, connecting to the Seoul subway system, the national railway system, and the nationwide express bus system.
For those wishing to fly, there are some domestic flights from Incheon, but most are from Gimpo – an hour away by a regular transfer bus.
Car hire is easy to arrange, and not too expensive (typically about 70 000 won per day, cheaper rates available if hired by e.g. the week).
Key points to know include:
an international driving license is essential
cars need to be returned to the original starting point;
petrol stations are widespread and generally well-staffed - most will pump the petrol for you (tips/gratuities are not expected). Incidentally, small gifts (eg packets of tissues) are often given to tourists by the staff;
though most cars use regular unleaded fuel, many hire cars use LPG, which can cause problems as there is still a shortage of LPG filling stations in the country. Check before driving away, as it is difficult to know how to ask later!
At Busan International Airport (in the south of the country), limousine bus services run visitors into the main hotel areas (e.g. Seomyeon and Haeundae) relatively cheaply and quickly.
Car hire is also available here.

At Busan International ferry terminal, there are three main options for traveling to and from southern Japan (a popular destination for winter birdwatchers):
the overnight Camellia ferry;
the Beetle hydrofoil service (highly recommended and significantly cheaper than flying, with the added bonus of the possibility of some seabirds on the trip across);
the recently opened Kobee hydrofoil service. (Although marginally cheaper than the Beetle, this service appears not to be as reliable (with engine problems and cancellations confounded by poor communication of these problems in e.g. June 2002) and cannot yet be recommended.
The ferry terminal is close to the Busan subway lines and national railway station.
Roads
The road system is reasonably comprehensive, still rapidly developing, and occasionally troubled by very heavy traffic congestion.
Most roads are signposted in English as well as Korean, and there is now an expressway, with cheap tolls, connecting Seoul in the northwest with Mokpo ("gateway" to the south-west islands and to Haenam) in the far southwest. Travel time, except on national holidays, is roughly 6 hours for the approx. 450 km. There are also expressways from Seoul across to the east coast, and of course between Seoul, Daegu, and Busan (distance approx. 450 km: travel time again about 5.5-6 hours).
Several notes of caution, however:
Some road signs are extremely difficult to follow. This is because many roads are new and are not numbered in a western style, instead changing number and back again irregularly along their course;
many place names look and sound extremely similar to people unfamiliar with Korea (e.g. Ichon and Incheon, Gangrung and Gwangneung etc); some place names are spelt differently in maps and on road signs (due to the recently revised spelling system, changing K to G, P to B, Ch to J etc.);
some roads suddenly lack signs (e.g. on stretches between Incheon and the international airport);
in many rural areas road signs are of course only in Korean.
Driving in South Korea is for the experienced and confident only. Roads can be extremely busy and driving, especially in major cities (especially Incheon, Seoul and Busan), is extremely challenging (go to
Driving in Korea
).
During the major national holidays, such as the Lunar New Year, the roads are extraordinarily congested, with journey times between Seoul and Busan quadrupling to 24 or more hours!
Those choosing to drive are well-advised to:
Avoid major holiday periods;
Buy the most recent road map (available in the bookshops in the international airports);
Prepare the route well, before starting your journey;
Allocate 30% extra time to allow for delays.
For visiting the best, out-of-the-way sites, going by road however is by far the most efficient means of travel.
Rail
Korea has a very efficient, clean, punctual and relatively cheap rail system. The national train system has two main styles, the faster, more expensive Saemaul, and the cheaper, slightly slower Mungunghwa. Traveling one-way between Seoul and Busan for example costs between 21 000 and 30 000 and takes between 5 and 6 hours.
Trains are often full, however, and tickets are best bought in advance.
North-south services are frequent, but services west-east are however rather more limited, though similarly cheap and punctual.
At most main city stations, there are special counters for foreigners, and some staff have basic English skills and are very helpful.
Buses
Buses are often more frequent than trains, are often a little cheaper, and are generally equally punctual. They however are usually not as comfortable or clean, with an air-conditioning system that sometimes blows either too cold or too hot (it is always best to take plenty of bottled water with you, and an extra layer of clothing in summer just in case). On longer journeys, buses typically have only one 15 minutes toilet and snack stop. If roads are busy, buses often travel in excess of the speed limit: occasionally hair-raising and definitely not for the nervous.
Domestic Flights
South Korea has a very good airport system, and there are frequent Korean Air and Asiana flights between major destinations between ca 6:00 am and 21:00 at night. As anywhere, timetables change from time to time.
Tickets are surprisingly cheap, and often can be bought the same day as travel (though not at peak season etc).
Boats
For island birding, ferry boats are essential of course. Please be advised though that inclement weather often leads to cancellations, in the worst cases for several days at a time.
The southwest islands are reached from Mokpo by an extremely efficient hydrofoil system. Reasonably priced (e.g. approximately 40 000 won for the 4.5 hour journey between Gaego Do and the Mokpo south ferry terminal), and punctual, all of the catamarans are clean with friendly and helpful staff.
Other west coast boats are connected by slower, smaller boats, some being more reliable than others! The Eocheong boat, from the Gunsan inner port terminal, is frequently cancelled due to weather or engine problems, and in addition runs at different times each day because of the high tidal range. However, being slower, it allows for longer and closer views of shearwaters or murrelets.
What about accommodation?
South Korea has an abundance of accommodation for visitors, even more so after successfully hosting the 2002 FIFA World Cup.
There are several types of hotel available:
international-standard quality hotels;
tourist hotels;
and the so-called "love motels".
All major cites have top quality hotels: information can be sought on arrival at the airports, or can be booked in advance through e.g. the internet.
Tourist hotels are found in most cities, whether small or large. They tend to charge about 80 000 - 120 000 per night per room, and often have typical hotel services. They are often, however, a little inconvenient for birdwatchers (being found in city centres, away from the best birding areas), and sometimes are very noisy (as they typically have night-clubs in their basement or in adjacent buildings).
Much more strongly recommended for those on a fairly tight budget are the so-called love motels that can be found throughout the country, both in cities and in rural areas.
Although some are not suitable for children or family parties, most are very clean, cheap (about 30 000 - 40 000 won per room per night) and conveniently located.
All have hot water, and under-floor heating in winter that helps to dry out wet clothes etc (an extra tip: as rooms can get very hot and dry, a good idea is to wet some towels and leave them on the floor overnight to help maintain some humidity).
Many have been designated World Class Inns, ensuring a certain level of quality.
Love motels can be identified by their bright lighting, use of the word "Motel" in their name (often written in English), and by a hot water mark.
For birdwatchers using such accommodation it is always advisable also to take a set of sheets and a pillow case, as the bedding customs are different, and sometimes not liked by western people.
What other general things do birdwatchers need to know?
Health
Korea is generally safe and free of major diseases. It is, however, advisable not to drink tap water (bottled water is very widely available, and preferred by many Korean people), and there is also a slight risk of non-fatal malaria in some areas, especially near the DMZ. Check for up to date information and, remember, if you visit these areas is at your own risk. Mosquito repellent and long-sleeved clothing is best if you are planning to visit between June and August.
The main problem facing birders tends to be the sun: it can be very intense and strong sun-block is advised.

Food
Korean food is not to everyone's liking, as it tends to be spicy and fairly repetitive to the western palate. However, it is quite cheap (ranging from about 3 000 won for the cheapest to 20 000 won for specials such as grilled duck). Most dishes are based on rice with pickled vegetables, and a main soup or stew, while others such as the very popular Bulgogi entail grilling meat on metal plates at your own table. Meal times are considered social events, with everybody in the same group eating and sharing the same dishes. Western food is, however, becoming increasingly popular, with pizza shops and burger restaurants a common sight in larger towns and cities. Western-style convenience stores are even more widespread and in many areas, open 24 hours, with a range of food and drinks (including bottled water and beer…a mainstay for many visitors). Vegetarian options are limited, but do exist, and will be specially arranged for tour members etc.
NB: It is considered very impolite to wear outdoor shoes inside Korean restaurants - if you see shoes lined up outside, please take off yours: they'll still be there when you get back!

Clothing
South Korea has a continental climate. It can be very cold in winter (down to -20 C at night or more in severe spells) and hot in summer (up to 30C). Appropriate clothing is of course essential if you are to enjoy long periods out of doors.
Although there are still no bird hides and very few birding facilities, birdwatching in Korea takes place largely from paved or hard surfaces. Even shorebirds are best seen from the shore, so good water-proofed hiking boots are therefore generally preferable to Wellingtons at most times of the year.
Birds are often very shy and easily disturbed, much more so than in e.g. the UK, US or Australia. Birdwatchers are strongly advised to wear greens, browns, and natural colours. A hat in summer and warm woolen head wear and gloves in winter are essential.

Money
The only accepted currency is the Korean won (for current exchange rates go to xe.com).

Foreign credit cards are often not accepted in small towns, shops or out-of-the-way places - as in Japan, many international Visa cards do not work here at all points (some restaurants not others, some motels, not others, some gas stations, not others).
Travellers cheques are no use at all here, and are not worth bringing to Korea.
It is advisable to stock up on Won before arrival or at the airport. If changing money at the airport, count the money carefully before leaving the bank, as mistakes do happen and cannot be rectified later.
Korea is essentially a very safe country, but as anywhere it is not advised to wave money around. Keep money in at least two places: on your own person, and in the safest part of your hand luggage.

Communication
Korean has modern telecommunications, and international calls are easy to make. Note though that Mobile phones from outside of Korea don't work on Korean networks, though mobiles can be hired at major airports etc.
Cyber-cafes (called "PC Bangs") are very common:
rates for usage are very low
the entire Korean system (even in the smallest PC Bang) is high-speed Broadband - a real treat if you've never used it!
Many Koreans smoke, so be aware that the atmosphere in many PC Bangs is normally very smoky.
Electricity
Korean voltages run at 110/220 and 50/60 freq/hz.
For the shape of sockets and modem connectors go to www.voltagevalet.com.
If you've visited Korea and think there's anything we've missed
…please let us know.