Birds Korea's Bird News January 2006
January
In occasional periods of extreme cold many smaller rivers and reservoirs freeze over. Temperatures often drop to -5°C at night, and stay near freezing in the day. Periods of light snow and severe cold are usually followed by milder temperatures, and then severe cold again.
A guided tour can expect about 160 species in 12 days if all the best areas are visited, and winter specialities include Baikal Teal (in often huge concentrations) and Scaly-sided Merganser, Swan and Lesser White-fronted Goose, Steller's Sea Eagle, Relict and Saunders's Gulls and Solitary Snipe! Red-crowned Cranes stand out on tidal-flats at Ganghwa, while White-naped and Hooded Cranes can be found in the south. Huge numbers of ducks and geese fill sites like Haenam and Seosan's Cheonsu Bay. Siberian Accentors can be common. On the southern island of Jeju milder conditions allow White's and Pale Thrushes, Olive-backed Pipits, and Red-flanked Bluetails to overwinter along with Korea's only regular winter Black-faced Spoonbills, and several thousand Mandarin Duck.
January highlights in 2002 included Korea's first Slender-billed Gull at Gwangyang, and in 2003 Chinese Nuthatch and Grey Buntings at several sites in the northwest, and southeast respectively. In 2004 a Long-tailed Shrike was on Jeju, while two Red-crested Pochard (seventh national record) were present at Joonam reservoir mid-month, whilst January 2005 was notable for a Ferruginous Duck and at least two over-wintering White-bellied Green Pigeons.
(The following records are a compilation of our own sightings and records sent in by other observers. As well as being posted on the Birds Korea website(s), selected records are also forwarded to other Korean-language birding websites; records of threatened species are arranged and forwarded to Birdlife International and national authorities when appropriate; flag images and records are passed to bodies responsible for their coordination throughout the flyway; and all records sent to us are used to compile annual reports and to support the evolving understanding of the status of many of Korea's birds.)
Request for Information: Marsh Harriers.
To help with the assessment of harrier records in South Korea, we are looking to gather information and images of Western and Eastern Marsh Harriers from all parts of their range, along with pdfs, scanned texts from recent published articles and notes, as well as informed input. Fully acknowledged, these will then be used for a longer article for use on the website, and in future discussion of harrier identification here (and we hope elsewhere!). With many thanks in advance for any help you might be able to provide!
Late Bird News from Lee Gi Han
Jan 2006, correct date and site to be checked
"Eastern" Lesser Whitehthroat Sylvia curruca, Photo © Lee Gi Han
This is only the second record of Lesser Whitethroat for South Korea, and only the third record for the whole Korean peninsula. The previous Korean records are of one collected in Busan (Republic of Korea), date and subspecies apparently unknown (Park Jin Young's unpublished doctoral thesis, 2002), and one in Pyongyang, DPRK, seen and poorly Photo ©graphed by Will Duckworth on December 9th and 16th, 2001 (W. J. Duckworth, Eight birds new to DPR Korea, in Forktail [20]2004, pp. 116-120).
Bird News from Nial Moores with Klemens Steioff, Berndt Blatzke and Alessandro Kormannshaus
Uljin-Hupo, Guryongpo, February 1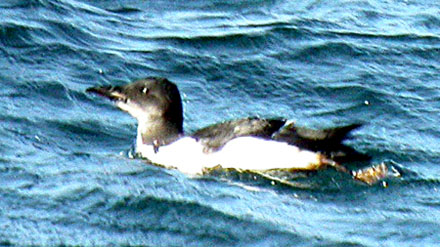 Brunnich's Guillemot, Photo © Nial Moores/Birds Korea.
With rain clearing in the morning, strengthening winds and a decided drop in temperature in the evening. A day checking several stretches of coast was most rewarding, with highlights including 17 Harlequin Duck (mostly males), 2 first-winter Glaucous-winged and 34 Glaucous Gulls, 30 Ancient Murrelet, 10+ Rhinoceros Auklet.
The outstanding highlight came in the afternoon just south of Daebo - Korea's first record of Brunnich's Guillemot, a slightly oiled winter plumaged bird feeding close inshore (poorly disgiscoped by NM, but well digiscoped by KS!).
January 31, Gangneung-Jumunjin
Overnight snow, and very dull and wet conditions throughout the day meant few stand-out highlights, though notable species included a single White-tailed Eagle at Gangneung, 6+ Ancient Murrelet, 4 Black and 17 White-winged Scoters, and 4+ Glaucous Gulls.
January 30, Arboretum road, NE River
With the arboretum closed for the national holidays, a search for Solitary Snipe from the road was rewarded with 4 birds together. In addition there were ca 10 Pallas's Rosefinch there, along with 4 unseasonal Chinese Grosbeak, and several Japanese Waxwing (heard only). At the NE river, ever-increasing disturbance, but still 13 Scaly-sided Merganser, including 9 males, as well as a single White-tailed Eagle.
January 29, Cheorwon- Han River/East Seoul
An excellent morning's birding in cold temperatures, with 60 White-naped and 100 Red-crowned Cranes sighted, along with 230 Cinerous Vulture, 6 White-tailed and a single Steller's Sea Eagle. In addition, a Dark-throated Thrush was heard calling shortly after dawn. On the Han River, thanks to information from Robin Newlin and Tim Edelsten, 3 Steller's Sea Eagle, including one terrific adult, and 2 more White-tailed Eagles.
January 28, Song Do (1600-)
With only an hour's light, a search at Song Do "golf-course" for Chinese Nuthatch was rewarded with poor flight views of one individual, along with small numbers of other typical Korean passerines (e.g. 10 or so Yellow-throated Bunting and 100+ Vinous-throated Parrotbill).
Bird News from Tim Edelsten
Han & N.E Rivers, January 29
Splendid adult and sub-adult Steller's Sea Eagles cut a statuesque pose in the early morning mist, towering over a sandbar of the Hangang at Guri. Later they were joined by a browner juvenile clutching a fish.
Abundant wildfowl stretched across the water, notably ca.500 Tufted Duck, 200 Goosander, 82 Coot, 15 Eurasian Wigeon, 2 Smew, several Common Teal, Mallard, Shoveler, Little Grebe and 60+ Common Goldeneye - the drakes performing their head-popping and bowing displays.
Another 48 Goldeneye were at the N.E. river in the afternoon, the whole flotilla moving and diving like a pod of dolphins. Also 5 Falcated Teal, a Coot, sev. Little Grebes and Goosanders, a Japanese Wagtail, and 8 delicately scaled Scaly-sided Mergansers.
Riverside trees held a Common Kingfisher, 4 rosacea Bullfinches, 1 Japanese pygmy woodpecker, 3 pretty Pallas's Rosefinches, 1 Winter Wren, and a rather tame European Nuthatch.
Bird News from Robin Newlin
Dobongsan (Bukhansan National Park), January 26
A trek up Dobongsan in search of Alpine Accentors found 6 endearingly friendly indivuduals at the very peak. Along the way, highlights were 2 White-backed Woodpeckers, a (heard) Winter Wren, numerous Long-tailed Tits, and a loud Peregrine Falcon chasing a presumed (from a very brief but clear look) Upland Buzzard.
White-backed Woodpecker, January 26, Dobongsan.
Alpine Accentor, January 26, Dobongsan, Photo © Robin Newlin
Bird News from Kim Hyun-tae
Seosan, January 26
Remarkable Photo from Kim Hyun-tae of an Alpine Accentor at Seosan.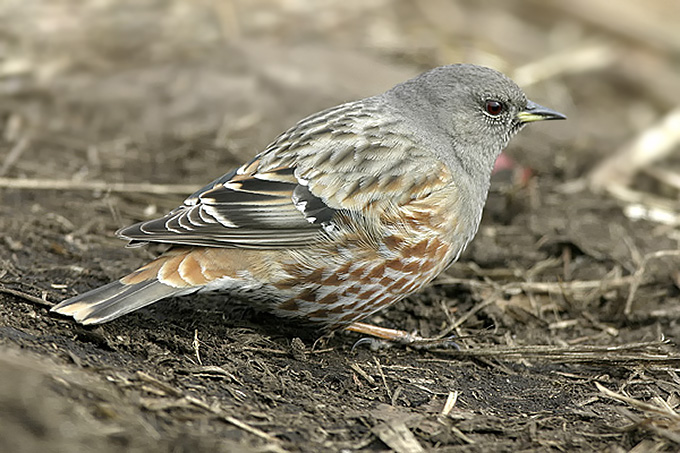 Alpine Accentor, January 26, Seosan, © Kim Hyun Tae
Bird News from Robin and Heesun Newlin
Guri/Hangang, January 25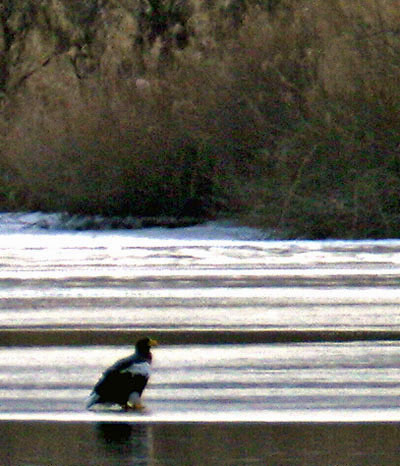 Adult Steller's Sea Eagle, January 25, Han River.
Photo © Robin Newlin
A few hours' visit to a stretch of the Han River near Guri found a beautiful male Smew, scattered Great Crested and Little Grebes, a large (200+) flock of Goosanders, a few Goldeneyes and Eurasian Wigeon, and, best of all, 1 subadult and 1 adult Steller's Sea Eagle.
Bird News from Nial Moores
Igidae, Busan, January 25
With limited time available, just 2 or 3 hours at Igidae, where very few passerines (best being Red Crossbill heard), but still 4 Harlequin Duck, single Red-necked Grebe and Arctic Loon, probably 15 Ancient Murrelet, and a single juvenile/first winter Glaucous-winged Gull on the sea.
Bird News from Kim Hyun-tae
Seosan, January 22 and 23
Highlights included probably 2 Oriental White Stork still, as well as the overwintering Little Owl, Rough-legged and possibly 3 Upland Buzzards and at least 2 White-tailed Eagles.
Bird News from Shim Mi Young
Daejeon, January 22
Korea's first Plumbeous Water Redstart, first seen on January 13th, is still present.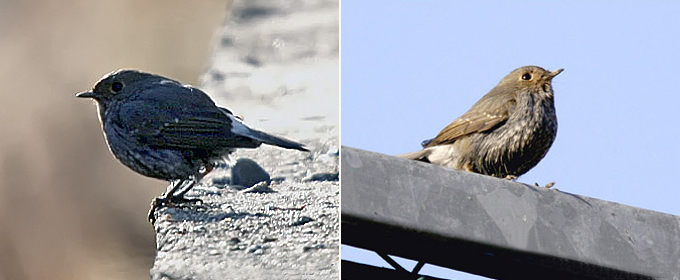 Plumbeous Water Redstart, January 22, Daejeon. Photo Shim Mi Young
Bird News from Tim Edelsten and Robin Newlin
Songdo, January 22
Beside the lagoon 3 Olive-backed Pipit and 6 Dusky Thrush (naumanni) rested atop the trees, while 8 Dunlin and 2 Slaty-backed Gull frequented the largely deserted mudflat.
Returning to a long neglected area of open grassland and spinneys of pines, we found a Black-faced and several Yellow-throated Buntings, Goldcrests, a Brambling and Siberian Accentor. A gathering of c.40 Black-billed Magpies was roused by a European Sparrowhawk sailing overhead. In amongst unusually abundant Coal, and lesser numbers of Varied, Marsh and Great Tits, we had excellent views of a pair of Chinese Nuthatch.
Into this whirling mix dropped a bird similar in shape and size to Coal Tit: bejewelled with 2 speckled wingbars, brilliant yellow belly, short tail, pale nape, and grey back: a spectacular Yellow- bellied Tit Parus venustulus (just the third record for South Korea, following the first in October 2005).
Yellow-bellied Tit, January 22, Songdo, © Robin Newlin
Bird News from Jake Mac Lennan
Geum Tidal Flats, fresh-water, Oh-seong Mountain and Eun-pa Park, January 22
Returning to the south west corner I met Choi Seung-hoon on a Photo ©graphy stakeout for a couple of dozen Red Crossbills he said had been scared off by a Peregrine. Fortunately thirteen returned and perched nearby.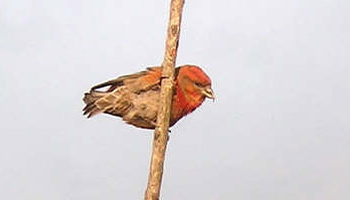 Red Crossbill, January 22, Geum, © Jake Maclennan
Chinese Penduline Tits were heard by myself and seen by CSH. I saw Common Reed Buntings there; CSH claims Pallas's Reed Buntings were also present. Twenty-three Swan Geese were on the near shore including R-90. Red-breasted Mergansers and a single Red-throated Diver were seen.
Oh-seong Mountain was pretty quiet but it was good for the usualTits and Goldcrests.
Up-river tens of thousands of Baikal Teals were on the water. I walked a promising looking canal but it only had a single Green Sandpiper. Perhaps a couple of thousand Greater White-fronted Geese were in the fields. A juvenile White-tailed Sea Eagle flew over the water. As I watched it a Common Buzzard flew through my field of view. I dropped my binoculars when I heard the Geese take off and spotted a female Peregrine Falcon chasing a Greater White-fronted Goose.
East Eun-pa was also quiet. A couple of personata-type Black-faced Buntings were seen and Azure-winged Magpies were heard. The latter seem to have really thinned out this winter.
When the light was fading I stared out over open country and two great clouds of Baikal Teal passed by heading south in the distance followed by a continuous string that went on for several kilometers. It took perhaps five minutes to pass.
Bird News from Nial Moores with local members in Busan including Park Meena and Peter de Haas
Joonam and Nakdong (Miyeonji and Ulseuk Is., January 21
In very pleasant and mild conditions (with a high reaching a balmy 10 C), highlights included ca 45 White-naped Crane at Joonam (had been 80 a week earlier), along with 2 White-tailed Eagle, single Merlin, Northern Sparrowhawk, Goshawk and Peregrine, followed by an immature Steller's Sea Eagle at Miyeonji and 2 Short-eared Owl watched hunting at Ulseuk Island.
Bird News from Nial Moores
Nakdong Estuary, January 17
With only three hours available, still several species of note. From the east flank of the estuary, 2 adult Relict and ca 15 Saunders's Gulls, a juvenile/first-winter Glaucous-winged (very scarce here) and 2 first winter Glaucous Gulls, 10 Swan Goose, a single White-tailed Eagle and 2 Black Kite, very good numbers of commoner gulls and probably ca 1000 Taiga Bean Goose.
Inland of the estuary, with Jeon Shi-Jin and Kim Hyangee, best was a Short-eared Owl.
Bird News from Kim Hyun-tae
Near Yeongdeok, East Coast, January 16
Highlight was a Collared Dove, a Korean rarity, Photo ©graphed by KHT
Collared Dove, January 16, near Yeongdeok, © Kim Hyun Tae
January 14, Geojin, Gangwon Do, East Coast
Highlights were a Common Guillemot (barely recorded annually) seen and Photo ©graphed by Kim Hyun-tae, Hwang Jae-woong, Kwak Ho-kyong, Shim Kyu-sik, and Go Kyeng-nam and a Spectacled Guillemot (also recorded just annually or near-annually) seen by Kim Sung-Hyun.
Bird News from Jake Mac Lennan, Peter and Angela Nebel
Oh-seong Mountain, Keum River and tidal flats plus Kunsan Industrial Area, January 15
An increased variety of waterfowl were observed today. Three male Eurasian Wigeon were in the tidal area of the Keum. Baikal Teal have returned in the thousands up river. A few Northern Shovelers and a couple of dozen Falcated Teal were in a reservoir in the Industrial Zone. Also there, a couple of female Greater Scaup and several Red-breasted Mergansers were seen. On the sea wall a Blue Rock Thrush was seen.
Bird News fromTim Edelsten & Robin Newlin
Songdo, January 15
A lone Peregrine surveyed an emptied lagoon, while a band of ca. 10 Olive-backed Pipits sheltered in nearby trees. A Japanese Lesser Sparrowhawk floated over the museum, while the park below was alive with a liberal sprinkling of Goldcrests, Varied, Marsh, Great, and Coal Tits.
Bird News from Choi Soon-Kyoo
Daejeon, January 13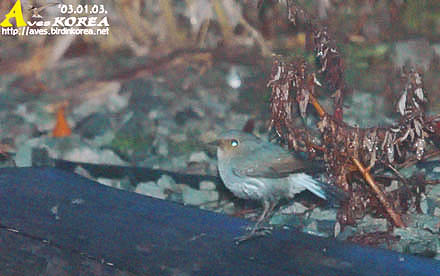 Plumbeous Water Redstart, January 13, Daejeon, © Choi Soon-Kyoo
Sensational news of a Plumbeous Water Redstart Phoenicurus fuliginosus (likely a first-winter female), ©graphed, this is South Korea's first record of the species, and is accepted directly onto Category 1 of the Birds Korea checklist.
Bird News from Robin Newlin, with Janet Leonard and Bruce Karsh
Seosan, January 12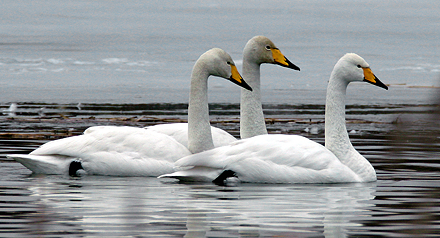 Whooper Swans, January 12, Seosan, © Robin Newlin
A somewhat abbreviated trip to Seosan under lowering skies and incipient sleet found many of the waterways frozen and poor conditions for soaring birds.
Nevertheless, Seosan was as beautiful as ever--a national (but threatened) treasure. At a stop along the bay, we found Goosanders, some Red-breasted Mergansers, Great Crested, Little, and a few Red-necked Grebes, and assorted groups of Pochards and Common Teal.
The rice fields held an abundance of Greater White-fronted and Bean Geese, numerous Olive-backed Pipits, and a distant swirling flock of probable Lapland Longspurs.
Some open channels held more ducks (including a well-viewed group of 6 Eurasian Wigeon), Coots, Whooper Swans, and (best of all?) 5 Eurasian Spoonbills.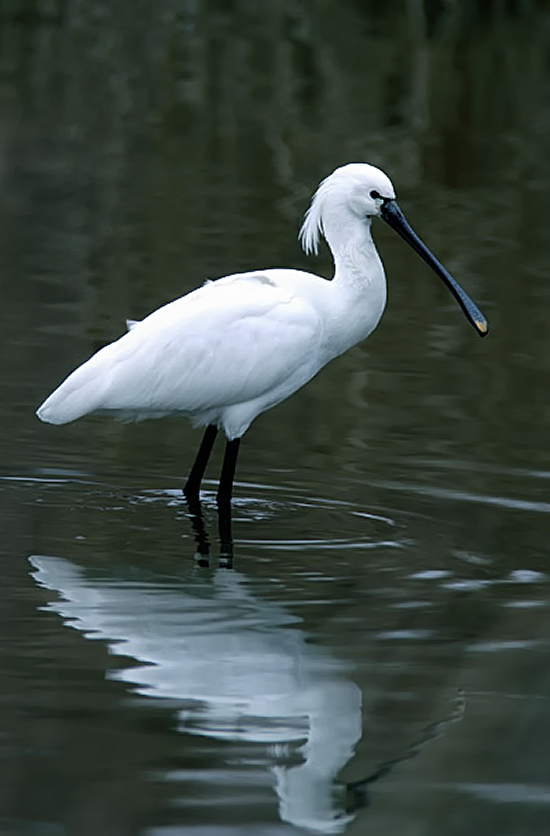 White/Eurasian Spoonbill, January 12, Seosan, © Robin Newlin
Bird News from Nial Moores
Song Do, January 12
Thirty minutes only in parkland produced at least two Chinese Nuthatch and a Siberian Accentor.
Bird News from Robin Newlin, with Janet Leonard and Bruce Karsh
National Arboreteum, January 10
The arboreteum, always beautiful, was especially attractive under a fresh coat of snow.
First stop was the bridge over the stream, which held 3 Solitary Snipe, a pair of Dippers, Spot-billed Ducks, a Little Egret, and 2 noisy Green Sandpipers.
2 Cinereous Vultures drifted overhead.
The path to the orchard area held Olive-backed Pipits, 1 Dusky Thrush, Daurian Redstart, Yellow-throated Bunting, Pygmy and Great Spotted Woodpeckers and numerous tits: Great, Long-tailed, Marsh, and Varied. Janet spotted a Chinese Water Deer. The fruit trees sheltered an exciting array of winter finches: about 15 Pallas' Rosefinch, 12 Bullfinch, 2 Hawfinch, and 10 Brambling. A flock of 13 (Bohemian) Waxwing showed up.
Heading back toward the boardwalk trail, we encountered a new flock -this time, Japanese Waxwings, busily feeding on mistletoe berries.
With light fading, we made our way to the taller trees, and found more Great Spotted and Pygmy Woodpeckers, Eurasian Nuthatch, and 1 White-backed Woodpecker.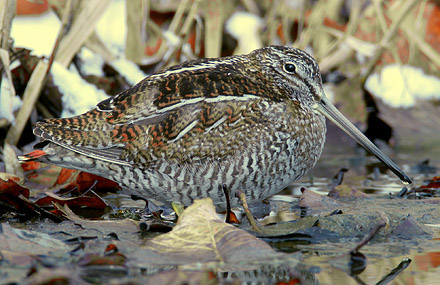 Solitary Snipe, January 10, National Arboreteum.
Photo © Robin Newlin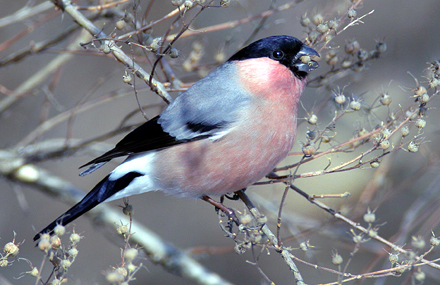 Bullfinch, January 10, National Arboreteum.
Photo © Robin Newlin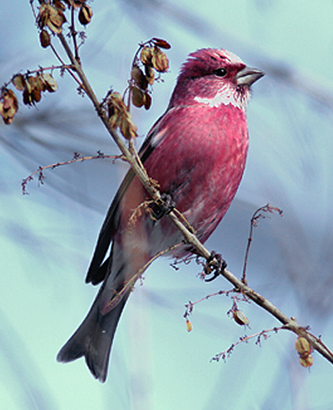 Male Pallas's Rosefinch, January 10, National Arboreteum.
Photo © Robin Newlin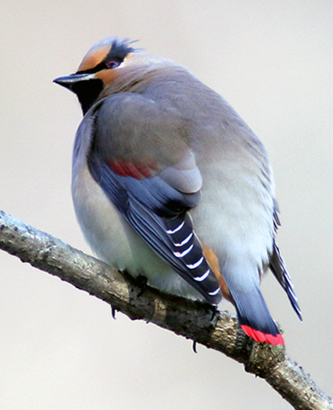 Japanese Waxwing, January 10, National Arboreteum.
Photo © Robin Newlin
Bird News from Kim Hyun-tae
Seosan, January 7 and 10
Excellent views (and images) of a Rough-legged Buzzard on 7th, and a Little Owl - presumably the same individual that was first noted there in November 2005 - on January 10th.
Bird News from Yoo Dae Ho
Paldang Lake, Misari, January 8
A claim of 10 + Steller's Sea Eagles (a national high count if confirmed).
Bird News from Shim Kyoo Sik
NE River, January 8
At least 30-40 Scaly-sided Merganser present: an exceptionally high count.
Bird News from Jake Mac Lennan
Geum River (Tidal and fresh water), Oh-seong Mountain and East Eun-pa Park, January 8
Checking the corner near the dam was productive. Reed Buntings were present as well as a few Black-faced Buntings and twenty or more Chinese Penduline Tits. A small group of Dusky Thrushes (naumanni ) were perched along a stream there. I had been notified by Choi Seung-hoon that a Common Rosefinch had been seen in that very spot and I was fortunate to get a look at quite close range through my scope (about 12-15m at 30x) of a female. In the water three Black-necked Grebes were seen. A Common Buzzard flew along the water's edge and over the reeds.
Two Scaly and perhaps a dozen Pale Thrushes were on Oh-seong Mountain. Three Red-flanked Bluetails along with the usual Tits and Woodpeckers. Up river a few Baikal Teal remain at the edge of the ice. Near the dam a large group of Gulls contained Mongolian, Vega, a few Heuglin-types and one Slaty-backed Gull.
Saunders' Gulls were scattered over the flats. A string of Lapwings counted out to 63. I also counted 156 Eurasian Curlews. A single Great Egret was at the water's edge. They've been absent from my day lists for a few weeks.
At Eun-pa Park things were pretty quiet, but as the sun went down a male Northern Goshawk skirted the lake and then doubled back for a close flyover.
Bird News from Robin Newlin with Jie Kim
Yongyudo (Incheon), January 8
A confiding Eurasian Kestrel, 3 Eurasian Sparrowhawks, several Common Buzzards and an excellent view of 2 Upland Buzzards. Numerous Black-faced and several Yellow-throated Buntings. 3 Long-tailed Rosefinches. 5 Siberian Accentors. 1 Olive-backed Pipit (heard) and 1 Great Spotted Woodpecker. My personal first Dusky Thrush (naumanni) of the winter, followed later by 6 more in different locations around the Yongyudo Kyoheh area. Also 1 Bull-headed Shrike, scattered fly-over White-fronted and Bean Geese, and a small flock of Greater Scaup in the bay.
Dusky Thrush, Photo © Robin Newlin
Bird News from Robin Newlin with Heesun, Nick, and Paul Newlin
En route to and from Cheolwon, January 6
From the bus between Seoul and Cheolwon: 4 Hawfinches, 5 Bullfinches, 2 Eurasian Sparrowhawks, 3 Common Buzzards, about 30 Cinereous Vultures, 2 White-tailed Sea Eagles (including one beautiful adult), large flocks of White-fronted and Bean Geese.
At Cheolwon: more geese, esp. White-fronteds, about 25 White-naped and 12 Red-crowned Cranes, 2 White-tailed Sea Eagles, about 100 Cinereous Vultures, and 2 Eurasian Nuthatches.
Bird News from Nial Moores
Igidae, Busan, January 6
With temperatures struggling to reach freezing and gusting NW winds, rather fewer birds than only a couple of days ago. Best from a few hours in the field were still 2 Harlequin and one Red-necked Grebe, a Northern Goshawk, and a good mixed feeding flock containing over 100 Vinous-throated Parrotbills, 5+ Varied Tit, 3+ Japanese Pygmy Woodpecker as well as a few "Great" and Coal Tits.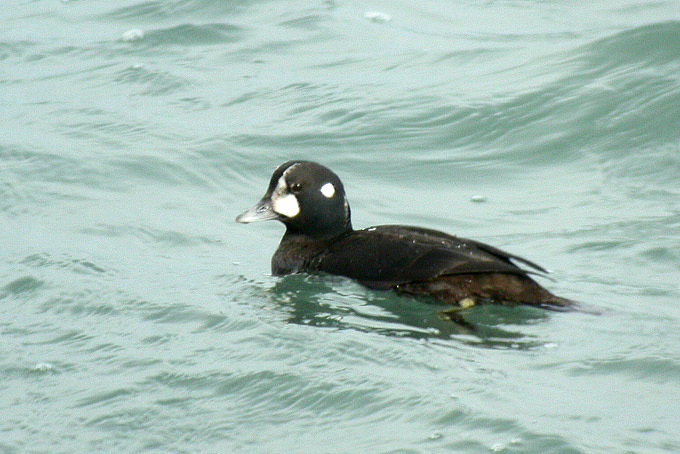 1st winter male Harlequin Duck, Photo © Nial Moores
Bird News from Nial Moores
Igidae, Busan, January 4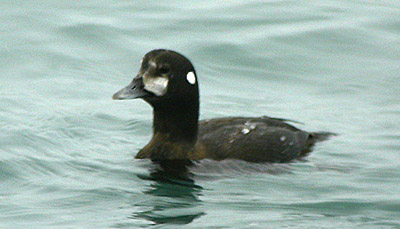 Female Harlequin Duck, Photo © Nial Moores
A few hours in the field in grey, dull conditions (with a maximum temperature of ca 3 C), and several interesting species. On the sea, one Red-throated and 5 Arctic Loons, 25 Great Crested, one Red-necked and one Slavonian Grebe, 2 Ancient Murrelet, 30+ Temminck's and 1 or 2 Pelagic Cormorants, and best of all 6 Harlequin Duck - a species wintering only very locally this far south. On the land, along the coastal trail, 2 Japanese Bush Warbler, 3 over-wintering Blue Rock Thrush and half-a-dozen Olive-backed Pipit, with one group of the latter in the town containing over 10 individuals, at least 4 or 5 of which were yunnanensis, appearing almost unstreaked on the upperparts.
Highlight of the day, however, was a Yellow-browed Warbler flitting though coastal bushes. This is only the second winter record known to Birds Korea, and the first such record in January.
Bird News from Nial Moores
Jeju, January 3
On Kim Hyun Tae's website stunning Photo of an Oriental White Stork on Jeju on January 3rd (images used with permission).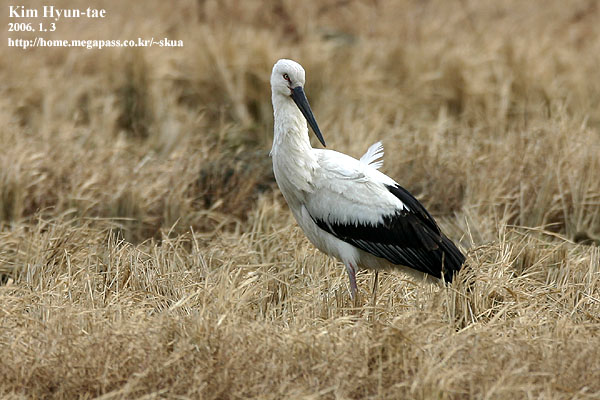 Oriental White Stork, Photo © Kim Hyun Tae
Bird News from Jake Mac Lennan and Peter Nebel
Oh-seong Mountain, Keum River and tidal Flats, and East Eunpa Park, January 1
The appearance of Dusky Thrushes seems to have been delayed this year, but several were present on Oh-seong today as well as a few Pale Thrushes. It was a good day for Buntings; both Pallas's Reed and Common Reed Bunting were at the Geum, several Black-faced and the regular Yellow-throated and Rustic Buntings. Although, common elsewhere, a small flock of Meadow Buntings were the first of this species I've seen near Gunsan in three years of regular birding.
On the tidal flats at least 51 Northern Lapwings were counted and a good sized group of about 150 Bean Geese flew over head. Eighteen Swan Geese were counted including R-90. In the water a single Black-necked Grebe was seen.
Our third, fourth, and fifth Great Spotted Woodpeckers of the day were seen around East Eunpa Park.
Bird News from the National Parks Association/Park Jong-Gil
Hong Do/Heuksan, January 1
A single Light-vented Bulbul in with a flock of Brown-eared Bulbuls is the first national mid-winter record (NB: no observations have been made on Socheong in mid-winter since the species bred there in 2004 and 2005).
Bird News from Barry Heinrich
Yanggu, January 1
On New Year's day I went for a walk through the forest on the hills east of Yanggu to the old quarry. I saw Great and Long-tailed Tits, Yellow-throated Buntings and a Japanese Pygmy Woodpecker in the forest. Around the old quarry were more Yellow-throated Buntings, Pallas's Rosefinches, a Siberian Accentor and a flock of about 50 Siskin.