Birds Korea's Bird News February 2007
February
Cold winters mean both temperatures and birding are similar to January, while mild winters are marked by brief spells of rain or sleet, often followed by warmer sunshine, with maximum temperatures rising to 15°C in the southeast.
Many wildfowl are on the move by mid-month, including one or two Baer's Pochard. Tundra Beans, Greater White-fronted and usually Swan Geese can be found at the Han-Imjin. Most Baikal Teal start to depart and by month's end can be difficult to find in southern locations. Rooks and Daurian Jackdaws begin to move back into the Nakdong valley and near Gunsan. February sees the start of crane migration, with Hooded and White-napeds moving into South Korea from Japan. Relict and Saunders's Gull peak at several sites. In the right weather conditions large numbers of Ancient Murrelets and a few Rhinoceros Auklets move north off Guryongpo. At the end of the month the first migrants, such as Far Eastern Curlews, Hoopoes and Japanese Lesser Sparrowhawks start to arrive.
Highlights in February 2001 included a peak count of 143 Relict Gull at Song Do, in 2002, Korea's first Ferruginous Duck, and in 2003 White-crowned Sparrow in Busan, and Thayer's and American Herring Gull on the east coast.
In both 2004 and 2005 highlights included a Pallas's/Great Black-headed Gull (Korea's 3rd and 4th records). 2006 brought South Korea's first confirmed Brunnich's Guillemot, as well as records of Long-billed Dowitcher and Yellow-bellied Tit.
(The following records are a compilation of our own sightings and records sent in by other observers. As well as being posted on the Birds Korea website(s), selected records are also forwarded to other Korean-language birding websites; records of threatened species are arranged and forwarded to Birdlife International and national authorities when appropriate; flag images and records are passed to bodies responsible for their coordination throughout the flyway; and all records sent to us are used to compile annual reports and to support the evolving understanding of the status of many of Korea's birds.)
Bird News from Mark Citsay with Nial Moores
Seosan PM, February 28
Following directions very kindly provided by Mr. Kim Hyun-tae (as always!), the afternoon started with a flock of Japanese Waxwing in a restaurant car-park (where two of the 25 present since 25th had been killed by traffic that morning alone)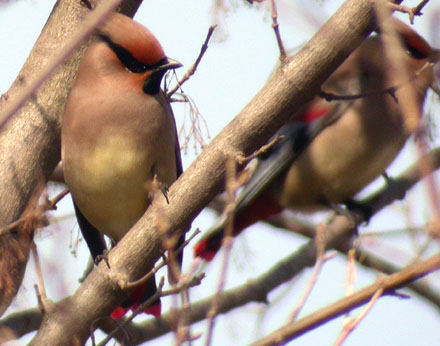 Japanese Waxwing Bombycilla japonica, Photo © Nial Moores
We then continued with an immature White-tailed Eagle, a single adult Common Crane (accompanying 6 Hoodeds) and very good long-range looks at 6 Oriental White Stork (out of the 9 present there that morning per Kim Hyun-tae).
While the storks clearly favoured an area of wet rice-fields provided by a Ministry of Environment-led ricefield scheme, one camera-toting observer decided that he needed to walk right up to the birds with a handheld camera, flushing them three times as we looked on - apparently, he told us, to take images of the storks that would let people see how important the area is to birds! This kind of problem is sadly likely to increase rapidly, as more and more people start to take up birdwatching, without learning either the basics of fieldcraft or the ecological requirements of threatened species.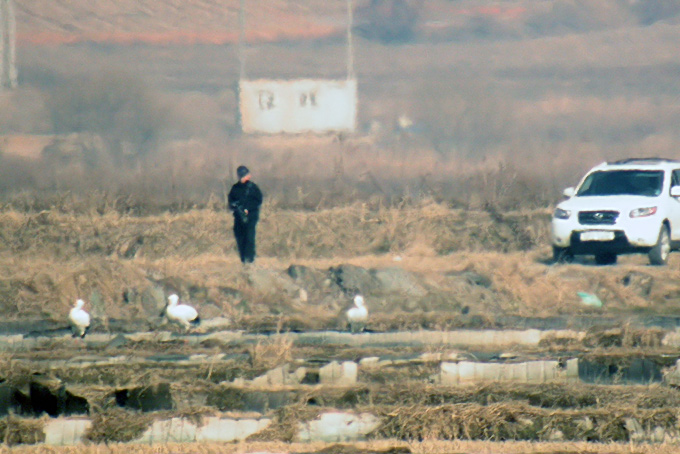 Oriental White Storks Ciconia boyciana and lack of field-craft..., Photo © Nial Moores
From there, we continued with reasonable views of a coreensis Crested Lark (in sub-song), and then with brief but clear views of the Long-tailed Shrike on Lake B. Other birds of note at Seosan included a Whooper Swan carrying a satellite transmitter (though lacking a neck collar).
Bird News from Tim Edelsten with Nial Moores
Jinju and Joonam, February 27
In very warm spring sunshine (with a high of ca 18C), excellent views of the overwintering Steppe Eagle, as well as ca 160 Cinereous Vulture in total. Also there were 2 Long-tailed Rosefinch and at least 3 Siberian Accentor.
At Joonam, the day continued excellently with a/the Cackling Goose (missing for several weeks from this site) and the overwintering Lesser White-fronted Goose, as well as a Water Rail preening at the water's edge.
Adult Lesser White-fronted Goose Anser erythropus, Photo © Nial Moores
Bird News from Jake Mac Lennan and Peter Nebel
Gunsan Vicinity, February 25
A half dozen Spotted Redshanks first noted on the 24th (JM) remained to be seen on the 25th at the Keum tidal area. A Common Kingfisher was seen in flight over a canal. The Okgu Reservoir was the most productive single site: it had an Artic Diver, a Horned Grebe (both previously noted by PN) and one of the pair of Whiskered Terns PN first saw back in January.
Bird News from Tim Edelsten, Robin Newlin & Kim Hyun-Tae
Seosan, February 24
Special thanks to Kim Hyun-Tae for guiding us today; the morning began with 2 Common Starlings mixed in with a flock of 30+ resident Grey Starlings, closely followed by a good look at 5 Oriental White Stork, 1 Northern Goshawk, 35 Eurasian Spoonbill, the Chinese Grey Shrike and a hybrid Snow x Greater White-fronted (?) Goose, around lake A.
Oriental White Storks Ciconia boyciana, Photos © Robin Newlin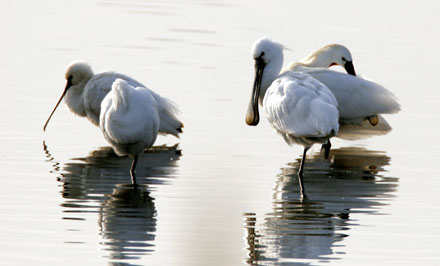 Eurasian Spooonbills Platalea leucorodia, Photos © Robin Newlin
Reeds were alive with an active flock of c.40 Chinese Penduline Tit, mingling with a mixture of Pallas's Reed & Ochre-rumped Buntings, and a splendid male Long-tailed Rosefinch (somewhat scarce this winter?). Star birds skulking nearby was first a glimpse of a red-tailed female, then a well-marked male Bluethroat.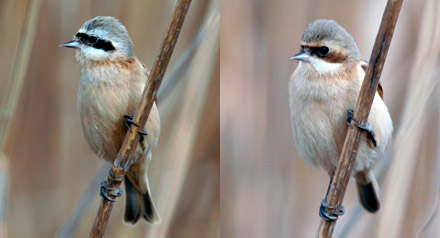 Chinese Penduline Tits Remiz consobrinus (male, left, and female, right).
Photos © Robin Newlin
The overwintering Long-tailed Shrike gave excellent views as it devoured a mouse and later in flight.
Long-tailed Shrike Lanius schach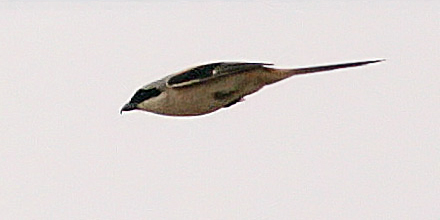 Photos © Tim Edelsten
Other birds of note included a Little Bunting, Black-necked Grebe, Northern Lapwing, Green Sandpiper & 3 Falcated Teal.
Spring is in the air as many birds generally have started to assume breeding colours, are busy nestbuilding, displaying and duelling over territory.
Bird News from Nial Moores, with assistance from and thanks to Kim Hyun-tae, Jo Jung-Jang and Jesper Hornskov
Jinju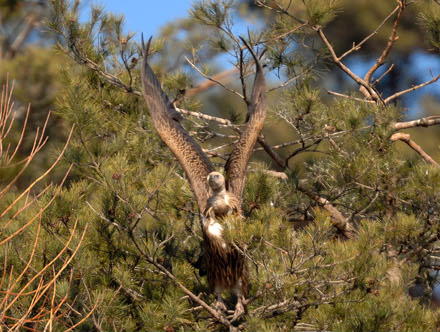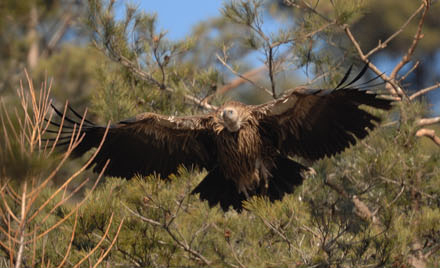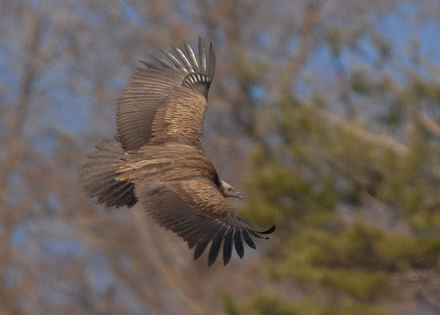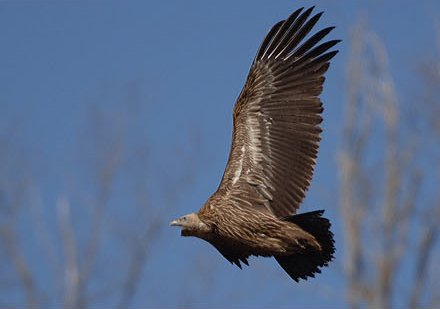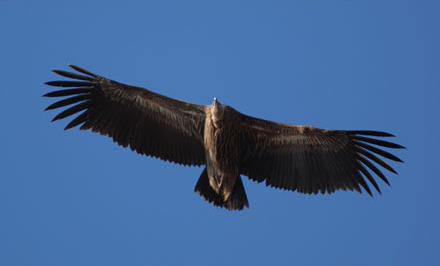 Himalayan Griffon Vulture Gyps himalayensis, Photos © Jo Jung Jang
A Himalayan Griffon Vulture Gyps himalayensis, was present near Jinju, South Korea from at least 5 February to 11 February, 2007, with identification finally made following a review of superb images taken by Jo Jung-Jang on 11 February.
The bird was first seen (and even discussed/ rejected as a possible Eurasian Griffon Gyps fulvus) by Nial Moores, Gerd Rotzoll, Norbert Krott, Horst Jolitz and Christian Junge on 5th, when long-range views in poor light suggested a hunched-up, large, paler-headed and brighter-ruffed vulture present in a sitting flock of ca 6 Cinereous Vulture. On the poor and brief views obtained at that time, and with neither Robson's Birds of South-east Asia nor Mackinnon's Birds of China showing any vulture species with such rusty plumage tones in the ruff, tentative identification as a striking, aberrant, pale adult Cinereous was prefered (albeit reluctantly) to the apparently very much less likely occurrence of an unknown extralimital species.
Long range digi-scope images taken of the bird at that time, while sadly out of focus and mostly only with the bird looking head on, still show especially the bird's large size (likely even larger than Cinereous); its darkness (only slightly paler and warmer-toned than the other birds present); the paleness and bright rusty- or butterscotch tones of its ruff when compared to the other Cinereous present; the largely grey bill (lacking the obvious much blacker distal part of Cinereous); and the comparatively pale, rusty-tones of the head (with the eyes and surround the darkest part visible). Several of these same features are strikingly obvious in the much higher quality images taken on 11 February, when identification as a gyps vulture becomes straightfoward, and the pale underpart streaking and the widely-spaced pale edgings to the underwing coverts further rule against identification as either e.g. the rather smaller White-rumped G. bengalensis or the much more warmly-toned Eurasian Griffon.
Based on the images taken by Jo Jung Jang on 11th and supplied by Kim Hyun-tae that night, proposed identification by NM of the species as Himalayan Griffon, most likely a second calendar year, was soon after independently supported/confirmed by Jesper Hornskov (an expert observer familiar with the species from China), and has apparently been accepted by all observers.
Release of the information was delayed at the request of the photographers in order to minimise disturbance to the bird (and the other raptors present there, including a Steppe Eagle), and to gather opinions of the bird from experienced observers.
Our warm thanks go to Jo Jung Jang for permission to use his stunning photographs.
Please see the KWBS website for more stunning images of this bird (taken on February 11th, by Park Joo-Hyun), including one of the bird perched (when the butterscotch tones to the head and ruff are especially apparent): http://kwbs.or.kr/...
The bird was not seen in the same area, either in early January (several visits by birders) or despite searching on 15 and 19 February, and is now assumed, sadly, to have gone.
This is the first national and Korean peninsula record (pending further assessment of the images: with further opinions from experienced observers most welcome).
Bird News from Tim Edlesten
Cheorwon & N.E. River, February 19
Early morning saw c.40 Red-crowned Crane and 80-90 White-naped Crane, giving excellent views as they grazed quite unconcerned in roadside ricefields. Some very unspoilt habitat- streams, scrub and woods provided c.25 Meadow Bunting in parties of 4/5, to compliment the abundant Rustic Buntings.
Fields held several Eurasian Skylark (increasing scarce these days). A Racoon Dog Nyctereutes procyonoides freshly killed by traffic was moved into a neighbouring field for the c.15 Cinereous Vultures, plentiful Common Buzzards and Carrion & Large-billed Crows nearby.
Late afternoon at the NE River was rewarded with 20 Goldeneye and 5 Scaly-sided Merganser, showing apparent courtship behaviour: the female neck-extending, calling and pursuing the male, which paddled along with its head flattened down.
Bird News from Tim Edlesten
Ilsan & Cheorwon, February 18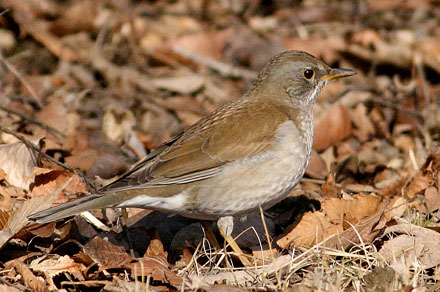 Pale Thrush Turdus pallidus Photo © Tim Edelsten
Ilsan park held a Pale Thrush (scarce/rare in winter) and close views of Coal Tits among the pine cones, and Naumanns Thrushes.
Late afternoon at Cheorwon gave close views of yet another Chinese Grey Shrike. A hunting Northern Goshawk employed a stealthy technique of gliding fast, extremely low over the ground, while a Eurasian Sparrowhawk wheeled in circles high above.
Bird News from Tim Edlesten & Geoff Styles
Seosan Lake A & Lake B, February 17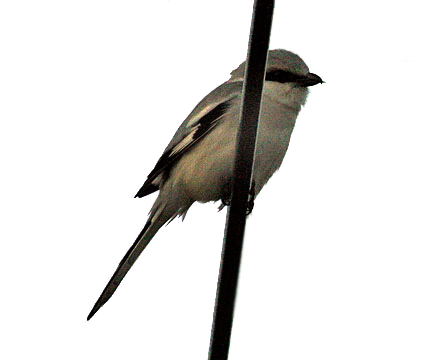 Chinese Grey Shrike Lanius spenocercus Photo © Tim Edelsten
5 Oriental White Stork made for a cracking start to a rather overcast but mild day, closely followed by 19 Hooded Cranes and 10 Northern Lapwing, also a supremely large flock of 2-300 Oriental Greenfinches. In stands of trees, 3 Brambling, and a single, unseasonal Grey Starling.
In reeded narrow stretches, 21 Eurasian Spoonbill, a hunting Chinese Grey Shrike, a Chinese Penduline Tit associating with Pallas's Reed Buntings, a drake Smew accompanied by 5 females. 3 frontalis Greater-white Fronts appeared markedly paler than the albifrons types, showing very little white on the forehead. 2 dull-looking spodocephala Black-faced Buntings in scrub were later complimented by 3 brighter yellow, strongly marked personata in reeds.
High tide had pushed a Heuglins Gull, several Great Cormorants and 230 Dunlin onto the freshwater.
2 Crested Lark made for a nice ending.
Bird News from Tim Edlesten & Geoff Styles
Seoul, February 16
The overwintering Red-breasted Flycatcher performed well in the clearing to a gathered crowd of appreciative birdwatchers, a spectacle probably unimaginable just 3 years ago in Korea.
Elsewhere in this urban patch of parkland, berry-laden trees drew a stream of Dusky and Naummann's Thrushes, plentiful Brown-eared Bulbuls, and a party of 5 Bohemian Waxwings.
Bird News from Peter Nebel
Gunsan, February 16
The overwintering Whiskered Tern (Korea's first overwintering record) finally showed well enough for me to get a decent photo. The Slavonian/Eared Grebe was a bonus...
Whiskered Tern, Chlidonias hybrida Photo © Peter Nebel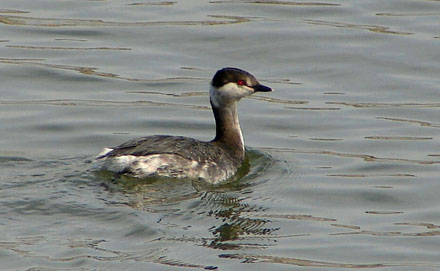 Horned Grebe Podiceps auritus, Photo © Peter Nebel
Bird News from Nial Moores
Guryongpo and Nakdong Estuary, February 15 and 16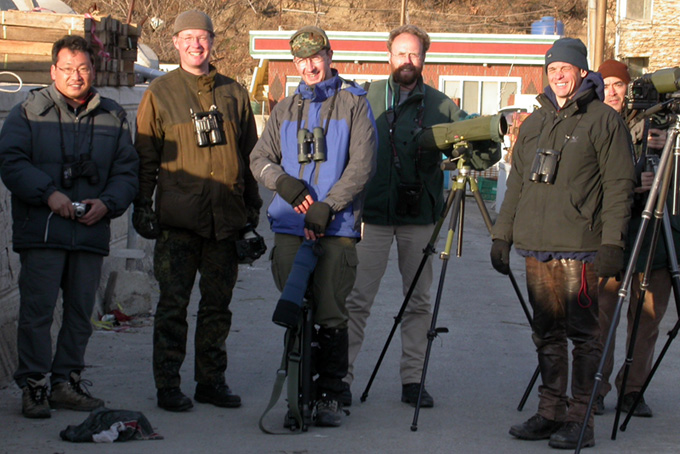 Photo © Nial Moores/Birds Korea
Two days looking at and discussing gulls with Andreas Buccheim (second from left) and two core members of the Mongolian Gull wing-tagging team, joined also by Martin Elliot from the UK (in blue), local birder Robin Newlin (far right) and (briefly!) well-known Seosan birder and gull fan Kim Hyun-tae (on left).
Birding highlights included two very close Long-billed Plover and a single Glaucous-winged Gull (15th), and one or two Long-billed Murrelet and a Rhinoceros Auklet (16th) at or near the Guryongpo peninsula, with Eastern Marsh Harrier and very good views of a "good" Mongolian Gull at the Nakdong (showing the full nape, and the rather squarish looking bill considered typical of the taxon by AB).
Mongolian Gull Larus mongolicus, Photo © Nial Moores/Birds Korea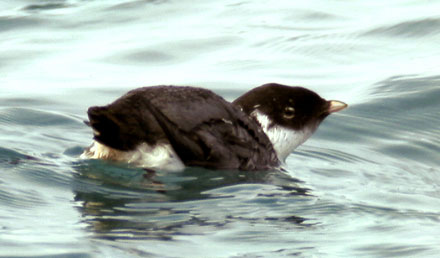 Ancient Murrelet Synthliboramphus antiquus, Photo © Robin Newlin
The American Herring Gull, seen by Franck Ishoi and Klaus Malling Olsen near Guryonpo harbor on 14th February was looked for briefly but not found.
Plentiful discussion on variation in the various Far Eastern taxa was had, and the need recognised to try to include Korean breeding gulls, presently considered to be mongolicus, in a wing-tagging program (perhaps in spring 2009?).
Bird News from Gerd Rotzoll, Norbert Krott, Horst Jolitz, Hans Mittendorf and Christian Junge with Nial Moores
Ilsan Water Park, February 13
Two hours on the way back to the airport spent in this city park looking for a Grey-capped Pygmy Woodpecker that has been present here for a couple of weeks. While the woodpecker was heard by 4 of the group and then glimpsed in flight (last by NM only), Common Moorhen was seen by CJ - the 180th species of this two-week trip.
Bird News from Gerd Rotzoll, Norbert Krott, Horst Jolitz, Hans Mittendorf and Christian Junge with Nial Moores
Seosan Lake A & Lake B, February 12
The last full-day in Korea for the team was spent back at Seosan, largely in the hope of seeing Upland Buzzard - three of which were found, with excellent views of two birds together.
In addition, other species of note there included exceptionally good views of a Northern Bittern, a Chinese Grey Shrike and a Short-eared Owl at dusk, two Oriental White Stork, a personata Black-faced Bunting, and (for NM at least!) best of all a percieved-to-be-small and very distinctive-looking buzzard, considered to show multiple characters of the extralimital Steppe Buzzard Buteo buteo vulpinus.
Main plumage differences from the widespread Eastern Buzzard Buteo (buteo) japonicus included a strongly contrasting and very warm-toned, dull rufous tail (in japonicus almost invariably dull and/or concolorous with upperparts, though a very small but variable number of birds, pure japonicus? and perhaps mostly juveniles?, seem to show some warmth or orangey tones in the tail, especially in autumn); dark malars lacking the darker throat patch typical of most japonicus; a rather plain and pale breast (typically rather more patterned and marked in japonicus); dark lower breast sides/flanks/thighs, with a hint of a warmer tone (typically darker and lacking warmth); and in flight strongly constrasting white bases to the outer primaries below, with a small, isolated white or whitish patch on some of the upper primaries too (very unusual in japonicus), more obvious in the digi-scope image than in the field. This combination of features would appear to be extremely unusual in japonicus, yet appears to be within the range of vulpinus, a very long-range migrant (very largely wintering in Africa, but suggested, perhaps erroneously by Mackinnon's A Field Guide to the Birds of China, to also occur in western China). Considering the presumed rarity of vulpinus in Korea and the Far East, and the apparent lack of criteria for separating vulpinus from the genetically distinct japonicus, opinions are actively being sought on images of this bird, especially from those with experience of both vulpinus and japonicus.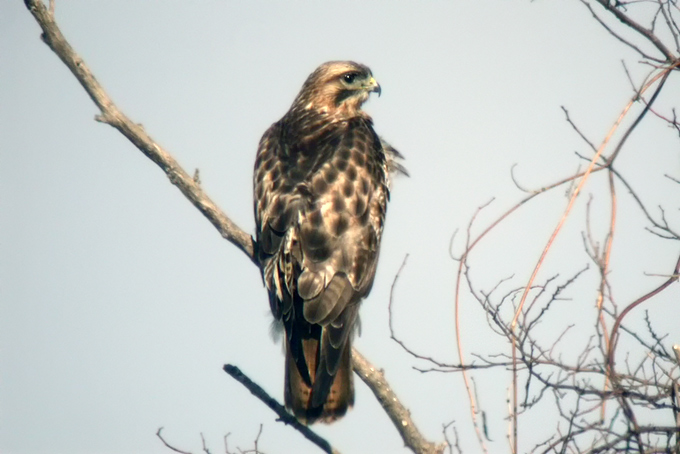 Photos © Nial Moores/Birds Korea
Bird News from Gerd Rotzoll, Norbert Krott, Horst Jolitz, Hans Mittendorf and Christian Junge with Nial Moores
Yangyang - Hwajin Po (NE Coast), February 11
In beautiful spring-like weather, an excellent day with time both in the mountains and on the coast. First highlight of the day was at Yangyang: an immature Steller's Sea Eagle (with two White-taileds and much unwanted attention from a gaggle of tail-tagging Large-billed Crows and Eurasian Magpies), with Siberian Accentor also present nearby.
This was followed by three hours at Sorak San, where despite the massive weekend crowds, Black and two White-backed Woodpecker were well seen.
Back at the coast, the first stop produced a dead Spectacled Guillemot (recorded barely or less than annually in South Korea), and ca 15 Harlequin Duck, while the next stop provided excellent views of ca 100 Black Scoter, ca 5 Ancient Murrelet distantly offshore, at least one (very pale) Long-billed Murrelet, and best of all two close-in Least Auklet (a species with probably less than five national records).
Moving a further three kilometers north, a hill-top view in calm conditions with a nearly flat sea then provided close views of a Rhinoceros Auklet, and very distant views of no less than four Spectacled Guillemot - with one bird already in more or less full breeding plumage.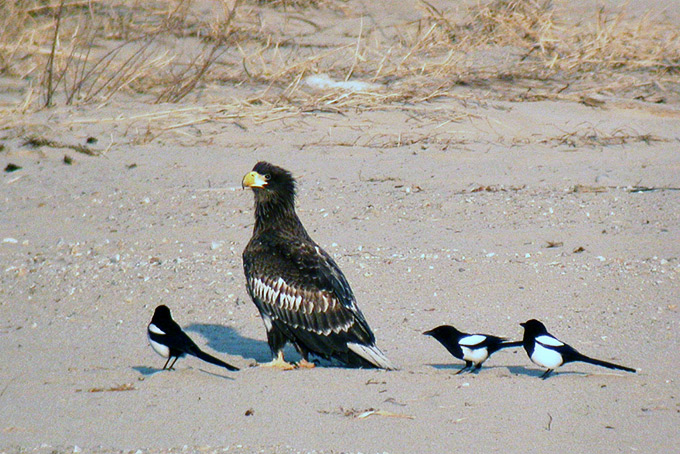 Steller's Sea Eagle with Eurasian Magpies, Photo © Nial Moores/Birds Korea
Bird News from Geoff Styles
Seosan Lakes A and B, February 11
Under gloriously sunny skies with increasing wind throughout the day, an enjoyable day's birding was kicked off with 8 Oriental White Storks on the East side of Lake A in the flooded fields. On the sand spit at the first blind were one Ruddy Shelduck, 8 Common Merganser and 2 Eastern Oystercatcher, later joined by 4 others. I saw 2 more at a different site so a total of 6-8 on the day. One Eurasian Curlew joined a host of cormorants on the further sand bar.
Further north, hundreds of Common Shelduck, 25 Eurasian Spoonbill and c. 40 Common Mergansers were spotted. On the north end of Lake B, c. 35 Lapland Longspur, 4 Pallas' Reed Buntings and one Green Sandpiper were seen. 8 more Eurasian Spoonbillwere also seen there. 40 species in all with some lovely weather to boot!
Bird News from Tim Edelsten, Lee Ye-da, & Robin Newlin
Paju, February 11
9 White-naped Cranes stood out on a broad expanse of mudflat along the Imjin river. Nearby up to 20 Cinereous Vultures spiralled up - far fewer than the 200+ in the same area last winter (perhaps the stopping of feeding them has caused them to disperse?). Also on the mud, c200 Grey Plover and about 50 Dunlin. Notable too was a lone Swan Goose and 2 Little Buntings.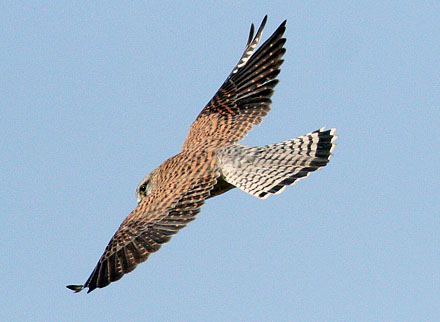 Common Kestrel Falco tinnunculus, Photo © Tim Edelsten
Bird News from Robin Newlin
Gangnam (Seoul), February 10
A trip to Gangnam on February 9th in search of the Red-breasted Flycatcher Ficedula parva reported by Mr. Jo Seong-Sik resulted in prolonged views of that amiable little bird (much thanks to Mr. Park E-Soo for guidance after a fortuitous meeting).
A return trip today (with camera) found the flycatcher still in evidence; other highlights were a single Hawfinch, 2 Goldcrests, about 30 Siskins, 5 Naumann's Thrushes, and Pygmy, Grey-headed and Greater Spotted Woodpeckers.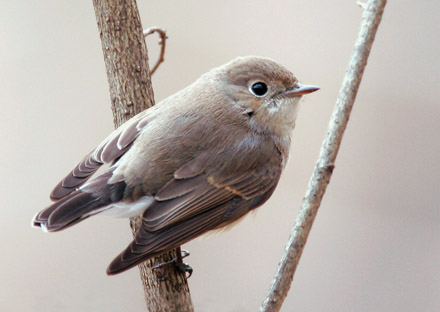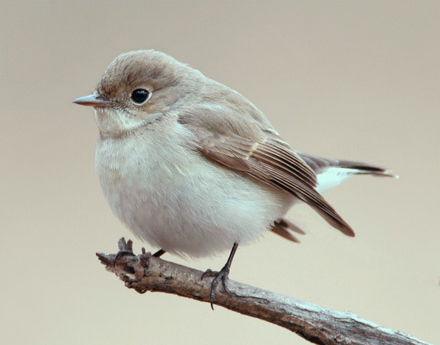 Red-breasted Flycatcher Ficedula parva Photo © Robin Newlin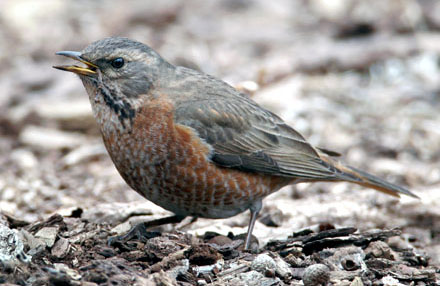 Naumann's Thrush Turdus naumanni naumanni Photo © Robin Newlin
Bird News from Gerd Rotzoll, Norbert Krott, Horst Jolitz, Hans Mittendorf and Christian Junge with Nial Moores
Guryongpo-Hupo, February 10
Another very interesting day, with bird of most note being a presumed eastern cachinnans gull (confidently claimed as a Caspian Gull by several observers with very much experience of western Caspian from Germany), while also remarkable was an exceptionally large concentration of loons, containing well over 1000 individuals (made up of Pacific and Arctics), with this area also holding ca 80 Ancient Murrelet and 5 Rhinoceros Auklet.
Further birds of note during the day included 2 Long-billed Plover, and 200+ White-winged Scoter (including good views of 3 or 4 adult males).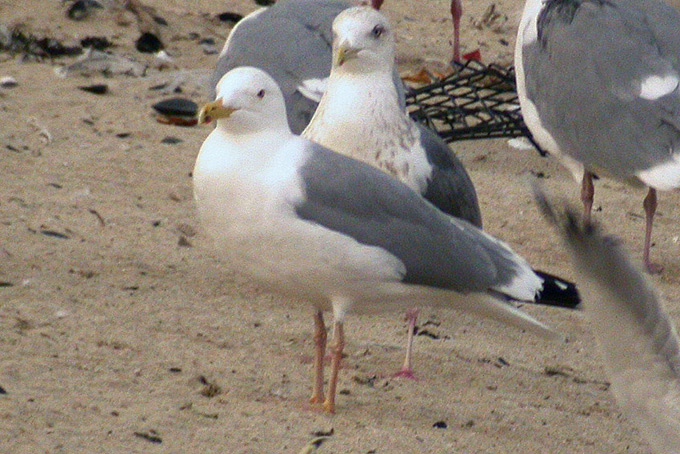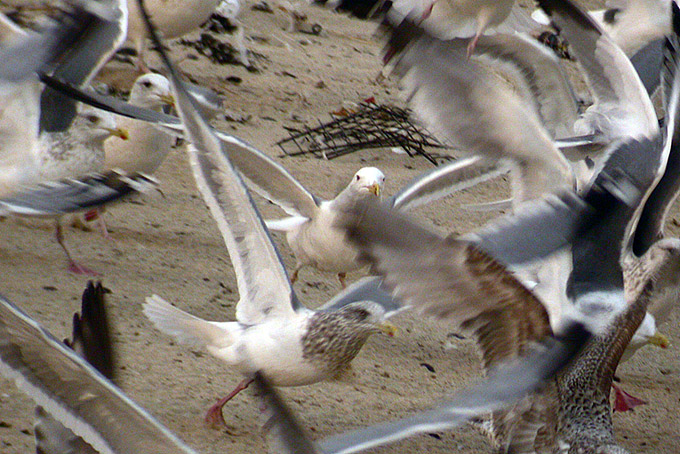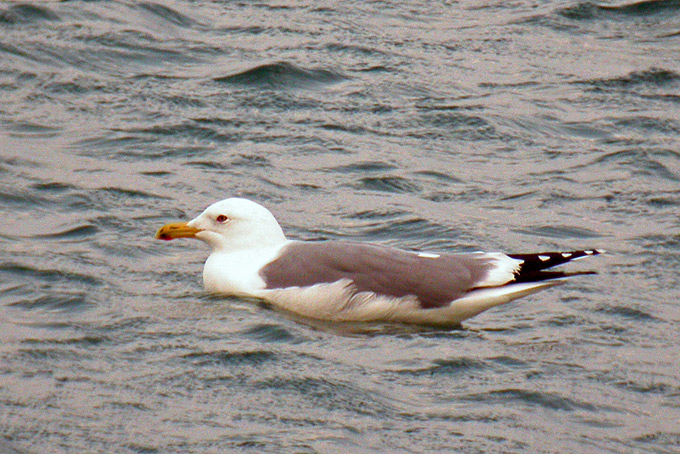 Putative Caspian Gull Larus cachinanns, Photo © Nial Moores/Birds Korea
Bird News from Gerd Rotzoll, Norbert Krott, Horst Jolitz, Hans Mittendorf and Christian Junge with Nial Moores
Guryongpo Peninsula, February 9
An excellent day, with a calm overcast in the morning giving way to brighter but windier conditions in the afternoon. Best for the day were 4 Long-billed Murrelet watched for 30 minutes or more in good light, close views of Rhinoceros Auklet (8 seen in total, including one already in breeding-plumage), and 2 barriovanus Glaucous Gulls (one a first winter, one a sub-adult). Further birds of note included a single Glaucous-winged Gull (probably a third winter), a Glaucous-winged x ? hybrid, another barabensis type gull, 30 Ancient Murrelet, 30 Harlequin Duck and 35 White-winged Scoter.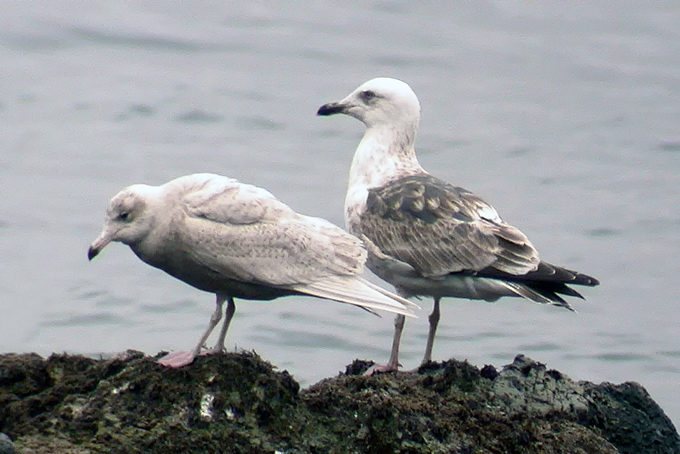 1st winter Glaucous Gull Larus hyperboreus barrovianus (and Slaty-backed Gull), Photo © Nial Moores/Birds Korea
Bird News from Gerd Rotzoll, Norbert Krott, Horst Jolitz, Hans Mittendorf and Christian Junge with Nial Moores
Nakdong Estuary - Joonam Reservoir, February 8
In heavy overcast followed by prolonged rain, a decent 61 species logged. At the Nakdong, rather bird-poor with birds of most note in the estuary proper being 3 Swan Goose, 3 White-tailed Eagle and 6 Black(-eared) Kite, though much more unexpected at a neighboring beach were two putative barabensis or perhaps eastern cachinnans gulls.
At Joonam, no sign of either the Cackling or Lesser White-fronted Geese, with best being a showy Water Rail, 22 White Spoonbill and at least 42 White-naped Crane.
Bird News from Jo Seong-Sik (on KWBS website)
Seoul, February 7
A Red-breasted Flycatcher Ficedula parva was photographed at Kangnam, Seoul, on 7th February. This species has been recorded significantly less than 10 times previously in Korea - previously only in sping (once or twice) and especially late autumn.
Bird News from Gerd Rotzoll, Norbert Krott, Horst Jolitz, Hans Mittendorf and Christian Junge with Nial Moores
Jeju (City Parks and Arboretum), February 7
More warm weather, and many fewer species recorded as the whole day was spent searching for a few species, namely White's/Scaly Thrush (one eventually seen extremely well), Tristram's Bunting (about 10 present; only one seen well) and Grey Bunting (also probably 10 present, with again only one seen well by all in the group). Further species of note included two more Yellow-Browed Warbler, ca 9 Chinese Grosbeak and probably 4 Red-flanked Bluetail.
Bird News from Gerd Rotzoll, Norbert Krott, Horst Jolitz, Hans Mittendorf and Christian Junge with Nial Moores
Samseonghyeul - Hadori, Jeju, February 6
In spring-like conditions (with clear skies and a high of 17C), some excellent birding, with ca 77 species logged. Among many highlights were 6 Black-faced Spooonbill, a Greater Spotted Eagle and a Water Pipit at Hadori (the latter, found by Kim Eun-Mi some time before, was this day seen only in flight and identified largely by call from the 45 Buff-bellied Pipits it was with), along with an Eastern Yellow Wagtail (exceptional in winter), one or two Siberian Stonechat (first mid-winter record?) and 2 Bluethroat, while parks in Jeju city contained a Yellow-browed Warbler (apparently a rare overwinterer, with several recent mid-winter records) and a male Red-billed Starling.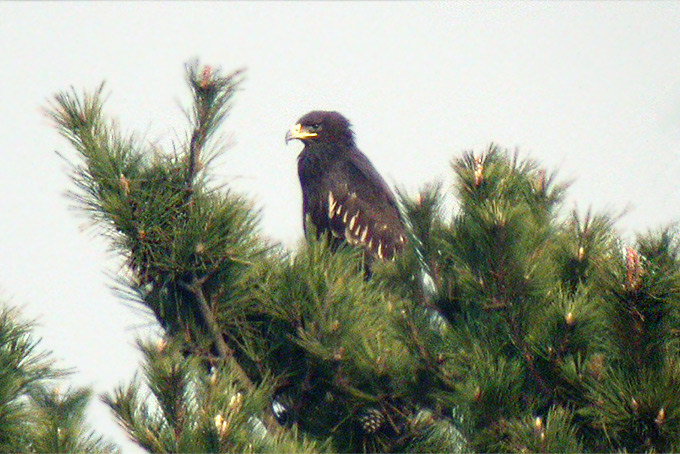 Greater Spotted Eagle Aquila clanga Photo © Nial Moores
Of potentially even greater note, an injured owl being cared for by the Jeju Birdwatching Group is considered possibly to be a Ryukyu/Elegant Scops Owl Otus elegans, based largely on the mewing-like vocalisations made when the bird is being fed. Other possible supporting features include the partially concealed nostrils, the poorly-defined, greyish and streaked supercilia, and the rufous tinge to the "ears", as well as the mid-winter date.
Possible Ryukyu/Elegant Scops Owl Otus elegans Photo © Nial Moores
Oriental Scops Owl is considered to be a summer visitor to Korea (with most present between April and October), yet yellow-eyed scops owls seem to be present at least into November on Gageo Island and presumably more sub-tropical islands further south.
Further records of note from Jeju this winter have included a Great Grey Shrike in early January and a Plumbeous Water Redstart, the latter believed still present in Seogwipo (see the excellent http://www.birdsinjeju.com).
Bird News from Gerd Rotzoll, Norbert Krott, Horst Jolitz, Hans Mittendorf and Christian Junge with Nial Moores
Hwaum Sa-Suncheon - SE River - Other river-area near Jinju-Joonam, February 5
In spring-like weather (with a high of ca 15C), a day of great variety and lots of birds of note. At Hwaum Sa, at least 3 Hill Pigeon, 2 White-backed Woodpecker, and a Brown Dipper watched excellently, while at Suncheon, best were 70 Hooded Crane and one hybrid Common X Hooded, 32 White Spoonbill and 120+ Saunders's Gull.
On the SE River, 3 pairs of (displaying) Scaly-sided Merganser, while at another site a female and then a male Plumbeous Water Redstart (the latter probably the same bird as seen earlier in the winter?).
Near Jinju, only 20 Cinereous Vulture (though including one wing-tagged bird from a banding program in Mongolia in 2006, and one strikingly paler sitting bird, part-concealed among ten other Cinereous - left unidentified due to a combination of poor views, poor light, and distance, until it was seen well and photographed on the 11th - becoming Korea's first record of Himalayan Griffon!) and the Steppe Eagle, watched perched prominently in a pine.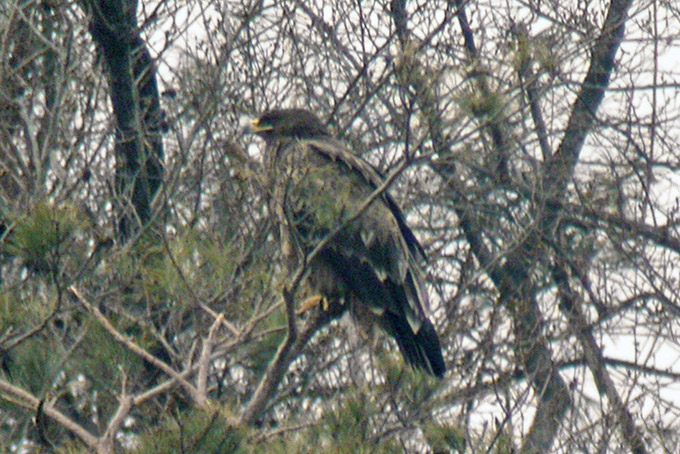 Steppe Eagle Aquila nipalensis Photo © Nial Moores
At Joonam, in failing light (!), 40 White-naped Crane and 75 Smew were the most noteworthy species.
Bird News from Gerd Rotzoll, Norbert Krott, Horst Jolitz, Hans Mittendorf and Christian Junge with Nial Moores
Geum-Gimje - Seocheon (Geum Estuary), February 4
Thick fog melted away through the morning in rising temperatures. Highlights among ca 68 species logged included a Whimbrel (exceptional in winter) and a Far Eastern Curlew (rare in winter) at "Shellfish harbour", a Long-billed Plover on the beach north of there (again, exceptional - habitat at least), 3+ Daurian Jackdaw, 3 Chestnut-eared Bunting (including one scoped well for several minutes), 110, 00 to 120, 00 Baikal Teal at the Geum, and biggest surprise of all 3 Oriental White Stork moving north, fairly low over the road north of Gunsan.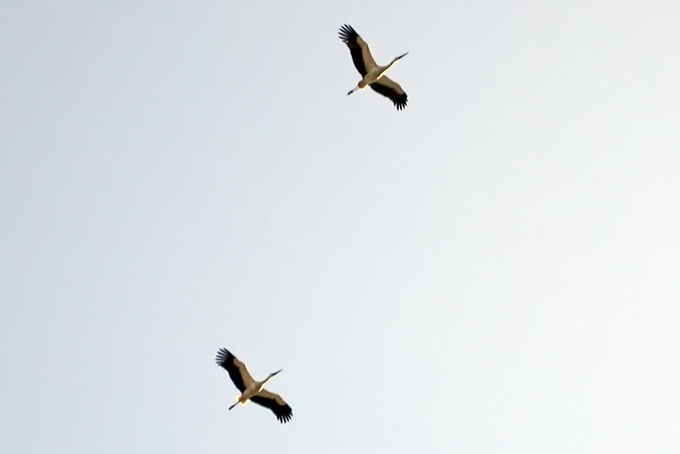 Oriental White Storks Ciconia boyciana Photo © Nial Moores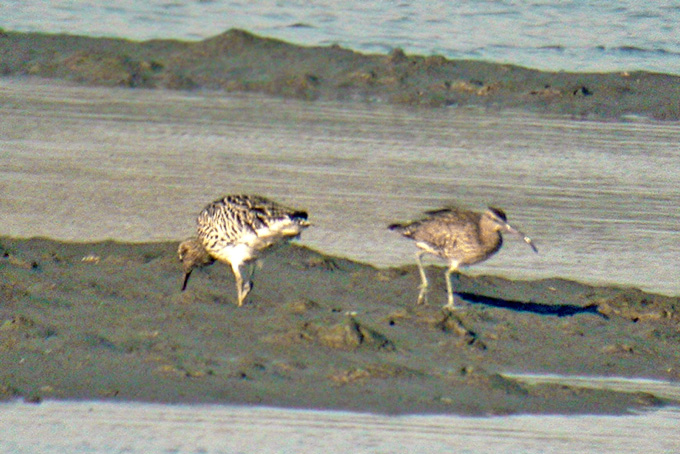 Whimbrel Numenius phaeopus Photo © Nial Moores
Bird News from Robin Newlin with Kim Hyun Tae
Seosan, February 4
An excellent morning's birding - much thanks to Mr. Kim Hyun Tae for very expert guiding around the (inter)national treasure that is Seosan lakes A and B
Highlights of a bird-filled several hours were a pair of apparent White-fronted/Snow Geese hybrids seen briefly in flight, excellent views of Rough-legged and Upland Buzzards, 4 Oriental White Storks, several Eurasian Spoonbills, prolonged views of Chinese Great Grey and Long-tailed Shrikes, a confiding (and, briefly, singing) Crested Lark, and 2 "Dark-throated "Thrushes: one ruficollis (doubtless the same individual recorded by NM et al. on the previous day) and one apparent 1st winter atrogularis.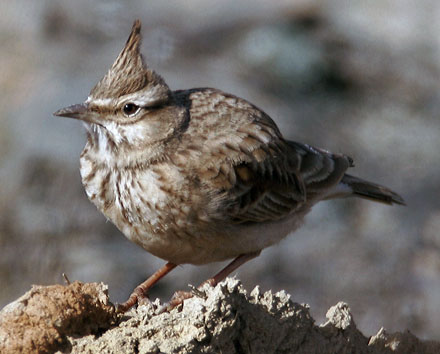 Crested Lark Galerida cristata coreensis Photo © Robin Newlin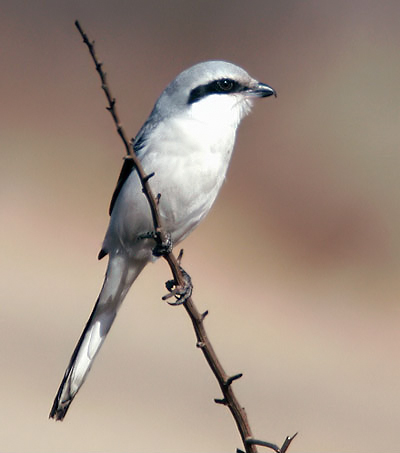 Chinese Grey Shrike Lanius sphenocercus, Photo © Robin Newlin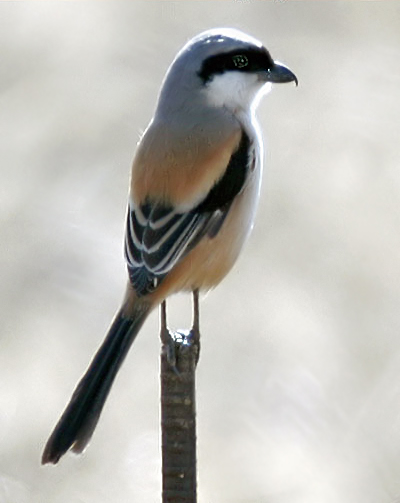 Long-tailed Shrike Lanius scach, Photo © Robin Newlin
Bird News from Jake Mac Lennan and Peter Nebel
Gunsan Vicinity, February 4
A male Red-flanked Bluetail was seen on the east side of the Seong-san Reservoir, also a couple of dozen Falcated Teals were among the waterfowl there. A few thousand Baikal were rafting a little further up river than usual.
At the Geum tidal area 30+ Swan Geese were seen. Several hundred Saunders' Gulls were over the Geum tidal area and a couple of hundred more were over the Mangyeong. Near the airport, PN noted the calls of a couple of Moorhens. A couple of Northern Lapwings were seen near there as well.
Bird News from Gerd Rotzoll, Norbert Krott, Horst Jolitz, Hans Mittendorf and Christian Junge with Nial Moores
Seosan (-Geum River in evening), February 3
Starting bright, the day became increasingly cloudy and windy, with temperatures reaching a very mild 7 C. Highlights of the 60 or so species logged included 4 Lesser White-fronted Goose (1 unaged and 2 adults with a first winter), 3 Oriental White Stork (in excellent light), the long-staying Long-tailed Shrike (thanks to Mr. Kim Hyun-tae!), a Chinese Grey Shrike, 340+ Lapland Longspur, a Swan Goose, and most surprisingly a Zitting Cisticola and an adult male Red-throated Thrush.
At the Geum, ca 60 00 Baikal Teal seen flying off to feed in the evening.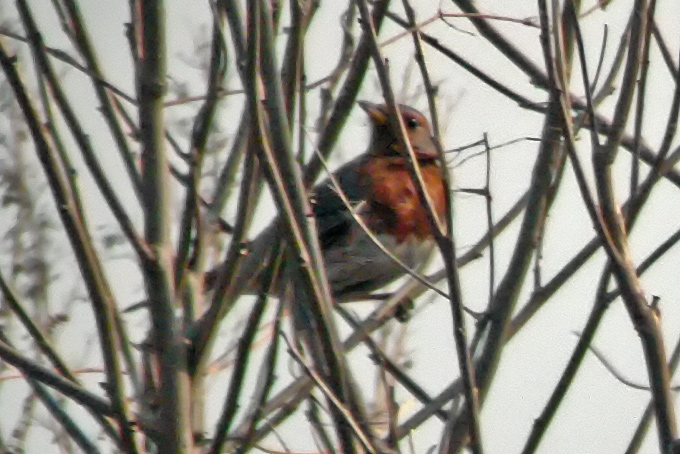 (Dark-)Red-throated Thrush Photo © Nial Moores
Bird News from Gerd Rotzoll, Norbert Krott, Horst Jolitz, Hans Mittendorf and Christian Junge with Nial Moores
NE River - Han River - Seosan Lake A, February 2
Again, a cold dawn (forecast as -12 C), but excellent viewing conditions for 10 Scaly-sided Merganser (4 males, 6 females), with one pair again seen copulating. Again, at this site too, lots of evidence of construction...
On the Han River, 2 Steller's Sea Eagle watched for over an hour in perfect light, with one bathing in an ice puddle for 20 minutes or more.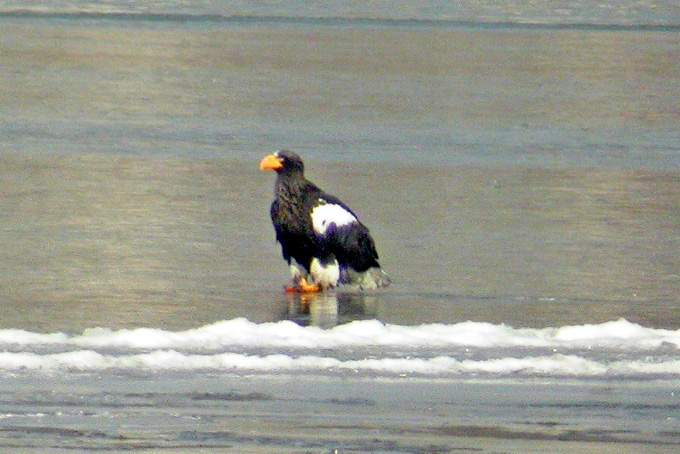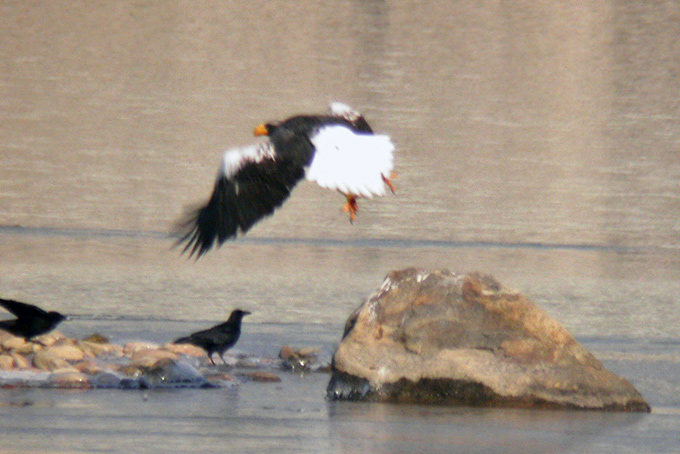 Steller's Sea Eagle Haliaeetus pelagicus Photos © Nial Moores
Also there, ca 25 Meadow and 10 Pallas's Reed Buntings, one very out-of-season leucopsis White and 2 Japanese Wagtails.
At Seosan A, in the very little time remaining, best was the 2 Oriental White Stork - again giving very good views...
Bird News from Gerd Rotzoll, Norbert Krott, Horst Jolitz, Hans Mittendorf and Christian Junge with Nial Moores
Cheorwon - Arboretum, February 1
A very cold start (with a forecast low of -15C), but still excellent conditions for watching the morning crane flight, with 50+ Red-Crowneds and 220+ White-napeds. Other birds of note included 200+ Cinereous Vulture (including one with 9 in white on a very large black wing-tag); 2-3 White-tailed Eagle; 12 Siberian Accentor; a Red-throated Thrush (identified on call by NM; seen briefly in flight by NK); and a very unseasonal Red-flanked Bluetail.
At the arboretum, the bulldozer theme continued, with one again digging in the stream..however, still 5 Solitary Snipe, probably 2 Pallas's Rosefinch (with one female-type scoped well), 2 White-backed Woodpecker and a male rosacea x cassini-type Bullfinch.