Birds Korea's Bird News January 2008
January
In occasional periods of extreme cold many smaller rivers and reservoirs freeze over. Temperatures often drop to -5°C at night, and stay near freezing in the day. Periods of light snow and severe cold are usually followed by milder temperatures, and then severe cold again.
A guided tour can expect about 160 species in 12 days if all the best areas are visited, and winter specialities include Baikal Teal (in often huge concentrations) and Scaly-sided Merganser, Swan and Lesser White-fronted Goose, Steller's Sea Eagle, Relict and Saunders's Gulls and Solitary Snipe! Red-crowned Cranes stand out on tidal-flats at Ganghwa, while White-naped and Hooded Cranes can be found in the south. Huge numbers of ducks and geese fill sites like Haenam and Seosan's Cheonsu Bay. Siberian Accentors can be common. On the southern island of Jeju milder conditions allow White's and Pale Thrushes, Olive-backed Pipits, and Red-flanked Bluetails to overwinter along with Korea's only regular winter Black-faced Spoonbills, and several thousand Mandarin Duck.
January highlights in 2002 included Korea's first Slender-billed Gull at Gwangyang, and in 2003 Chinese Nuthatch and Grey Buntings at several sites in the northwest, and southeast respectively. In 2004 a Long-tailed Shrike was on Jeju, while two Red-crested Pochard (seventh national record) were present at Joonam reservoir mid-month, whilst January 2005 was notable for a Ferruginous Duck and at least two over-wintering White-bellied Green Pigeons.
(The following records are a compilation of our own sightings and records sent in by other observers. As well as being posted on the Birds Korea website(s), selected records are also forwarded to other Korean-language birding websites; records of threatened species are arranged and forwarded to Birdlife International and national authorities when appropriate; flag images and records are passed to bodies responsible for their coordination throughout the flyway; and all records sent to us are used to compile annual reports and to support the evolving understanding of the status of many of Korea's birds.)
Bird News from Tim Edelsten
Oksu-Eungbong, January 30
Along the stream that meets the Han river, some 30 Mandarins were a real joy to watch- the males engaged in vigorous courtship, head-popping and territorial displays, and almost constantly squeaking and screeching, occasionally flying in circuits of what appeared to be purely random exercise.
300 Common Merganser were massed sleepily at the confluence, with 350 Tufted Duck, 2 Falcated Teal and 70 Common Pochard scattered around. Other typical winter wildfowl included perhaps 150 Shoveler, 200 Pintail, A Coot, several Mallard, Teal, and 7 Gadwall. 60 Mongolian Gull were assembled while a Common Buzzard patrolled overhead.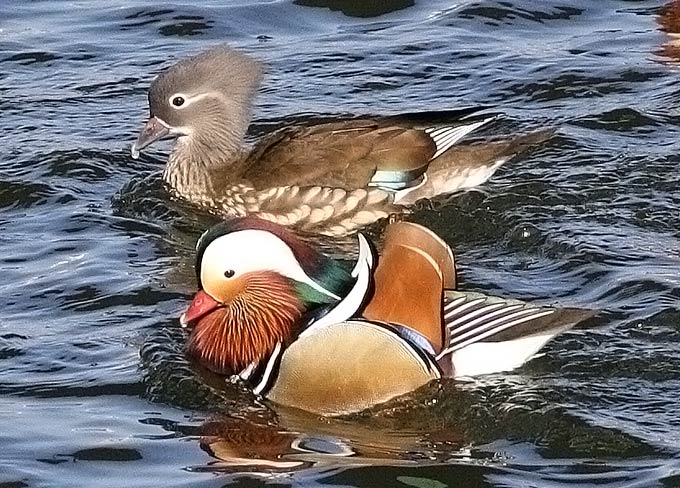 Mandarin Duck Aix galericulata Photo © Tim Edelsten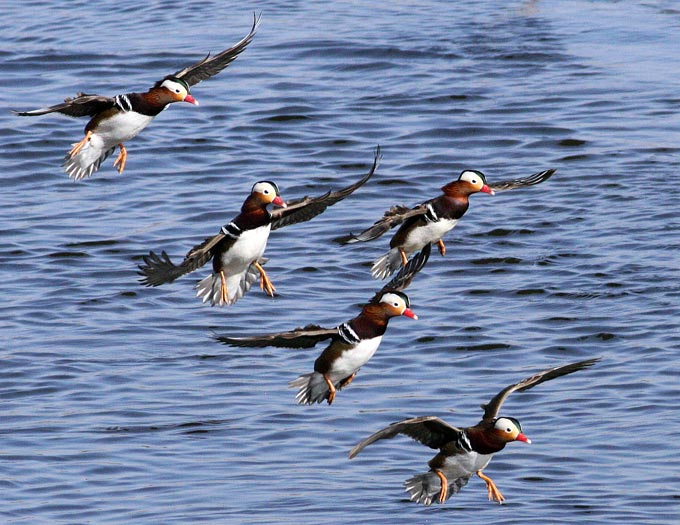 Mandarin Duck Aix galericulata Photo © Tim Edelsten
Mandarin Duck Aix galericulata Photo © Tim Edelsten
Bird News from Dr. Kim Seok-Yee
Mokpo Namhang Tidal flat, January 29
The daily counting on a windy but sunny afternoon with temperatures around 6° revealed 4 Grey Heron, 1 Little Egret, 512 Common Teal, 122 Spot-billed Duck, 108 Mallard, 317 Eurasian Wigeon, 211 Gadwall (one was seen dead the day before but couldn't be found again), 168 Common Shelduck, 17 Northern Shoveler, 56 Falcated Duck, 2 Greater Scaup, 2 Little Grebe, 1 Great Cormorant, 223 "Herring Gull", 4 Coot, 6 Oystercatcher, 122 Dunlin of which one was spotted with only one foot for the second time within several days, 4 Kentish Plover, 6 White Wagtail, 4 Eurasian Magpie. In addition for the first time recorded at this location a Common Buzzard.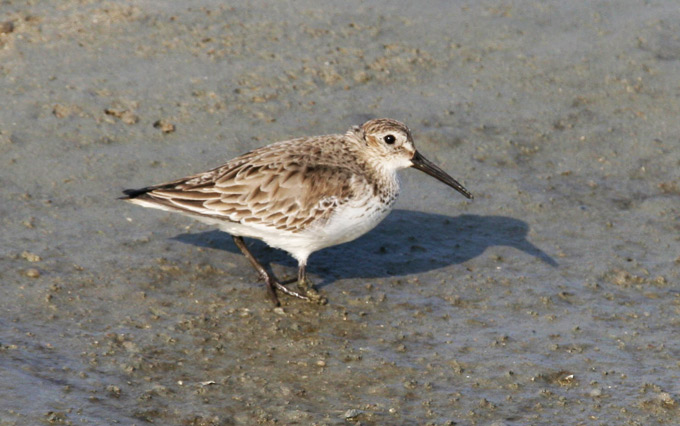 Dunlin Calidris alpina Photo © Dr. Kim Seok-Yee
Common Buzzard Buteo buteo Photo © Dr. Kim Seok-Yee
Common Buzzard Buteo buteo Photo © Dr. Kim Seok-Yee
Bird News from Tim Edelsten & Robin Newlin
Han River, January 28
At their traditional stretch of the Han river in east Seoul, 1 full adult and 1 juvenile Steller's Sea Eagle stood out on the ice, with at least 4 (possibly 5) White-tailed Eagle and a Peregrine in close attendance.
Common Merganser and Goldeneye were notably numerous, although other typical wildfowl seemed fewer than previous winters, with eg. only 40 Tufted Duck, 50 Whooper Swan, 15 Wigeon, 15 Coot and a handful of Gadwall. 7 Falcated Duck are a first for this site.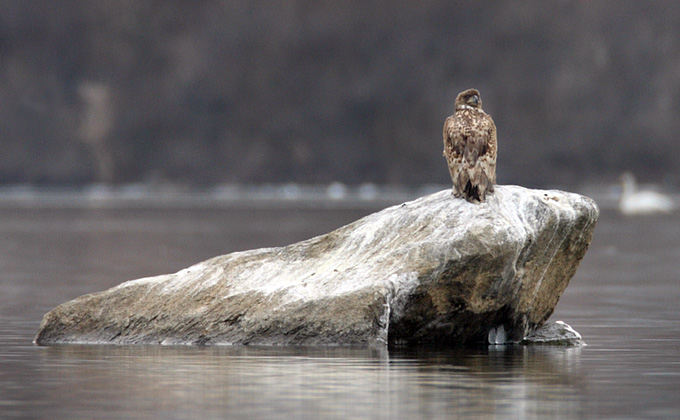 White-tailed Eagle Haliaeetus albicilla Photo © Robin Newlin
Whooper Swan Cygnus cygnus Photo © Robin Newlin
Juvenile Whooper Swan Cygnus cygnus Photo © Robin Newlin
Bird News from Jake Mac Lennan and Peter Nebel
Gunsan, Geum River and Samgi, January 27
At the Geum there were a few Saunders's Gulls, and nine or so Swan Geese. Roughly 40 or more Northern Lapwings were seen. A distant Red-breasted Merganser was noted by PN. A single Long-billed Plover was among some Kentish on the mud, a first at that site for both PN and I. In the reeds, Pallas's Reed Buntings as well as a few Black-faced Buntings were seen. Some canal work at the base of Oh-seong had a Common Kingfisher. Up river, a female Northern Harrier was spotted. There were still a few Baikal Teal in the tidal area as well as up river.
Returning to Samgi I took my dog for a walk and noticed a male/female pair of Chestnut-eared Buntings. Later my dog flushed a Common Snipe while disobeying my order to return to my side.
Bird News from Barry Heinrich
Yanggu x river & rice fields, January 27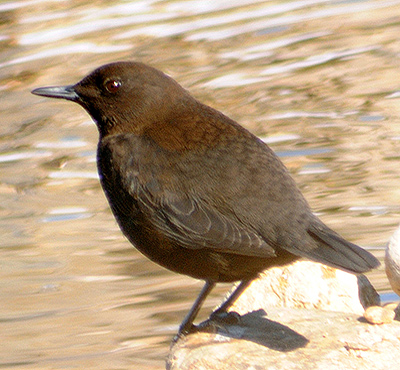 Brown Dipper Cinclus pallasii Photo © Barry Heinrich
In the last week there have been some interesting birds around Yanggu. On 23 January, Greater White-fronted Geese were seen coming to roost in fallow rice fields at dusk. Next morning I counted over 1000 birds around 9:00am.
Today, 27 January, I walked along the local river, Seocheon. The last of the roosting Greater White-fronted Geese left around 11:00am. Ducks included Mallards, Spot-billed Ducks and Common Teals. Other birds along the river included Long-billed Plovers, Green Sandpipers, Common Snipe, Japanese Wagtails, a Dusky Thrush Turdus naumanni eunomys, a Common Kingfisher, Little Grebes and Grey Herons. Four species of Buntings were seen today as well; Meadow, Rustic, Yellow-throated and Pallas Reed. I saw nine (9) Siberian Accentors, Winter Wren, Great Tits, Marsh Tits, Grey-capped Greenfinches, Vinous-throated Parrotbills, Bull-headed Shrikes, Eurasian Magpie, Long-tailed Rosefinches and Pallas's Rosefinches and a Brown Dipper in riparian vegetation. There was a Common Buzzard on a power pole. A Common Kestrel flew over and a flock of 33 Large-billed Crows were flying on the east side of the new dam.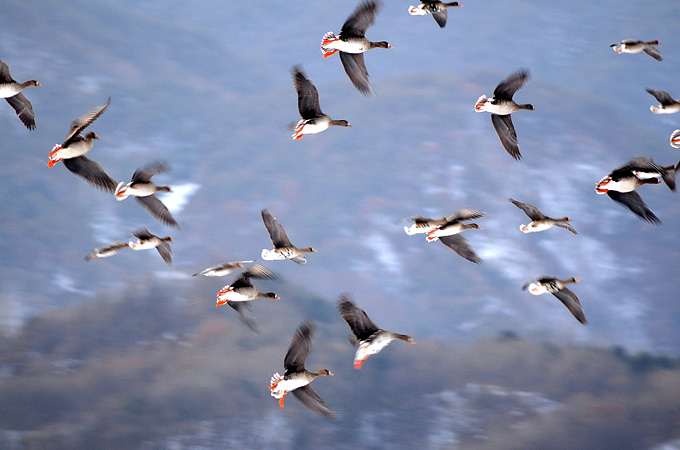 Greater White-fronted Goose Anser albifrons Photo © Barry Heinrich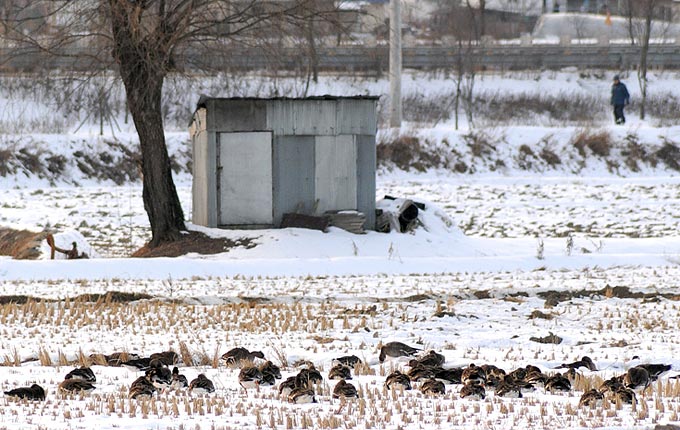 Greater White-fronted Goose Anser albifrons Photo © Barry Heinrich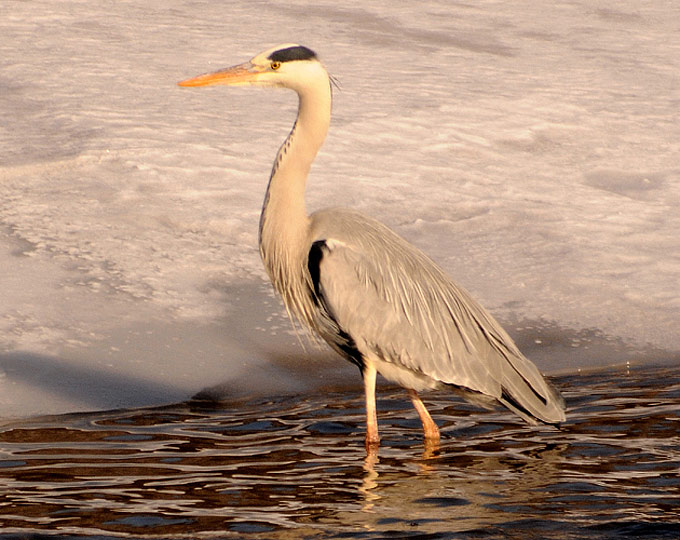 Grey Heron Ardea cinerea Photo © Barry Heinrich
Pallas's Rosefinch Carpodacus roseus Photo © Barry Heinrich
Bird News from Mathew Poll
Lake Park, Ilsan, January 27
Saw 4 Brambling in a tree on a small hill. They were hard to see, as they were not moving, and well-camouflaged. Several Dusky Thrush were also seen.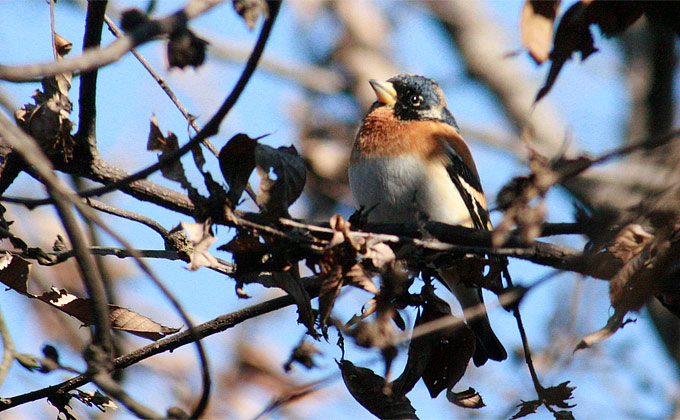 Brambling Fringilla montifringilla Photo © Mathew Poll
Bird News from Jake Mac Lennan
Samgi/Iksan, January 26
Three Long-billed Plovers and three Short-eared Owls were seen between Samgi and Iksan.
Bird News from Mathew Poll
Stream behind Baekma train station, Ilsan, January 26
A short walk around a (less than clean) stream near some farmer's fields provided me an opportunity to photograph some birds spotted there earlier this week. The highlights on this sunny and cool morning were a Green Sandpiper, two Long-Billed Plover, and a pair of Black-Backed Wagtail. A male Daurian Redstart, and a flock of a few hundred Tree Sparrow were also seen.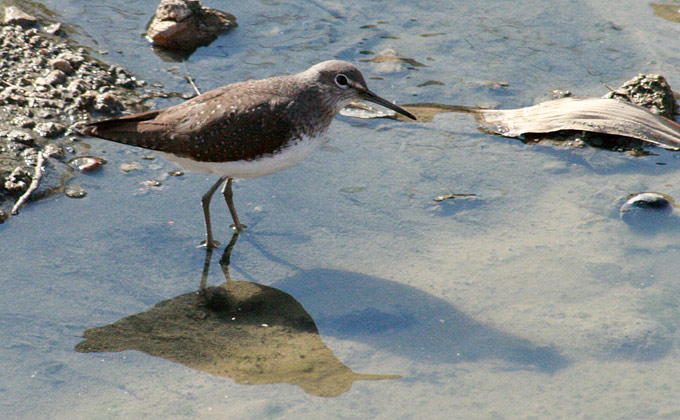 Green Sandpiper Tringa ochropus Photo © Mathew Poll
Long-billed Plover Charadrius placidus Photo © Mathew Poll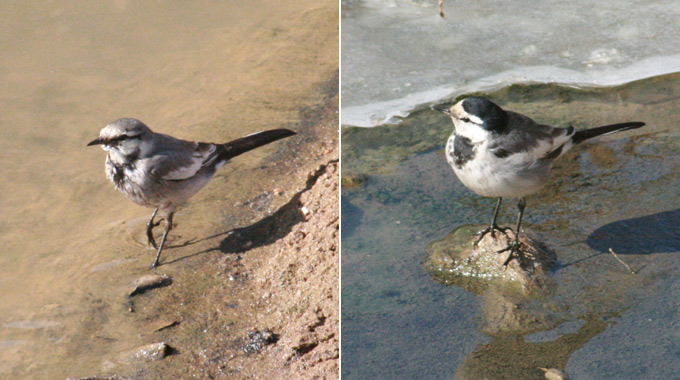 White Wagtail Motacilla alba lugens Photo © Mathew Poll
Bird News from Mathew Poll
Forested hill near Gobongsan, Ilsan, January 24
Despite the cold and windy day, managed to spot a good variety of forest birds. Highlights included a female Red-Flanked Bluetail, a pair of active Eurasian Treecreeper (one of which was involved in an amusing 'fight' with a Great Tit), a single Eurasian Nuthatch, and 3 white-headed Long-Tailed Tit (I got a picture one a week ago at the same location). A group of about 8 Brown-Eared Bulbul was mobbing a Jay. Several Goldcrest were fleetingly visible high in the treetops. Single examples of Japanese Pygmy, Great Spotted, and Grey-Headed Woodpecker were also seen.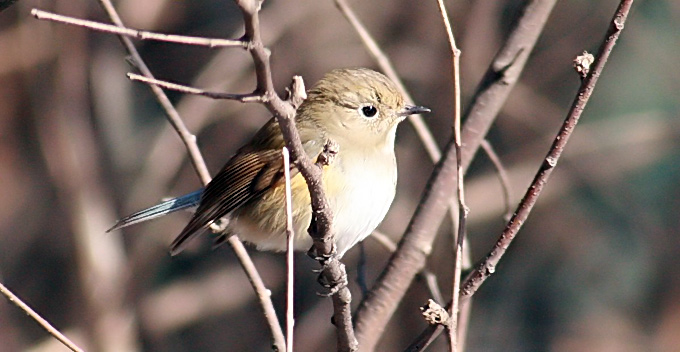 Red-Flanked Bluetail Tarsiger cyanurus Photo © Mathew Poll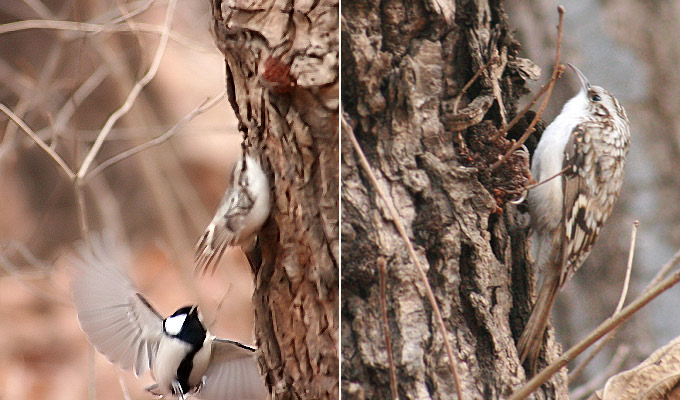 Eurasian Treecreeper Certhia familiaris left with Great Tit Parus major Photo © Mathew Poll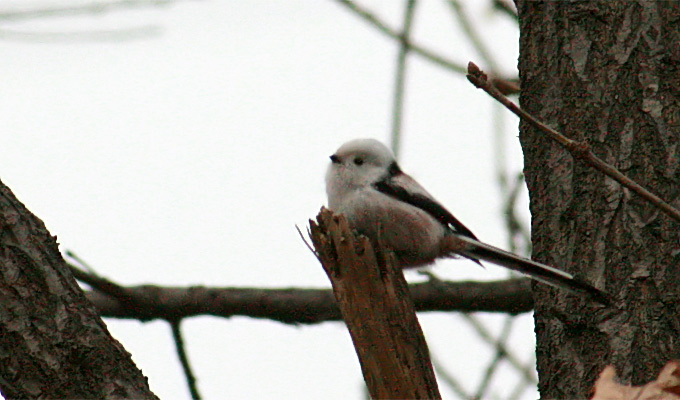 Long-Tailed Tit Aegithalos caudatus Photo © Mathew Poll
Bird News from Jean Francois, Serge Nicolle, Dominique Tavenon and Nial Moores
NE Gangwon Coast (Hwajin Po-Yangyang), January 23
A cold crisp day, with light winds in the morning, and falling temperatures through the afternoon. At Hwajin Po itself, 2 Long-tailed Rosefinch heard, but otherwise birdless with the lake completely frozen, and the surrounding landscape (and mountain backdrop) covered in thick snow. At various points on the coast, most remarkable through the morning was the massive number of Ancient Murrelet moving south offshore (perhaps with some of this movement of birds out of no-access sea areas of the DMZ into more disturbed but less bird-dense areas for feeding?). In two minutes at 10:30 AM, over 500 were counted moving south, with between 100 and 200 birds per minute for the preceding and following 15 minutes or so. This movement appeared to continue more or less uninterrupted for several hours (from 8 AM, until at least midday), with these moving murrelets also joined by one Least Auklet, one Common Murre and one unidentified Murre, as well as several hundred Loons in total. A little south of Hwajin, a large feeding frenzy of gulls in the early afternoon had around its edges several hundered Ancient Murrelet, one more Common Murre, one Rhinceros Auklet, a Long-billed Murrelet (one of 4 found this day), and at least 17 Spectacled Guillemot counted in a single scan (all of the latter only at very long range). This is the largest count of this latter species known to us in South Korea. It is worth noting that the species has been suspected of breeding on Kukdo Island at around 39 Degrees N in the DPRK-part of Gangwon Province (see: Tomek's The Birds of North Korea, 1999). Further species of note during the day included probably 40+ Harlequin Duck, 50+ Red-necked and 20+ Horned Grebes, one juvenile/first-winter Glaucous-winged Gull, c 20 or so Glaucous Gull, half-a-dozen Long-tailed Rosefinch in total, several Siberian Accentor, small numbers of larks moving south offshore (apparently both Far Eastern and Northern), 3 White-tailed Eagle in total, and 3 Rough-legged Buzzard at Yangyang.
Bird News from Mathew Poll
Lake Park, Ilsan, January 23
A chilly sunset circuit around Lake Park in Ilsan produced a few bird sightings. An elusive group of about 5 Dusky Thrush were seen. A single Male Daurian Redstart was sitting next to the lake near several Yellow-Throated Bunting. Nearby, a pair of Mallard sat on the frozen water (the male seemed to have an injured wing).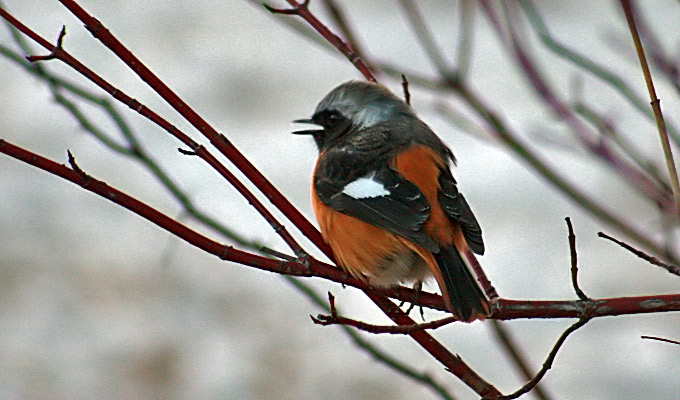 Daurian Redstart Phoenicurus auroreus Photo © Mathew Poll
Bird News from Jean Francois, Serge Nicolle, Dominique Tavenon and Nial Moores
NE River-NE Coast, January 22
Heavy snow again overnight and through much of the day (especially at the coast) became lighter for a while at the NE River to allow good, long views of 4 Scaly-sided Merganser, and decent views of other regular species there including Long-billed Plover (1), Japanese Wagtail (c10), Meadow Bunting (2), Siberian Accentor (1). NM also had distant and rather brief flight views of what appeared obviously to be a male Plumbeous Water Redstart (i.e. an all dark grey passerine, with a fanned red tail, landing on rocks in the centre of the river as it tried to chase off Japanese Wagtails). Despite some searching, the bird was not relocated. At Yangyang, White-tailed Eagle, 2 or 3 Rough-legged Buzzard, one (presumed) Upland Buzzard, 4 or 5 Common Buzzard, Peregrine and Northern Harrier were the obvious highlights.
Bird News from Jean Francois, Serge Nicolle, Dominique Tavenon and Nial Moores
Cheorwon, January 21
With heavy snow at Incheon, cold conditions at Cheorwon, where highlights included probably 70-80 White-naped Crane and 25+ Red-crowned Crane, 10+ Siberian Accentor (though with only one showing well), 4 White-tailed Eagle, 3 Baikal Teal, a Rough-legged Buzzard and a close encounter with a Chinese Grey Shrike.
Bird News from Jeff Hopkins with Kim Eun-mi and Gang Chang-hwan
Jeju Island, January 19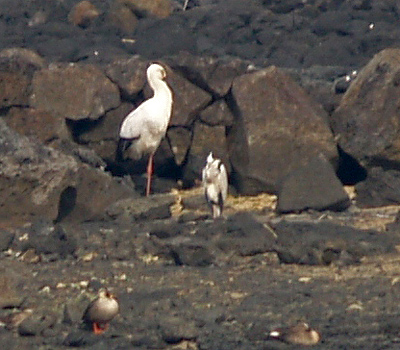 Oriental Stork Ciconia boyciana Photo © Jeff Hopkins
I spent the day birding with Ms. Kim Eun-mi and Mr. Gang Chang-hwan and several of their friends. We essentially completed a loop of the island starting and ending in Jungmun Resort.
We started at the Cheonjeon mouth near Seogwipo, where they showed me a Japanese Wagtail along with a few Common Teal and a Green Sandpiper. Bushes in the gorge held Japanese White-eyes, Japanese Bush Warblers, Olive-backed Pipit, and a Bull-headed Shrike. We then headed to a nearby water treatment plant, which I believe was along the Yeraecheon where a the stream held a very active Plumbeous Water Redstart, as well as both White and Grey Wagtails. A drive along the rocky coast near there added male and female Blue Rock Thrush, Meadow Bunting, and a Falcated Duck and several Great Crested Grebes offshore.
From there we drove to Yongsu Reservoir, where we had several Common Pochard, a Common Merganser, and a Pacific Loon among the more common ducks. We drove up the coast through the nearby fields where Mr. Gang pointed out a Greater Spotted Eagle, to the coast near the wind farm at Geumdeung-ri. There we refound an Oriental Stork that had been seen the day before along with a Eurasian Spoonbill and hundreds of other egrets, herons including a Pacific Reef Heron and gulls all feeding in a tidal pool.
From there we drove back through the fields, turning up a couple Common Moorhens. Our next stop was the Halla Arboretum to see thrushes. We turned up a Pale Thrush fairly easily, and with a bit more effort and very sharp eyes on Mr. Gang's part, a very obliging White's Thrush. We also had a flock of about 50 Siskins, a couple Hawfinch, and a Varied Tit as we were leaving.
Pacific Reef Heron Egretta sacra Photo © Jeff Hopkins
We drove from there to Seongsan-po, finding a flock of 40 Eurasian starlings near Daecheongdong Junction along the way (which didn't excite me, but were a very nice sighting for the residents) along with a large number of Rooks. At Seongsan-po we found 5 distant Black-faced Spoonbills, and a large group of shorebirds which included Grey Plover, Dunlin, and Kentish Plover. On the way to Seongsan Ilchulbong, we also found a Brown Shrike.
After a stop in Seongsan town, we birded the shoreline up the coast toward Hado-ri. Some of the notable sightings along the way included a fly-by Osprey and a handful of Red-breasted Mergansers among the thousands of Eurasian Wigeon. When we first stopped at Hado-ri Fishponds, we had a Northern Goshawk take a run at a bird in the trees, and I got a good look at a Japanese Bush Warbler in the reeds. Driving along the ponds, we finally found a close group of 11 Black-faced Spoonbills, getting a good look, along with a feeding Peregrine Falcon and an Eastern Marsh Harrier hunting over the pools.
A second stop at Seongsan-po found 17 Spoonbills where earlier there were only 5, but a couple other stops on the way back to Seogwipo failed to turn up the recently reported Imperial Eagle and Lesser White-fronted Goose. In total, we saw 76 species, 9 of which were lifers and 24 of which were new for Korea for me.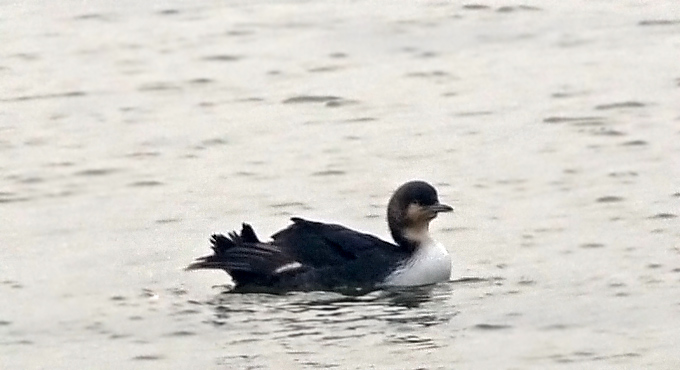 Pacific Loon Gavia pacifica Photo © Jeff Hopkins
Great Crested Grebe Podiceps cristatus Photo © Jeff Hopkins
Bird News from Rich Lindie and Hayley Wood
Jeju island, January 18-20
We only managed a few hours birding here and there on a sightseeing trip. On the ferry from Nokdong there were a few Black-legged Kittiwake among the Black-tailed Gull. On the island itself, Grey-capped Greenfinch, Japanese White-Eye, Pale Thrush and Dusky Thrush were all in evidence, as were Blue Rockthrush in harbour areas. One Oriental Stork was seen from the bus near Gosan Town.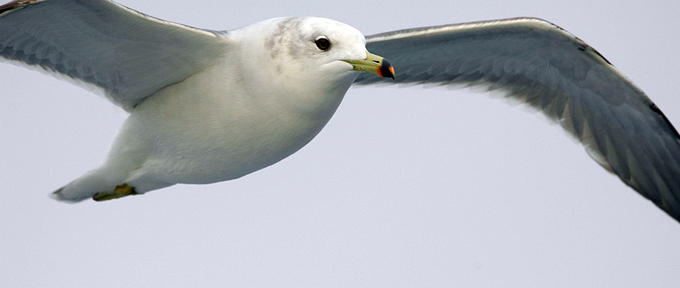 Black-tailed Gull Larus crassirostris Photo © Rich Lindie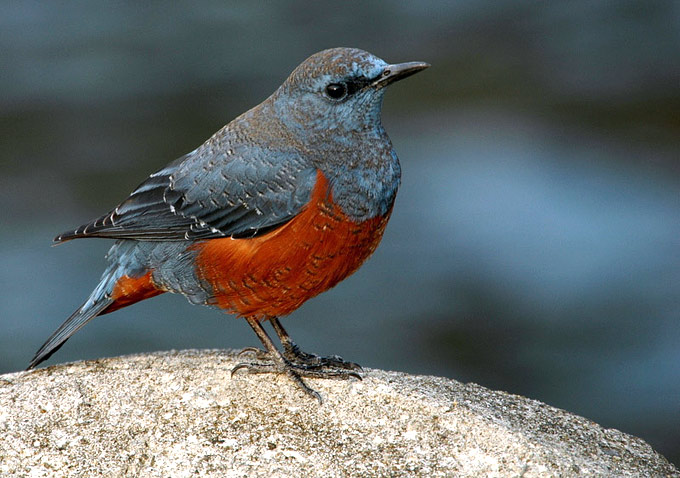 Blue Rockthrush Monticola solitarius Photo © Rich Lindie
Bird News from Robin Newlin, Peter and Angela Nebel
"Northern Tour", January 18-20
Highlights from various spots north of Seoul.
January 18: Northeast River: 10 Scaly-sided Mergansers, Varied Tit, 1 Japanese Wagtail.
National Arboreteum: Apparently 2 different (seen at fairly separate locations) Grey-capped Pygmy Woodpeckers, 10 Bullfinches, 2 Solitary Snipe, 1 Eurasian Sparrowhawk, 3 Cinereous Vultures.
January 19: Cheolweon. About 30 White-naped and 12 Red-crowned Cranes. Several Siberian Accentors. Meadow, Rustic and Yellow-throated Buntings. Crowds of Cinereous Vultures at the Cheolsae-ponin Chip; a Merlin, 3 White-tailed Sea Eagles, several Smew among the Mallards on the reservoir.
January 20: The morning added a Chinese Great Grey Shrike, more Cranes (especially White-napes including one surprise Hooded Crane) and, at the reservoir, a 3rd-year (?) Steller's Sea Eagle and a Merlin, a different individual than the day before. Angela found a male Baikal Teal among the Mallards; 3 Greater Scaups and a few Pochards were also present, and a cracking male Northern Harrier flashed by.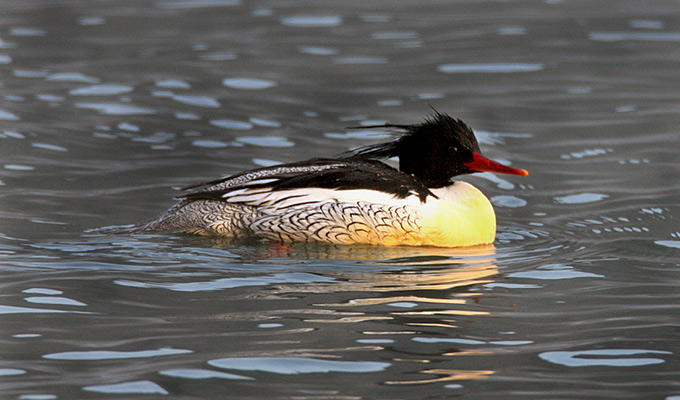 Scaly-sided Merganser Mergus squamatus Photo © Robin Newlin
Varied Tit Poecile varia Photo © Robin Newlin
Grey-capped Pygmy Woodpecker Dendrocopos canicapillus Photo © Robin Newlin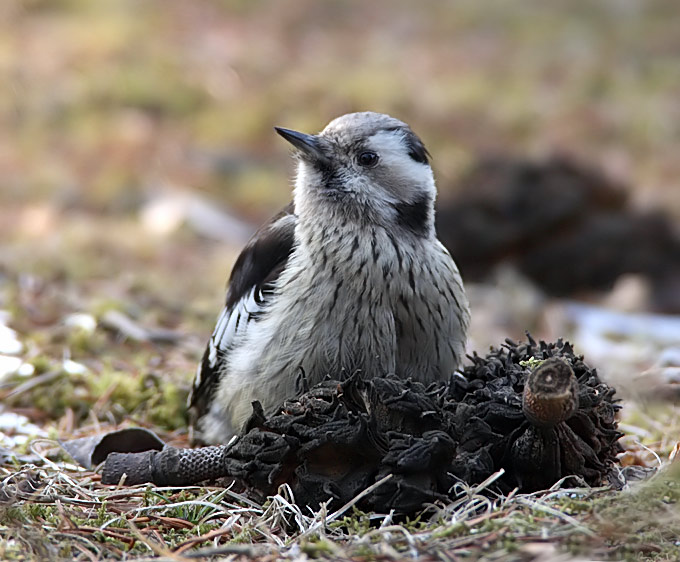 Grey-capped Pygmy Woodpecker Dendrocopos canicapillus Photo © Robin Newlin
Cinereous Vulture Aegypius monachus Photo © Robin Newlin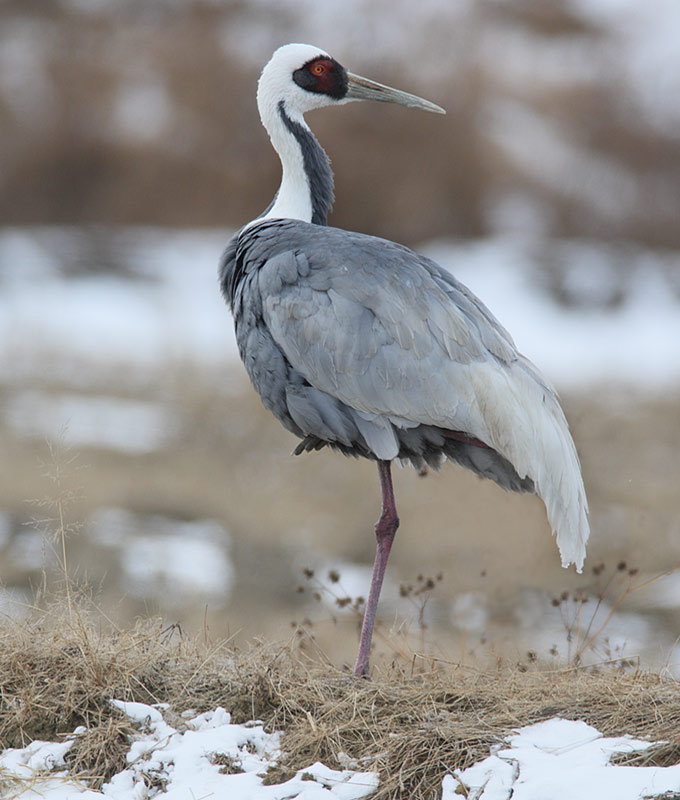 White-naped Crane Grus vipio Photo © Robin Newlin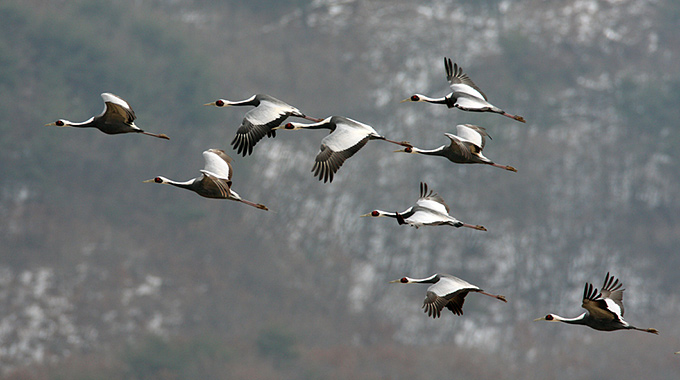 White-naped Cranes Grus vipio Photo © Robin Newlin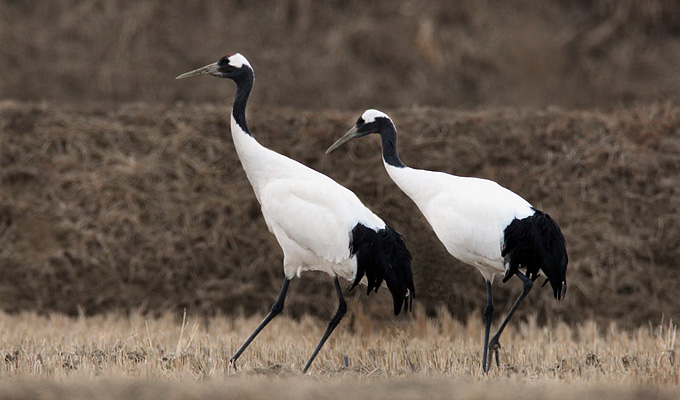 Red-crowned Crane Grus japonensis Photo © Robin Newlin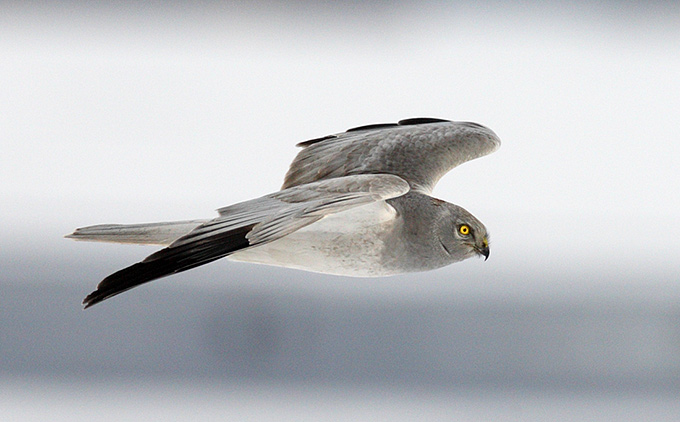 Northern Harrier Circus cyaneus Photo © Robin Newlin
Bird News from Robin Newlin
Sulleung, January 15
A couple of hours at Sulleung Tombs, mostly on stakeout for a Treecreeper (seen once, heard twice, but not satisfactorily photographed). Japanese Pygmy Woodpeckers in evidence, as were a Grey-headed Woodpecker, Varied Tits, and a Wren.
Japanese Pygmy Woodpecker Dendrocopos kizuki Photo © Robin Newlin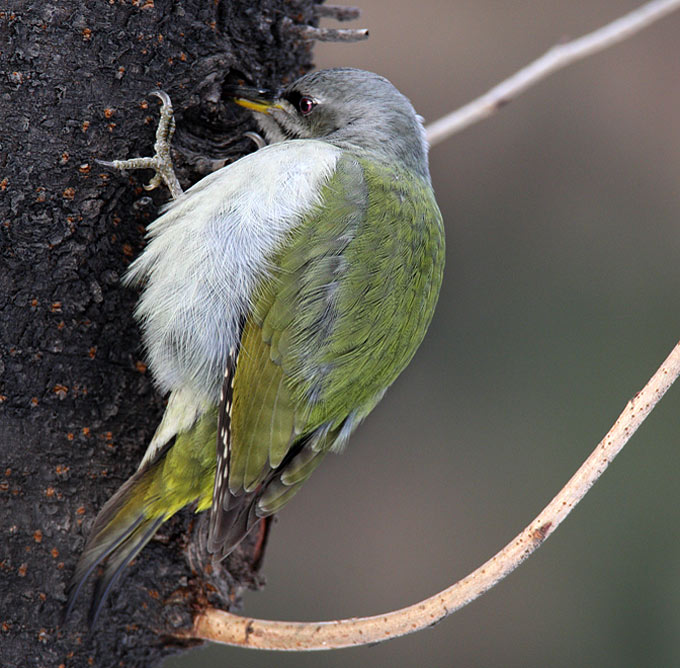 Grey-headed Woodpecker Picus canus Photo © Robin Newlin
Bird News from Robin Newlin
Shireepdae, January 14
An afternoon visit to the snowy and very quiet (birdwise and other) woods behind Shireepdae. 2nd bird seen (1st was a Greater Spotted Woodpecker) was a Tree Creeper, which would have been unexpected any other year; the bird flew in very close then flew away (and stayed away) just as quickly. Almost as elusive was a flock of Long Tailed Tits; one was the white-headed type. A small gang of Varied Tits came by; one perched on the lip of my lens hood. A Naumann's Thrush scolded me on my way out.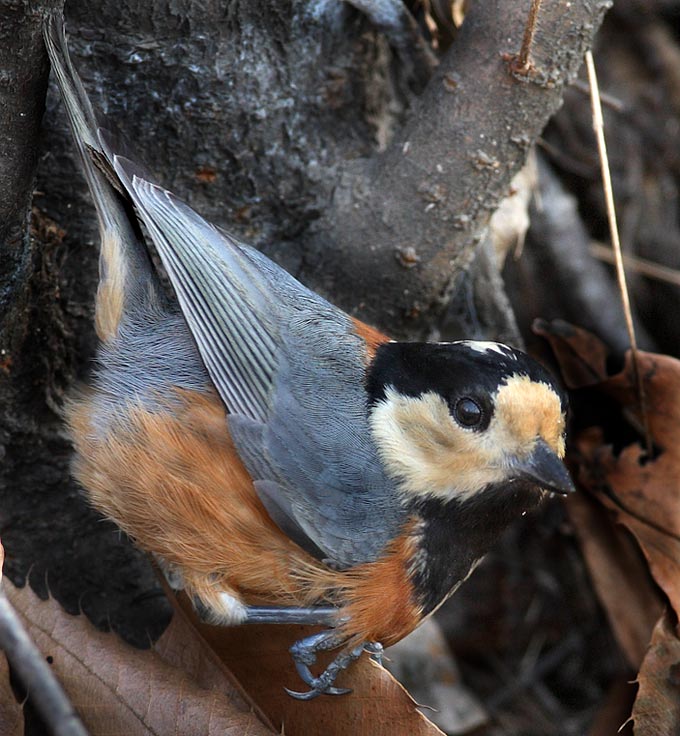 Varied Tit Poecile varia Photo © Robin Newlin
Bird News from Peter and Angela Nebel
Okku Area, January 13
A short foray in the afternoon produced the following notable species at Okku: Red-throated Diver, Japanese Quail, Peregrine, and Upland Buzzard (only the second one observed in this area during almost 5 years of observations), while the Okku Reservoir produced several hundred Common Mergansers and an Artic Diver.
Bird News from Nial Moores with Kim Su-Kyung (Oriental Stork Basic Habitat Assessment Survey)
Haenam, January 8
With thick fog severely restricting search effort through the morning, still a large area of what was considered potentially suitable habitat was checked for Oriental Storks, with no success. Birds of note included 1 or 2 Ochre-rumped Bunting, a single Bluethroat and a calling Water Rail at Kumho Lake, and c 50,000 Baikal Teal, a probable Snow Goose, and a Chinese Grey Shrike at Yeongam Lake.
Bird News from Nial Moores with Kim Su-Kyung
Mokpo-Haenam, January 7
Continuing the search for Oriental Storks in very mild though misty weather proved unsuccessful, but provided the chance to try to count the Baikal Teal at Gocheonnam, Haenam. Going through the huge flock in thousand blocks twice (first with binoculars and then by telescope, both times by NM) produced estimates of 689,000 and 691,000 respectively - with the averaged out number of 690,000 the largest count know of the species to us, but still likely to be an understimate! According to local expert Lee Jeong-Sik, the vast majority of teal arrived in the past few days, after the heavy snowfall at year end (which still lies fairly deep along much of the west coast, from Seosan south to Hampyeong). Also found during the day were unseasonal Dusky Warbler (one in Mokpo, and 1 or 2 at Gocheonnam), and single Eastern Yellow Wagtail (one at Gocheonnam), an Eastern Marsh Harrier and a dozen or so Northern Harrier (Gocheonnam), an eagle sp in the mist (possibly Eastern Imperial) in Mokpo, 4 Japanese Quail (Mokpo) and at least 28 Eurasian Spoonbill, at Sani in Yeongam Ho.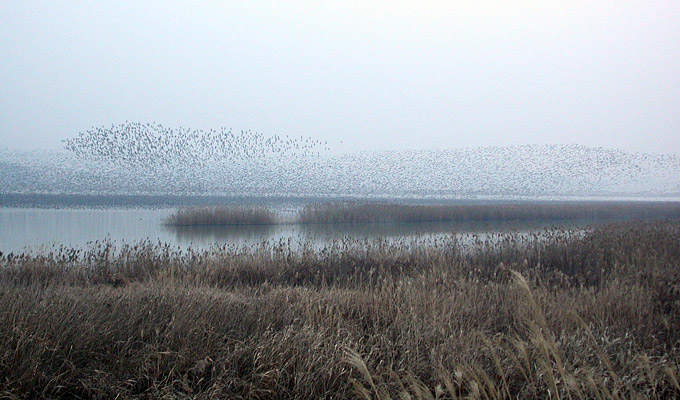 Baikal Teal Anas formosa Photo © Nial Moores
Bird News from Nial Moores and Kim Su-Kyung (Oriental Stork Basic Habitat Assessment Survey)
Seosan, January 6
At Seosan (with Seosan-expert and gull enthusiast Kim Hyun-tae for most of the day), 5 Oriental Stork, 2 Rough-legged Buzzard, one White-tailed Eagle, one Chinese Grey Shrike, 38 White Spoonbill, a single flock of at least 900 Lapland Bunting, and an evening roost of at least 540 Great Egret the obvious highlights.
Probable "pale-end" first-winter taimyrensis gull, Photo © Kim Hyun-Tae. This individual shows a structure suggesting taimyrensis (slight build, short-billed, long primary projection); the all-dark/largely dark bill bill typical of taimrensis-types in January; and the rusty-tones, coarse nape streaking, white-headed look and saddle tones often found in taimyrensis. However, the greater coverts look much paler than is typical, and the tertials rather worn - both features rather more suggestive of other taxa at this time of year.
Rough-legged Buzzard Buteo lagopus Photo © Nial Moores
Bird News from Nial Moores and Kim Su-Kyung (Oriental Stork Basic Habitat Assessment Survey)
Namyang Bay-Daeho, January 5
At Namyang Bay, the seawall was completed in 2006, and bulldozers are now extremely busy there, apparently converting some of the most important tidal-flats in the world for Nordmann's Greenshank into a massive building site...Few birds within the reclamation area, with highlights in the area a Common Treecreeper in adjacent woodland, and on the remaining tidal-flats outside of the seawall 2170 Eurasian Curlew and 128 Saunders's Gull, along with 50 Ruddy Shelduck. At Daeho, best were an Upland Buzzard and one probable Lesser White-fronted Goose very briefly.
Bird News from Andreas Kim.
Haenam Gocheonnam,Uhang-ri and Haenam Park, January 5
The trip started in the morning to Gocheonnam. Approximately 300000 ducks on the water, a mixed group of Baikal Teal and Eurasian Wigeon accompanied by a small number of Mallard. 1 Great Crested Grebe, 1 Coot, 1 Common Buzzard, 5 Bull-headed Shrikes and a group of 37 Great Egret were also seen. Close to the road in the rice fields about 1000 Greater White-fronted Goose.
Uhang-ri is the location of the Fossil and Dinosaurs Museum in Heanam from which there is a good view on to a part of the Haenam Reservoir. Here about 400 Mallard were spread over the viewable area and also 5 male and 2 female Common Merganser could be watched for over one hour. Despite the many visitors a flock of about 50 Eurasian Tree Sparrow in the reed and 2 Daurian Redstart stayed in close distance.
On the way home a short stop at the Haenam Park which is at the mouth of the Haenam reservoir 250+ Coot were on the water.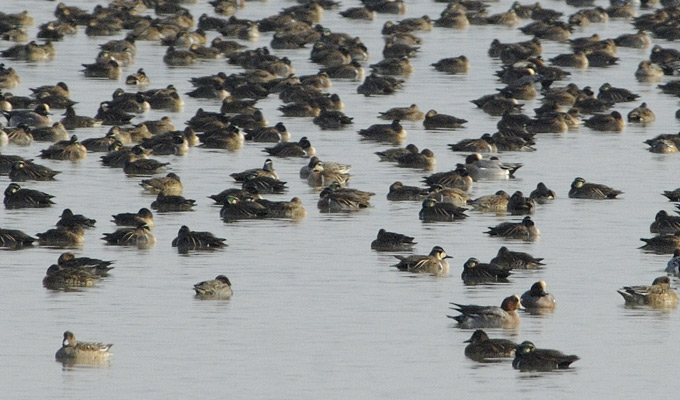 Baikal Teal Anas formosa and Eurasian Wigeon Anas penelope Photo © Andreas Kim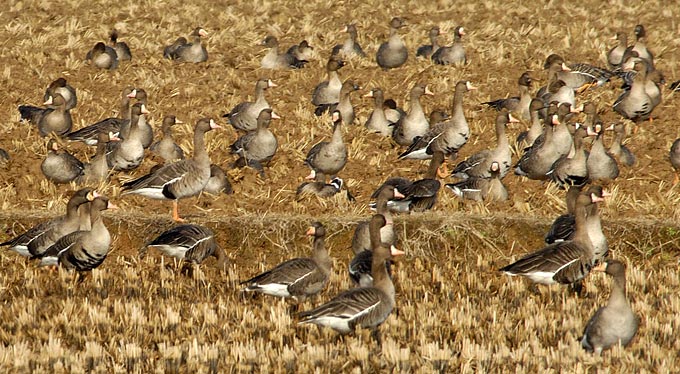 Greater White-fronted Goose Anser albifrons Photo © Andreas Kim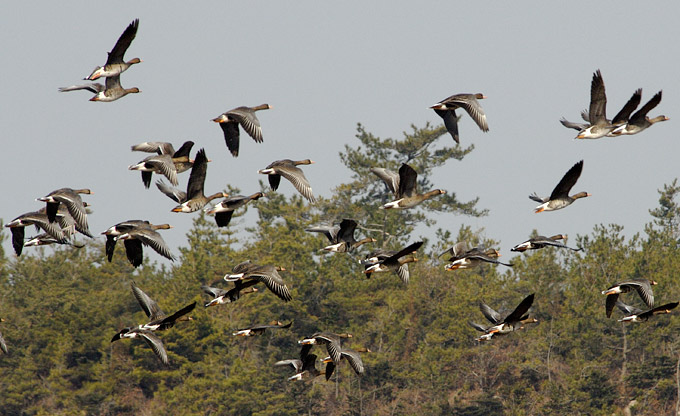 Greater White-fronted Goose Anser albifrons Photo © Andreas Kim
Bird News from Robin Newlin with Heesun and Paul Newlin.
Hwajinpo/Daejin, January 3-4
Long-billed Murrelet Brachyramphus perdix
Photo © Robin Newlin
A family trip and some fantastic auking at Hwajinpo. Most of the 3rd was spent seawatching from two elevated vantage points. 1st point was the 3rd floor balconry (!) of our pension which sits on a small promontory overlooking the ocean. Many Ancient Murrelets in evidence; a very conservative 500 were seen over the 2 days at different local sites. Also from the balconry, excellent views (but poor photos) of a Long-billed Murrelet.
2nd site was near the Hwajinpo Marine Museum: Kim Il Sung's house, also on a seaside hill, and with a 4th floor viewing platform. New alcids were 1 Common and one very probable Thick-billed Murre, no less than 2 Spectacled Guillemots, 1 Rhinocerous Auklet, and 3 Least Auklets. (Interesting note: the Least Auklets were sporting clearly visible dark barring on the sides/flanks, presumably a breeding-plumage characteristic).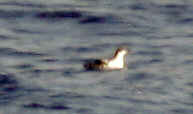 Long-billed Murrelet
Brachyramphus perdix
Photo © Robin Newlin
The next morning/early afternoon at the pension yielded the Long-billed Murrelet again and another Common Murre.
Other birds included Harlequin Ducks (splendid views), Red-breasted Mergansers, Common and Velvet Scoters, Goldeneyes, Glaucous Gulls (10 of varying ages seen at one gull roost near the Daejin lighthouse) and Pacific and Arctic Divers. Also at the Unification Observatory at the border, 3 (North Korean?) Cinereous Vultures.
Bird News from Nial Moores and Kim Su-Kyung
Shihwa Lake, January 4
In clear, calm and much milder conditions (-3/+6), the start of a week or so long assessment survey of Oriental Stork habitats. No Oriental Storks found (though according to a KBS TV team here, one was present on November 20th, joined by a second on Decemeber 18th, with both present until January 2nd, when the whole area was frozen), with best instead being 2 Upland Buzzard (including one massive individual duelling with a male Northern Harrier, one of 6 Northern Harrier found), a dark-phase Common Buzzard (very scarce in Korea) and a Merlin.
Bird News from Rich Lindie and Hayley Wood
Cheorwon Basin, January 1
Wonderful views of many small groups of Red-crowned Crane and White-naped Crane, both in flight and feeding close by. Nearby, Cinereous Vulture were seen feeding on pig carcasses.

Red-crowned Crane Grus japonensis Photo © Rich Lindie
Red-crowned Crane Grus japonensis and White-naped Crane Grus vipio Photo © Rich Lindie
Cinereous Vulture Aegypius monachus Photo © Rich Lindie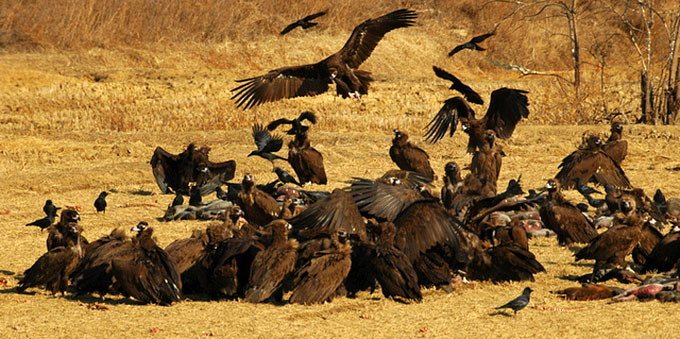 Cinereous Vulture Aegypius monachus Photo © Rich Lindie
Bird News from Andreas Kim
Gangjin, January 1
The north-west area of the Gangjin Bay is a very well known place for wintering swans. A short afternoon trip in sunshine interrupted by heavy snow showers showed 519 Whooper Swan, 150+ Common Shelduck, 130+ Mallard as well as some Common Teal and Spot-billed Duck. Other birds were 2 Great and 3 Little Egret, 5 Grey Heron, 2 Snipe (unspecified because they just flew across the road into the reed), 1 Common Merganser, 3 Little Grebe, 1 Tufted Duck, 3 Kentish Plover, a flock of about 100 Dunlin, a flyby of a Common Pheasant and of a flock of about 40 Grey Starling.

Whooper Swan Cygnus cygnus Photo © Andreas Kim
Copyright 2002 - present
http://www.birdskorea.org
all rights reserved
Birds Korea 1108 Ho, 3 Dong, Samick Tower Apt., 148-22, Namcheon-Dong, Su-Young-Gu
Busan, 618-762 Republic of Korea