Birds Korea's Bird News July 2009
July
Hot (typically maxima above 25°C, and sometimes reaching 34°C) and humid, with occasional storms and heavy rains associated with southern-tracking typhoons.
Young Japanese and White Wagtails can be found begging food on streams and rivers in the East and southeast. Juvenile Chinese Egrets and Eastern Oystercatchers are on north-west tidal-flats, in some areas feeding alongside summering Saunders's and Mongolian Gulls. Chinese Sparrowhawks are on telegraph poles in rice-fields throughout the country. Black-naped Orioles, Vinous-throated Parrotbills and parties of tits, are found in almost all woodland areas. By the end of July the first returning shorebirds arrive, with large numbers of Far Eastern and Eurasian Curlews at Ganghwa and the Geum Estuary.
"Southern breeders" in recent years have included Pheasant-tailed Jacana, White-breasted Waterhen and Greater Painted Snipe. In 2006 an early typhoon brought Korea's first Bridled Tern, to Jeju island.
(The following records are a compilation of our own sightings and records sent in by other observers. As well as being posted on the Birds Korea website(s), selected records are also forwarded to other Korean-language birding websites; records of threatened species are arranged and forwarded to Birdlife International and national authorities when appropriate; flag images and records are passed to bodies responsible for their coordination throughout the flyway; and all records sent to us are used to compile annual reports and to support the evolving understanding of the status of many of Korea's birds.)
Bird News from Nial Moores
Gageo Island & Gageo-Bigeum Ferry, July 31
In hot and humid conditions, a juvenile Kentish and now three Little Ringed Plovers and an Oriental Reed Warbler were new in on Gageo, while from the ferry highlights included several hundred Black-tailed Gull (largely absent from this ferry trip only a week before), the personal first Red-necked Phalarope of the autumn (at least 49, with all those seen well being adults), and a close encounter with a pale-end South Polar Skua (probably one of those seen by PJG on the 29th), with two more probables (darker birds) also seen at very long range.
Bird News from Park Jong-Gil
Heuksan-Mokpo Ferry, July 29
Two South Polar Skua (including one well photographed - the first time in Korea), two presumed Pomarine Skua and a Flesh-footed Shearwater were the obvious and outstanding highlights!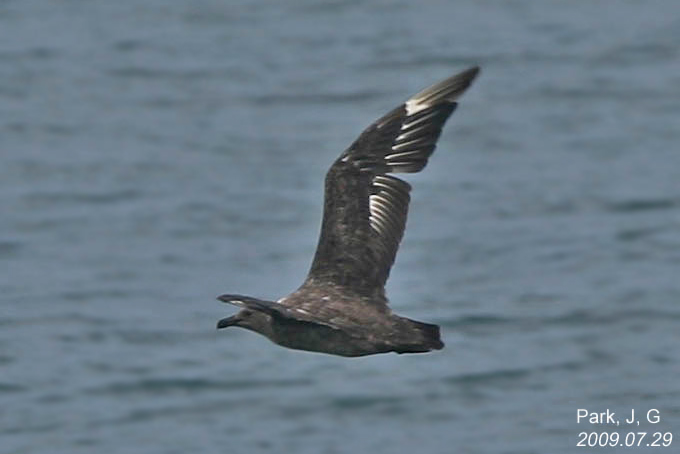 South Polar Skua Stercorarius maccormicki, Photo ©
South Polar Skua Stercorarius maccormicki, Photo ©
Bird News from Nial Moores
Gageo Island, July 29
A circuit of 1-Gu after heavy rain on the 28th provided further evidence that autumn is on the way, with half-a-dozen flighty juvenile Blue Rock Thrush and a juvenile Styan's Grasshopper Warbler (with rather better views of an adult that has started to edge into its neighbour's territory now that their young have fledged), along with an Eastern Cattle Egret, half-a-dozen Grey Wagtail, single Pacific Golden and Little Ringed Plovers, a Common Greenshank, and single Green and Common and four Wood Sandpipers.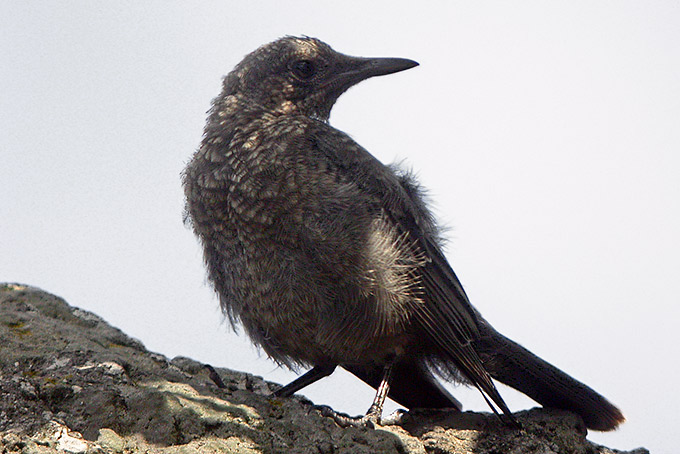 Juvenile Blue Rock Thrush Monticola solitarius, Photo © Nial Moores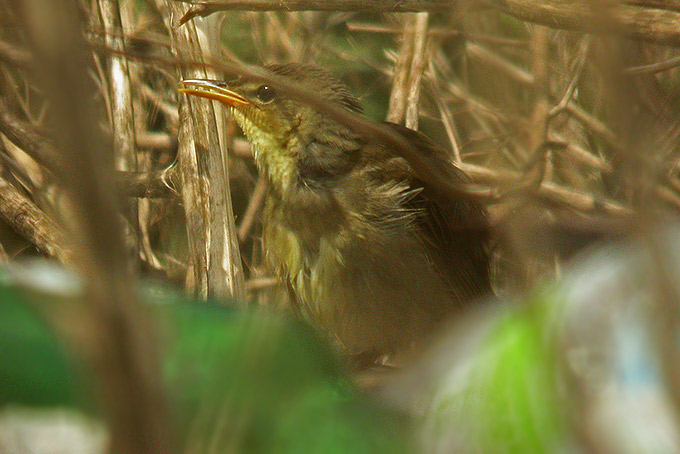 Juvenile Styan's Grasshopper Warbler Locustella pleskei, Photo © Nial Moores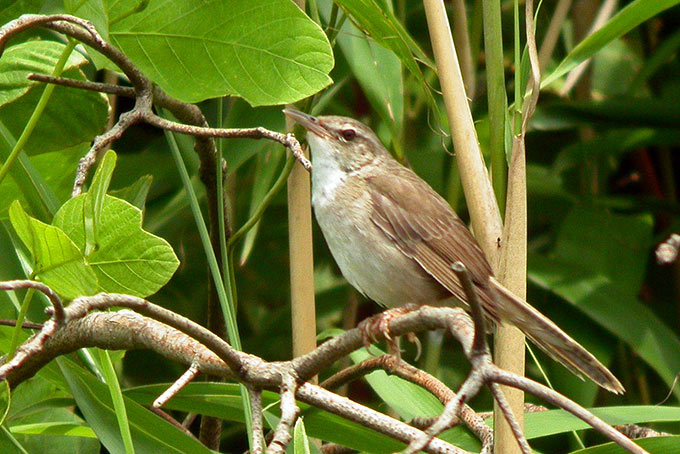 Styan's Grasshopper Warbler Locustella pleskei, Photo © Nial Moores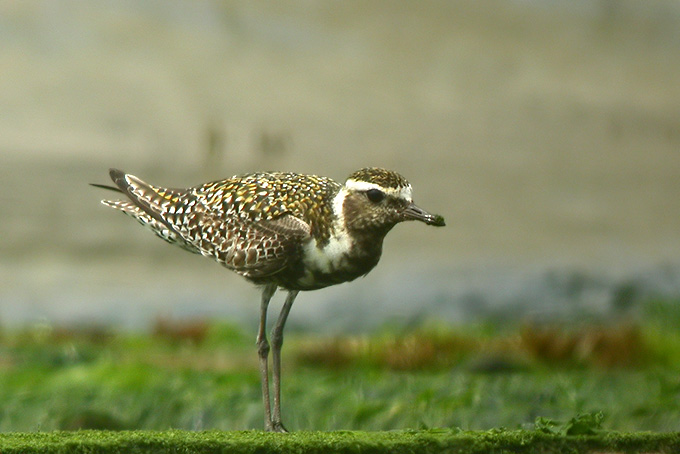 Pacific Golden Plover Pluvialis fulva, Photo © Nial Moores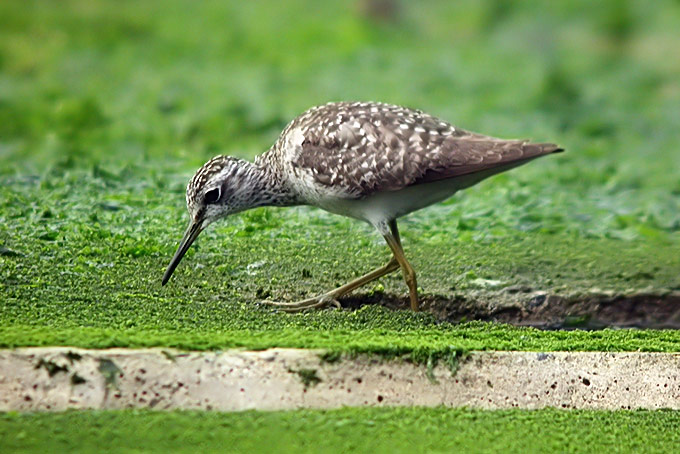 Wood Sandpiper Tringa glareola, Photo © Nial Moores
Bird News from Dr. Kim Seok-Yee and Andreas Kim
Mokpo Namhang Urban Wetland, July 23-28
Some highlights from the daily monitoring: While Barn Swallows (also c. 30) have been active, catching food for the "new generation", and one Grey-headed Woodpecker has been present and easy to see throughout the last few months, the c.30 Oriental Reed Warbler present in the wetland became very quiet through the recent rainy season, and only occasional individuals can now be spotted on short flights or feeding.
Long-billed Plover (recently increasing from "several" to 12), and Common Sandpiper have also both been present throughout the summer at the wetland, with three of the latter apparently prefering a small parking lot with garbage containers as their habitat! From mid-July, when Grey Heron as well as Little and Great Egrets were the most visible species, other shorebird species have also started to return. Most numerous are Common Greenshank (c.100) and Grey-tailed Tattler (c.50). On single days during the last week two Terek Sandpiper, and single Ruddy Turnstone and Dunlin have also been seen. Other species of interest include two Striated Heron (present at opposite corners of the site on several dates), and on 23rd, three Grey Wagtail and 3 Spot-billed Duck. The most exceptional record of the summer (so far!) came on the 28th when a Ruddy Shelduck was found and photographed. This is the first record of this species at this site, and apparently the first July record nationwide known to Birds Korea.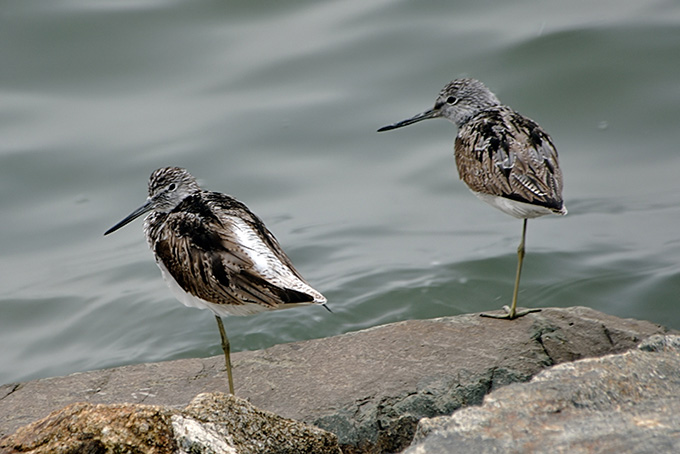 Common Greenshank Tringa nebularia, Photo © Andreas Kim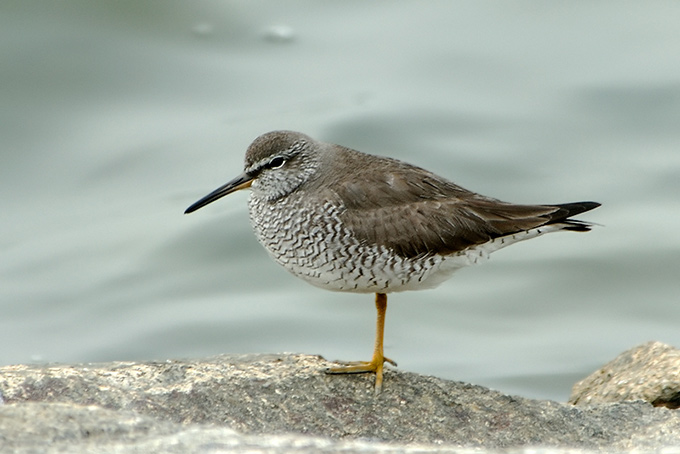 Grey-tailed Tattler Tringa brevipes, Photo © Andreas Kim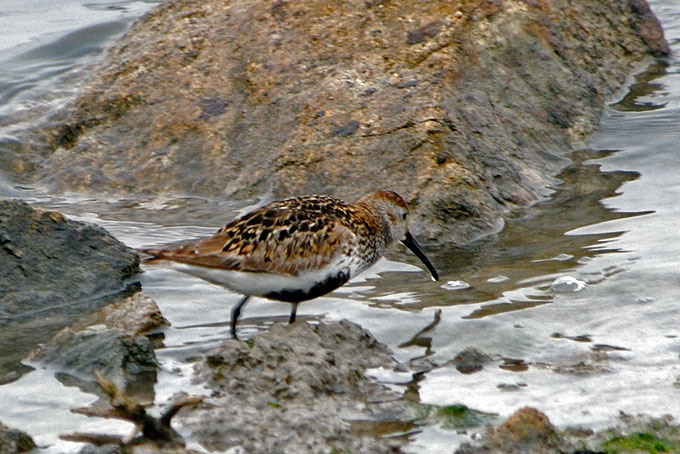 Dunlin Calidris alpina, Photo © Andreas Kim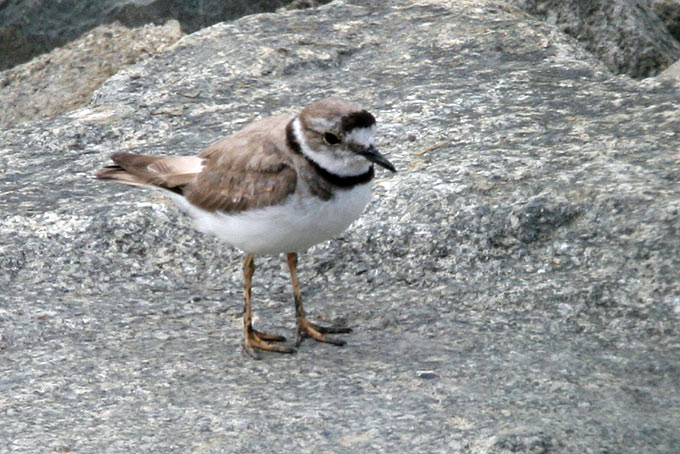 Long-billed Plover Charadrius placidus, Photo © Dr. Kim Seok-Yee
Common Sandpiper Actitis hypoleucos, Photo © Andreas Kim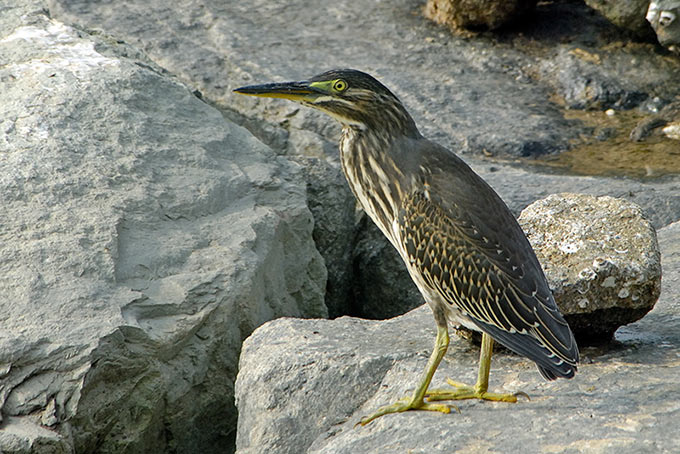 Striated Heron Butorides striata, Photo © Andreas Kim
Grey Wagtail Motacilla cinerea, Photo © Andreas Kim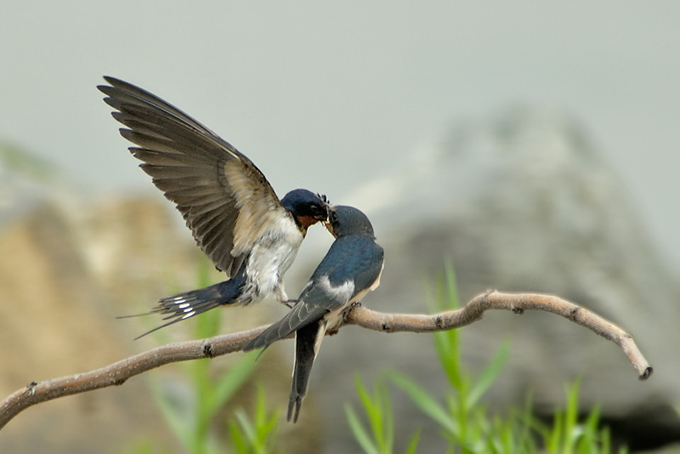 Barn Swallow Hirundo rustica, Photo © Andreas Kim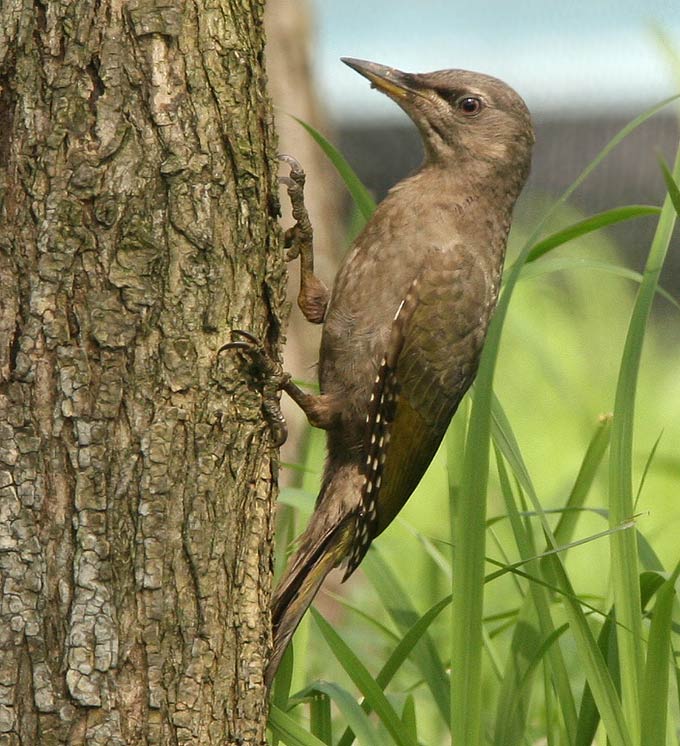 Grey-headed Woodpecker Picus canus, Photo © Dr. Kim Seok-Yee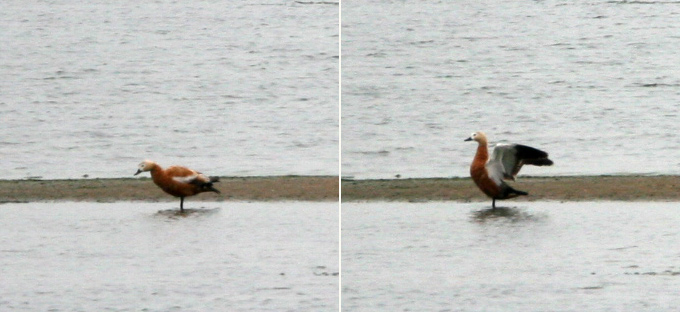 Ruddy Shelduck Tadorna ferruginea, Photo © Dr. Kim Seok-Yee
Bird News from Nial Moores
Gageo Island, July 27
In hot (and extremely humid!) conditions, the survey of Black Woodpigeon, Styan's Grasshopper Warblers and breeding birds continues, with a 12 hour hike through 3-Gu, the lighthouse, 2-Gu and back to 1-Gu. In total, c 32 Black Woodpigeon (though none along the road between 1 Gu and 2 Gu- much disturbed by recent construction work), and c13 singing Styan's were recorded, with several more Styan's Grasshopper Warbler in 1-Gu, where one or two juveniles were also found. Other species of note included the personal first Arctic Warbler and Common Greenshank of the autumn, single Black-crowned Night Heron and Wood Sandpiper and ten Grey Wagtail, and best of all between two and four young juvenile Light-vented Bulbul - clear evidence of local breeding (making Gageo apparently the third island to date nationwide used by this species for nesting).
Bird News from Nial Moores
Ferry and 1-Gu, Gageo Island, July 25
Delayed by rain (it has been an exceptionally wet July...), the ferry across to Gageo was largely very uneventful, with no Swinhoe's Storm Petrels, andonly a dozen Streaked Shearwater. Outstanding highlight of the ferry journey (and day) came however within c. 2 km of the east coast of Heuksan Island - as a booby was watchedin steady flightlow over the water, moving S/SE. First picked up c 300 m NW of the boat, it came within 150m as it cut behind it. Personal recent experience of Brown Booby, the species most likely to occur in Korean waters (though with only 4 or so records nationwideto date?), has been very limited, with only a few seen distantly in Australia inDecember 2008, and before then many dozens in Kyushu in the mid 1990s. However, this bird appeared considerably smaller (estimated as c. 30% "bigger" than Streaked Shearwater, though no direct comparison possible), slimmer and more elongated looking than Brown Booby, with a fairly short (for a booby!) greybill. Moreover, the plumage lacked strong contrasts and the head and the upperparts were smoothe pale grey-brown (more or less the shade of Brown Flycatcher), while the belly was a dingy off-white, lacking a clean contrast with the brown breast. The underwings were not seen well, though appeared to show just a small strip of pale. Based on the description in e.g. the new Birds of East Asia, and on google images, it seems very likely to have been an immature Red-footed Booby, a speciesrecorded onlyonce previously in Korea, backin the late 1980s. On Gageo itself, enormous amounts of construction ongoing around the harbor, and large numbers of vacationers (an incongruous mix), and few birds noted around the 1-Gu circuit. Species of most note were 2+ singing Lesser Cuckoos, at least 4 Styan's Grasshopper Warbler, 2+ Grey Wagtail and a Wood Sandpiper - the latter, the personal first of the autumn.
Bird News from Nial Moores
Ferry and Socheong Island, July 22 and July 23
In hot and extremely humid conditions, a trip out to Socheong for seabirds and over-summerers. No surprises on the ferry, with most interesting being two Swinhoe's Storm Petrels, a Barn Swallow and 30 egrets heading west, large numbers of dragonflies, and a partial solar eclipse, that did nothing more than dim the light a little (all on 22nd)...Counts of seabirds off/around the island included 3250 Streaked Shearwater, 879 Black-tailed Gull, and between 196 and 280 Pelagic Cormorant. On the island itself, however, sadly no sign of the Ashy Woodswallow of a month before, and greatly reduced numbers of White-cheeked Starling (only 18), though one group was joined by a single Chestnut-cheeked. Few birds heard or seen (either absent or very elusive?), with the only obvious (and numerous) land-based species being Brown-eared Bulbul (58), Eastern Great Tit (31), Meadow Bunting (22), Large-billed Crow (15) and Blue Rock Thrush (14, mostly juveniles), while other interesting summerers included 2 (presumed) singing Korean Bush Warbler and 4 Light-vented Bulbul. Happily, there were some increasing signs of southward migration - including 3 Little Egret south then west, 7+ Grey Wagtail, a Chinese Grosbeak, six Eurasian Hoopoe, one Common and two Oriental Cuckoos.
Meadow Bunting Emberiza cioides, Photo © Nial Moores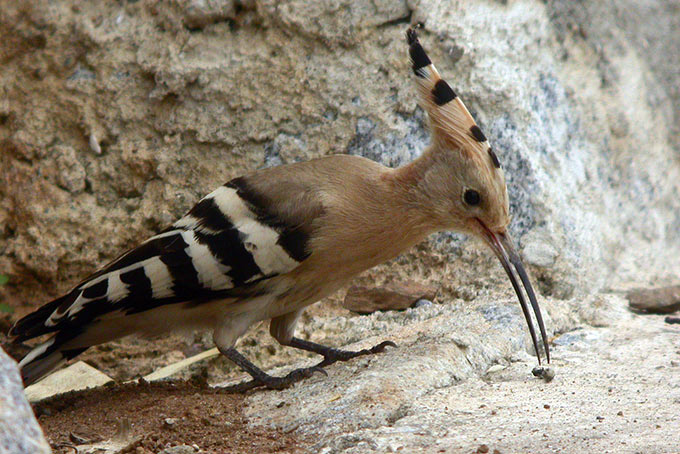 Eurasian Hoopoe Upupa epops, Photo © Nial Moores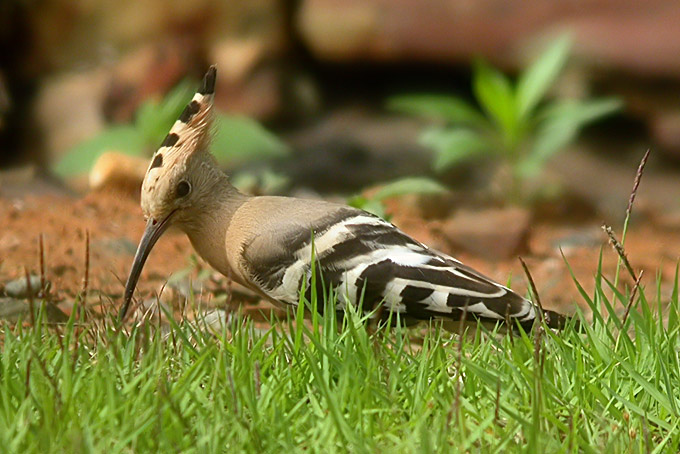 Eurasian Hoopoe Upupa epops, Photo © Nial Moores
Bird News from Tim Edelsten
Gunsan, July 19
A rare break between monsoon downpours enabled a few hours look through some wooded hillside and rural area at Gunsan: all typical summer visitors and young were present, such as White-backed and Grey-headed Woodpeckers, Yellow-rumped Flycatcher, White's Thrush, Dollarbird, Black-naped Oriole, Korean Bush Warbler, gangs of Azure-winged Magpies, and notably 2 trilling Ruddy Kingfisher heard several times from the wooded glade.
Black-naped Oriole Oriolus chinensis, Photo © Tim Edelsten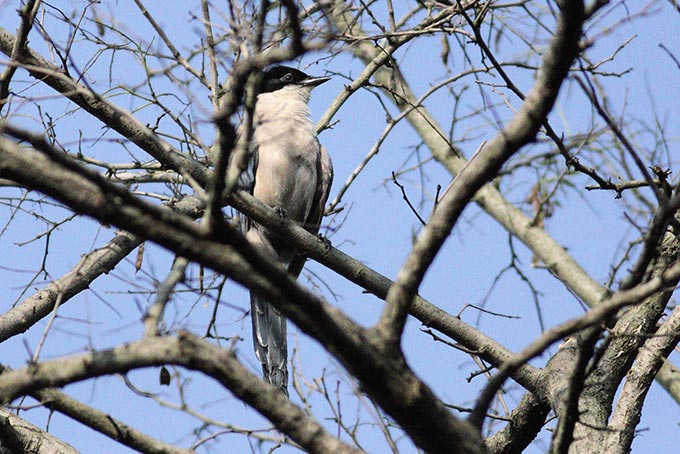 Azure-winged Magpie Cyanopica cyanus, Photo © Tim Edelsten
Bird News from Barry Heinrich
Yanggu wetland, July 12
In the evening on Friday July 10 I found Terek Sandpipers and some Azure-winged Magpies near the artificial wetland northwest of Yanggu Eup. I think the Magpies were eating ant aletes, but they could have been eating some other kind of insects or invertebrates just before finding somewhere to sleep for the night. The Terek Sandpipers could be early southward migrants. There were also some Eastern Great Egrets settling down to roost in some willow tree in the freshly flooded wetland. Heavy rains on July 9 filled the Paroho Wetland and lake.
Terek Sandpiper Xenus cinereus, Photo © Barry Heinrich
Azure-winged Magpie Cyanopica cyanus, Photo © Barry Heinrich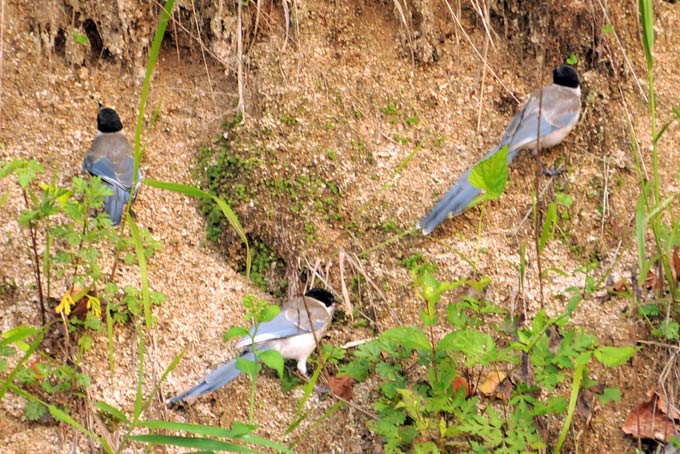 Azure-winged Magpie Cyanopica cyanus, Photo © Barry Heinrich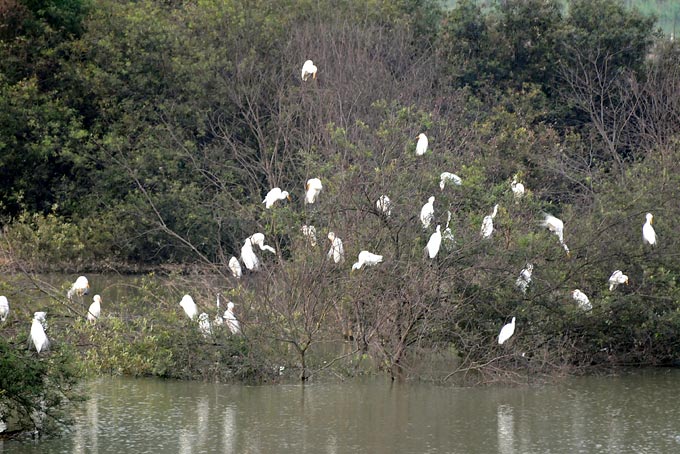 Egret roost, Photo © Barry Heinrich
Bird News from Barry Heinrich
Yangyang and Sokcho x river and lagoons, July 6
I did a bird survey of Namdae Cheon and Chengcho Lagoon on July 4th. I started at Naksandae Bridge and checked the sandbar at the river mouth. There were almost 200 Black-tailed Gulls resting on a sandbank behind the sandbar and about 20 Spot-billed Ducks. There were 6 Little Terns near the river channel. The gulls were quite nervous, probably because of the Peregrine Falcon feeding on one of them on the sandbar.
In the trees by the river bank I saw Black-naped Orioles, Oriental Turtle Doves, Great Tits, a Hoopoe and a Daurian Redstart. Beside the water were a couple of juvenile White Wagtails. On the north side of the river near the resort hotels were 40 Black-billed Magpies and a couple of Large-billed Crows. There were about 12 Grey Herons roosting in a tree just upstream.
Around the islands just upstream from the bridge were over 100 Spot-billed Ducks, some Mandarin Ducks and a Little Grebe. In the grass beside the river were Oriental Reed Warblers.
Further upstream I found a Grey-headed Bunting, Grey-capped Greenfinches and a couple of family groups of Siberian Stonechats. Near the sculpture park I found 3 Common Kestrels at least 2 of them juveniles. I flushed 4 juvenile Common Pheasants from the long grass nearby. I heard some Common Cuckoos as I walked along the river and saw Bull-headed Shrikes and Brown-eared Bulbuls in the trees. In the rice paddies north of the river were more than 20 Eastern Great Egrets.
Closer to Yangyang in one of the small ponds near the road I saw 5 more Mandarin Ducks and a Little Grebe. There was a Yellow Bittern in the bullrushes near another pond. I also found a Red-eared Turtle laying eggs.
Just before I got to Yangyang I saw about 20 Grey-capped Greenfinches eating Coreopsis lanceolata seeds and some Tree Sparrows nearby.
There was an active Barn Swallow's nest in Yangyang bus terminal. Adult swallows were flying in and out of the building.
There were not many species at Cheongcho Lagoon. There were over 700 Black-tailed Gulls, about 40 Grey Herons and a Little Egret resting on the sections of pipeline floating on the lagoon. In th grass around the lagoon were a lot of Oriental Reed Warblers some of them appeared to be defending territories in the grass. In the park near the lagoon I saw Tree Sparrows, Black-billed Magpies and Brown-eared Bulbuls.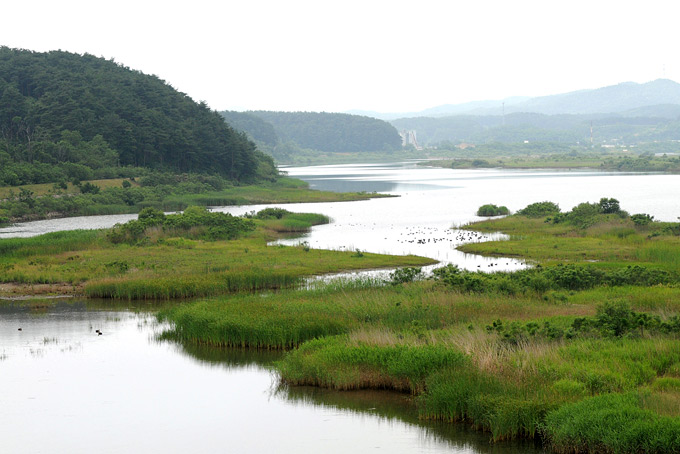 Namdae Cheon, Photo © Barry Heinrich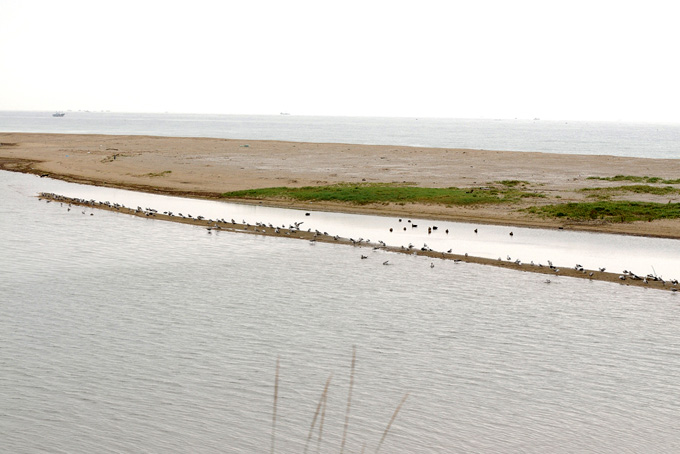 Black-tailed Gull Larus crassirostris, Photo © Barry Heinrich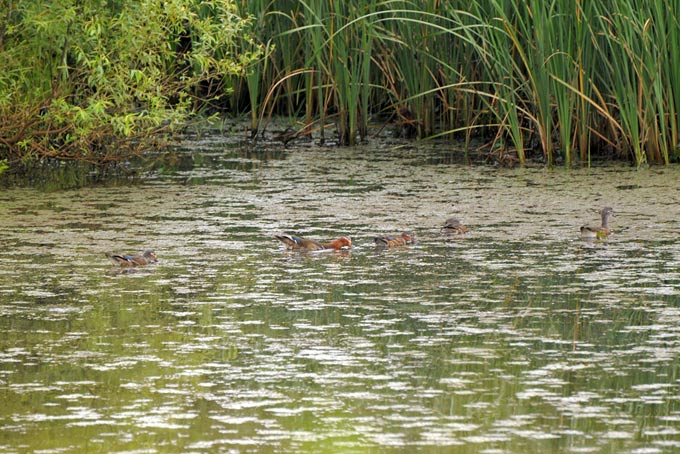 Mandarin Duck Aix galericulata, Photo © Barry Heinrich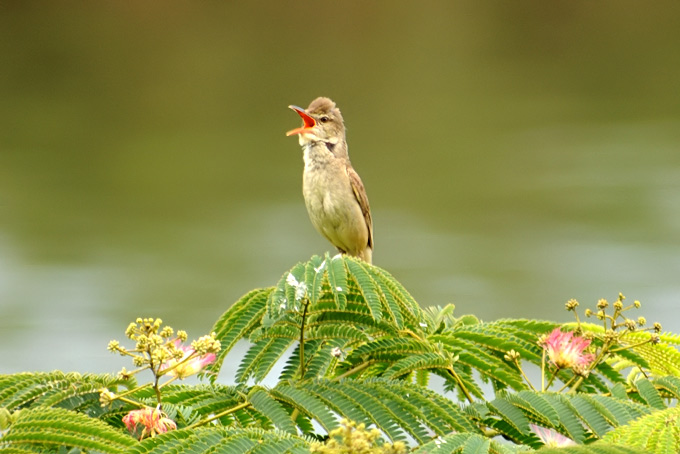 Oriental Reed Warbler Acrocephalus orientalis, Photo © Barry Heinrich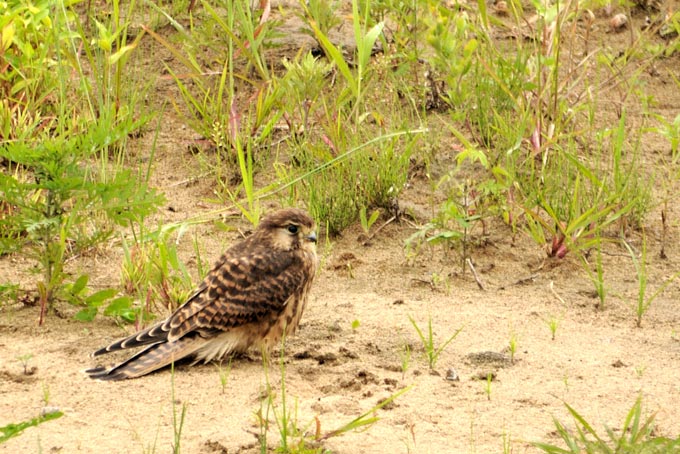 Common Kestrel Falco tinnunculus, Photo © Barry Heinrich
Bird News from Tim Edelsten
Songdo, July 5
The Black-faced Spoonbill colony has had some success, with 37 individuals counted- comprising 2 pairs still at the nest, 19 recently-fledged juveniles and 14 further adults.
The hapless fledglings could be seen attempting to fish rather clumsily and sometimes wandered from the main group: many were left behind as the adults flew off to feed on the mudflat. Likewise plenty of Mongolian Gull juveniles are sitting around idly, apparently already deserted by their parents.
In nearby bushes, a passing party of Vinous-throated Parrotbill.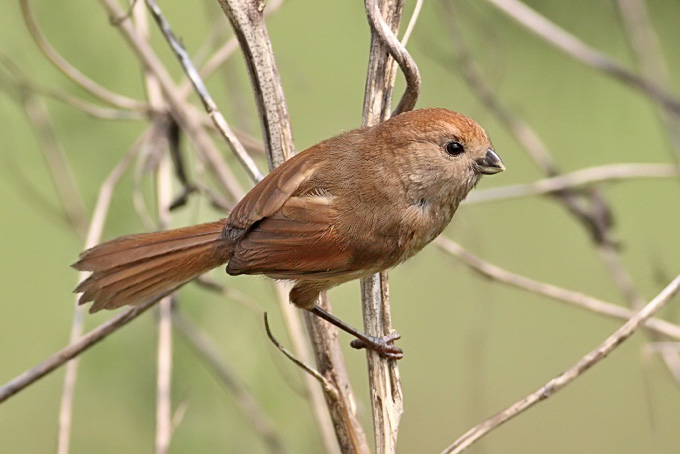 Vinous-throated Parrotbill Paradoxornis webbianus, Photo © Tim Edelsten
Bird News from Joseph Bieksza
Uiwang Reservoir, July 5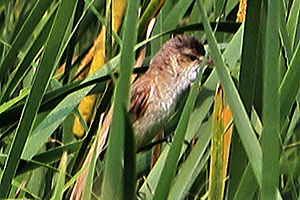 Oriental Reed Warbler Acrocephalus orientalis,
Photo © Joseph Bieksza
I managed to walk the whole circumference of the reservoir despite what I thought was a mega-scorching morning. The nearby rice-fields held good numbers of Little, Intermediate, Cattle Egrets and Grey Herons. Towards the subway station, there was an interesting mix of Spot-billed and (f) Mandarin Duck. Along the untouched reed beds passersby were treated to a chorus line of Oriental Reed Warblers. The center held a strong number of Great Crested Grebes. Towards the southern end, I encountered the following: 1 Common Cuckoo, 2 Black-naped Oriole, 7 Black Crowned Night Heron, 3 Straited Heron, and a personal lifer: 1 Yellow Bittern.


Striated Heron Butorides striata, Photo © Joseph Bieksza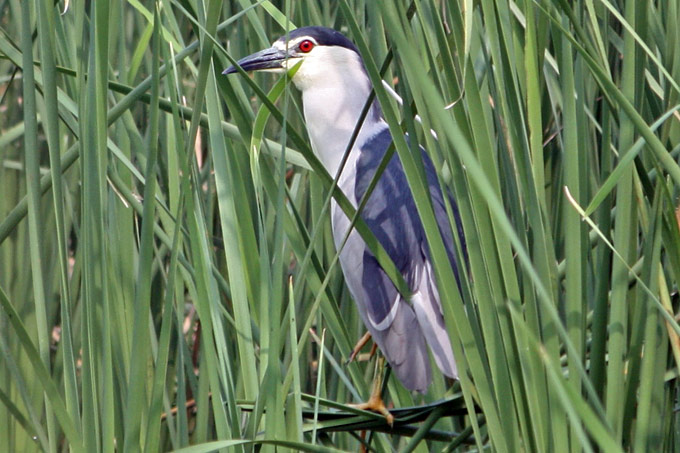 Black-crowned Night Heron Nycticorax nycticorax, Photo © Joseph Bieksza
Eurasian Coot Fulica atra, Photo © Joseph Bieksza
Bird News from Nial Moores
Gageo Island, July 1 and 2
In increasingly sultry conditions, research continues on Black Woodpigeon (10 heard on 2nd) and on the globally Vulnerable Styan's Grasshopper Warbler in Gageo's 1-Gu and 2-Gu, with the aim of measuring their detectability and "average" territory sizes. On the 2nd, 11 Styan's were GPSed and the first nestlings heard begging, with some adults quietly preoccupied with finding food, and others in adjacent areas remaining highly vocal (especially early in the morning). After the heavy rain at the end of June, both Blue Rock Thrush and Peregrines seem now to have fledged - with 5 Peregrine dotted around 1-Gu on 1st, and at least 4 in 2-Gu on 2nd, including an adult that remained on a post preening, even as islanders passed directly below it. In addition to the breeding birds, increasing hints of southward migration, with a Green Sandpiper and Oriental Reed Warbler on the 1st, and single Black-naped Oriole, Chinese Sparrowhawk and Chestnut-cheeked Starling (in with a small flock of mostly juvenile White-cheeked Starling) on the 2nd. Further highlights have also included four Light-vented Bulbul, an Asian House Martin on the 1st, and presumably the same House Swift (in with c40 Pacific Swift) on 2nd.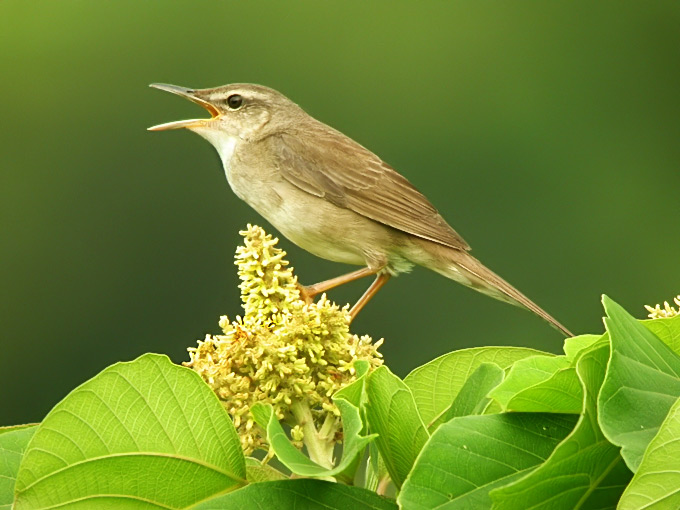 Styan's Grasshopper Warbler Locustella pleskei, Photo © Nial Moores
Listen to the recording of the Styan's Grasshopper Warbler: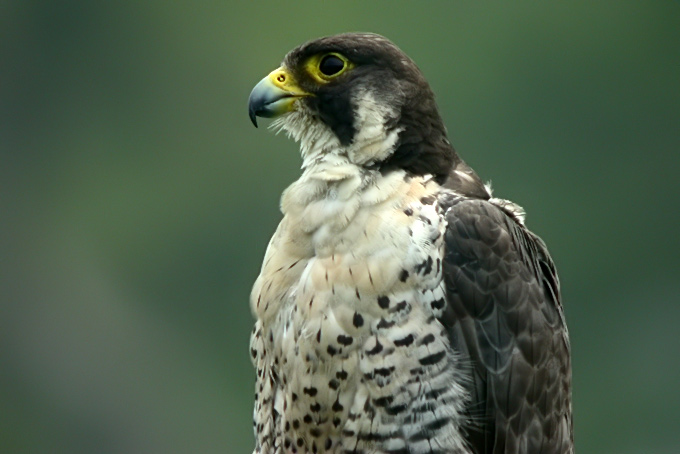 Peregrine Falcon Falco peregrinus, Photo © Nial Moores
Peregrine Falcon Falco peregrinus, Photo © Nial Moores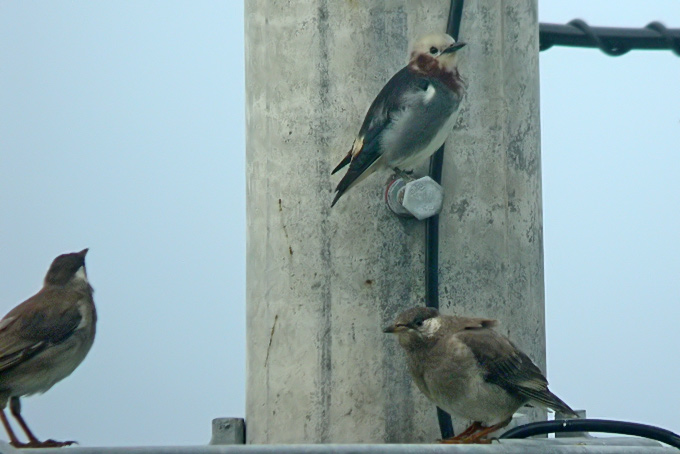 Chestnut-cheeked Starling Agropsar philippensis, Photo © Nial Moores