Flagged Great Knot: a yellow flag on the upper leg means that this bird was flagged in northwest Australia.
Photo © Yeh Chih wei
The programme of flagging waders has revolutionised wader migration studies, and probably more waders have been flagged in recent years than have ever been flagged before - and, if the destruction of wetlands continues, probably ever will be.
The programme started in Australia in 1990, and a flagging protocol has been developed for the East-Asian Australasian Flyway, which enables any country, or in some cases regions within a country, to join the scheme.
At present Australia, New Zealand, Japan, South Korea, China (Hong Kong) and Taiwan are colour flagging birds.
The Australasian Wader Studies Group has now assumed responsibility for processing all leg flag markings in Australia under agreement with, and with limited financial support from, Environment Australia which is the Environment Portfolio of the Commonwealth Government of Australia.
The "flag" is a small coloured plastic band with a tab on the end. Flags can be placed either on the upper part of the leg (the tibia), the lower (the tarsus), or both upper and lower.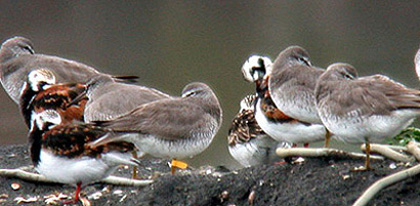 Grey-tailed Tattler flagged in Victoria (AUS), seen in Taiwan, © Chung-Yu Chiang
Easily seen by an observer, it means that, unlike with banding/ringing, the bird does not have to be re-caught to find out in which region it has been banded.
For birds from Victoria, S.E. Australia, the reporting rate from flagged birds is 17 times that of banded bands, and for N.W. Australia 5 times.
Also flagged birds can be watched for anywhere, as opposed to banded birds for which most recoveries only come from a few areas where there is much hunting or banding activity. For some species and localities in the Flyway where there have been many flag sightings it is now becoming possible to find out the timings of migrations of birds from different origins (i.e. N.W. and S.E. Australia: Alaska and Siberia) through the same area, and even to make estimates of the proportions of the total populations passing through.
Terek Sandpiper flagged in Taiwan, seen in
Japan. Photo © Sayaka Sakomoto
The table below lists the the colours of the flags being placed on waterbirds by countries following the AWSG protocol: in the table, upper/lower refers to the part of the leg that the flag is placed on.
All countries starting flagging are urged to follow the protocol.
The colour scheme has been carefully worked out to ensure that all researchers throughout the Flyway benefit from the program, and do not destroy other people's research, (and their own), by not following the protocol.
(More information on Colour Flagging can be found on the East Asian-Australasian Flyway partnership website.)
White
Black
Blue
Green
Orange
Yellow
nothing
nothing
nothing
nothing
nothing
nothing
North Island
Southern India
Northern Japan
Shunkunitai, Eastern Hokkaido
QLD
Victoria
NWA
may be engraved
(on left leg)
(on left leg)
may be engraved
may be engraved
may be engraved or carrying four other color bands
New Zealand
India
Japan
Australia
Australia
Australia
White
Black
Blue
Green
Orange
Yellow
White
White
White
White
White
White
Northern India
Chongming Island
Tokio Bay & Miyagi
East. Yellow Sea
Sakhalin Island
(both flags on
right tibia)
may be engraved
Tibia & Tarsus:
Obitsu (typical flag);
Yatsu Tidal Flat (angled flag)
Both Tarsus:
Miyagi pref.
(on left legs)
may be engraved
discontinued
may use angledflags in future
India
China
Japan
Singapore
South Korea
Russia
White
Black
Blue
Green
Orange
Yellow
Black
Black
Black
Black
Black
Black
Chongming Island
Hainan-Guangxi
Sumatra
Kamchatka
discontinued
may use angled
flags in future
China
Myanmar
China
Cambodia
Indonesia
Russia
White
Black
Blue
Green
Orange
Yellow
Blue
Blue
Blue
Blue
Blue
Blue
Taiwan
Northern Japan
Lake Komuke, Northern Hokkaido
Jiangsu
Tasmania
Northern Territory
may be engraved
may be engraved
China
Philippines
Japan
China
Australia
Australia
White
Black
Blue
Green
Orange
Yellow
Green
Green
Green
Green
Green
Green
South Island
Inner Gulf of Thailand


NSW




Angled (left leg): Thailand Peninsular (Ko Libong)
Typical (right leg): Gulf of Thailand
may be engraved


may be engraved


New Zealand
Thailand
Mongolia
Sri Lanka
Australia
Vietnam
White
Black
Blue
Green
Orange
Yellow
Orange
Orange
Orange
Orange
Orange
Orange
East. Yellow Sea
Java & Bali
Southern Japan
Yalujiang
West Papua
SW West. Aus.




Tibia & Tarsus: Kyushu
Both Tarsus: Okinawa
may be engraved
may be engraved or carrying other color bands
may be engraved
South Korea
Indonesia
Japan
China
Indonesia
Australia
White
Black
Blue
Green
Orange
Yellow
Yellow
Yellow
Yellow
Yellow
Yellow
Yellow
Hong Kong


Bohai Bay
Gulf of Carp.
SA


(proposed)
typical: Tangshan
angled: Cangzhou
may be engraved
may be engraved
China
Malaysia
China
Australia
Australia
Bangladesh
Other flags used on the flyway
Pale Green
Pale Green
Pale Blue
Pale Blue
Pale Blue (ring)
Green (ring)
nothing
White
nothing
White
Green
Green
Southern Chukotka
Southern Chukotka
Northern Chukotka
Wrangel Island
Northern Alaska
Ikpikpuk & Prudhoe Bay
Northern Alaska
Canning River
white may be engraved
markings can be placed on different parts of legs
markings can be placed on different parts of legs
Russia
Russia
Russia
Russia
USA
USA
Orange (ring)
Red (ring)
Yellow (ring)
Blue (ring)
Black
Red
Green
Green
Green
Green
nothing
nothing
North western Alaska
Northern Alaska
Barrow
Northern Alaska
Barrow
Western Alaska
Nome
South Island
may be engraved;markings can be placed on different parts of legs
markings can be placed on different parts of legs
Bar-tailed Godwits
engraved
NOT engraved, may carrying four other color bands
USA
USA
USA
USA
New Zealand, Australia & USA
New Zealand
Yellow
White
nothing
nothing


New Zealand Pied Oystercatchers haematopus finschi
engraved
Variable Oystercatchers Haematopus unicolor
engraved
New Zealand
New Zealand
Updated: 24 Jun 2013