A Korean-banded Black-faced Spoonbill in Taiwan
On 17th October, Weiting LIU of the Taiwan Waders Study Group passed on the following information, which had been placed on the Wild Bird Society of Taiwan's website by Dr Fang:
A Black-faced Spoonbill colour-ringed in Korea by Dr KIM Soo-Il, Professor of Ornithology at the Korea National University of Education, has been sighted in Taiwan.
The bird was one of eight banded and colour-ringed on the small islands of Sok-do and Bi-do on June 6th 2002. Dr Kim's team put a red colour ring (with white numbers going from K31-K38) on the right tibia and a 3 colours ring on the left tibia.
Full details are as follows:
K31 - right tibia, Red-Green-Blue combination rings on left tibia, plus metal ring, number 140-00471 korea on right tarsus.


K32 - Red-Green-White, 140-00472.

K33 - Red-White-Red, 140-00473.

K34 - Red-White-Yellow, 140-00474.

K35 - Red-White-Blue, 140-00475.

K36 - Red-White-Green, 140-00476.

K37 - Yellow-Red-Yellow, 140-004777.

K38 - Yellow-Red-Blue, 140-00478.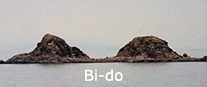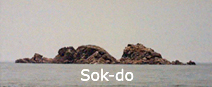 The spoonbill (carrying the ring number K37) was sighted in Tsengwen river mouth in Tainan, Taiwan. No dates were given by the observers, just that "it was not long ago".
Black-faced Spoonbills breed on remote, rocky islands in the Yellow Sea along the west coast of the Korean peninsula (some are only about 50-75 Km southwest of the renowned Saemangeum in the southern part of sea) and more locally off the Yellow Sea coast of China.
Images of two of the islands used by the spoonbills (and Black-tailed Gulls) are reproduced below, as are photographs at the colony of the same bird that has been seen this month in Taiwan.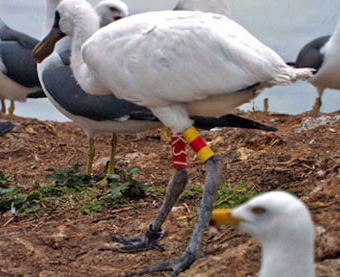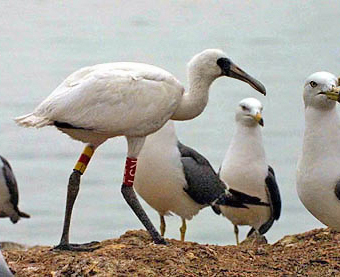 All photographs © Dr. Kim Soo-il: we are very grateful to Dr. Kim for giving us permission to use his photographs for this short note.
Any sightings of this globally threatened bird are of course important, and gaining data of where populations are wintering is vital if conservation efforts, with their limited resources, are to be targeted correctly.