Far Eastern Curlew - Summary of Flag Sightings
Information sent by the Australasian Waders Study Group
Numbers of Far Eastern Curlew banded and flagged in Australia and retrapped / recovered / subsequently sighted in Australia and overseas
Capture Location
Flag Sightings
Newly Banded
Retrapped
Recovered
Total Flagged
Overseas
Australia
VIC
740
62
4
468
18
26
NSW
40
1
2
0
0
0
QLD
233
2
3
206
20
1
WA
139
5
1
130
7
0
Totals
1152
70
10
804
45
27

Data to end of Dec 2001, except for inclusion of a May 2002 recovery (Vic to Russia)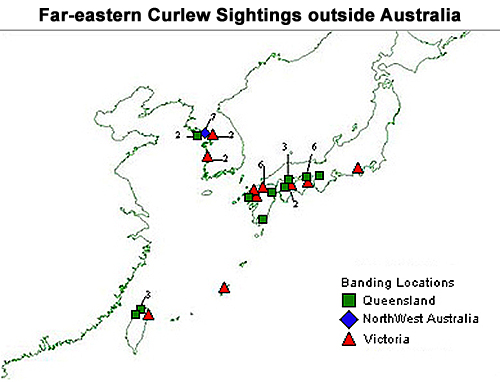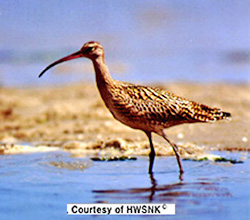 Juv. Far Eastern Curlew
© Hanada Masataka, Aug 1998.
Far Eastern Curlews, including juveniles like this one, can be found widely throughout the country on extensive tidal-flats from August into October, then again from March into May.
Classified as a Species of Special Conservation Concern with a world population estimated at only 40 000, they are still fairly numerous on both northward and southward migration in South Korea, especially in the northwest.
Nationwide shorebird surveys in 1998-1999 found 653 at Yeongjong and 451 at Ganghwa in Gyeonggi Bay in August for example. With many birds flagged and some even carrying radio transmitters, the amazing migrations of these spectacularly long-billed birds between their Siberian breeding and Australian non-breeding areas, are now beginning to be properly understood.
Far Eastern Curlews begin to reach Australia by the end of July: a mail from Clive Minton of the Australasian Waders Study Group in Aug 2002 said that he'd already "started to get sightings from China and Japan, indicating that southward migration is well in train. The first Curlew reached here on the 20th July, numbers doubled by the end of July, and doubled again by the 10th of August".
The Far Eastern Curlew is also to be seen on the ABC Network as the principle model in an ongoing study of the life-cycle of a shorebird: go to www.abc.net.au/wing