Spoon-billed Sandpiper and Dunlin Flagging Expedition
Kashiwagi Minoru, Japan Wetlands Action Network, August 21 2002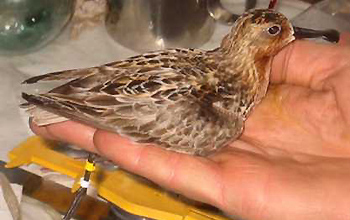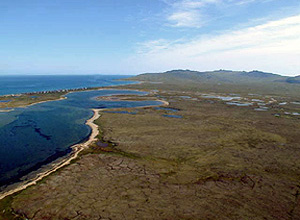 Summer in the Arctic is short. It is the same on Belyaka Spit in northern Chukchi Peninsula, at the eastern end of the Russian Federation. Living things use the best of the climate to breed abundantly. It is also the same with every creature like polichaets or mosquitoes that migratory birds feed on. Thus it is a good breeding site for many migratory birds including Spoon-billed Sandpipers Eurynorynchos pygmeus and Dunlins Calidris alpina. An expedition, Arctic Ornithological Expedition 2002, was carried out on the northern Chukchi Peninsula and Belyaka Spit during their breeding season in 2002.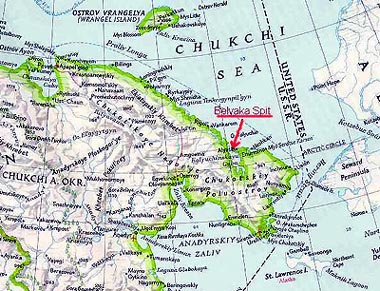 Belyaka Spit is a spit located at the entrance of Kolyuchinskaya Gulf, about 250 km west from the eastern end of Chukchi Peninsula. It is a spit based from the mouth to the northeast of the bay. It extends about 30 km to the west. No one visits this remote area except for sea hunters.
Consequently, it is a very big breeding ground for many species of waders and Anatidae with little disturbance. Some bird watchers visit here every year. A Finnish author reported Spoon-billed Sandpipers in this area in the mid-19th century.
The expedition has been organised by the Russian Academy of Science, part of a series of expeditions continuing for decades beginning in the period of USSR. The survey result has been providing precious information on migratory birds that breed in the arctic region. One of the focus for the recent several years has been on waders including Spoon-billed Sandpiper and Dunlin: Spoon-billed Sandpiper as a threatened species, and Dunlin as representing the decrease common to waders at migration sites especially in East Asia. The wader part of this expedition is supported by Japan Wetlands Action Network (JAWAN) and funded by Toyota Foundation, the Keidanren Nature Conservation Fund, and Environment Australia with voluntary support of participants from six countries in the world.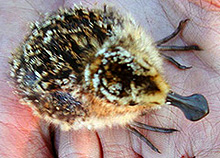 Spoon-billed Sandpiper chick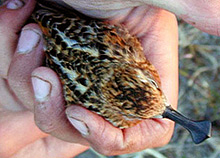 Adult Spoon-billed Sandpiper
The survey of shorebirds aims to protect not only the species but also their habitats with the co-operation of specialists, conservationists, and the people living near the habitats. Conservation of breeding habitats is particularly important, as are the stopover and non-breeding sites in East and South-east Asia. Consequently, the expedition is linking with the Japan-United States Joint Dunlin Migration Project. The joint project focuses on the Alaskan subspecies of Dunlin, C. a. arcticola.
Two to four expedition members continued the study on Spoon-billed Sandpipers and Dunlins, subspecies C. a. sakhalina, from 29 May to 31 July 2002, living in a hut on the spit.
The spit changed from snow covered cold land, to swamp marsh tundra, to dry tundra during the two months of the survey period. The youngest expedition member, Ivan "Vanya" Taldyenkov kept watching almost for the whole breeding period of Spoon-billed Sandpipers.
Dunlin
The team studied their habitats, nesting and foraging, colour marking for individual identification and colour flagged them. Towards the end of the period, Vanya was looking for an individual of Spoon-billed Sandpiper that has moved from the nest territory for three days. He felt very close to them, visiting them every day for two months.
The team also caught and flagged more than 70 Dunlins. Their measurements will be compared with that of arcticola. Observation on many other waders, Anatidae, including Emperor Geese and Steller's Eiders, and other species are also recorded. Among them was a sighting on 13 July of a male Turnstone that was flagged in Obitsu River Estuary, Tokyo Bay, Japan. Members of expedition also carried out an extensive survey on the northern area of Chukchi Peninsula.
With migration upon us, now is time for the people in countries of stopover and non-breeding habitat for observation.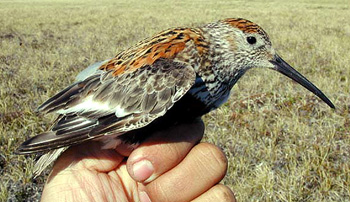 Dunlin
Go out and look for the waders on wetlands, including tidal flats. Look for birds that have small coloured flags on their legs. You will know where they came from: if you find a light blue flag on the upper leg of Spoon-billed Sandpiper or Dunlin, it is from Northern Chukchi Peninsula.
Don't forget to report to national centres of colour flagging, if you find any. It will be valuable data for the protection of the species and their habitat - wetland.
Photographs in main text copyright of Weiting LUI. The images were sent for use with this article. Please contact us for Weiting's mail details.