Saunders's Gull Larus saundersii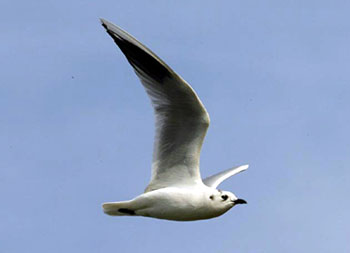 Ad Winter Saunders's Gull Photo © Kim Woo Su.
The charismatic Saunders's Gull Larus saundersi is a familiar winter site in South Korea, beating its way over tidal-flats like a miniature harrier in search of prey: crabs, and at some sites, worms. Confined to tidal-flats throughout the year, and on present knowledge, to the salt-marshes and muddy margins of the Yellow Sea as a breeding species, Saunders's winter southward in Viet Nam (ca 300), China (3,800 – 5,000), Taiwan (500 – 1,000), Japan (1,000 – 2,000) and South Korea (2,500 – 3,000).
Classified by Birdlife as Vulnerable, the largest colonies of this salt-marsh nesting gull are to be found in Northern China at Shuangtai Hekou and Yancheng Nature Reserves, while in South Korea, the species was first found nesting in 1998 at Shihwa, in salt-marsh growing on land undergoing reclamation. No young were fledged, however, due to excessive disturbance. At least two further temporary colonies have been found in subsequent years in similar habitat, one even right next to the Incheon international airport at Yeongjong, though both are now believed deserted.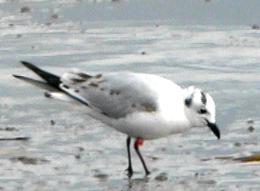 Immature Saunders's Gull
(flagged in China, photographed in South Korea).
Photo © Charlie Moores.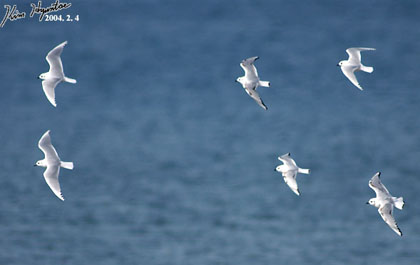 Ad winter and immature Saunders's Gulls
Photo © Kim Hyun-tae.
In winter the species is much more widespread, found on most muddy or sand-mud mix tidal-flats along the west and south coasts. Tragically, almost all of its preferred tidal-flats are threatened with either partial [p] or complete [c] reclamation. January coastal wetland surveys and further occasional counts conducted in 2000 and 2001 (Nial Moores) have included up to:
643 at Song Do in Incheon [p/c],
230 at Namyang Bay [c],
251 at Asan Bay[p],
212 at Cheonsu Bay,
290 at the Geum estuary [c],
404 at Saemangeum [c]
and along the south coast
53 at Posong Bay,
740 at Suncheon [p],
127 in Gwangyang Bay[p],
103 on Namhae Island,
and 130 at the Nakdong estuary[p].
As with all other threatened Key Species detailed on this site, we very much welcome all and any records (including those of banded birds): these will be put onto the site, and in turn then provided to the Korean Ministry of Environment and to Birdlife International, for potential inclusion in their Asian Threatened Birds Red Data Book.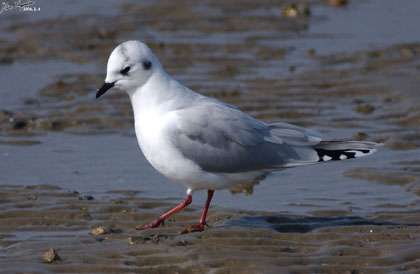 Adult winter Saunders's Gull Photo © Kim Hyun-tae.
Adult winter Saunders's Gulls Photo © Kim Hyun-tae.