Mandarin Ducks removed from hotel lobby
Charlie Moores, Birds Korea, Jan 10th 2014
In mid-November, a Birds Korea member reported the discovery of a pair of maimed Mandarin Ducks being kept on an artificial pool system in the lobby of a hotel on Jeju (see below: Mandarin Duck: Symbol of Love or of Animal Abuse?).
In Korea (and much of East Asia) Mandarin Ducks hold a special place in peoples' hearts and the species was designated as a National Natural Monument (KNP 2013). And as Mandarin Ducks symblose love and fidelity, it is perhaps understandable why a hotel on the "honeymoon" island of Jeju might think that displaying such iconic birds in this way would appeal to their guests.
After review of images of the birds, we contacted the hotel to explain our concerns. These included that the birds appeared to be pinioned (a practise to which we are opposed and which is fortunately not yet well-established in Korea); that they were being kept in inappropriate conditions (a shallow pool in a busy, bright, and typically noisy hotel lobby); and that their display was not in line with national conservation objectives and the goal of genuine sustainability.
It is clear, based on our communications, that staff at the Hyatt initially believed that the birds' were happy and well looked-after. However, after expert advice received from both Liz Tyson, Director of the overseas welfare organisation, Captive Animals Protection Society (CAPS) and ourselves, they agreed to contact the Jeju Wildlife Rescue Centre. Following further communication on January 6th, the hotel then made the very positive and welcome decision on January 7th to have the birds removed from the lobby. On the 8th they were transferred to the rescue centre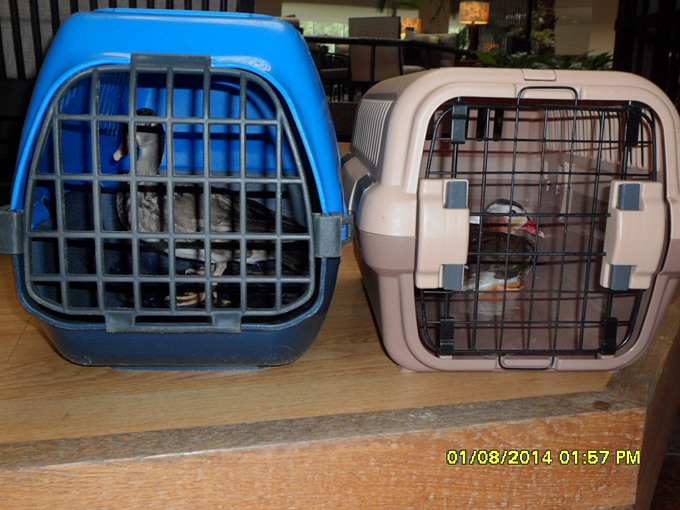 © Julien Gonzalvez, Hyatt Jeju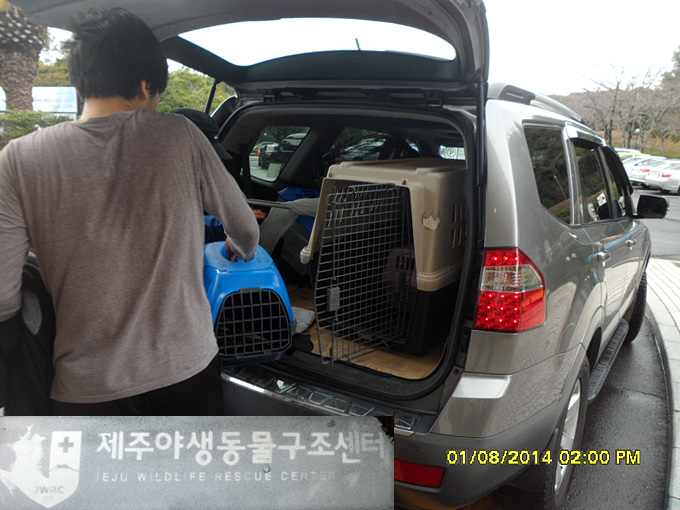 © Julien Gonzalvez, Hyatt Jeju
This is the most positive outcome for the birds that Birds Korea could have hoped for, and we would like to thank Mr. Julien Gonzalvez, the general manager, for his actions and for the hotel's willingness to accept expert advice. We would also like to congratulate the Hyatt Group for making welfare concerns a priority.
Birds Korea would also like to express our sincere thanks to CAPS for their help and support. It's likely that 'internationalising' our concerns like this helped the hotel to fully appreciate our sincerity and determination. As in so many other issues an honest explanation and the use of science and effective collaboration with people and organisations of like-mind is often key to the success of a campaign or project. Opportunities for collaboration of this kind are certainly something Birds Korea actively welcomes.
Finally, some might ask if it really matters whether a couple of ducks spend their lives in a hotel lobby or not? There are, after all, huge problems in the region including reclamation, massive habitat loss, and unsustainable trapping of migrants all along the East Asian-Australasian Flyway. Our answer is that undoubtedly it does indeed matter, for several reasons.
Firstly, the idea that animals are ours to use as we will – in this case as unsuitable ornaments for a hotel lobby – is widespread and growing in many parts of the world. In the ROK, there is a small but apparently increasing number of people wanting to exhibit waterbirds (as at Eco-Geo in Suncheon in 2013). The pinioning and display of birds, previously a rare practice in Korea, is unwelcome and confirms to us that the people responsible either do not have the animals' best interests at heart or that unwittingly they are too inexpert to care for them. This was therefore in a very real sense a test case. The Hyatt hotel chain is well-known and generally highly respected. There are thousands of other hotels, office buildings and government offices regionally: if even a proportion of those decided to follow the Hyatt model and build pools, import ducks and pinion them (maiming them so they cannot fly) then the impact could be very serious indeed.
Secondly, conservation as a movement needs to decide what it is we are actually trying to achieve. Conserving the Mandarin Duck is extremely important, and we will continue to use science to challenge threats to the species as a whole, but every species is of course made up of individuals. If we as conservationists lose sight of the fact that what we're actually trying to help, protect, and ensure a future for individuals then in our opinion our efforts are much diminished. In this specific case, these two individual birds needed our help – and we were happy to provide it.
Mandarin Duck: Symbol of Love or of Animal Abuse?
Jeju Island, November 25, 2013By a concerned citizen
On November 12th while at the Jungmun tourist complex on Jeju's south coast, I happened to walk through the lobby of a large luxury hotel. I was more than a little surprised to see a pair (one male, one female) of Mandarin Ducks Aix galericulata in a small pond in the lobby, which was also occupied by about 50 Koi fish. The Mandarin Duck is widely considered in Korea to be a symbol of love and fidelity. It is an uncommon species globally with a declining world population of only 65,000 (BirdLife International 2013). The Korea National Parks website describes them as a "rare" species in Korea and as a National Natural Monument (KNP 2013). They are usually very shy in the wild and liable to flush at the slightest disturbance. Here, on an artificial pond in the lobby of a high-class hotel, they were panicking every time someone walked past them. They appeared to be trying to fly away and were crashing into the sides of the pond. They were unable to fly, because their wings appear to have been pinioned, or perhaps the flight feathers were clipped - I was unable to get a clear image of the extent of the damage to their extended wings.
I contacted the Jeju Wildlife Rescue Centre, who informed me that unless the birds were first injured in the wild, it's unlawful to clip their wings and have them inside a hotel lobby (but it seems like there might have been some uncertainty, as it may be a bit of a legal grey area?). I returned last week to get some better images, and the Mandarin Ducks were still there. They were less panicky, and were actually begging for food from tourists, who can purchase fish pellets in the lobby to feed to the Koi. I tried to ask the desk staff if the ducks had been injured, but all I got was confused looks. Legal or illegal? Moral or immoral? How can a native wild species be held in captivity in this way in a hotel lobby?
As a Birds Korea member, I am therefore asking Birds Korea and contacts on Jeju to help to get these birds either released into the wild or in the worst case to be taken to a proper wildlife rescue facility. The hotel staff and management need to be informed of the cruelty of keeping such shy wild birds in a tiny pond with their wings clipped. And hotel guests need to ask: are Mandarin Ducks held in these conditions symbols of love or of animal cruelty?
References
International (2013) Species factsheet: Aix galericulata. Downloaded from http://www.birdlife.org on 19/11/2013.
BirdLife International (2013) IUCN Red List for birds. Downloaded from http://www.birdlife.org on 19/11/2013.
National Parks of Korea: http://english.knps.or.kr/Knp/Gyeongju/Intro/FlagstaffSpecies.aspx, accessed online on November 19th 2013)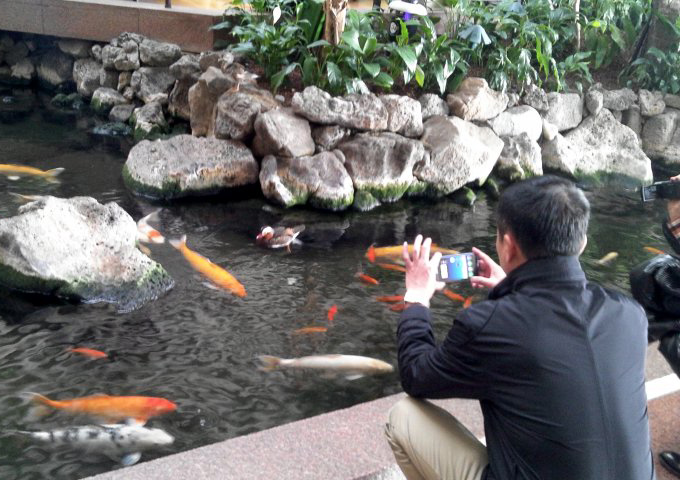 Mandarin Duck Aix galericulata in hotel lobby, © Birds Korea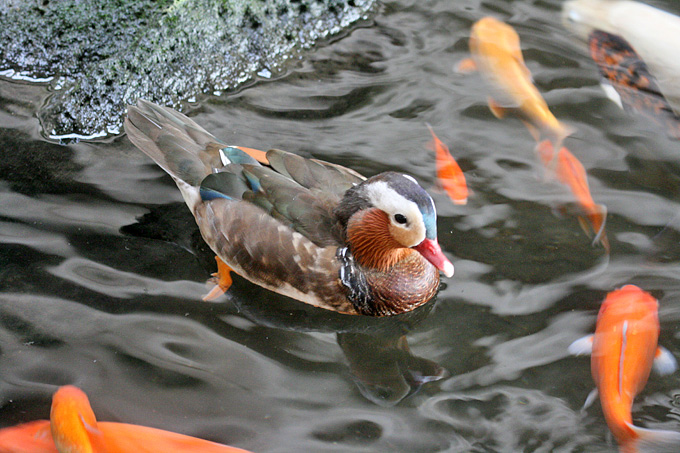 Male Mandarin Duck Aix galericulata, © Birds Korea
Female Mandarin Duck Aix galericulata, © Birds Korea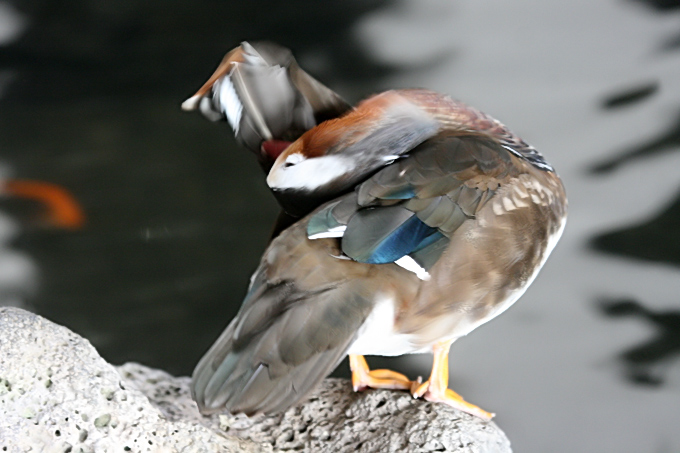 Male Mandarin Duck Aix galericulata, © Birds Korea
UK animal charity protests maimed Mandarin Ducks on Jeju
Charlie Moores, Birds Korea UK, 18th December 2013
On the 25th of November we highlighted the discovery of a pair of maimed Mandarin Duck Aix galericulata on a pool in a hotel lobby* at the Jungmun tourist complex on Jeju's south coast. The birds were missing their primary feathers, and as can be seen from the photo above the female in particular appeared to be in poor shape. Both were wary and clearly distressed.
We are very grateful to the renowned UK-based animal welfare charity Captive Animals' Protection Society (CAPS) who have now written to the hotel protesting the abuse of these birds. We are posting their letter below with permission from Director Liz Tyson:
Liz Tyson, Director, Captive Animals' Protection Society, United Kingdom
"We were deeply troubled to hear that a world-renowned brand such as yours has chosen to display a pair of mandarin ducks in a small pond in the lobby of your hotel in Jeju in Republic of Korea. Concerns have been raised with us by one of our supporters; concerns which we share completely. The birds in question appear to have been disabled in some way; whether by feather clipping or pinioning, we cannot be sure from the photographs we have been provided with. What is clear is that the birds have been prevented from acting on their natural instinct to escape the busy and unnatural surroundings that they have had forced upon them. This is undoubtedly a stressful situation for the birds, which are nervous animals that would naturally make their home in densely wooded areas near to shallow lakes. They nest in cavities, out of sight, where both parents protect their unborn young. This situation could not be further removed from the one in which the ducks are being kept by your company.
"As a leading hotel chain, others look to you to lead by example. We urge you in the strongest possible terms to find a more suitable, permanent home for the ducks you are currently displaying and to refrain from the display of these, or any other, animals on your premises in the future".
* While we are disallowed by Korean law to name the hotel chain on this website, Birds Korea is very grateful to CAPS for demonstrating that exhibiting maimed birds like this is of international concern, and we would urge anyone who would like to halt the (still unusual) use of animals in hotels in the Republic of Korea to also state their opposition. Please leave any comments or email us and we will pass on your protests to the relevant hotel.

THE CAPTIVE ANIMALS' PROTECTION SOCIETY (CAPS) IS A UK-BASED CHARITY (NUMBER 1124436) LEADING THE CAMPAIGN TO END THE USE OF ANIMALS IN ENTERTAINMENT, PARTICULARLY IN CIRCUSES, ZOOS AND THE EXOTIC PET TRADE.