Red-backed Shrike
Lanius collurio
another first for South Korea
Park Jong-gil, Nial and Charlie Moores
On September 16th 2004, Park Jong-Gil found and photographed a striking first-year shrike on Hong Island in the far southwest of the country. Believing from field views that the bird was most likely to be a Red-backed Lanius collurio (or possibly an Isabelline L. isabellinus) Shrike - neither species of which has been recorded in South Korea before - he set his nets, caught the bird and took detailed measurements.
As the photographs below show, from close inspection in the hand the tail feathers showed obvious dark subterminal marks, a feature not shown by the regularly-occurring Brown Shrike Lanius cristatus, while several measurements also fitted Red-backed (or Isabelline Shrike ) rather better than Brown.
Looking at the spread wing, focus fell on P5. Svennson (1992) states that Red-backed Shrike never shows emargination on this primary - while Isabelline apparently does. The images do seem to show some narrowing from a relatively broad base: enough "emargination" to eliminate Red-backed? Further research has led to an illustration of a Red-backed Shrike in Jenni L. & R. Winkler 1994 which clearly shows that P5 narrows or tapers towards the tip - and which looks very similar indeed to the Hong Island individual.
Lacking adequate experience of these shrikes, which as previously stated would be first-records for the country, we would very much welcome all any any informed opinion and advice. As always, all contributions will be posted and acknowledged (please email wbkenglish@aol.com):
In- hand measurements taken by Park Jong-gil:
Total lengths: 184.0mm / Wing length: 91.5mm / Tail: 82.5mm /

Tail width. 6th TF measured 20mm from tip 8.5mm.

Tarsus: 25.5mm / Bill (to skull): 17.5mm / Head-bill Length: 37.6mm

Bill Width (at nostril): 6.1mm / Bill Depth (at nostril): 7.4mm

Weight: 31.4g.

Wing formula: 3 > 4 > 5 > 2 > 6 > 7 > 8 > 9 > 10 >1 (Ascendent numbering)
Lefranc, N. and Worfolk (1997) indicate in collurio 2nd primary is generally longer than 5th, but in this individual the 5th primary is longer than 2nd (30.0mm).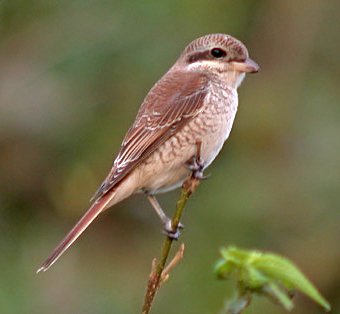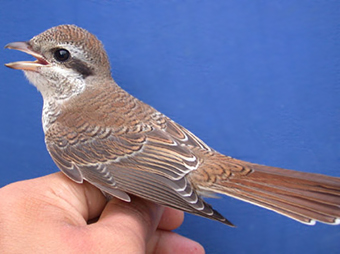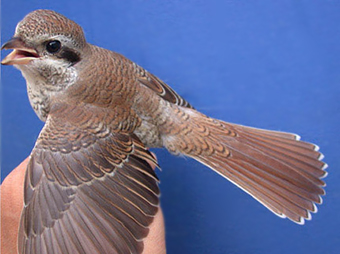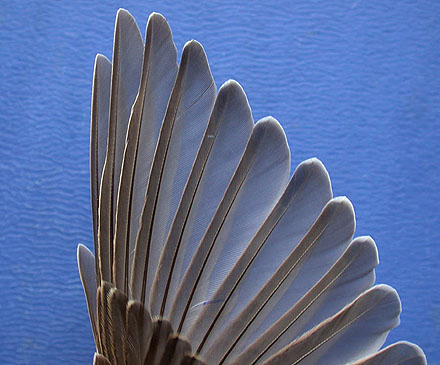 All photographs © Park Jong-Gil. Used with kind permission.
References:
Jenni L., & R. Winkler (1994). Moult and ageing of European Passerines. Academic Press.
Svensson, L. (1992). Identification Guide to European Passerines.
Update
29 September, Bo Petersson: Bo, a very experienced bander in Sweden,who has apparently handled a fair number of Red-backed Shrikes as well an Isabelline Shrike there, states that in his opinion it is "without doubt" a Red-backed Shrike. Other positive feedback from another very well-respected bander in the United Kingdom, with less direct experience of Red-backed Shrike or the other closely-related shrikes however, also firmly supports Park Jong-Gil's initial identification.
01 October, Dr. Reuven Yosef, Director, International Birding & Research Centre in Eilat: "I would like to confirm that the bird ringed was a Red-backed Shrike. I suspect a first-year bird. I have ringed a couple of 1000s of R-b S and several Isabellines on migration at Eilat, Israel."