Rose-colored Starling
Sturnus roseus
First for Korea
A juvenile Rose-colored Starling was watched well by NM for 3-5 minutes at the lighthouse on Eocheong Island, ca 75 km west of Gunsan city, in the evening of September 1st 2002.
Not listed for Japan by Brazil (1991), the species has been photographed in Japan and more details of records are presently being requested. Mackinnon and Phillipps (2000) state that the species has been recorded in both Shanghai and Hong Kong, whilst Chalmers (1986) states that there is one record for Hong Kong, involving two immatures, between 30 December 1984 and March 16th 1985.
Description: Watched in flight, preening and feeding over a 20 minute period (much of the time with the bird being hidden), at the WNW point of Eocheong Island on September 1st.
Optics: watched through Leica 8x32 binoculars in flight, and through a tripod-mounted Nikon fieldscope, 20-45x zoom lens.
Range: originally seen in silhouette at less than 30m range, then watched largely at ca 100 m range as it fed and preened.
Weather/Light: clear and bright evening light, after the passage of super typhoon Rusa, with westerlies (Beaufort 4-5).
August 31st had seen the arrival of super typhoon Rusa, which produced about 200 mm of rain locally, along with mostly northeasterly winds gusting to Force 12 (apparently over 200 km per hour winds were recorded ca100 km to the south). By 0800 on September 1st, the sunlit edge of the typhoon air-mass could clearly be seen, and by 0930, the wind had shifted to the west with clear skies. Migrants were very scarce until about 1600 when small numbers of a range of "western" migrants arrived, including 3 Richard's Pipits Anthus richardi and 4 Common Rosefinches Carpodacus erythrinus.
Arriving at the lighthouse area, the only accessible point on the island in the west/ northwest, at about 1730, NM noticed the silhouette of a bird, similar in size and shape to a Blue Rock Thrush Monticola solitarius, on the weather vane of the lighthouse about 50 m distance. Approaching closer, the bird took flight, and called, a Brown-eared Bulbul Hypsipetes amaurotis like "Heek-ik" as it flew across a gully. In flight the bird appeared Common Starling Sturnus vulgaris -shaped and sized and overall brown, with a clearly paler rump and no white in the wings or anywhere else in the upperparts. It landed on the exposed top of a pine, and calling once more, it started to preen. Through binoculars the bird's identification remained unclear, but through the telescope, its bill was clearly heavy and orangey-pink based: Rose-colored Starling, a species NM had last seen in the UK in the 1980s, and a first record for Korea. It could be immediately aged as a juvenile.
Watched through the scope as it preened (and then closed and opened its eyes slowly) for 2-3 minutes, it was noted at the time as being overall plain and generally sandy-buffy brown, darker above than below, with blackish wings (showing very pale, whitish fringes to the flight feathers, but no white on e.g. the coverts, further ruling out Red-billed Starling Sturnus sericeus) and an obviously darker tail. The rump at rest appeared slightly paler, less striking than when in flight. The head was dull, with a dark eye, suggesting female or juvenileChestnut-cheeked Starling Sturnus philippensis. It did not show an obviously paler throat like juvenile Common Starling.
The bill was rather shorter and stouter looking than the bill of Common Starlings in the region, orangey-pink on the lower mandible, and the lower part of the upper, with an obviously darker culmen. The legs were a weak pink.
The bird flew again across the gully, again giving good flight views confirming the complete absence of any white wing patch and the presence of a paler rump, this time landing in large berry-laden bush. Further brief views were had over the next 15-20 minutes, both as it appeared to feed inside the bush and then as it flew up the hill slope into another large berry tree, shortly before sundown.
It did not show again that evening, and although it was searched for, it could not be found the next day either.
Identification was straightforward, and based on its overall size and structure, its pale rump, contrastingly darker tail and wings (lacking white wing patches) and its diagnostic bare parts coloration.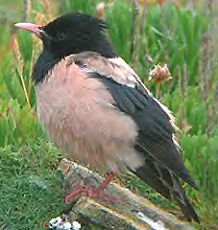 Adult Rose-coloured Starling,
Portland Bird Observatory,
Photo © Martin Cade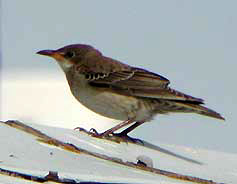 Immature Rose-coloured Starling,
Portland Bird Observatory,
Photo © Martin Cade
References:
Brazil, M. 1991. The Birds of Japan. Published Helm.
Chalmers, M. 1986. Annotated Checklist of The Birds of Hong Kong (4th edition). Printed by China Alliance Press, Hong Kong.
Mackinnon, J. & K. Phillipps. 2000. A Field Guide to the Birds of China, Oxford University Press.