2 Water Pipits in South Korea
November 2004
Two Water Pipits Anthus spinoletta were recorded in South Korea in November 2004:
Park Jong Gil: November 19 or 20, Heuksan Island (close to the site where the same observer found three on November 26th 2003 (for images go to Year Review 2003).

Mo In Ho: November 24, Joonam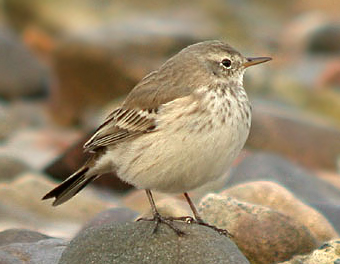 Water Pipit, Heuksan Island. © Park Jong-Gil
Water Pipit, Joonam. © Mo In-Ho
Prior to these birds, there are only a handful of (collected) records of Water Pipit in Korea.
According to a paper by Fennell in Condor (Vol 61, May 1959) most were assigned as Anthus spinoletta blakistoni and are as follows:
One male (perhaps first year). Idon, Gyeonggi Do (Gwangneung), Nov 23, 1957

One unaged: NE Seoul, January 12, 1958.

Two, one male, one female, same site, NE Seoul, January 19, 1958
All specimens identified as blakistoni by Deignan and deposited in the Museum of Verterbrate Zoology.

A further specimen was collected at Kumhaw, Gangwon Do, on December 1, 1929. It was reported as "doubtful" by Austin, but was still held in the Yamashina in the 1950s (Bull. Mus. Comp. Zoo, 101, 1948: 236) and was considered by Toji Mishima as "definitely" a blakistoni.
Additionally there is one previous sight record:
One (description still waiting) seen by Paul Leader, on Jeju Island on November 22nd or 23rd, 2003.
Given the number of recent records in November from the last two years and looking at the records cited by Fennell, it seems very likely that Water Pipits are being misidentified as Buff-bellied Pipits or are being overlooked - particularly in the south of the country during winter.