"Spring migrants" tour
April 12-14 and May 13-18 2002
The following is the trip report from 2002's very successful "spring migrants" tour led by Nial Moores and Kim Sukyung.
Martha Walsh McGehee (Mandy) birded South Korea on her way to and back from Bhutan, between April 12th and April 14th and again from May 13th- May 18th. The first part was guided by Nial Moores (NM), Jung Soon-Gu and Kim Su-Kyung (KS) (on 12th), and the second part by NM (May 13-14, 17-18) and KS.
The tailor-made itinerary was drawn up in response to Mandy's wish-list, which included a range of winter type birds and spring migrants. Tides were excellent both visits (allowing us to find almost all of the desired shorebird species), and the weather was favourable for the first part (dry, largely sunny), but deteriorated significantly during the second period. The ongoing 2-year drought (the worst for 90 years) had all but come to an end during the Irish/American bird tour (April 21-May 5), and with strong winds and rain on May 14th, 15th and 16th, and continuing precipitation on 17th, even gave local floods during Mandy's visit. This meant the need for some rapid re-planning (and a new nickname for Mandy.. .The Rain Woman)!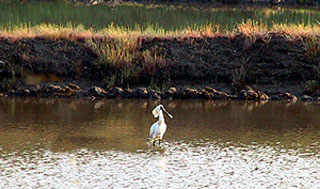 Black-faced Spoonbill
In total, we recorded ca 193 species, with obvious highlights including all three of the Yellow Sea near-endemic breeders: Chinese Egret (World Minimum Population Estimate, or WMPE 1800-2500), Black-faced Spoonbill (WMPE 850), and Saunders's Gull (WMPE 7000). In addition, we had great views of both Nordmann's Greenshank (WMPE 1000) and no less than 6 Spoon-billed Sandpiper (WMPE ca 2000), and a host of other regional specialities, with an interesting Japanese-mainland Asia mix, typical of migration in South Korea. These included Black Woodpigeon, Japanese Robin, Grey, Brown and Pale Thrush, Narcissus and Yellow-rumped Flycatcher and the majority of the possible bunting species.
Our itinerary, with some selected highlights went as follows:
April 12.

International flight from US to Yeong jeong Do airport, Incheon; transfer to domestic flight to Busan.

Arrived Busan at 11:30: Birded Nakdong estuary (highlights there included a late Whooper Swan and 1 Saunders's Gull), and onto Taejeongdae Park. At Taejeongdae, Temminck's Cormorant and a range of gulls started a great few hours. Most memorable in the park were incredibly good views of White's Thrush (6-7), excellent views of Pale (15-20+) and good views of the Japanese near-endemic Brown Thrush (2-3). Even more surprising were no less than 3 Japanese Robins (perhaps the first Korean mainland records of the species), with one female showing excellently, while a male Narcissus Flycatcher and several Blue-and-White Flycatchers added extra colour.

Night drive to Guryongpo area. (73 spp for day)

April 13.

Guryongpo area; PM to inland river area and reservoir.

A broad range of species were found on the Kuryong'Po Peninsula, including late Pacific Diver seen down to 30 m, ca 120 White-winged Scoter of the stejnegeri subspecies, the full range of expected gulls (including Slaty-backed, Vega, Mongolian and Siberian), and good numbers of migrant passerines and near-passerines. Rarest for the day was a Greater Short-toed Lark (with very few published records, perhaps none on the mainland in recent times), though Grey Thrush (1 first year male) is believed almost as rare. 15-20 Red-flanked Bluetails, 30+ Siberian Buff-bellied Pipits, presumed Sakhalin Leaf Warbler (based on plumage, and sadly not on song), stunning views of a male Korean Bush Warbler and a range of commoner thrushes and buntings added depth and further quality to the day. Late afternoon saw us at a regular site for Long-billed Plover, while our last stop gave us excellent views of the gorgeous Mandarin Duck (20), including one pair feeding close-by in a rice-field.

Extremely long (!) evening-night drive to Incheon. (76 spp for day).

April 14.

Song Do tidal-flat for early high tide; lunchtime to Yeong Jeong island. Woodland and rice-fields until 1530; then to high tide roost from 1600-1700.

The early high tide at SongDo allowed us excellent views of 4500 articola and sakhalina Dunlin, 3 osculans Eastern Oystercatchers (a highly distinctive and believed threatened taxon with a WMPE of only 10 000), and a range of other commoner shorebirds. Highlights were ca 30 breeding plumaged Saunders's Gulls (a colony existed nearby until 2001), a Pectoral Sandpiper (a scarce migrant in Korea) and an extraordinarily late Siberian Accentor, that gave tantalizingly brief views before disappearing into dense cover.

A woodland walk on Yeong Jeong produced Varied Tit, up to 30 Dusky Thrush, Grey-backed Thrush, and over 450 Brambling, most in breeding plumage. The final hour was spent at another high tide roost. Biggest surprise was a very late Ruddy Shelduck, but the outstanding bird was undoubtedly a very early Nordmann's Greenshank, scoped well for 5-10 minutes…

Departure evening flight.(79 spp for day).

May 13.

Arrived Incheon airport at 1300: quick stop Yeong jeong Do tidal area (where we had our first close encounter with a breeding-plumaged Chinese Egret); drive down to Dongjin estuary, part of the Saemankeum reclamation area. Birded high tide from 1600-1830.

At Dongjin, a rapidly falling tide revealed extensive mud all but covered by at least 25 000 shorebirds. Closest among these were 150+ Sharp-tailed and 100+ Broad-billed Sandpipers, 150+ Terek Sandpipers and 500+ Lesser Sandplovers. Biggest surprises included the spring's second Little Stint, among 2000 Red-neckeds, and a breeding-plumaged Whiskered Tern, topped by SK and Mandy who found a flyby Drongo sp (a surprisingly rare genus in Korea). Much rarer in global terms, 6 Black-faced Spoonbills added further to the day's quality. A distant calling Greater Painted Snipe closed the day.

Overnight in Gunsan. (Day ca 50 spp)

May 14.

Early dawn high tide at Mangyeung estuary, part of Saemankeum reclamation project. Then to Gunsan for boat to Eochoeng Do. Boat cancelled, so checked Geum river barrage lake, then drove down to Mokpo. Caught ferry to Taehuksan Do., arriving 1600.

We hit the high tide roost at the Mankyeung estuary perfectly, and were immediately rewarded with stunning views of ca 40 000 shorebirds, including 35 000 Great Knot (about 10% of the WMPE.), and even more exciting, excellent views of no less than 6 breeding-plumaged Spoon-billed Sandpipers. To add to the pleasure, these were the overflown by 4 Black-faced spoonbills…Then the weather went against us: a canceled boat to the recently discovered birding hotspot of Eocheong Do meant we had to head down to Mokpo for the Taehuksan boat instead, only stopping near the Geum barrage for Eurasian Spoonbill (1) and Long-toed Stint (3) on the way. The ferry produced very poor views of a (suspected) Ancient Murrelet, but good views of Short-tailed Shearwater (3), a very scarce species in Korean waters, along with 40+ Streaked Shearwater. After enjoying the first Chinese Goshawks (15+) Nial returned to the mainland after only 1 hour (finding 2 Little Swift and Korea's first Long-tailed Skua on the way back), leaving Mandy and KS to enjoy a fall developing on Daehuksando.

Nial returned same day; Mandy remained with KS on TaehuksanDo.

May 15.

Mandy and KS birded Daehuksando, northern and southern areas.

Mandy and KS found White-tailed Eagle (the species has a tiny breeding population in the Southwest islands: the southernmost breeders globally?), while other highlights were even more Japanese in feel: a Black Woodpigeon (Mandy only), a Red-cheeked Starling and 1 rather late Japanese Yellow Bunting. Commoner migrants included a stunning Broad-billed Roller, no less than 60+ Chinese Goshawk, 100+ Brown Flycatcher, and 6 other bunting species (including 10 Chestnut and 3 Yellow-browed).

May 16.

Mandy and KS birded Taehuksando northern part, then caught 11:00 ferry back to Mokpo. Drove to Seoul, via Dongjin estuary.

Birding in the morning added further views of Black-browed Reed Warbler and a dozen Chinese Grosbeaks, while Mandy also caught up with an Ancient Murrelet from the ferry back to Mokpo. The Dongjin provided more shorebirds though nothing new in heavy rain and still strong winds.

May 17.

From Seoul to Kwangneung arboretum, with NM and KS.

The early morning started with excellent views of the rather locally numerous Mandarin Duck, and good looks at Japanese Pygmy Woodpecker. A long walk in woodland was a mixture of frustration and good fortune. A male Siberian Blue Robin was watched excellently through the scope as it sang up in a tree (extremely unusual behavior for this usually ground-hugging gem), while Yellow-rumped Flycatchers and Oriental Cuckoo were equally obliging. Both Great Spotted and White-backed Woodpeckers also gave fine views. However, none of the 5-6 Ruddy Kingfishers heard revealed more than the briefest of glimpses, and a similar number of Indian Cuckoos also kept very well-hidden.

Overnight Kwangneung.

May 18.

Early morning drive to Kanghwa. Birded Kanghwa for 3-4 hours, then to Yeong Jeong airport.

Outstanding among a good range of migrants, including the trip's first Oriental Honey Buzzard and groups of Black-naped Orioles, were views down to 30 m of a breeding plumaged Black-faced Spoonbill feeding in a roadside rice-field, 14+ Chinese Egrets in one group, and a charismatic Forest Wagtail 'scoped' for 5 minutes as it sang.
Martha Walsh-Mcgehee, President, Island Conservation Effort::
"I could not have enjoyed the trip more (well, maybe except for that darned Ruddy Kingfisher) nor could I have had a better guide..."