Conservation of the Avian Biodiversity of Gageo Island,
Shinan County, South Jeolla Province: a Summary Overview.
Birds Korea, April 2010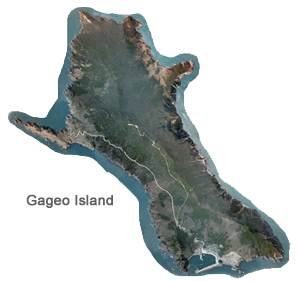 Introduction
Gageo Island (at c. 34°03'N 125°09'E) is a rather mountainous (rising to 575 m, as measured by Garmen GPS)) and heavily forested island of 918 ha, approximately 6.6 km north–south and 3.4 km west–east, with several small islets lying between 2 and 2.9 km to the northwest (the Gugeul Islets). Gageo Island is relatively isolated (lying >30km distant from other islands), and has a fairly small and apparently declining resident human population, living in three villages (with the largest centre of population at 1-Gu in the south, followed by 2-Gu in the west and 3-Gu in the east). In addition there are two police camps and several people also live and work at the lighthouse in the far north. Both 1-Gu and 2-Gu are connected by a concrete road, and a concrete road also runs to a police station near the highest point of the island. 3-Gu and the lighthouse are both reached either by trail or by boat.
Previous Bird Research
The breeding avifauna of Gageo Island and the Gugeul Islets was first surveyed by Won and Yoon (1970), with subsequent surveys focused largely on the seabird colony on the Gugeul Islets. This research eventually led to the designation of the Gugeul Islets as National Natural Monument No. 341 (in August 1984). In more recent years, research was conducted on migrant bird species (especially in 2000 and 2001), and on the migration of raptors (the latter research conducted by staff within the Ministry of Environment).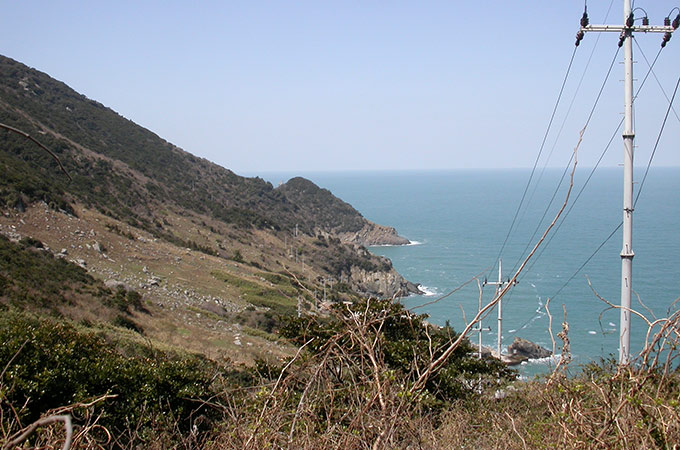 Beautiful Gageo Island: 3-gu, Photo © Birds Korea
Birds Korea Research (2009-2010)
Between January 2009 and January 2010, as part of the Birds Korea Blueprint for the Conservation of the Avian Biodiversity of the South Korean Yellow Sea (West Sea) and related research for the University of Newcastle (Australia), Birds Korea conducted intensive survey of all bird species on Gageo Island in all months (except December). Field research was conducted on 91 days (with additional observations made on a further 10 days), during which time 257 bird species were recorded. While the majority of survey effort was focused in 1-Gu and 2-Gu on species during northward and southward migration, research also included monthly counts of all birds along transects that included the central forest, 3-Gu and the lighthouse: i.e. all of the relatively easily accessible parts of the island. During survey work, all individuals of all species of bird that were seen or heard ("records") were noted, and for species of special conservation concern GPS coordinates of each record was also noted, along with time, weather and other notes of potential importance (e.g. potential disturbance elements, main habitat type etc).
Only one day was spent on Gugeul Islet (and results of that rapid assessment are largely excluded here).

Gugeul Islet: left: satelite view, right: nesting habitat of Swinhoe's Storm Petrel, Photo © Birds Korea
The analysis of the data is still ongoing. More detailed analysis will be included in a report to be published by Birds Korea in October 2010 (the Blueprint) in the run-up to the Tenth Conference of the Parties of the Convention on Biological Diversity (Nagoya, October 2010), and in subsequent papers. Some of the more important findings, however, are summarised below.
1. Breeding Birds
A total of 73 species of bird were recorded during the breeding season (here defined as June-August). Of these, 11 species were presumed or confirmed to breed (based on the maintenance of territories through the summer, the observation of nests, and/or the presence of begging juveniles).
Breeding species included the Peregrine Falco peregrinus (Nat. Nat. Monunument No. 323), the Black Woodpigeon Columba janthina (globally Near-threatened) and the globally Vulnerable Styan's Grasshopper Warbler Locustella pleskei. In addition, the Gugeul Islets are now believed to hold the vast majority of the world's breeding population of the Swinhoe's Storm Petrel Oceanodroma monorhis.  Considering their global conservation status, further information is provided on three of these species below.
Black Woodpigeon

Black Wood Pigeon Columba janthina,
Gageo Island, Photo © Birds Korea

The Black Woodpigeon has a very restricted global range, being confined to breeding on small offshore islands in Far East Asia, especially off Japan. Within Korea, the species is believed to be more or less restricted as a breeding species to c. 15 islands, most concentrated in the southwest and south, with a further breeding population on Ulleung Island (e.g. Oh et al., 1991). There is some evidence that the population of the species in the southwest of Korea is geographically isolated from the larger Japanese-based population.

On Gageo Island, the Black Woodpigeon is very shy and sensitive to disturbance and is therefore extremely difficult to survey accurately. It is confined to dense, closed canopy evergreen forest, feeding on the ground or in the canopy, or in fruiting bushes (sometimes near the forest edge). Birds Korea survey effort confirms that the species maintains its territory throughout the year on Gageo Island, requiring areas of mature broadleaved evergreen forest, and preferring areas with trees that have a circumference of more than 1m at breast height. While analysis is still ongoing, between 20 and 30 active territories were mapped (based on repeat calling by birds from the same tree/trees over the majority of months of survey). These territories are all in dense forest, with most in the northern half of the island (including c. 5 territories in forest above 3-Gu village; and a further five to eight territories in forest within 250 m of the track between 3-Gu village and the lighthouse). In contrast, no territories were maintained throughout the breeding season in the much more disturbed 1-Gu, despite the presence of several patches of older trees used on occasion by the species. The Black Woodpigeon appears to be strongly limited by human-disturbance, especially by chronic disturbance, which apparently prevents it from maintaining territories in areas with otherwise suitable forest. In support of this, several territories that were in active use in 2000, 2001 and again in early 2009 were deserted following road improvements in summer 2009 between 1–Gu and 2-Gu, while territories in less-disturbed areas were maintained.

Beautiful Gageo Island: Habitat of Black Woodpigeon

Our research indicates that the proposed road construction to 3-Gu and the expected increase in hikers/tourists between e.g. 3-Gu village and the lighthouse and 2-Gu, and also in higher parts of the island, will lead to a significant decrease in the breeding population of the Black Woodpigeon on Gageo Island, unless adequate mitigation or alternative development plans are adopted.

Styan's Grasshopper Warbler

Styan's Grasshopper Warbler Locustella pleskei,
Gageo Island, Photo © Birds Korea

The Styan's Grasshopper Warbler is a poorly known species confined as a breeding species to offshore islands in Far East Asia, with a small and declining world population (BirdLife International 2009). The species is strongly migratory, arriving in Shinan County towards the end of May, and departing again in late August or September. On Gageo Island, the species is strongly associated with large clumps of tall bamboo (where it nests), and while data-analysis is still ongoing, all (or almost all) of the c. 15 pairs that were mapped in 2009 nested in or close to stands of bamboo.

While the Styan's Grasshopper Warbler appears to be reasonably tolerant of disturbance, road construction to 3-Gu will likely negatively impact or destroy the habitat of c.5 pairs of this species (which in 3-Gu are concentrated in the open area to the south of the main village, near to the stream and the old school). The species is also vulnerable to predation by ground predators (such as the introduced Siberian Weasel) which are often attracted to garbage and waste food. Such predators might increase following road-construction and greatly increased use of the area by hikers/tourists.

Swinhoe's Storm Petrel: Gugeul Islets

Swinhoe's Storm Petrel Oceanodroma monorhis,
Gugeul Islet, Photo © René Pop

Blueprint research did not include much survey work on the Gugeul Islets. The Gugeul Islets are, on paper at least, strictly protected, with restrictions on fishing and access. These protective measures were established to conserve the globally important seabird colony, which includes probably the majority of the world's breeding Swinhoe's Storm Petrel (up to 90% by some estimates, with between 30,000 and 100,000 pairs nesting on islets totalling only 11 ha in area). In addition, the islets also hold breeding Streaked Shearwater Calonectris leucomelas, Ancient Murrelet Synthliboramphus antiquus and, at least in previous decades, the globally Vulnerable Crested Murrelet Synthliboramphus wumizusume (the only proven breeding site of this species outside of Japanese waters).

Despite the protective measures, during 2009 illegal fishermen were photographed on one of the islets, and fishing boats regularly fished close to the island. In addition, one or more fishing boats regularly passed the islets while playing very loud music – likely to cause disturbance to sensitive nesting seabirds.
2. Migrant Birds
The largest number of species recorded on Gageo Island during the research period was in April (157 species over 18 dates), May (153 species over 13 dates) and October (113 species over 11 dates). While 1-Gu is the most disturbed part of the island, it also contains the most diverse habitat, including the harbour, areas of woodland, agricultural plots, grassland, and other open areas preferred by some species. This diversity of habitats results in the highest diversity of species (and probably the highest level of interest for visiting birdwatchers in spring or autumn), and more than 100 species were recorded in 1-Gu alone on two or more days in spring.
Migrants on Gageo Island
3. Sustainable Development
It is clear that Gageo Island and the Gugeul Islets are important for the maintenance of biodiversity, both at the national and the global scale. Future development needs to consider the specialised ecology of species which are adapted to nesting on offshore islands in response to reduced numbers of predators and reduced disturbance compared to mainland areas.
Development on Gageo Island to date has apparently not considered the conservation of either the island's biodiversity, nor of its exceptional cultural and landscape qualities.
Future development, if it is to be genuinely sustainable (and in line with obligations held by the nation under e.g. international conservation agreements and the Millennium Development Goals), needs to include zoning, the development of guidelines on behaviour, and habitat creation, to mitigate for further habitat loss and disturbance, while increasing the island's potential for environmental education and recreation . In this way, all future development should provide long term benefits to islanders, visitors and to wildlife.
While a broad range of measures could be adopted relatively easily and cheaply, a few of the more important ones are highlighted below:
More information needs to be provided to islanders and visitors alike on the global importance of Gugeul Islet and the distinctive Gageo Island Black Woodpigeon, and the sensitivity of both to disturbance. The benefits of their conservation (in terms of local pride and global recognition) need to be emphasised. A short educational pamphlet could be produced, with further information (posters or larger photographs with explanation) also provided at the ticket booking office in Mokpo and on Gageo Island, and on the ferry.

In addition to the improvement in information, the restriction of access to Gugeul Islet should be enforced much more strictly. Visiting permits should only be provided to conservation and seabird specialists, and not e.g. to television companies and others with inadequate knowledge of seabird colony conservation.

Research should be conducted on potential disturbance to nesting seabirds by boats (including determining the distance at which nesting seabirds might be disturbed by boats). In the interim, in line with the precautionary principle, all tour boats and fishing boats should be requested to turn off their music when within a minimum 2km of the Gugeul Islets.

Some existing hiking trails should, where possible, be re-routed to avoid areas with nesting Black Woodpigeons, and all future road or trail development needs to take into full consideration the species that will be affected.

The road plan to 3-Gu needs to be reconsidered. No-one in 3-Gu presently has a car and the village population is very small. The road will be extremely expensive to construct, will damage the landscape irreparably, will cause huge disturbance during construction (affecting tourism to the island as a whole), and will negatively impact several pairs of Black Woodpigeon and other species. The cost-effectiveness of alternative investment (e.g. in solar panels for each house, and a generous tourism promotion package benefiting all residents, emphasising holidays in the "village with no road") should be assessed and discussed with residents, especially in line with the national commitment to "Green Growth".

Guidelines on behaviour for hikers also need to be introduced. These should include requests to hikers NOT to pick plants, to drop litter, to place banners along the trails, or to shout from peaks.

A freshwater wetland should be created in 1-Gu (probably in the quarry area); kept permanently wet; screened with vegetation; and managed appropriately (i.e. minimum management) to support migrant waterbirds while providing an eco-tourism opportunity for visitors. Moreover, the existing concrete ramp in the harbour should be closed to boats in April and May (and made available in other months), unless alternative habitat for salt-water shorebirds can be created.

Harbor Gageo island with Bar-tailed Godwit at the far right, Photo © Nial Moores

Further survey of biodiversity should be conducted (funded by Shinan County or the national government) and changes in population in target species (including the Black Woodpigeon, the Styan's Grasshopper Warbler and the Swinhoe's Storm Petrel) should be used in order to improve development models and land use.
References
Oh J-G., Park H-S. and Oh H-S. 1994. Study on the Breeding Ecology of the Japanese Wood Pigeon , Columba janthina janthina Temminck. Kor. J. Orni. 1: 115-126.
Won P-O & Yoon M-B. 1970. A summer bird survey on the Sohuksan Island. In The Survey of Conservation of Special Resource in Korea, Nature Conservation, pp. 43-44.