Oriental White Stork in Jeju
October 26, 2007 Yongchang Jang (yongchangjang@hotmail.com)
An Oriental White Stork Ciconia boyciana was observed in Jeju Island, South Korea again. The picture that was taken by Mr. Heeman Kang, a local news reporter, on October 25, 2007 in a deserted rice paddy in Yongsuri villiage, west Jeju, can be seen on the website of Jeju Wildlife Research Centre.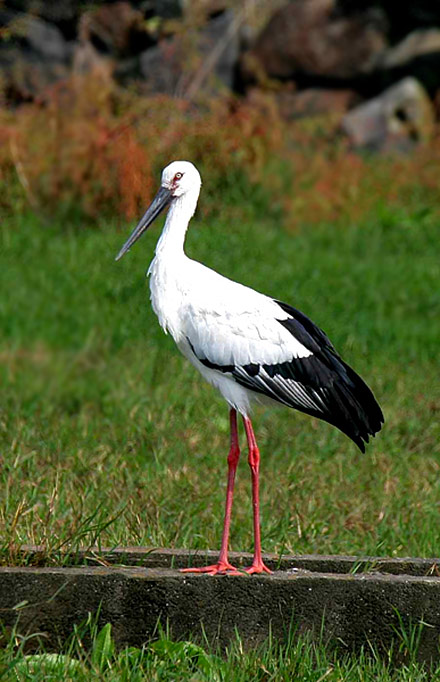 Oriental White Stork, about 5,000 individuals remaining in the world, is classified as "Endangered" by the IUCN Red List of Threatened Species, and is on the Appendix I of CITES(Convention on International Trade in Endangered Species of Wild Fauna and Flora).
Though the White Stork was a resident in South Korea, the male of the last breeding pair was shot by an illegal hunter in 1971, and the female partner died in 1994 after it was moved to a Zoo in 1984, according to Korea National Heritage Office. After that, Oriental White Storks are observed in many parts of Korea from time to time. After the Korean Oriental White Stork Rehabilitation Center opened in 1995, a pair introduced from Russia succeeded breeding in Korea first time in April 2002. (www.stork.or.kr). But breeding pair is not yet observed in the wild. The species is protected as a Natural Heritage in Korea.
In Jeju Island, an individual was seen in November 2005 in Yongsuri village. The individual was continuously observed in Jeju until August 2006. Another individual was seen again in December 2006. The individual stayed in Jeju until August 2007. And the third individual was seen on October 25. The three storks looks different individuals, according to the plumage. As the distance from Jeju island to the mainland Korea is less than 200 kilo meter, it will take less than 3 hours for the stork to fly to the mainland Korea. So, perhaps the stork can move freely between mainland Korea and Jeju. But, in order to know where the stork stays, we need to conduct scientific research.
As there are lots of fishes and frogs, the deserted rice paddy in Yongsuri village seems to be the best place for the stork. And as the rice paddy was deserted, human disturbance is less serious compared to other places. That's why the stork stayed there for a long time. The deserted rice paddy is loved by many other species of wild birds, too. Many species of birds including Hooded Crane, Spotted Eagle, Grey-headed Lapwing, and Bean Goose were found there. But, the place is not yet designated as a protected area. After scientific research of that area and the Oriental White Stork, we need to study how to protect them.
Yong-chang Jang
yongchangjang@hotmail.com Mobile: 010-9904-5224