Birds Korea Update for Members: March - May 2009
This Update covers March 1st to May 31st 2009. It is in three parts:
1. Conservation News
Many of our members will already know that in 2008 the national government stated that "intertidal mudflats should be preserved and that no large-scale reclamation projects are now being approved in the Republic of Korea" and that this very positive announcement was formally included in Ramsar Resolution X.22 (http://www.ramsar.org/res/key_res_x_22_e.doc).
Further, Ramsar-watchers will know that Strategy 2.7 of Resolution X.01 ('The Ramsar Strategic Plan 2009-2015') also states that: "Appropriate management and wise use [needs to be] achieved for those internationally important wetlands that have not yet been formally designated as Ramsar sites but have been identified." Put simply, nations need to conserve all internationally important wetlands in their territory, not just Ramsar sites.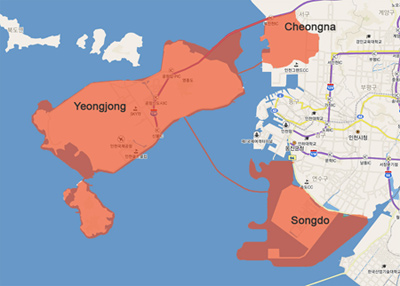 73% of the planned IFEZ area is on reclaimed land
In Mid-March 2009, however, approval was given for further large-scale reclamation of remaining tidal-flats at Song Do in Incheon – wetlands that are clearly internationally important as defined by the Ramsar convention. The tidals-flats are especially important for shorebirds and also for other globally-threatened species including the Vulnerable Saunders's Gull Larus saundersi and the Endangered Black-faced Spoonbill Platelea minor, both found breeding at the wetland.
The international importance of Song Do and other tidal-flats in Incheon is clearly a major reason why Incheon City took over the role of Permanent Secretariat of the East Asian-Australasian Flyway Partnership in April – a partnership developed under the auspices of the Ramsar convention, and dedicated to the conservation of waterbirds and their habitats. It is therefore puzzling that this next reclamation at Song Do is not being pushed by an outside agency. Rather it is being proposed and promoted by Incheon City itself, as part of the Incheon Free Economic Zone (IFEZ). IFEZ (http://eng.ifez.go.kr) is an already huge development project, as proposed requiring the reclamation of more than 15,000 hectares of inter-tidal wetland (including areas reclaimed since the 1990s, and areas targetted for future reclamation). IFEZ has already attracted several high-profile overseas investments, including Gale International (see: http://www.songdo.com/Default.aspx) and CISCO (http://www.futurizekorea.com/entry/Cisco-plans-Korean-research-center-ubiquitous-city-network). Apparently already aware that IFEZ is being constructed on reclaimed wetlands, this further reclamation proposal should make all such businesses that are committed to genuinely Sustainable Development ask:
How will their investment help IFEZ to fulfil nationally and internationally-held obligations under Ramsar, under the Convention on Biological Diversity and under the Millennium Development Goals?
The same question also needs to be asked by those investing in the Saemangeum reclamation project. Construction of the first industrial complex started in late March, in line with " the government's New Green Growth objectives," according to a leading official (http://www.koreaherald.co.kr/.../200903280013.asp). Data from the Saemangeum Shorebird Monitoring Program conducted by Birds Korea and the Australasian Wader Studies Group (AWSG) have confirmed massive declines in shorebirds caused by the Saemangeum reclamation, with for example a more than 20% decline in the global population of Great Knot Calidris tenuirostris (Moores et al., 2008).

MYSMA counts at 80-Mile Beach, Australia (joined by several Birds Koreans in December 2008), Photo © Park Jong-Gil
Further research conducted by the AWSG in northwest Australia as part of the Monitoring Yellow Sea Migrants in Australia program (MYSMA) now reveals that at least five other Yellow Sea-dependent shorebird species that staged in internationally important concentrations at Saemangeum and that spend the northern winter in Australia have also declined rapidly in recent years. A comparison of MYSMA counts between 1998 and 2001 and again in December 2008 reveals declines of 53% in Bar-tailed Godwit Limosa lapponica, 40% in Far Eastern Curlew Numenius madagascariensis and 53% in Terek Sandpiper Xenus cinereus (Rogers et al. 2009).
Major impacts on avian and other biodiversity are not limited to coastal reclamation, of course. The dredging and damming of rivers, both major and small, is now taking place as part of the Four Rivers Refurbishment plan, a massive plan requiring 16.9 trillion won ($13.5 billion) between now and 2012, calling for large-scale dredging operations of river bottoms, construction of small dams, catch basins and reservoirs that can store up to 1.3 billion cubic meters of fresh water and greatly raise water quality.
(see e.g. http://www.koreatimes.co.kr/www/news/biz/2009/06/123_46431.html)
Although this "Refurbishment" is being defended by some as development in accordance with the United Nation's "Global Green New Deal", nowhere in the UNEP's online summary of that report is there any reference to or promotion of the construction of dams or river dredging. The report rather emphasises the conservation of natural areas and natural ecosystem services (http://www.unep.org/Documents...ArticleID=5957).
Further, the Ramsar Convention also includes clear guidance that all contracting parties are recommended to respect:
"Natural processes and existing conditions should be considered during project selection, design, and development. To the extent that is possible, ecological engineering principles should be applied in preference to methods requiring hard structures or extensive excavation." (Ramsar Recommendation 4.1).
2. Birds Korea News
Between March and May 2009, our work has included:
Research
Survey work on Black Woodpigeon Columba janthina, on seabirds, and on migration through offshore islands (most especially Socheong in Incheon, Eocheong in Gunsan, and Gageo in Shinan County). While essential in the longer-term development of an Eco-tourism plan, a more immediate aim of this work is to develop a technique that can enable the better analysis and comparison of counts of migrant birds between years – essential if we are to learn which species are most in decline and most in need of conservation action.

Other research has also included contribution to a review of the conservation status of the Far Eastern Oystercatcher Haematopus (ostralegus) osculans, and revision of the Birds Korea checklist, including the addition of subspecies.

In early June, we have also started to discuss ways in which to develop or to support surveys of commoner bird species, such as the Barn Swallow Hirundo rustica, by schools and local communities.
Education and Awareness-raising
In addition to several media reports and interviews, and presentations in Mokpo (April 6th), and at Seoul National University (May 8th), we:
Have been building an easy-to-access gallery of images and sound recordings which will showcase over 450 of the bird species recorded in Korea. Thanks to the amazing energy and hard work of Mr. Andreas Kim, and to the kind sharing of images by our members, this gallery will be opened on both of our websites within the coming months.

Working example of a gallery page

Are also now in the final stages of preparation of "Wings Across The Ocean", produced on commission from the Nakdong Eco-centre. This attractive book has an easy to understand text written by Ms. Park Meena and Mr. Nial Moores, and is packed full of excellent images of shorebirds and their habitats, contributed by no less than 16 different domestic and overseas members. Publication will be in late June/early July.

Our report on the Song Do reclamation (at:
http://www.birdskorea.org/.../Songdo/BK-HA-Songdo-Tidal-flat-reclamation-2009-03.shtml) has been distributed widely and has helped greatly to raise awareness of the international importance of the wetland.
We are especially grateful to the AWSG and to Birds Australia (BirdLife in Australia) for taking the lead in expressing international concern about this proposed reclamation (see:
http://www.birdskorea.org/.../Songdo/BK-HA-Songdo-AWSG-statement-2009-05.shtml and
http://www.birdskorea.org/.../Songdo/BK-HA-Songdo-Birds-Australia-statement-2009-05.shtml).
These factual letters of concern have been reported both by domestic media and by leading local groups (including Green Korea United in Incheon).
In the coming months, we will of course continue in our joint efforts to find ways to help raise awareness of the potential costs to biodiversity, to "national brand", and to Sustainable Development of large-scale reclamation - at Song Do, at Saemangeum, and at other internationally important Korean wetlands.
Planning and Design
Our Powerpoint and CD entitled "Steps Towards the Conservation and Restoration of the Mokpo Namhang Wetland: For Birds and For People" was presented in a very positive meeting in Mokpo City on April 6th. The Powerpoint (produced in both Korean and English versions) includes background information on wetland conservation, clarifies Ramsar Convention guidance on restoration, and provides examples of restoration and habitat creation. (Please go to: http://www.birdskorea.org/.../BK-HA-Mokpo-presentation.shtml).
3. Exceptional Bird Records
Records have been collated by Tim Edelsten et al. of observations by Birds Koreans and from records posted on other leading birding websites, mostly especially the websites of the National Parks Migratory Bird Research Centre, KWBS and BirdDB. Nomenclature, order and status codes follow the revised Birds Korea Checklist (Version 2.1, June 2009), which follows Gill et al. (2009).
Outstanding spring highlights during the period under review (March-May 2009) include three first records for Korea as documented below: Claudia's Leaf Warbler (Category One), Himalayan Cuckoo (Category Three), and Blue-winged Pitta (Category One). Additional species, recorded less than ten times in Korea prior to 2009 are also listed below, along with one new subspecies (personata White Wagtail) and three species of Special Conservation Concern.
Cinnamon Bittern Ixobrychus cinnamomeus V3 (So) >V2 (So)
One was seen and photographed at Weiyon Island in early May (details withheld, with images posted on the BirdDb website on May 7th), with an adult male seen also by Robin Newlin and Shim Kyu-Sik there on May 31st. In addition, a male and female were seen (and the male photographed) on Gageo Island by Nial Moores on May 23rd. Although more records are thought to exist, the latter record becomes only the tenth or eleventh documented record known to Birds Korea.
Collared Dove Streptopelia decaocto V1
One photographed in Korea in late April (posted on BirdDb with details withheld) is approximately the 8th record for South Korea since the last was collected in 1961.
Spotted Dove Stigmatopelia chinensis V3 (S-C) > V3 (So)
One seen and photographed on Socheong Island by Nial Moores on May 17th is only the second record for Korea, after the first in May 2006. It was still present there on May 23rd when seen by Robin Newlin, Shim Kyu-Sik, Park Jong-Gil et al.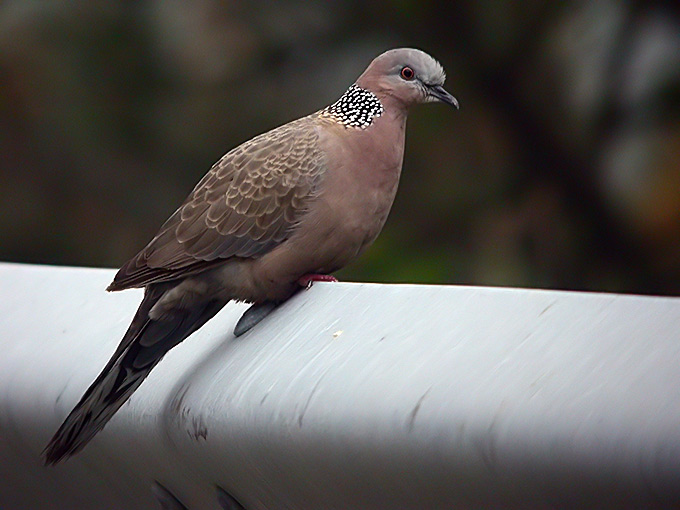 Spotted Dove Streptopelia chinensis, Photo © Nial Moores
Chestnut-winged Cuckoo Clamator coromandus V3 (So)
The remains of one were found on Baek Island (Jeollanam Province) by Kang Hwayeon in late May.
Large Hawk-Cuckoo Heirococcyx sparverioides V3 (So)
One was seen and sound-recorded on Gageo Island by Nial Moores & Robin Newlin on April 21st and 22nd. It was followed by an apparently different individual heard and seen on April 23rd, and a further individual seen at close range on April 28th (by Nial Moores only). These constitute the third to fifth records for Korea.
Himalayan Cuckoo Cuculus saturatus Addition to Category Three
One heard calling on Gageo Island on April 29th by Nial Moores is the first record of this species in Korea.
Blue-winged Pitta Pitta moluccensis Addition to Category One
One was well photographed by Kang Chang-Wan on May 30th on Mara Do, Jeju.
Yellow-bellied Tit Periparus venustulus V3 (So) > V2 (So)
At the time of writing (June 2009) there are now 16 records of this species, with an apparent pattern emerging of winter dispersal and seasonal movement along the west coast in March/April and again in October/November.
Records prior to the period under review
October 22nd, 2005: One First calendar-year male, Socheong Island, Incheon.
November 13th, 2005: One non-breeding plumaged male, Gunsan.
January 22nd - April 3rd, 2006: One male, Songdo, Incheon.
April 21st, 2006: One male, Heuksan Island, Jeollanam Province.
February 22nd 2008: One First-winter male, Tokkeo Island, Jeollanam Province.
March 30th, 2008: One male, Dokjeok Island, Incheon.
October 28 2008: One First-winter male, Namhansan Park, Seoul.
November 26 2008: One, unsexed, Yeongjeong Island, Incheon.
December 15th 2008: One First-winter male, Buan, Jeollabuk Province.
January 3rd-5th, 2009: One, then two males, Dadapo Busan.
There were five further records during this period (spring 2009), all on or near the west coast:
March 30th: A flock of eight (mostly males with at least one female) were photographed on Dokjeok Island, Incheon, by Jang Byun-Soon and posted to BirdDb.
April 6th: Two adult males were photographed on Wonsan Island, Boryeong, Chungcheongnam Province by Park Un-Nam and Gu Joon-Hee (and posted on KWBS).
April 9th: One adult male was found dead, Ansan City, Gyeonggi Province, by Park Un-Nam and Gu Joon-Hee (posted on KWBS).
April 27th: One adult female was seen by Hans Thalund on Eocheong Island, Gunsan, Jeollabuk Province.
April 28th: One adult male was photographed by Hans Thalund on Eocheong Island.
Horned Lark Eremophila alpestris V3 (So) Recent Addition to Category One.
One considered to be of the race brandti was photographed by National Parks staff on Hong Island on April 2nd. This is only the second record for Korea. The first was on October 7th 2007 at Boryeong, Chungcheongnam Province.
Wood Warbler Phylloscopus sibilatrix V3 (So)
One seen (briefly) on Gageo Island by Nial Moores & Robin Newlin on April 21st is the second record for Korea.
Tickell's Leaf Warbler Phylloscopus affinis V3 (So)
One on Gageo Island on May 3rd and one on Socheong Island on May 12th and 13th (both photographed and sound-recorded by Nial Moores) are only the fourth and fifth records.
Yellow-streaked Warbler Phylloscopus armandii. V3(So)
One seen and heard at close range on Socheong Island on May 10th by Nial Moores is the second record of this species in Korea, after the first in May 2007.
This was followed by a further probable individual at the same location and by the same observer on May 17th.
Claudia's Leaf Warbler Phylloscopus claudiae Addition to Category One
One photographed and sound-recorded on Socheong Island on April 14th by Nial Moores is the first record for Korea.
Claudia's Leaf Warbler Phylloscopus claudiae, Photo © Nial Moores
Baikal Bush Warbler Bradypterus davidi No: S5, So: V3
A scarcely recorded species, with fewer than ten records from southern provinces. One was photographed by Shim Kyu-Sik on Socheong Island on May 22nd.
Chinese Thrush Turdus mupinensis V3 (So)
One on Weiyon Island, Chungcheongnam Province, from at least May 2nd-5th was seen and very well photographed by multiple observers, including Shim Kyu-Sik and Kim Shin-Hwan. This is the fourth record for Korea, with all previous records also from May. In addition, a thrush photographed by Choi He Young on the Chungcheongnam coast on May 1st, while provisionally identified by some id specialists as a Song Thrush Turdus philomelos, apparently shows several features of T. munipensis. This record is still under review.
European Robin Erithacus rubecula V3 (So)
One, apparently photographed on April 26th and posted on the BirdDB website without details would be the second record for Korea if details can be confirmed.
Desert Wheatear Oenanthe deserti V3 (So) (Recent Addition to Category One)
One on Eocheong Island from May 2nd - 5th found by Chai Seung-Hoon was seen and photographed by multiple observers, including Robin Newlin, Shim Kyu-Sik and Im Kwang-Wan. This is the second record for Korea, after the first in January 2008.
Desert Wheatear Oenanthe deserti, Photo © Chai Seung-Hoon
Red-breasted Flycatcher Ficedula parva V3 (So)
One photographed and sound-recorded on Gageo Island by Nial Moores & Robin Newlin on April 25th, and another seen briefly and heard on Socheong on May 13th by Nial Moores are approximately the 8th and 9th records for Korea.
White Wagtail Motacilla alba personata
In an amazing series of observations (especially considering the relatively poor coverage of West Sea islands) the first personata White Wagtail for Korea was seen and photographed on Hong Island (Jeollanam Province) between 3pm and 6pm on April 7th by National Parks staff. The same (or an extremely-similar looking individual) was then observed and photographed "fresh-in" at the lighthouse on Eocheong Island (175 km to the NE from Hong Island, across open sea) shortly before midday on the 8th by Nial Moores, Michael & Elin Stubblefield, where it was seen for less than 10 minutes. On April 11th apparently the same individual was then photographed by Park Joo-Hyun and Yang Hyun-Sook a further 15 km to the NE, on Weiyeon Island.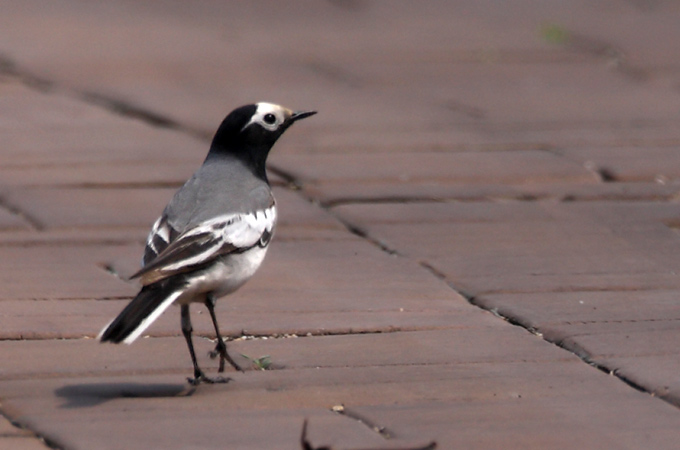 White Wagtail Motacilla alba personata, Photo © Michael Stubblefield
Rosy Pipit Anthus roseatus V3 (So)
One non-breeding plumaged bird, apparently photographed on a northern island in late May, was posted on the BirdDb website (details withheld). This is only the 8th national record.
Red-headed Bunting Emberiza bruniceps V3 (So)
A female was photographed in mid-May at a "typical" location and posted on the BirdDb website (as either a Black-headed or Red-headed Bunting, with details withheld). Identification as Red-headed (by Nial Moores) is based on e.g. its small-bill, light crown- and heavy mantle-streaking, and warm tones to the ear coverts and forehead.
Species of Special Conservation Concern
Japanese Night Heron Gorsachius goisagi EN, V1 (So)
One was seen on Gageo Island by Nial Moores and Robin Newlin on April 23rd, and another was well-photographed in Chungcheongnam province in early May with images posted on BirdDb (details withheld).
Black-faced Spoonbill Platalea minor EN, S4/3, W5
Two pairs were first noted nesting on a small islet in the deeper lagoon at Song Do, Incheon on April 26th by Tim Edelsten - apparently the first case of mainland breeding in Korea.
Japanese Yellow Bunting Emberiza sulphurata VU, P5
One bird with a Japanese ring photographed on Gageo Island by Robin Newlin on April 17th is, according to Kiyoaki Ozaki of the Yamashina Institute, only the second such re-sighting out of Japan (even though more than 5000 have been banded there!). In addition, at least 26 on Gageo Island on April 25th counted by Nial Moores & Robin Newlin is perhaps one of the highest day counts of this species yet recorded in Korea.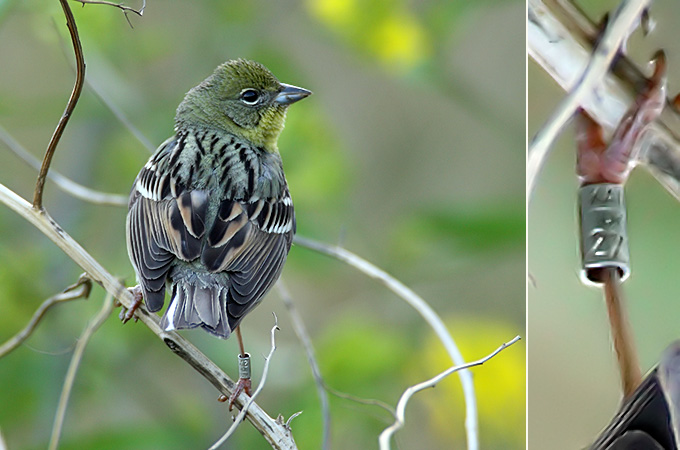 Yellow Bunting Emberiza sulphurata, Photo © Robin Newlin
References
Gill, F., Wright, M. & Donsker, D. (2009). IOC World Bird Names (version 2.1). IOC World Bird Names (version 2.1), Accessed in late May 2009.
Moores N., Rogers D., Kim R-H., Hassell C., Gosbell K., Kim S-A & Park M-N. 2008. The 2006-2008 Saemangeum Shorebird Monitoring Program Report. Birds Korea publication, Busan.
Rogers, D., C. Hassell, J. Oldland, R. Clemens, K. Gosbell and K. Rogers. 2009. Monitoring Yellow Sea Migrants in Australia (MYSMA): North-western Australian shorebird surveys and workshops, December 2008. AWSG Report.
Finally, a gentle reminder to all of our members (past and present) living in Korea. Birds Korea depends entirely on the support of our members and volunteers. Donations and domestic membership fees are vital to us! Please renew your membership (annual membership fee is only 30,000 Korean won; and life-time membership only 150,000 Korean won at this time), and help us to help the birds!
This update was prepared through the joint efforts of Nial Moores, Kim Sona, Andreas Kim, Park Meena, Park Ju-Seong, and Tim Edelsten, with contributions by many members.
Birds Korea, June 12th 2009.