Homepage article February 2009
Yellow-billed Loon Gavia adamsii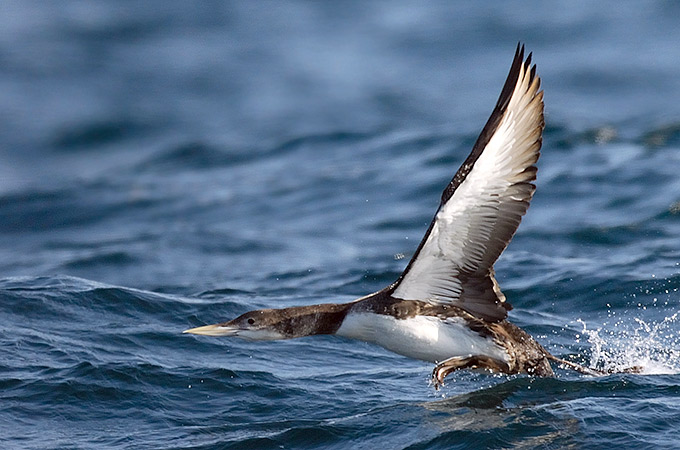 Yellow-billed Loon Gavia adamsii off Hwajin Po, January 5th 2009, Photo © Thomas Langenberg
The largest and most northerly breeding of the loon species, the Yellow-billed Loon Gavia adamsii (or White-billed Diver as it is known in some parts of its range) is a poorly-known migrant and winter visitor to Korean waters. While easy to identify (being the most massive and the palest of the loons in winter, with a strikingly and matching pale and huge bill) the species is easy to overlook in winter, often remaining several kilometres offshore.
Globally scarce (with a world population estimated at 16,000: Earnst, 2004), satellite tracking of twelve Yellow-billed Loons breeding on the Alaskan North Slope in 2002 and 2003 (Earnst, 2004) helped lead to an upsurge in Korean records. The tracking revealed that all 12 migrated south into East Asia, with some then migrating across the Korean peninsula to winter in the Yellow Sea, off the Shandong Peninsula and Hwanghaenam Province. A resultant search for the species from ferries in 2003 and 2004 produced several records at sea between Incheon Port and Socheong Island and from Socheong Island itself, in months between December and May (Moores, 2007). Further records have also come from Jeju Island, and from several sites along the east coast, from Hwajin Po in the north-east to Busan in the south.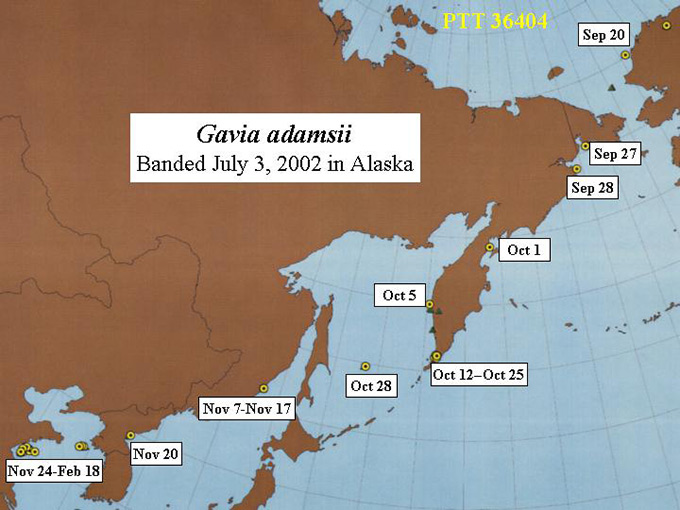 Migration route of Yellow-billed Loon as revealed by satellite transmitter.
Image copyright and used with permission of Joel Schmutz, United States Geological Survey
As Park (2002) traced only two historical records for Korea, this upsurge in observations of Yellow-billed Loon might seem to suggest that there has been a recent increase in numbers of birds reaching Korea. However, search effort was increased in response to the satellite tracking program, and observer activity, the quality of optics, and access to the coastal zone have all also increased greatly in recent years. Further, reference to Fennell (1952), who was overlooked by Park (2002), suggests that the species might well have declined in Korea. In one small area of Busan, Fennell saw between six and nine Yellow-billed Loon in a single day in March 1948. Highest subsequent counts known to Birds Korea are of only between five and eight together, off Socheong Island on March 25th, 2004 (Moores, 2007) and of four, seen 2-4 kilometres offshore from Hwajin Po, on January 5th, 2009.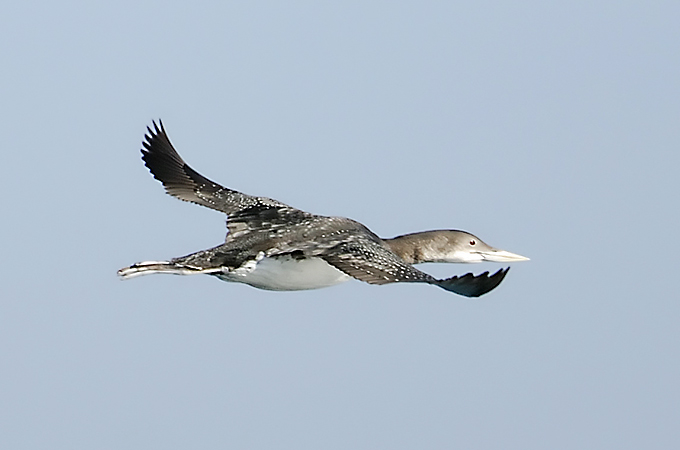 Yellow-billed Loon Gavia adamsii off Hwajin Po, January 5th 2009, Photo © Thomas Langenberg
Threats to the Yellow-billed Loon in Korean waters are likely to include oil spills, chronic oil pollution and drowning in fish-nets. There is a need to gather more data on the species in Korean waters, and to share this information with those working on the species' conservation, especially in its far northern breeding grounds.
References
Earnst, S. L. 2004. Status assessment and conservation plan for the Yellow-billed Loon (Gavia adamsii). Denver, U.S.A.: US Geological Survey.
Fair, J. 2002. Status and significance of Yellow-billed Loon (Gavia adamsii) Populations, Alaska. The Wilderness Society and Trustees for Alaska.
Fennell, C. M. 1952. Some observations on the birds of southern Korea. Condor 54: 101-110.
Moores, N. 2007. Selected Records from Socheong Island, South Korea. Forktail 23: 102-124.
Park J-Y. 2002. Current status and distribution of birds in Korea. Seoul: Department of Biology, Kyung Hee University. (Unpublished thesis in Korean with English abstract.)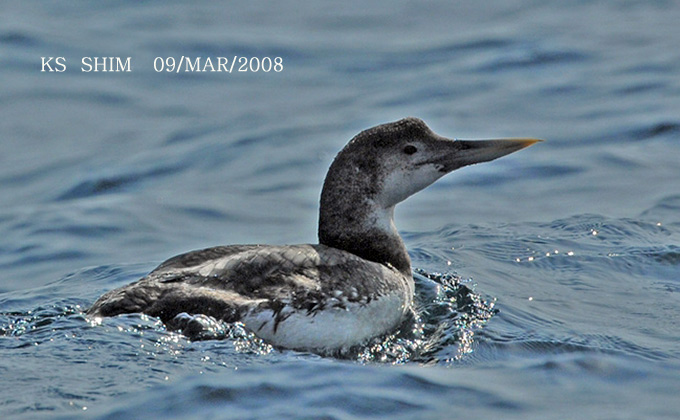 Yellow-billed Loon Gavia adamsii Photo © Shim Kyu-Sik