Birds Korea's Bird News October 2002
Bird News from Nial Moores
Eocheong Island, October 31
The last morning of survey work on the island (this year) saw large numbers of birds depart out to sea, including 40 Rooks, 125 Bramblings and 35 Dusky Thrush in a 30-minute period.
The day's highlights formed an amazing recap of the fortnight's best birds, with the Chinese Bulbul still present, 1-2 apparent adult male Dark-throated Thrushes(possibly Black-throated) flying with a group of Duskys, and a lone white-headed Long-tailed Tit...other birds of interest included a late Radde's Warbler, in the same group of bushes as at least 3 Red-flanked Bluetails and up to 5 Siberian Accentors, and the island's first Bullfinch.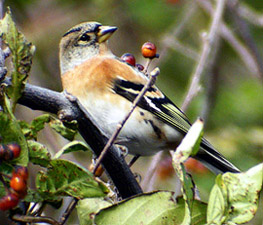 Brambling, © Nial Moores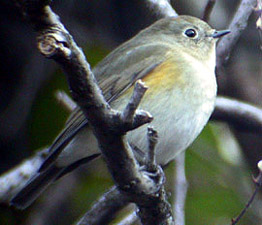 Red-flanked Bluetail, © Nial Moores
On the ferry back to the mainland, only 3 Streaked Shearwaters and some occasional rafts of Black-tailed Gulls.
Bird News from Nial Moores
Eocheong Island, October 30
With largely clear skies and light northerlies, many species seemed to have departed overnight (though still 66 species recorded during the day). However, the Chinese Bulbul was still present (and in song early on), apparently covering a larger and larger area of the southern part of the island. Siskins too remained numerous (with probably over 500 present), and with them a first year "Common" or Arctic Redpoll, an individual showing a broad white rump with 5 clear black ticks and no obvious streak on the undertail coverts. Redpolls are generally very scarce winter visitors to lowland areas of Korea, probably being rather more regular in mountainous areas. In addition, 20 Crossbills and 1 Pine Bunting were present, and to add even further to the winter feel at least 3 Siberian Accentors...
Bird News from Nial Moores
Eocheong Island, October 29
Chinese Bulbul Pyconotus sinensis
- a first for Korea - Photo © Nial Moores
A slackening in the wind (down to a force 4 North-NorthWesterly) combined with long sunny periods meant plenty of small birds were on show despite the unseasonally low temperatures. Although raptor passage was very weak, several winter-type passerine species reached new autumn highs, including Goldcrest (80+), Siskin (ca 450) and Rustic Bunting (85+ in the very limited area of the island covered). Several more typical autumn migrants were also present, including at least 4 Common Rosefinches, ca 30 Yellow-browed Warblers (and at least 3 Hume's Leaf lookalikes...), 4 Dusky Warblers, and late Asian Stubtail, Yellow-browed Bunting (2-3+) and Yellow Wagtail.
Outstanding highlight of the day, however, was a rather vocal Chinese Bulbul Pycnonotus sinensis, found behind the village, and loosely associating with 2 Brown-eared Bulbuls...a first record for Eocheong and for Korea!
For more images and a brief note please go to Chinese Bulbul.
Bird News from Nial Moores
Eocheong Island, October 28
With winds decreasing to a blustery force 6, some limited raptor passage could be detected, mostly made up of japonicusCommon Buzzards, and the three commoner late accipiters (Northern Goshawk, Eurasian and Japanese Lesser Sparrowhawks). Of interest was a Merlin (a first for Eocheong island, where approximately 200 species have been logged since surveying started in mid-April this year). Overall numbers of many species seemed significantly down compared to the 27th, with only ca 20 Dusky Thrushes and less than 10 Red-flanked Bluetails, though Yellow-throated Buntings increased to ca 80 and the first Common Crossbill of the autumn was recorded. With temperatures significantly below normal (reaching only 10C at most) late Barn Swallow, Yellow Wagtail and Richard's Pipit, Oriental Reed, Pallas's Leaf and Dusky Warbler all seemed less matched to the conditions than the Japanese Quail and Siberian Accentors (widespread winter visitors to Korea) which showed briefly.
Bird News from Nail Moores
Eocheong Island, October 27
Siskin, © Nial Moores.
Again force 7 winds from the northwest, with occasional showers (even turning sleety in the afternoon). Raptor passage was completely stalled, and although several autumn high counts were reached, many more birds probably remained deep in cover ....Most widespread species were Siskins (at least 400-500), with ca 150 Bramblings and 10 species of bunting (with e.g. ca 90 Black-faced, 60 Rustic, 40 Yellow-throated and 25 Chestnut Buntings).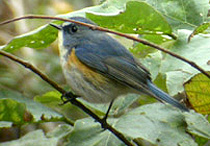 Red-flanked Bluetail
Photo © Nial Moores.
In addition, there were at least 20 Red-flanked Bluetails seen (including one group of 7 feeding on small berries), ca 45 Dusky/Naumann's Thrushes and (rarest bird of the day) another Red-throated Thrush (this time a first winter female, seen briefly but well in the evening). Other species of interest included a Black-legged Kittiwake on the beach with large numbers of other gulls, a Collared Scops Owl and the autumn's first Siberian Accentors.
Bird News from Kim Sung Hyun
Junam Reservoir, October 27
White-naped Crane.Photo © Kim Sung Hyun
Another 14 White-naped Crane joined the previous singleton.
Bird News from Kim Dong Hyun
Nakdong river in Kumi, October 27
270 Hooded Crane stayed overnight, moving off southeastward at 10:10a.m.
Bird News from Nial Moores
Eocheong Island, October 26
Again, very strong (gusting to force 7) northwesterlies with rain showers combined with 2-3 very aggressive hunting Northern Goshawks (even chasing prey down the village "high street") meant many birds kept hidden much of the day. Although 67 species were recorded, few seemed to be new in...most interesting birds of the day therefore included Long-eared Owl again (one seen in a different area on 25th), 1-2 late Pechora Pipits, a House Martin sp? in with ca 20 Red-rumped Swallows, and the autumn's first Chinese Penduline Tits (5+).
Bird News from Kim Dong Hyun
Nakdong river in Kumi, October 23 - 26
Hooded Crane. Photo ©: Kim Dong Hyun.
23th : 2,400 Hooded Crane and 6 White-naped Crane passed through at 10:00a.m
24th : 500 Hooded Crane passed through.
25th : 31 Hooded Crane stayed on 24th Oct. and departed at 9a.m on 25th
26th : 38 Hooded Crane arrived at 4p.m and stayed.
Bird News from Kim Sung Hyun
Junam reservoir, October 26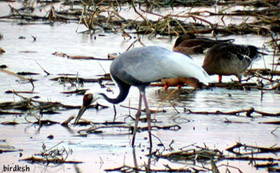 White-naped Crane, © Kim Sung Hyun
1 White-naped Crane. (Between 8 and 14 White-naped Crane regularly winter in Junam reservoir.)
Bird News from Arnoud Van Den Berg and Magnus Robb
Ganghwa Island, October 26
In calm sunny conditions, 9 species of bunting were seen, along with single Japanese Grosbeak, Common Rosefinch (very scarce on the mainland, though regular on the offshore islands), Dusky Warbler and Japanese Quail. Outstanding highlight was 2 Red-crowned Cranes on the tidal-flat (apparently returning to this regular wintering site a little earlier than usual...the weather forecast for 150 km west includes snow showers, while the main crane area at Cheorwon should be -4 C overnight ...).
Bird News from Nial Moores
Eocheong Island, October 25
Very hazy and changeable conditions meant extremely few raptors appeared to be on the move. In addition, numbers of most migrants were well down on yesterday (with only ca 40 Yellow-browed Warblers remaining, 4 Red-flanked Bluetails and single Siberian Rubythroat and Black-browed Reed Warbler). The exceptions were Olive-backed Pipit (ca 75 recorded) and Daurian Redstart (12+). Most interesting birds of the day therefore were the Baillon's Crake in the main stream again (sadly an area destined to be part-concreted over...), 2 Mandarins still, and the autumn's first Winter Wren and Hawfinches.
Bird News from Arnoud Van Den Berg and Magnus Robb
Cheonsu-Seosan, October 25
Apart from large numbers of wildfowl, highlights included a first or second year Greater Spotted Eagle and 15 Hooded Cranes (the species has in the past few years started wintering at Seosan in very small numbers: the most regular winter site for them however still remains Suncheon Bay on the south coast).
Bird News from Nial Moores
Eocheong Island, October 24
With the wind shifting to the west in the afternoon a small arrival of migrants took place, with 17 Siberian Stonechats, two Mugimaki and a single Red-throated Flycatcher and at least 6 Red-flanked Bluetails (the first of the autumn), backed up by ca 80 Yellow-browed , 5 Dusky and 2 Raddes' Warblers. Bunting numbers remained high, with up to 50 Chestnuts present. Amongst the 66 species logged for the day, other species of interest included one Mandarin still, another Baillon's Crake, a Japanese Quail and over 1 000 Black-tailed Gulls, with probably 100 Vegas, 40 Mongolian and 15 taimyrensis-type Heuglin's Gulls.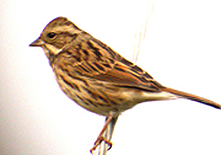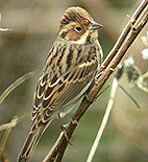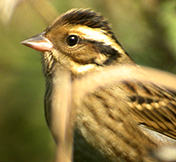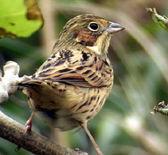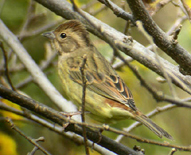 Six Bunting species: Black-faced Bunting(top right), Little Bunting (top middle), Tristram's Bunting (top right),
Chestnut-eared Bunting (bottom left), Chestnut Bunting (bottom middle), Pallas's Reed Bunting (bottom right).
All photos © Nial Moores.
Bird News from Magnus Robb
Dongjin River, Saemangeum, October 24
Best were several thousand Great Knot still, a single Spoon-billed Sandpiper in with Broad-billeds, and a Chinese Great Grey Shrike. In addition a single Ruff (a scarce migrant through Korea) was recorded.
Bird News from Kim Su Kyung
Bongrae Mountain in Busan, October 24
In hazy conditions, most birds were moving westwards along the coastline but 2 White-naped Crane and 95 Hooded Crane moved southwards out to sea. Also moving west were fair numbers of raptors, 10+ Goldcrest, 10+ Yellow-throated Bunting, and 300+ Cormorant sp.
Bird News from Nial Moores
Okku, Saemangeum, October 23
Only 1 Spoon-billed Sandpiper, and no Great Knot (perhaps in response to the fall in temperatures?). Good numbers of Pallas's Reed Buntings on the move along the seawall.
Bird News from Cha In Hwan
Suncheon Bay, October 23
45+ Hooded Crane.
Bird News from Nial Moores
Eocheong Island, October 23
With much weaker winds and heavy overcast early on, large numbers of birds appeared to be on the move: these included small numbers of raptors, two Thick-billed serrirostrisBean Geese, a late Ashy Minivet, 5-7 Common Rosefinches, ca 400 Bramblings, 200 Siskins and the autumn's first Pale Thrush on the island along with ca 70 Dusky Thrushes.
Most frustrating and potentially exciting was a plump looking lark with dark underwings and an extremely short tail (strongly recalling the Bimaculated Lark found on Gageo Island in October 2001 - we are publishing an article detailing the first Korean records of at least 25 species in the near future ), which however simply overflew the island heading south.
Of grounded migrants, no sign of the Long-tailed Tits, but ca 20 Coal Tits and 30 Goldcrest along with a total of 11 species of bunting, comprising a single Pine and Reed, several Tristram's and Yellow-breasteds, ca5 each of Chestnut-eared and Pallas's Reed, and approximately 10 + Yellow-throateds, 20 Littles, 25 Chestnuts, 30 Rustics and 120 Black-faced Buntings.
Bird News from Arnoud Van Den Berg and Magnus Robb
Okku, Saemangeum, October 22
3-6+ Spoon-billed Sandpipers still, along with good numbers of other shorebirds, including 600 Great Knot, 1 Purple Heron and 2 Northern Bitterns. Large numbers of Daurian Jackdaws and Rooks in nearby fields, and a single flyover Common Crossbill.
Bird News from Kim Su Kyung
Upo wetland, October 22
After a day or two of wet weather the sun came out and the temperature dropped.
104 and 75 Hooded Crane passed through Woopo wetland and moved southward at 3:00p.m and 4:30pm respectively. 1100 Eastern Taiga Bean Geese, 2 White Fronted Geese, 3 White Spoonbill (Juv.1), 8 Common Snipe, 95 Great Egret (15 ssp. alba included) and 2000 ducks were also at Woopo.
Bird News from Nial Moores
Eocheong Island, October 22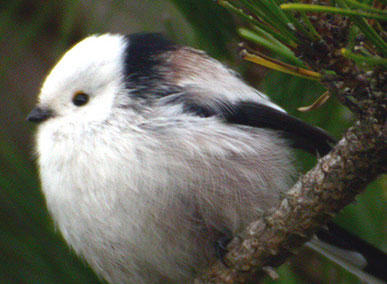 Photo © Nial Moores.
With continuing force 6 northerlies and temperatures only reaching 12 C, birding was again challenging and with an increasingly wintery feel. A moderate passage of Bramblings and Siskins took place through the day, and there were good numbers of grounded buntings, including ca 100 Black-faced still, 20 Chestnuts, 10-15 Rustics and at least 5 Pallas's Reeds.
Yesterday's drake Mandarin was joined by two females, but outstanding highlight was contained in a mixed foraging flock largely made up of Great and Coal Tits (which also contained several Yellow-browed and 2 Pallas's Leaf Warblers): a party of at least 5 Long-tailed Tits, made up of 2 southern form magnus and 3 stunning northern caudatus. An uncommon winter visitor to mountain forests in the north of the country, caudatus Long-tailed Tit is a very unexpected and beautiful addition to the Eocheong Island list!
Lee, Koo and Park (2000) suggest that the beautiful white-headed form of Long-tailed Tit found in Korea should be caudatus - the nominate form found from northern Europe across to northern North Korea (Checklist of the Birds of the World, Howard and Moore).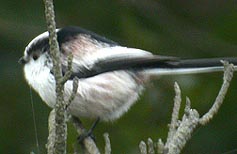 Both "dark-headed" and "white-headed" forms can sometimes occur in mixed flocks.
Photos © Nial Moores.
Discussions with Magnus Robb, who is in Korea at the moment and is an expert on the vocalisations of Palearctic passerines, pointed initially to there being no obvious differences between the calls of caudatus in Europe and neighbouring "dark-headed" forms. However on 27 Oct Magnus picked out a white-headed Long-tailed Tit from a small flock of magnus by hearing "a rattling or scolding call, which was much drier and perhaps deeper than the equivalent call in magnus".
Given that the bird shown here gave distinctly harder and louder calls than other Long-tailed Tit taxa that Nial has heard, or indeed than the magnus in the same flock, it may be that in fact the Eocheong birds are more closely affiliated to a taxon recognised in Japan: japonicus a white-headed form found in Hokkaido - a published photograph of that form shares the same broad white edges to the tertials and the broad white border to the deep pink on the upperparts. Japonicus, incidentally appears to be largely "white-headed" as a juvenile.
Bird News from Nial Moores
Eocheong Island, October 21
Winds strengthened to gale force (Beaufort force 8) during the day, with a sharp drop in temperature too (down to ca 14C) making it very hard to find many birds.
Birds of interest included the winter's first Slaty-backed Gull, Red-throated Flycatcher, 10 species of bunting (with 30 Chestnuts and 120 Black-faceds making them the most numerous), and perhaps most surprising of all a drake Mandarin Duck.
Bird News from Arnoud Van Den Berg and Magnus Robb (here as part of a three-year project (The Sound Approach) "which aims to get a large collection of sounds of Western Palearctic birds...")
Guryongpo Peninsula, October 20

Pomarine Skuas, © Arnoud van den Berg.
Still a very strong passage of Pomarine Skuas, averaging 100 per hour (some of the flocks were photographed, and one photo is reproduced below), though rather fewer Streaked Shearwaters (only 3 in the morning, though hundreds again pm). In addition "only" 1 Flesh-footed Shearwater.
Other species of interest included 10 Mandarins over the sea, 8 Black Brants in the main bay and an early first winter Glaucous Gull.
Grounded migrants were apparently very hard to find in strong winds and rain, but included Richard's Pipit.
Bird News from Nial Moores
Eocheong Island, October 20
Continuing strong northeasterlies and the constant presence overhead of Common Buzards, Peregrines, Northern Goshawks and Black Kites meant grounded migrants were very difficult to find.
Non-raptor "Highlights" of the day were all wintery in feel: the first Lapland and Rustic Buntings and Rook...all are locally very common species in Korea in winter.
Bird News fromArnoud Van Den Berg and Magnus Robb
Guryongpo Peninsula, October 19
Two hours of seawatching produced some record-breaking counts: ca 3000 Streaked Shearwaterper hour past, along with ca 200 Pomarine Skuas an hour, apparently all adults (this species is not even listed in Lee, Koo and Park, and has been recorded less than 15 times in Korean waters) and ca 10 Flesh-footed Shearwaters.
In addition, an early Harlequin Duck and several hundred "Pacific" Black-legged Kittiwakes.
Bird News from Nial Moores
Eocheong Island, October 19
The rain stopped early in the night, and in its place there were force 5-6 northeasterly winds: poor for migrants. However, 11 species of raptor (including a single Amur Falcon) were recorded, along with 7 high-flying Bean Geese (probably Eastern Taiga), while grounded migrants included a few Pallas's Leaf Warblers, ca 150 Black-faced Buntings, and another Baillon's Crake.
Juvenile Black Stork with three Grey Herons.
Photo © Nial Moores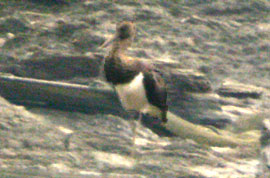 Juvenile Black Stork
Photo © Nial Moores
Highlight was undoubtedly a juvenile Black Stork, watched dropping in to the harbour and feeding in rock pools for an hour, before flying off strongly southwest at 12:30. Considering the rarity of the species in Korea (and East Asia) this was quite possibly the same individual that was watched circling the island on the 17th.
Listed by Lee, Koo and Park as a rare winter visitor, the Black Stork actually now appears to be a rare but regular autumn migrant down the west coast (with 2 recorded on Gageo Island in October 2000, and 2-3 in October 2001).
The Black Stork's global population is about 7,000 to 9,500 nesting pairs - most of which, about 4,500 to 6,000 pairs, nest in Eastern Europe: the population in north-east Asia is probably less than 1000. Unlike White Storks, which often nest on farmhouses and occupied buildings, the shy and reclusive Black Stork nests on cliff ledges or in the quiet of old growth forests - the latter a habitat which is targeted worldwide for exploitation.
The species went through a huge decline in the first-half of the 20th century, but has apparently stabilised in some European countries. The situation in Asia is far from clear - census work on Black Storks has been patchy, or even non-existent, in many countries - including Korea. Though not currently listed as a "Red Data Asia" species, the population in Asia needs close monitoring, and any information on hitherto unknown migration routes or staging areas is certainly needed...
Bird News fromArnoud Van Den Berg and Magnus Robb
Taejongdae, Busan, October 18
5-6 White's Thrush, "many" Pale Thrush and 2 Mugimaki Flycatchers were the highlights.
Bird News from Nial Moores
Eocheong Island, October 18
Eocheong is the southwesternmost of a small chain of islands (oriented southwest-northeast from the west coast of Korea), and appears to be used by high-flying migrants island-hopping down the chain before attempting the crossing to China, as well as by those moving south along the coast.
Early heavy overcast with mist led to good numbers of birds appearing throughout the morning, and at midday, as rain started to fall, large numbers of birds could be watched heading out southwest low over the sea, with many others turning back and dropping into cover. In one hour at the peak of the movement approximately 980 buntings were counted passing over, including ca 110 Yellow-breasted, 300 Black-faced and 500 Chestnut Buntings. In addition, ca 500 Bramblings and 350+ Olive-backed Pipits were recorded during the day, again with most during that single hour.
Raptor movement was largely stalled, but still included a group of 10-15 Amur Falcons, and other highlights included a confiding Baillon's Crake, and the autumn's first Pine Bunting. The forecast for the 19th is continuing rain and falling temperatures...
Bird News fromArnoud Van Den Berg and Magnus Robb
Upo Ramsar Site, October 17
Ca 600 Eastern Taiga Bean Geese already in, as well as 1 White Spoonbill. Eagle Owl (a regular species in the area) also heard.
Bird News from Nial Moores & Kim Su-Kyung
Eocheong Island, October 17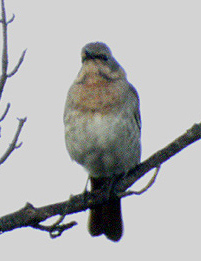 Red-throated Thrush
(probably 1stW male).
Photo © Nial Moores.
A reasonable passage of raptors (with 11 species recorded) included no eagles, but instead an Upland Buzzard . Another good record was an immature Black Stork in with a party of Japonicus Common Buzzards.
Other species of interest included the female Baikal Teal still, the first flocks of Siskin and Brambling of the autumn, 85+Great Tit (compared to the ones and twos recorded in September, and considering some high counts made elsewhere, it appears that this species might well be undergoing a major irruption).
Best of all was a Red-throated Thrush (considered to be a first winter male), flushed out of berry bushes at dusk by a Japanese Sparrowhawk . This constitutes the second record of the autumn, after one was filmed on Gageo Island on October 8th.
News from Weiting LIU in Taiwan
A Black-faced Spoonbill colour-ringed by Dr Kim Soo-Il in Korea has been sighted in Taiwan.
The bird was one of eight banded and colour-ringed on the small islands of Sok-do and Bi-do on June 6th 2002.
The spoonbill (carrying the ring number K37) was sighted in Tsengwen river mouth in Tainan, Taiwan. No mention was given by the observers of the date, just that "it was not long ago".
For more details (and images) go to Korean-banded Black-faced Spoonbill in Taiwan.
Bird News from Nial Moores & Kim Su-Kyung
Eocheong Island, October 16
Back to Eocheong Island to give an "introduction to birds" presentation to the island schoolchildren, to collect raptor data probably until the month's end, and to collect enough data on migrants to allow comparison with Gageo Island (surveyed in 2000 and 2001).
The ferry journey was very poor, with no Streaked Shearwaters, though good numbers of gulls (including ca 30 Heuglin's Gulls in total).
On the island itself, raptor passage include a first year Greater Spotted Eagle while other species of note included a female Baikal Teal (rather less spectacular than the 30 000+ already gathered at Soesan a mere100km to the NE!), at least 4 Pechora Pipits and 6+ Pallas's Leaf Warblers in the evening, along with ca 15 Dusky Thrushes and a similar number of Grey-backed Thrushes heard departing at dusk.
Bird News from Arnoud Van Den Berg
Okku, Saemangeum, October 15
Eurasian Bittern :4 (considered a rare winter visitor, a record of 4 together in autumn is highly unusual).
Amur Falcon: 5
Bird News from Kim Hyun-Tae
Seosan, October 3 & 15
Baikal Teal:10 000 by October 03, and 30 000 by the 15th.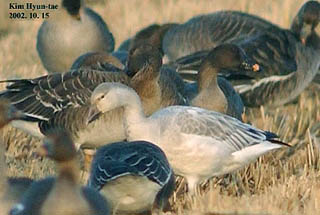 Immature Snow Goose with Thick-billed Bean Geese.
Photo © Kim Hyun-Tae.
Maybe 20,000+ Geese have also arrived.
Almost all are Thick-billed (or Tundra) Bean Geese and White-fronted Geese.
There was also an adult and an immature Snow Goose.
This excellent picture was posted by Kim Hyun-Tae. Snow Geese are listed as rare visitors to Korea by Lee, Koo, and Park, and Seosan, Woopo and the Nakdong are the most likely places to see one. Once common in north-east Asia Snow Geese declined as over-hunting decimated their numbers: an ongoing recovery seems to be due primarily to conservation efforts made by the Japan Wild Goose Protection Association.
Bird News from Arnoud Van Den Berg
Cheonsu/Seosan, October 13 - 14
Swan Goose: 1, Snow Goose: 3, White-tailed Eagle: 1
Bird News from Tim Allison
Ganghwa, October 13
2 Eurasian Collared Doves at Jeondeungsa. This record is particularly noteworthy.
Eurasian Collared Dove is listed in Lee, Koo, and Park as "rare resident...open country, cultivation near coastal areas, islands." Dr PARK Jin-Young pers comm has said the species is indeed very rare in South Korea, and that the only record he knows of in the last ten years is of one on Eochong Island - presumably seen by a birdwatcher in the army or navy who was stationed there.
Update: Tim has been kind enough to send a short note on this sighting. Go to Record of Collared Dove.
Bird News from Tim Allison
Namsam, October 12
2 late juv Black-naped Orioles - although most have left before this date some summer migrants do tend to linger until the temperature really starts to drop...
Bird News from Nial Moores
Gageo Island, October 12
Only a short time in the field before the ferry back to the mainland produced the first Larid of the autumn on Gageo (a single Mongolian Gull), Long-tailed Shrike, Ruddy Crake, and Pechora Pipit, along with excellent views of several commoner migrants.The ferry journey was, however, remarkably poor, with only 4 Streaked Shearwaters recorded: typically several hundred can be expected at this time of the year, along with the occasional skua etc.
Bird News from Arnoud Van Den Berg
Ganghwa, October 9 - 11
Renowned ornithologists Arnoud VAN DEN BERG and Magnus ROBB are in Korea sound recording. They arrived on October 9th and will be visiting various sites until departure on Oct 28th. Some highlights of their visit so far have included:
Black-faced Spoonbill : 62
Amur Falcon: 2
Gray's Grasshopper Warbler Locustella fasciolata : 1 (apparently very rarely recorded in autumn in Korea).
Chinese Nuthatch Sitta villosa: 1 on 11th. This species is considered a very rare winter visitor to South Korea. Taped, this is possibly the first confirmed record nationwide for several years.
Bird News from Nial Moores
Gageo Island, October 11
A single Northern Goshawk, around 30 Japanese Sparrowhawks, 15 Oriental Honey Buzzard, and 50+ Grey-faced Buzzard were the most interesting of the 9 raptor species recorded. In addition another Bluethroat, 120+ Japanese White-eyes (those seen well apparently made up mostly of Japonicus subspecies, with 30-40% of those seen presumably the smaller and cleaner-looking simplex) and remarkably 3 Long-tailed Shrikes ensured continuing interest.
Bird News from Nial Moores
Gageo Island, October 10
Continuing sunny conditions meant limited migration and "only" 67 species recorded. Highlights included still 2 Long-tailed Shrikes and 2 Russet Sparrows present, along with 6 species of pipit, 4 species of flycatcher (including one Red-throated), around 130 Yellow-browed Warblers, a female Bluethroat (considered a rare passage migrant by Lee, Koo and Park [2000]) and a single Common Rosefinch.
Bird News from Nial Moores
Gageo Island, October 9
Under clear skies many migrants moved on, and 65 species were seen.
At least one Long-tailed Shrike remained on the island, as did 8 species of Buntings. 2 or more Chestnut-flanked White-eyes were new for Gageo Island (while up to 60 were found on Eocheong island further north this autumn, the species is still suspected to be rare in the southwest islands. One was however apparently banded on October 19 2000 on Daehuksan by AN Chun-Song). 6 Daurian Redstarts is a reasonable island count, as the species does not appear to migrate through the southwest in significant numbers, and other notable records include 4 Dusky, 2 Radde's, and 100 Yellow-browed Warblers, and 1 Blyth's Pipit.
Bird News from Nial Moores
Gageo Island, October 8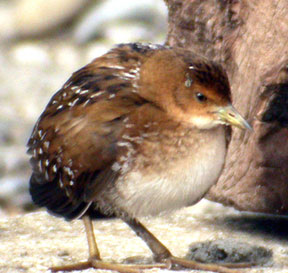 Juvenile Baillon's Crake, © Nial Moores.
The race in the far-east (nominate pusilla) appears to be
browner and less barred below than the intermedia seen
in Europe.
Two Long-tailed Shrikes again, plus a good assortment of passerines made it another interesting day.
Yellow-browed Warbler numbers remained high, and 2 Pallas's Grasshopper and 2 Middendorff's Grasshopper Warblers were also seen. 3 Pallas's Reed Buntings, a Bluethroat, 7-8 Siberian Rubythroats, and 2 Rufous-tailed Robins showed, but the best record was an immature male Red-throated Thrush seen briefly but well. Both forms of Dark-throated Thrush are considered to be vagrants: a series of sightings last winter perhaps hint at the species being prone to irruptive movements, and thus they may be commoner in some years than previously suspected: see, for example, the April 2002 Bird News photo, and the comments re sightings made in the "Sunbirder" Tour report.
Other interesting sightings include a female Baikal Teal flushed from the road after dark while looking for night birds, a Schrenk's Bittern, a Baillon's Crake, and the 2 Russet Sparrows.
Bird News from Tim Allison
Namsam, October 7
Yellow-browed Bunting:1, Chestnut Bunting:2, and many Black-faced and Tristram's Buntings.
Bird News from Lee Jung Sik
Haenam, October 7
October, November: Baikal Teal numbers at Haenam: +10,000, 24 Oct: +10,000, 10 Nov: 150,000-200,000
Bird News from Nial Moores
Gageo Island, October 7
Oriental Reed Warbler, © Nial Moores.
An excellent day, with perhaps 91 species seen, as cold north-westerlies swept much of Korea (the overnight temperature in North Korea is just above freezing now).
Though just one Long-tailed Shrike could be found, there were at least 45+ Oriental Honey Buzzards and 1500+ Grey-faced Buzzards seen arriving in two long lines (one from the southeast, another from the southwest) from ca 14:30, with at least 1200 in the air at one time...the majority appeared to head out over the sea west (towards China) in the early evening. This is believed to be the highest count in South Korea, and the clearest evidence yet that a significant population of the species migrates out from Korea through the southwest (NB: the previous day peak was ca 300 on Gageo on October 8th 2001).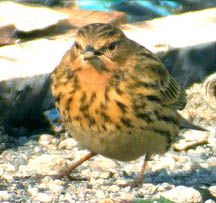 Summer adult Red-throated Pipit.
Photo © Nial Moores
A "constant passage" of warblers included 250 Yellow-broweds counted at just a few points (for example about 50 through "The Gap" (above Gageo village) in 90 minutes in the morning; ca 75 on the long road to Hangri). Passage apparently continued and increased through the day...the suspected total on Gageo itself was probably several thousands!
Other warblers included 1 Two-barred Greenish, and 1 Radde's. The warbler passage was mirrored by a huge increase in buntings - including Korea's second Yellowhammer, a probable Red-headed/Black-headed Bunting seen in flight, and 80+ Chestnut, and 100+ Black-faced Buntings.
The cold weather brought down summer-plumaged flava wagtails and a Red-throated Pipit, and other oddities included the 2 Russet Sparrows, a Schrenk's Bittern, a Blyth's Pipit, and perhaps best of all, 3 White-shouldered Starlings.
Bird News from Tim Allison
Chungnang Rivulet, October 6
Chungnang Rivulet (a tributary of the Han River): Japanese Quail - the first one in the area this autumn.
Bird News from Nial Moores
Gageo Island, October 6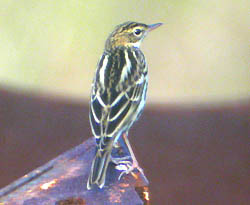 Pechora Pipit, © Nial Moores.
Still rather quiet, despite overnight rain.
Looking at images of the Long-tailed Shrikes it seems that THREE different individuals are involved - the seventh, eighth, and ninth for Korea! Update: For a discussion on these sightings go to our article The Long-tailed Shrike in South Korea.
Pipit numbers are high, with good numbers of Pechora and 12-15 Richards's. Other migrants include 6-7 Lanceolated, 1 Pallas's Grasshopper, and 2 Middendorff's Grasshopper Warblers, 1 Red-cheeked Starling, and 2 Ruddy Crakes, but bunting numbers remain notably very low - just one or two Black-faced, Chestnut, and Chestnut-eared for example.
Bird News from Nial Moores
Gageo Island, October 5
Surprisingly there are now TWO Long-tailed Shrikes on the island.
The first Dusky Thrush, Grey Thrush, and Brambling of the autumn have arrived, along with a Baillon's and a Ruddy Crake: the latter is scarce on the outer islands. 2 Russet Sparrows are also good records for Gageo.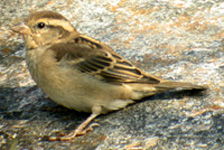 Fem. (presumed 1stYear) Russet Sparrows
Photos © Nial Moores
Bird News from Nial Moores
Gageo Island, afternoon only, October 4
A good diversity of passerines raises hopes of an interesting week. Much as last year on the same island, a flock of 150+ Grey-faced Buzzards is circling over the harbour and the (small) main village.
Highlight of the day was Korea's seventh Long-tailed Shrike (the sixth was last month). Given that the country's third was only recorded in October last year, the species is evidently either expanding eastwards or has been overlooked in the past...
Bird News from Nial Moores
Eocheong Island: 0700-0900 hours, October 1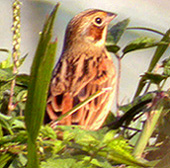 Chestnut-eared Bunting
© Nial Moores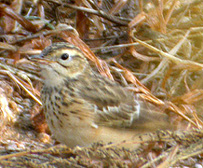 Blyth's Pipit, © Nial Moores
Continuing light westerly winds produced good numbers of birds in the early morning, with probably at least 50 Olive-backed, 2 Siberian Buff-bellied and single Richard's and Blyth's Pipit present around the village, along with Red-throated Flycatcher (suprisingly scarce in South Korea), 2 Common Rosefinch, 10+ Black-faced Bunting and the autumn's first Chestnut-eared Bunting and Radde's Warblers.