WBKE Network Spring Tour. April 26th-May 7th, 2004.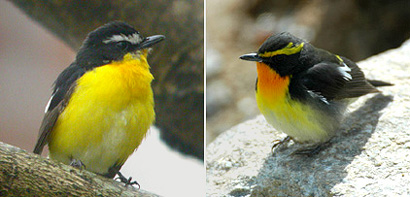 Nial Moores, June 2004.
(Edited and arranged by Charlie Moores. Photographs from the Tour, © as credited.)
Introduction
This was only the second full tour to South Korea in spring, and according to comments so far received by participants, it was also a great success. Over 12 full days in the field we amassed ca 231 species as a group, with probably 220 species or more seen by most of us. These included almost all of the main target species: Black-faced Spoonbill, Chinese Egret, Nordmann's Greenshank. Siberian Rubythroat and Blue Robin, Blyth's and Pechora Pipits, Brown-headed, Grey, Siberian and Eye-browed Thrushes, mixed flocks of buntings and flycatchers…and oh yes, 3 Spoon-billed Sandpiper! And add to these flocks of Grey Nightjar and Northern Boobook over the sea, a distant cloud of 30 000 Great Knot, and THAT heron…a Japanese Night Heron belieing its image as a crepuscular skulker.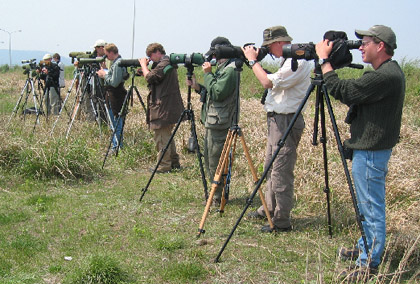 On Tour in South Korea. Photo © Kirsten KRAETZEL.
Starting formally on April 26th (after a pre-tour day which amassed 84 species, including globally threatened species such as Nordmann's Greenshank and Chinese Egret, as well as an extraordinarily out-of-season Mute Swan), we first visited Socheong island in the far northwest for 3 days; followed by a day on Ganghwa; a day at Seosan (where we encountered our only Long-toed Stint and Baikal Teal of the trip); a few more days of island birding on Eocheong; a couple of days at Saemangeum (celebrated with a spoon-swinging ritual in a restaurant after); and forest and a stretch of river near Seoul, before finishing near the airport back on Yeongjong Island.
The tour
The tour was organized by Birds Korea, and was guided throughout by Nial Moores (NM) and for most of the trip by Birds Korea colleague Kim Su-Kyung (KSK). Thirteen overseas birders were on the tour: Dr. Choi Yong-Sung and Izle ("the angel") from the US; Frederik Willemyns and Miguel Demeulemeester from Belgium; Jonathan Mercer from the UK; Mike Todd, Michael Duffy and Bill Howard from the US; and the team from Germany - Robert Dannenberg, Manfred Fleischer, Dr. Joachim Bayer (of "Bayer's Publishing House"), Kirsten Kraetzel and Soenke Tautz. We were also joined at Saemangeum and on the last day by Klemens Steiof, also from Germany.
Our itinerary, surfing the best weather conditions, flowed as follows:
So onto the tour in rather more detail…
Day 1, April 26th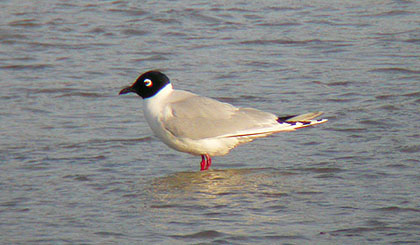 Saunders's Gull. Photo © Mike TODD.
The 25th had been warm, sunny and productive, with a pre-tour birding day joined by most of the group amassing 84 species between us, while the weather forecast for the 26th was overcast, with rain moving in. Hoping to get ahead of the weather (and hoping for a "Fall", Brit. English or "Fallout", US English) we gave up ideas of mainland birding and headed straight for the ferry terminal, an hour drive at dawn producing little more than (the ubiquitous) Black-billed Magpie and a few Feral Pigeon. At the terminal itself, noodles for some, while for others Yellow-browed Warbler singing in the car-park trees, and no less than 6 breeding-plumaged Saunders's Gulls overflying the terminal on their way to the local tidal-flats…the birding had begun! We boarded the hydrofoil "Baekryeong Island" for the near 4 hour long trip, being let outside after an hour. Already cloudy, we soon saw our first migrants out over the open sea, including Grey Wagtail, Striated Heron and Grey Nightjar: the first in an amazing series of records. As rain started to fall, the first seabirds: a few loons (Red-throated, Arctic and Pacific), the first Ancient Murrelet (15 seen in all), and the first Streaked Shearwaters, appearing right on cue. Arriving on the island, our luggage was trucked across the island while we walked. Almost our first birds were a flock of 30 Dusky Thrush (one on Jonathan's fairly long list of most wanted species!), followed by a couple of Siberian Blue Robin and cracking views of a borealis Korean Bush Warbler - surely a full species in its own right. The rooms were checked into, and in worsening weather we struggled out into the cold and rain, up towards the valley made famous by one of Socheong's prime exports… fish-paste, made from storing rotting fish parts in huge buckets. Best birds in the aptly-named sh*t valley included a Japanese Yellow Bunting (heard by NM and seen by Kirsten and Soenke), a scattering of warblers, a Chinese Blackbird, and a tail-less Dusky Thrush - surviving the winter only to be taken by a Chinese Sparrowhawk! Already starting to split up, most of the group then headed out to the southwest of the island, a 3 or 4 km long hike up and down some great hills. For some reason, this was when Bill started rubbing his knees and recalling his great birding experiences on Attu ("rain, mountains, mud and more rain…jeez")…At the lighthouse, brief views of Siberian Rubythroat, a Latham's Snipe and a Greater Short-toed Lark: the latter a Korean sub-rarity hinting at the excellent birding to come on the 27th.
Day 2, April 27th
Overnight rain and strong northeasterlies suddenly cleared, replaced by sunshine and a light northwesterly wind by mid-morning. Waking early, we walked along the coast road towards the famous valley. First stop a cracking Chinese Egret on the beach, flocks of Lesser Striated or Red-rumped Swallows on wires and overhead, and briefly, very briefly, a flyover Oriental Pratincole seen by half of the group: so birds had come in! A trip up sh*t valley produced more frustratingly brief views of thrushes (including the Chinese Blackbird again), and a very confiding Siberian Blue Robin, while Kirsten and Soenke found and digi-scoped yet another good bird: the trip's only Red-billed Starling. These were soon followed by a Siberian Rubythroat and a Hume's Leaf Warbler "in second tree, next to big bush", the first of three that day.
Little Whimbrel, Socheong.
Photo © Frederik WILLEMYNS (info@voc-brugge.com).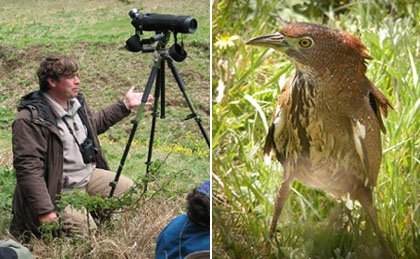 A stunned Tour Leader and a Japanese Night Heron look at each other!
Photos © Kirsten KRAETZEL (left) and Nial MOORES(right).
After a late breakfast, in improving weather, we then headed up to the school for thrushes. Within 5 minutes, we had good views of Pale, Grey-backed (60 logged that day) and White's/Scaly Thrush, as well as the trip's first Brown Shrike. From the school to the 'gully with no name', and some of the best birding of the trip…Olive-backed Pipits, Siberian Stonechat, our first Chestnut-eared Bunting…and then a piercing call from only 50 m away. A real beauty of a species, a Little Whimbrel, had landed in a bare-earth paddock 15 m by 10m across, from there flying up to a short-grass burial mound right next to us: frame-filling views for the line of digiscopers. Half-an hour of uninterrupted views later we continued up the same gully and good birds kept on coming: a very early Mugimaki, joined by a second, a group of 5 or so Blue-and-White Flycatchers, 2 Wryneck, our first Richard's Pipit, a Chestnut Bunting…
Moving round to help the group with pinning down the Mugimaki, NM suddenly noticed in front of him a big brown lump of earth, sat on the track only 5 m away, under some pines. Puzzled, he watched as the top of the lump slowly turned…what the heck? It's a bird? It's a Japanese Night Heron! Frantic signaling, birders running, but for what? To where? The bird flew…no-one else had got on it….30 minutes of searching, and miraculously re-found; (sadly) flushed from amongst tangled branches right into the open, (happily) to land in front of a line of birders sitting on the bank. It sat too, for several minutes, this extraordinary and striking bird, before slowly plodding back up the bank deep into cover again...
Images taken, minds fairly well-blown, "most-wanted" lists becoming longer as expectations started to grow. We paused for a Wryneck on the fence in front of us, as a Blue-and-White Flycatcher swooped by to land within a meter of us. Excellent. Spring in Korea!
The afternoon did not quite match the morning's excitement, but the trip to the lighthouse produced excellent views of Grey Thrush and sitting Grey Nightjar and also one of the more frustrating birds of the trip: Jon and Miguel flushed a dark-backed, white-braced pipit from close in front of them. Clearly a Pechora, but these were NOT the views they had hoped for...
Thought for the day: all good things come to those who wait…almost.
Day 3, April 28th
Grey Nightjar. Photo © Nial MOORES/Birds Korea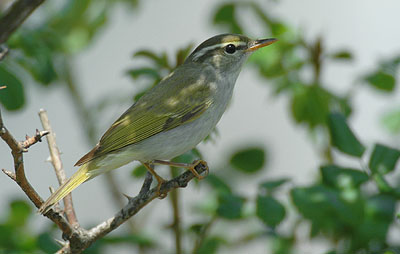 Eastern Crowned Warbler.
Photo © Frederik WILLEMYNS (info@voc-brugge.com).
Northwest winds swung round to the southwest, and clear conditions continued. Although the island seemed quiet in the morning, a few raptors moved through (including a very early Oriental Honey Buzzard), as well as a single White-throated Needletail, and by lunchtime it was obvious a big afternoon arrival was taking place…those who slogged it out to the lighthouse were treated with ca 10 Yellow-rumped Flycatcher (14 logged that day), 2 Greater Short-toed Lark, and a stream of Yellow-browed Warblers at "Mugimaki wood", followed by hundreds of Streaked Shearwaters gathering at sea off the island (1300 were counted in the same place 2 weeks later) and 2 more Grey Nightjar at dusk.
Others who headed towards the school perhaps had even better birding. Miguel found what was surely a Chinese Leaf Warbler (claimed a couple of times in Korea previously, but still not adequately described yet for a national first) and also got very brief but decent views of a male Siberian Thrush, while Robert et al encountered a swarm of warblers. Estimates for the day included 50 Pallas's Leaf (a new Korean day record), 5 Hume's Leaf, 300 Yellow-browed and 125 Eastern Crowned Warblers…clearly these were significant underestimates and thousands of phylloscs must have arrived on Socheong that afternoon.
Day 4, April 29th
The day dawned clear, and it was obvious most of the warblers had moved straight through. After great views of the same Siberian Blue Robin and Asian Stubtail in the same bush in s*xt valley, half of us set off to explore the far eastern end of the island. Tired legs, and "only" a Black-capped Kingfisher to show for it, we moved round past sunbathing soldiers to see 2 Little Swift and another White-throated Needletail, and to find our first (extremely skulking) Rufous-tailed Robin, at the same time as KSK, Yong-Sung and Izle were getting their first excellent views of Brown-headed Thrush. 30 minutes of fairly raptorless raptor-watching (with just a few Japanese Lesser Sparrowhawk and Grey-faced Buzzard to show for it) were then followed by another Rufous-tailed Robin, Chinese Pond Heron and an Amur Falcon. By this time, distracted by the Little Whimbrel and a small flock of white-eyes (surely Chestnut-flankeds considering the high numbers recorded in the coming weeks), we hurried for and only just caught the ferry, riding out into swollen sea. Miguel was the first to notice. Standing at the back, as the boat rocked back and forth, he kept glimpsing 'raptors' through the misted up windows, flying low over the sea. The ship's crew, worried for our safety, kept the doors closed, and we had to wonder: was this the beginning of the main Chinese Sparrowhawk arrival or was this something else? An hour and half later, sunny skies, much calmer seas, and a chance to confirm…tired, but upbeat we straggled outside and within minutes the first few "raptors" were picked up…dark-winged, dark-bodied, flapping and gliding low over the sea: these were no raptors, they were Grey Nightjar! In little over an hour, through a combination of shouting and pointing (with Frederik tallying the score) we had logged at least 84, with one even watched being chased by a passing Parasitic Jaeger!
For the last 30 minutes, as we approached islands off from Incheon, these were then were joined by an increasing number of heavier, larger birds, the closest revealing wide-set yellow eyes: Brown Hawk Owls /Northern Boobooks! A staggering 57 were counted, including one loose flock of 36 over the sea, seeming to spiral up, turning away from land and back out to sea. Amazing.
Arriving at Incheon, a quick car ride to our luscious motel, and an hour on the mainland looking at war memorials, a few Great Spotted Woodpecker and in-your-face looks at screeching Brown-eared Bulbul. Not such a bad end to yet another excellent day.
Day 5, April 30th
Near to Seoul the days are often cloudy and hazy, and April 30th was no exception. With the day high climbing to 22 C, we moved by bus to Ganghwa "Island", a great area for birding despite all the land speculation, restaurant sprawls and hordes of tourists. We had a few prime targets that day, including Black-faced Spoonbill, and snipes.
Terek Sandpiper (left) and Sharp-tailed Sandpiper (right).
Photos © Frederik WILLEMYNS (info@voc-brugge.com).
Visiting flooded rice-fields we found our first Vinous-throated Parrotbills (abundant but nonetheless extraordinarily cute), before flushing a couple of Pintail Snipe (both "probables" due to very poor views), lots of Wood Sandpiper, some Sharp-tailed Sandpiper and breeding-plumaged Spotted Redshank, a Ruff (scarce in Korea), and probably one of the biggest misses of the trip. Migeul and NM picked up on a long-bodied, long-legged shorebird in flight, heading over the road. Structurally suggestive of Marsh Sandpiper, but with a squared off white rump-patch it was surely a Lesser Yellowlegs Tringa flavipes (a first for Korea). Despite searching we could not re-find it. With this it felt like our luck was exhausted for the time being until Robert picked up a dot high, high up in the sky and a long way off heading towards us: "Oriental Pratincole" he said calmly. Personally, I still do not know how he first picked that bird up ("its still in China" was one thought that came to mind)…. A poor view even at closest, it was still new for several in the group. Next up was our first flock of Terek Sandpiper; and then perched views of a very late near-breeding plumaged Pallas's Reed Bunting.
With the birding starting to pick up again, we headed for the southern tidal-flats. On the incoming tide, 3 very distant Black-faced Spoonbill, a half-dozen Chinese Egret and up to 10 Saunders's Gulls, lines of Far Eastern Curlew, followed by, at a second point, excellently close views of Red-necked Stint, Mongolian Plover and a host of other common shorebird species. Following a quick lunch, another change of location - a quick stop for the first Varied Tit of the trip, and then a once-quiet valley, with rice-fields, secondary woodland and a small reservoir. Several very obliging Yellow-browed Bunting were perched in trees right next to the bus; next, great views of saturatus Hoopoe; and then rather poorer views of 2 Mandarin Duck in flight. The small reservoir held 8 Striated Heron, but despite his best efforts, as throughout this trip, Manfred still could not find his most-wanted bird: Baillon's Crake.
Day 6, May 1st
More clear and sunny weather, and approaching the half-way point of the trip, we traveled down to Seosan by bus, arriving at the wide expanses of rice-field and reclamation lake at about 0800 am. Predictably, the birding was great. Flocks of Red-necked Stint and Ruddy Shelduck, great views of osculans Oystercatcher and a half-dozen Black-winged Stilt started the day, soon followed by distant views of Falcated Duck (one of our main target species) and another Oriental Pratincole, this one flying past our bus close enough for all to pick up the rufous-toned underwing coverts and short tail streamers. Moving towards the top end of the lake hopes were high: a very few Baikal Teal, abundant here in autumn and winter, often linger into late April and even May. There were Eurasian Spoonbills, a few shorebirds, but very few ducks: all birds being repeatedly flushed by the potentially suicidal and highly foolish antics of local crop-spraying pilots, presumably to stop the ducks getting in the way of rice planting. For the leader at least, stress levels started to rise. No Baikals, no geese, few birds. Walking up the track along the stream as we waited for the sun to move round, Oriental Reed Warbler and after almost an hour in hot sunshine, a small flock of Red-throated Pipit.
We re-boarded the bus, and started to drive upstream. And then, again, our luck seemed to change. A stop to scan a patch of mud revealed first some Little Ringed Plover, and then 2 Long-toed Stint (the first of eight that day), crouching near-motionless. Excellent views. Then some distant skeins of geese. 20 minutes of a wild goose chase, and we were in position, scanning a late flock made up mostly of frontalis Greater White-fronted Geese and smaller numbers of both Eastern Taiga and Eastern Tundra Beans. The light was now good, so we headed towards the final point on Lake A for Baikals. A few closer ducks looked promising…some Falcated Duck displaying and even copulating, Ruddy Shelduck glowing in the now-evening sunlight, and a dark female teal. Manfred kept his eye on this one now-sleeping bird, and after seeing it lift its head briefly, called it: "It's a Baikal". Very poor views, and a long wait ensued before all could see the bird adequately. Pale-faced, pale loral spot, single darkish eye-stripe…A female; not spectacular, but still a great bird to start the month of May with!
Day 7, May 2nd
Eye-browed Thrush. Photo © Nial MOORES/Birds Korea.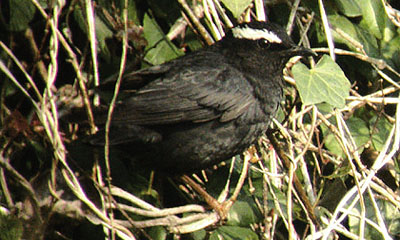 Male davisoni Siberian Thrush. Photo © Nial MOORES/Birds Korea.
Staying overnight in Gunsan a few in the group gave up on an early breakfast and checked the local cemetery instead: Purple Heron overhead, Eastern Broad-billed Roller and Japanese Pygmy Woodpecker all seen in less than 30 minutes. On the bus, down to the harbor, and onto the ferry bound for Eocheong. Sunny skies…but the weather was with us again, and rain was forecast for that afternoon and for the 3rd. Leaving the Geum estuary we picked up on the first migrants over the water (a flock of pipits, 18 Pacific Swift, and a few egrets) as well as 4 longipennis Common Tern and some excellent views of Streaked Shearwater.
By the time we had reached Eocheong, the sky was heavy with cloud and the first spots of rain were starting to fall. Quickly, we moved through all the best habitats: post-office (first of the day's 30 Narcissus Flycatcher and a single male Chestnut Bunting), harbor (Black-winged Stilt and Slaty-backed Gull), lower church (buntings aplenty), the hospital and open ground (Chinese Pond Heron), army pines and main gate (Little Whimbrel), the upper church and chicken-run (Rufous-tailed Robin), and what soon became known as "Birder's Point" (male davisoni Siberian Thrush and White-shouldered Starling). An afternoon's birding on the island, and 99 species for the day. Meeting with Japanese birder Kenji Mochizuki we were told "today is much quieter than yesterday"…
Day 8, May 3rd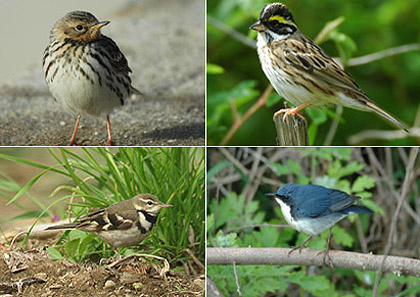 Red-throated Pipit (FW) and Yellow-browed Bunting (FW) (top) Forest Wagtail (KK) and Siberian Blue Robin (FW) (bottom).
Photos © Frederik WILLEMYNS (info@voc-brugge.com) and Kirsten KRAETZEL.
Rain, fog banks and a wind swinging round to northwest: classic fall conditions. The morning started fairly slowly, with best being a Citrine Wagtail found by Joachim, a male Paradise Flycatcher (presumably Black) seen by Kirsten, and a small spread of shorebirds on the beach including 5 Pacific Golden Plover, Marsh Sandpiper, and 4 Grey-tailed Tattler. The pace picked up further from midday, however, just before a very heavy pulse of rain. At the quarry, ca 950 Olive-backed (and other) Pipits were counted coming in off the sea in less than 40 minutes, while a Forest Wagtail (one of 5) was twitched on the beach, and a tight pack of 125 thrushes, later confirmed to be Eye-browed, flew back and forth over the island. Warblers were still in low numbers, but included 45 Pale-legged Leaf, 2 Hume's and both Japanese and Korean Bush, while a Japanese Yellow Bunting was finally seen by most of the group, near the school; a Pechora Pipit was seen briefly at the lighthouse; and a second Citrine Wagtail flew over the reservoir and the harbor.
By the day's end, 108 species had been seen, and much discussion was held at log: to stay an extra day, risking the weather, or to head for Saemangeum as scheduled, and the chance of Spoon-billed Sandpiper.
Hearts were with Eocheong: this was surely the place to be in this kind of weather, and with rain still falling overnight, we all felt promise of much more to come on the 4th.
Day 9, May 4th.
With rain and cloud clearing, the day provided some of the very best birding (and digiscoping/photographing) of an already excellent tour. Diversity was high (with 122 species logged), birds were abundant, and in many cases confiding. Most numerous species included Olive-backed Pipit (at least 1000), Eye-browed Thrush (with 350 logged, some eventually giving great views), Yellow-browed Warbler and Little Bunting (both 300 each), and Tristram's and Yellow-browed Buntings (both 50 each). Other good counts included 40 White-throated Needletail, 15 Richard's and 50 Red-throated Pipit, while "good" species included the Little Whimbrel still, 1 Swinhoe's and 2 Pintail Snipe, a male Amur Falcon watched going to roost (Frederik), single Greater Short-toed Lark, Blyth's Pipit, and Asian House Martin, 9 Brown Shrike (including one of the distinctive subspecies superciliosus - for an article posted on this site on the taxa of Brown Shrike in South Korea go to Brown Shrikes), single Bohemian Waxwing, Chinese Blackbird, and Thick-billed Warbler (Robert and Manfred), a single Two-barred Greenish Warbler (Miguel), 4 Common Rosefinch, 3 Chestnut-cheeked, a single Daurian and the same male White-shouldered Starling. Probably rarest of all, a Hawk Cuckoo sp was also heard singing in the afternoon from behind the army camp: louder, thicker-noted and more intense than e.g. Hodgson's Hawk Cuckoo, its identity still remains unclear.
Day 10, May 5th
Fortunately the day dawned bright and clear, and the boat was set to run on schedule. Birding seemed distinctly quieter than the day before, and the mood was relaxed. Walking around the harbor, NM, Mike and Michael picked up on a single call given weakly by a single bird that seemed to fly up to the left of us: Pechora Pipit. 10 tense minutes later, we relocated the bird, trundling around a tiny vegetable plot, up a narrow alleyway behind the village. But where was everybody else? A quick scan of the harbor, and there was Miguel and Jonathan, soon called and running…next Frederik, a distinctive silhouette, tall and slim with enormous camera and lens; next Robert and Manfred, one moment visible at Birder's Point, but then gone from sight; then Su-Kyung with the Chois, patiently waiting and kindly giving up on the pipit to allow others a better chance to see it.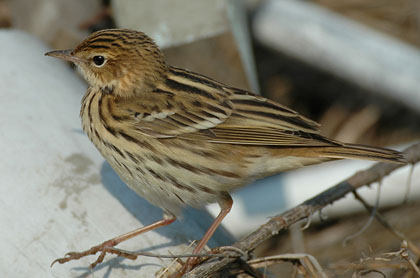 Pechora Pipit. Photo © Frederik WILLEMYNS (info@voc-brugge.com).
Frederik was by now getting great images of the bird, which then started to walk down the hill past the birders…a sweating NM found Bill, and they rushed towards the spot…this time, just too late. The bird had now walked as far as "the lilac tree", but neither Bill nor Soenke nor Kirsten or the others could find it again…Not this time.
Back towards the school, the Blyth's Pipit was next to provide excellent views, along with a nice spread of buntings and chats. Time was up, so onto the ferry and the last crossing of the tour. Incredibly, yet again Grey Nightjars were found, with at least 9 and probably as many as 16 sighted over the sea, as well as 80 Streaked Shearwater.
Arriving back in Gunsan, we left the boat, picked up our bus and immediately headed for Saemangeum. We had been planning to go to the famous Okku Salt-pans for Spoon-billed Sandpiper, but the site, according to local birders Peter Nebel and Chai Seung-Hoon was now trashed: part of the government's great promise to develop the Saemangeum area in an environmentally-friendly way (for more on Saemangeum go to Saemangeum Reference Page). Instead we headed for a neighboring area which typically holds one or two Nordmann's Greenshank, a globally-threatened species still needed by several in the group. As the tide moved in, most birds moved off before we had arrived. A heavy-billed lone greenshank with white underwings flew by: Nordmann's, but surely not good enough views for such an important lifer. Across the huge expanse of tide-swollen river, 30 000 Great Knot lifted into the sky and 7 spoonbill, almost certainly Black-faced, waited, like us for the tide to turn. It was good birding (with surprisingly a record-breaking 124 species logged for the day), but a little frustrating: distant, and not the Saemangeum that the group had come all the way to South Korea to see.
Day 11, May 6.
The next to last day, and the day given over to looking for Spoon-billed Sandpiper, a species NM had now largely given up hope of, but which some in the group seemed to feel we would see. "Perfect faith" Jonathan said, "I believe" said Michael. Without the roost at Okku as an option, we needed sunny skies, great light, the right spot, and absolutely perfect timing to find a feeding bird close-up - either as the highest spring tide started to drop or as birds came into roost. This in an area 40 km by 10 km wide...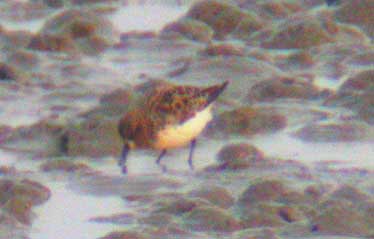 Spoon-billed Sandpiper, Saemangeum. Photo © Mike TODD.
After what seemed like hours looking at the map the previous night and in the early hours of the morning, we boarded the bus, joined by Klemens, and drove, fixing on one area that seemed promising. Arriving just after day-break, and starting with a Merlin, we headed down the track out to the sea-wall. Shorebirds started to stream pass us, but no mud was showing. Terek Sandpipers, Black-tailed Godwit, Red-necked Stint and Sharp-tailed Sands…the mix was looking promising.
Looking right and left mud started to appear. We moved right, along the bank, overlooking one particularly promising patch of mud, as 100 shorebirds dropped in, some even starting to feed. That familiar excited rush started up: can feel a great bird close-by! A line of birders scanning through first 200 and now 300 and now 400 shorebirds…the first Broad-billed Sandpiper of the trip (one species Bill had already seen in the US!) was picked out, and as the sun began to lift behind us, the first heavy-billed stint…could it be a "Spoony"? With amazing good luck, it lifted its head and turned to the side. The call went up and along the line. Not only was it a Spoon-billed Sandpiper, it was a largely breeding-plumaged bird, conveniently feeding next to the only obvious marker in the mud - a blackened piece of wood. Everybody got on it straight away, and Mike even took a series of digi-scoped images, dark as he said, but "any photo of a Spooner is a good photo". Perfectly put, as always...
Within minutes, a second individual was called out, and then a third. Ecstatic, stress lifted, we scanned the shorebirds behind: 2 Nordmann's Greenshank sat hunch-backed and truncated on the water's edge, one moving into breeding-plumage, the other somewhat plainer. An excellent hour's birding!
With the sun lifting, and the tide rushing out, we started to head back towards the bus, only stopping on the way to look at a flock of Chinese Penduline Tit.
"Do the Spoon-bill": somewhat over-stimulated birders demonstrate how a Spoon-billed Sandpiper might tackle a bowl of rice and veg....
Photo © Jonathan MERCER.
A long breakfast (spoons in mouths, head swinging side-to-side in an odd kind of ritual...), a 2 hour rest (our first of the tour during the day, but how you can top that morning?), and then a look for Pygmy Woodpecker (dip) and a drive down to the Geum. Hoping for an Asiatic Dowitcher, we instead found a Long-billed (first picked up by Miguel) - about the tenth record for Korea - and a good spread of commoner shorebirds, again providing great views, despite the harsh light.
In the afternoon, back to Saemangeum, and this time to the southern side of the Mangyeung to get closer views of the spoonbills and the Great Knot flock. Parking the bus, the first call heard was Azure-winged Magpie, while the trees also held Mugimaki, Rufous-tailed Robin, Pale-legged Leaf Warbler and finally good views of Northern Boobook (2): not out over the sea this time, but perched up, avoiding mobbing passerines. The tide was something of a disappointment (the reclamation seawall is already affecting both heights and times of tides), but we still managed to see (less) distant flocks of Great Knot, and closer still large numbers of Dunlin, Grey and ca 1000 Mongolian Plovers.
Day 12, May 7.
Waking early, we realized just how lucky we had been with the weather: Gunsan was blanketed in thick fog. There was no way we could have seen any of Saemanegum that day, let alone any shorebirds.
Time to relax! Photo © Kirsten KRAETZEL.
Saying our farewells to Robert, Manfred and Joachim, the rest of the group boarded the bus and headed north, with a few choice target species to end the trip with: Long-billed Plover, Japanese Pygmy and White-backed Woodpeckers, Japanese Wagtail and Brown Dipper. Reaching Namhansan, both woodpeckers were found within 10 minutes, with the White-backed watched feeding like an over-sized thrush, tossing leaf litter. Next short stop, and next great bird: Brown Dipper, this one picked up by Klemens. With minds now on plovers, we headed north one more hour, reaching a once-beautiful but now increasingly degraded stream. First bird heard calling was a Japanese Wagtail, followed 10 minutes later by a Long-billed Plover showing obligingly by standing on a metal sheet on the shingle. Scanning further downstream, and Izle's favorite bird of the trip: Mandarin Duck. At least 5 were watched very well here, along with two more Long-billed Plovers, pale and "placid". Afternoon, spirits high but bodies tired, we then headed for the airport, in time for a last spell of birding (high tide at the Yeongjong roost).
Ending the tour where many had started it on the pre-tour day, now 230 species later, we again watched the spectacle of hundreds of Far Eastern Curlew, thousands of Great Knot and at least one Nordmann's Greenshank coming into the roost. A great and fitting ending to a great trip!
Mike Todd, USA:"The tour was absolutely fabulous in all respects. Our total trip list was around 230 species, of which I saw 220 and photographed well over half. Nial is a world-class birder and a world-class guide."
Jon Mercer, UK: "What an amazingly successful trip! All those eastern birds in 2 weeks. Thanks again for your brilliant guiding."
Kirsten Kraetzel, Germany:"I highly respect your engagement in South Korea and wish you all and only the very best to continue your work successfully."
Rufous-tailed Robin. Photo © Nial MOORES/Birds Korea.
Thanks to all the participants who made the trip so enjoyable, and to Mike, Michael, Kirsten, Jon and Frederik for permission to freely use their wonderful images.

All photographs on this page were taken during this Tour.

To see more of Mike's images, go to Mike Todd's website.

To visit the website of the South-west Belgian Birdgroup go to www.zwvlkoepel.be/vwg.

Title photograph: 1st summer Yellow-rumped Flycatcher, left (© Nial MOORES/Birds Korea) and Narcissus Flycatcher, right (© Frederik WILLEMYNS (info@voc-brugge.com).