Saemangeum
N 35°49'48.63"; E 126°34'15.22"
Articles

"Reclamation And Green Growth:
Saemangeum in images"
Professional photographer Professor Charles Page visited Saemangeum for four consecutive springs (2005-2008) with Birds Korea to document the conversion of East Asia's most important shorebird site into a wasteland.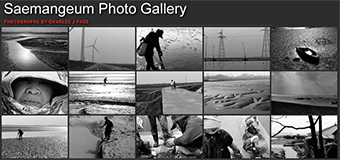 To see the impacts of reclamation captured photographically at:
http://www.charlespagephotography.com/
Saemangeum and the Saemangeum Shorebird Monitoring Program (SSMP) 2006-2008

Spoon-billed Sandpiper and Great Knot: A Case Study of Two Iconic Species

Medialinks
December 22 2008:
Report warns of shorebird extinctions
April 16 2008:
Shorebird staging-sites in short supply
November 23 2008:
FEATURE-S.Korea builds city from sea at
wetland's expense
October 26 2008:
South Korea land grab killing migratory birds

May 2007:
UK's RSPB slams Saemangeum Reclamation
in press-release
To co-incide with World Migratory Bird Day 2007 the world-renowned UK charity The Royal Society for the Protection of Birds (RSPB) - one of whose staff, Sarah Dawkins, has been working with Birds Korea on the Saemangeum Shorebird Monitoring Program - has just posted a press-release about the Saemangeum reclamation on their website entitled "Wildlife starves on emptied wetland".
Written in consultation with Birds Korea's Director Nial Moores, the press-release clearly stresses the disastrous effect that the reclamation has already had, and inclues the following quote from Sarah Dawkins:
"Estuaries should be fantastic places, full of the bustle of shorebirds feeding on shellfish and worms in the mud and sand. The wall has blocked the life-giving ebb and flow of the sea, boats are stranded waiting for a tide that will never come and the mudflats are strewn with mile upon mile of litter.
Saemangeum really was the jewel in the crown yet all around me the place is dying."
Please support Birds Korea: your membership, donations, advice and participation really do make a difference!
The Saemangeum Campaign
Supportes of the Saemangeum Campaign
Saemangeum Campaign News
Samboilbae
Letters supporting the Campaign
Yellow Sea/Saemangeum(-related) Reports etc
Korean Wetlands Alliance (Edited by N.Moores) 1999. Internationally important wetlands especially as waterfowl habitat. National NGO Wetlands Report: Ramsar 1999.
Moores, N. et al. (a 2001) Yellow Sea Ecoregion: Reconnaissance Report on Identification of Important Wetland and Marine Areas for Biodiversity. Volume 2: South Korea. Joint publication of WWF-Japan, Wetlands & Birds Korea, and Wetlands International China Program
Moores, N. (b 2001) Internationally Significant Wetlands to be 100% Reclaimed. WWF Arctic Bulletin, No. 3.01, pp. 12-13.
Moores, N. 1999. A survey of the distribution and abundance of shorebirds in South Korea during 1998-1999. Stilt 34: 18-29.
Asia-Pacific Migratory Waterbird Conservation Committee (2001) Asia-Pacific Migratory Waterbird Conservation Strategy: 2001-2005. Wetlands International- Asia Pacific. Kuala Lumpur, Malaysia.
Barter, M.A. 2002. Shorebirds and The Yellow Sea: Importance, threats and conservation status. Wetlands International Global Series 9, International Wader Studies 12, Canberra, Australia.
Perennou, C.P., Mundkur, T., and Scott, D.A. 1994 The Asian Waterfowl Census 1987-1991: distribution and status of Asian waterfowl.IWRB spec. Publ. No. 86. Slimbridge, UK and Kuala Lumpur, Malaysia.
Wells, D.R. and Mundkur, T. (eds) 1996. Conservation of Migratory Waterbirds and their Wetland Habitats in the East Asian-Australasian Flyway. Proceedings of an International Workshop, Kushiro, Japan. 28 Nov-3 Dec 1994. Wetlands International-Asia Pacific, Kuala Lumpur, Publication No.116, and International Waterfowl and Wetlands Research Bureau-Japan Committee.
Bird Species threatened by Saemangeum:
External links:
Wetland/Shorebird Conservation Organisations