Birding South Korea January 17-29 2010
Falk Wicker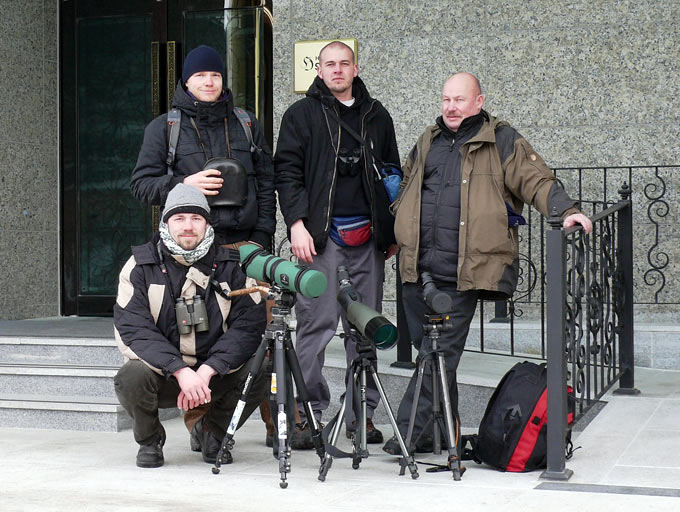 Participants: Gunter Ehlers, Andreas Seeger, Christoph Urban, Falk Wicker
('Team Zoo-Lu Leipzig') – Leipzig, Germany
Introduction
Strange reactions came up first when I talked about my plans of birding South Korea in winter. But if you just take a look at some recent trip reports and check out the species you are likely to see it's not difficult to get into the idea of visiting this great place. With Gunter, Andreas and Christoph I finally found three companions who shared some great observations with me.
In this report I want to give a basic idea of what a birding trip to South Korea in winter could be like. Which species we saw and where we saw them is the main focus in this report rather than trying to give a cultural or language crash course. I do think that everybody has to make his own experience and some useful information is provided anyway (Lonely Planet, http://www.birdskorea.org/Birds/Birding_in_Korea/BK-BK-Practical-Tips.shtml, trip reports) so I'm not even trying to pretend to be an expert on the south-korean way of life. I definetly enjoyed being in South Korea. Different people, different life-style, different food – always a great experience!
On the other hand, devastating to see how environment has to pay the price for humans acting irresponsible again. The hunger for land is very obvious and construction works can be seen everywhere you go – no matter if RAMSAR-site or downtown Seoul.
Even more important to support NGO's like Birds Korea!
Getting there and around
(Return-) Flights were pretty cheap with about 500 € per person from Frankfurt to Incheon International Airport via Beijing. We flew with Air China which was ok but not great (but how can you ask for more for only 500 €?). Most importantly – no problems at all.
Nial had booked a van for us for 11 days through Hertz – Incheon Airport. It cost pretty much 100 US$ per day (special discount) + insurance. There was 4 of us so it didn't hurt that much. It is absolutely necessary anyway as most of the birding areas are very remote. Getting around the country was fairly easy. Once you get accustomised to the way people drive you'll become a part of it. We had a little accident in the city of Seosan which was annoying because time consuming. Still an interesting experience staying at the Police Office for quite a while arguing about how the accident really happened. In the end the insurance did pay off…
Money
At the time we stayed in Korea, 1 Euro was about 1580 Won. Credit cards are widely accepted (hotels, restaurants, gas stations) but it's wise to take some money with you as many ATM's do not accept EC-cards. We ran a bit out of cash and had to refill at Mokpo.
Weather
The weather was ok – some foggy days followed by sunny ones. Two days of rain. To be honest the worst days have been most productive – bird-wise! Temperatures are similar to those in Middle-Europe in january so do bring warm clothing as the partially strong wind can make birding a bit unpleasant at times.
Accomodation
To find accomodation is unbelievably easy – finding good accomodation is only a bit trickier. You just need to avoid motels that are advertised by red and/or green lights and show the symbol for a hot water-bowl. They seem to be pretty old and thus are often quite smelly. Best are motels that are advertised by blue neon-lights and start with single letters (like 'CX-Motel') or are called like bizarre mixtures of random nouns and the word 'motel' (e.g. 'Joytel'). We used these so-called 'Love-Motels' (usually about 40,000 Won per room) throughout our whole stay except for two nights at the luxurious 'Savoy Incheon Airport Hotel' (80,000 Won per room) which is very close to the airport and has a good birding area nearby (see map, 'Birding Sites').
Itinerary
17/01 – Arrival at Incheon International Airport, transfer to hotel.
18/01 – Birding around the hotel; Seoul-sightseeing
19/01 – Met with Nial at the airport and picked up our car; Birding in the DMZ (near Cheorwon)
20/01 – National Arboretum Gwangneung; Han River; NE River
21/01 – Yangyang; NE Coast; Hwajinpo
22/01 – Hwajinpo; NE Coast, E Coast
23/01 – Guryongpo; Nakdong Estuary
24/01 – Nakdong Estuary; Dadaepo Park; Joonam Reservoir; SE River
25/01 – Jirisan NP (Hwaeomsa Temple); Suncheon Bay
26/01 – Haenam area; Mokpo Marshes; Buan Tidal Flat
27/01 – Buan Tidal Flat; Geum River
28/01 – Seosan area; Seoul Grand Park (zoo)
29/01 – Seoul Grand Park (zoo); Incheon International Airport; transfer to hotel
30/01 – Departure Incheon International Airport
Birding Sites (described from a winter-birder's point of view)
Around 'Savoy Incheon Airport Hotel' (18/01, 29/01)
The coordinates for the hotel are 37°26'58.09'' N, 126°23'20.19'' E (Google Earth). The rice fields to the south of it and the wooded hill near the headland proved to be very productive for passerines. Additionally the coastal parts held good numbers of gulls and some waders.
Cheorwon/DMZ (19/01)
The Demilitarised Zone around Cheorwon was the first highlight of the trip. Not only did we see great birds like Red-crowned and White-naped Cranes and good numbers of Cinereous Vultures. You could also feel a certain tension in the air and without Nial's efforts and good contacts access to a vulture feeding place would have been denied by the army. In this sensitive area good numbers of wildlife are still existent – however, taking pictures is strictly forbidden.
National Arboretum, Gwangneung (20/01)
A classic on any winter tour itinerary. An interesting well-wooded parkland that holds mainly forest species like woodpeckers but also numerous winter visitors. Renowned as being a regular spot for Solitary Snipe.
Han River/Paldang (20/01)
Even though we had bad luck with the weather – as it was very misty – the birds did show up. Steller's Eagles and lots of waterbirds were observed around ice-free zones of the river.
NE River (20/01), SE River (24/01)
For good reasons details on these two sites shouldn't be published as they are highly sensitive to any disturbance. They are regular haunts for wintering Scaly-sided Mergansers. Even worse so construction works seem to threaten the last remaining refuges of this endangered species.
Yangyang River (21/01)
This site produced some new species for our list and gave better views of Steller's Sea-eagles. The reedbeds were particularly good for buntings. The only site we encountered Long-billed Plovers.
NE/E Coast (21/01 - 23/01)
Several stops along the coast (Hwajinpo, Daebo, Okye, Donghae) produced excellent species off shore and at sites good for passerines. Guryongpo was very good for gulls and other seabirds. Unfortunately boat trips were not available due to bad weather conditions.
How shall I park the car again …, Photo © Gunter Ehlers
Nakdong Estuary (23/01, 24/01)
Another threatened wetland which used to be especially good for Relict Gull. However, numbers have dropped so this species is no longer a certainty here. It's situated within Busan City District and is still good for numbers of other gulls, waterfowl, waders, and raptors. Easily 'accessable' as you basically just observe from the main road next to it.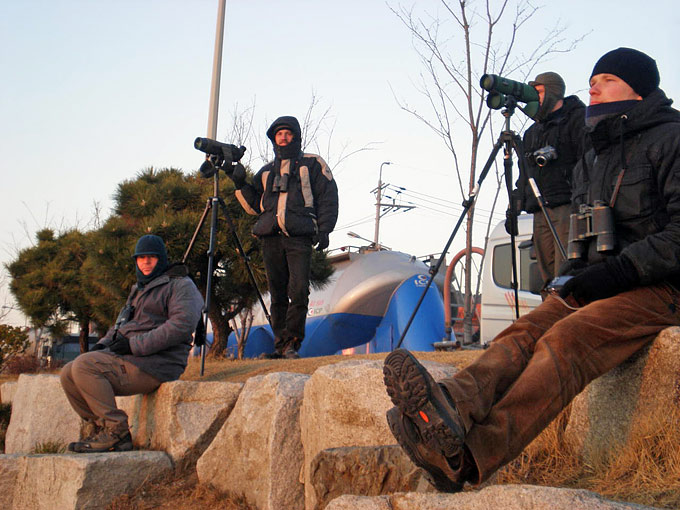 At the Nakdong, Photo © Gunter Ehlers
Dadaepo Park (24/01)
This hilly, well-wooded headland can be good for wintering passerines but it seems to support a population of Amur Leopard Cat, too. We scored here with the latter plus Japanese White-eyes and Red-flanked Bluetail.
Joonam Reservoir (24/01)
Apparently a popular site with locals who try to escape their everyday life – at least on the weekend. It was absolutely packed with people (lots of photographers) when we were there. Still some good birds at the reservoir (we did miss out on Long-tailed Shrike and Lesser White-fronted Goose, though) and surrounding wetlands like Swan Goose, White-naped Crane, and Great Bittern.
Hwaeomsa Temple / Jirisan National Park (25/01)
A beautiful National Park in the south. As we had a tight time schedule we only went to Chilbulsa Temple (which was great and amazingly quiet and peaceful) and the famous Hwaeomsa Temple – a reliable site for Hill Pigeon.
Suncheon Bay (25/01)
THE site for Hooded Crane. It's also good for geese and other waterbirds and the extensive reedbeds surely hold interesting passerines. Suncheon Bay is one of the few birding areas that is well signposted. The western end of the bay is said to be better but we were quite successful at the 'Wetland Bird Center' (or similar).
Haenam / Mokpo Marshes (26/01)
Haenam area produced some new species for the trip list but we failed to find the really good spots. We quickly moved on to Mokpo to meet with Andreas Kim (Birds Korea, visit http://www.birdskorea.org/Habitats/Wetlands/Mokpo/BK-HA-Mokpo-Wetland-park-plan-Nov-2009.shtml) and to check out the marshes. Small bits of wetland are left of what must have been a vast area of tidal mudflats. It was highly interesting and also devastating to hear about the conservation issues from Andreas. On the other hand we enjoyed nice views of Far Eastern Oystercatchers and other shorebirds.
Buan / Julpo Tidal Flats (26/01, 27/01)
Another signposted area west of Jeongeup. It's essential to come here in the morning as the best observation points (there's even a wooden shelter!) are in the east of the tidal flats. Check also the tides as high tide is probably better here. Otherwise the birds can be well-hidden in the deeper channels. A great spot for birds, we had 5 Oriental White Storks, Spoonbills and others here.
Oriental White Storks at Buan / Julpo Tidal Flats.
Geum River (27/01)
Hilarious! Not the huge flocks of waterbirds you can expect to see here – but the monstruous Baikal Teal at the entrance gate of the 'Migratory Bird Observatory'! There's some exhibitions (including live animals in poor condition that are kept in horrible enclosures) and a 'watch tower'.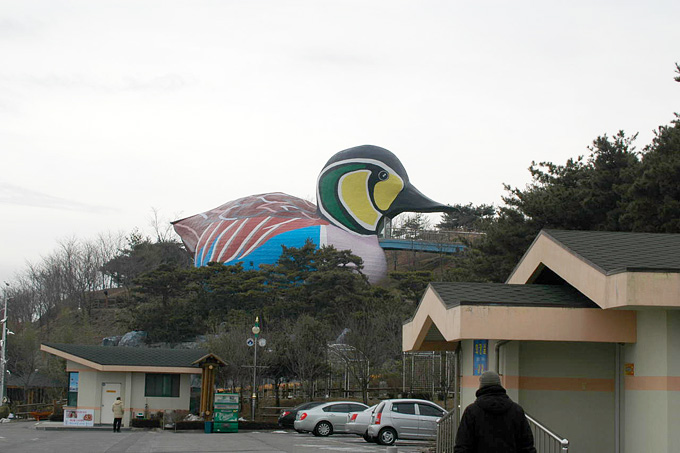 "Baikal Teal" at the Geum Migratory Bird Observatory, Photo © Gunter Ehlers
No need to enter this site but rather enjoy the numerous swans, ducks and geese that are happily floating together on the Geumgang.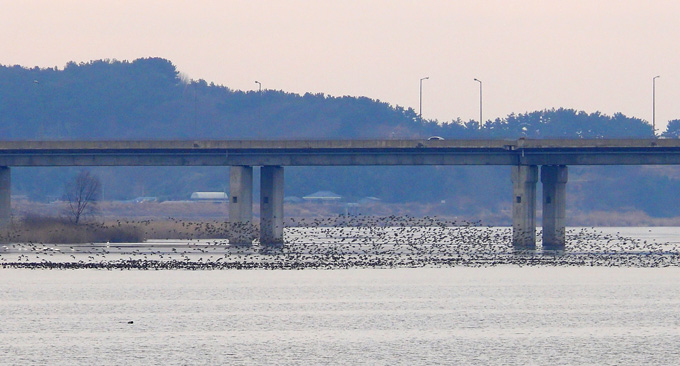 Baikal Teals at Geum River.
Seosan area (28/01)
Again we failed to find the good spots despite Nial's descriptions. Instead I had a nice little car accident in the city.
Seoul Grand Park / Seoul Zoo (28/01, 29/01)
The four of us being zookeepers we had a particular interest in visiting Seoul Zoo. It's situated within Seoul Grand Park. As long as you avoid coming on the weekend it is quite a nice place to be. Some enclosures were surprisingly good – especially for Guenons and Hippos as well as the stork aviary. Other facilities were actually not too bad but poorly enriched and maintained. Every now and then you could find horrible old cages or wierd combinations of species being kept together but – to be honest – the majority of the animals were in good condition.
Apart from the kept ones there were also wild animals there. We had fantastic views of a male Pale Thrush, Japanese Pygmy Woodpeckers and Red Squirrels. The surrounding woodlands looked very promising, too.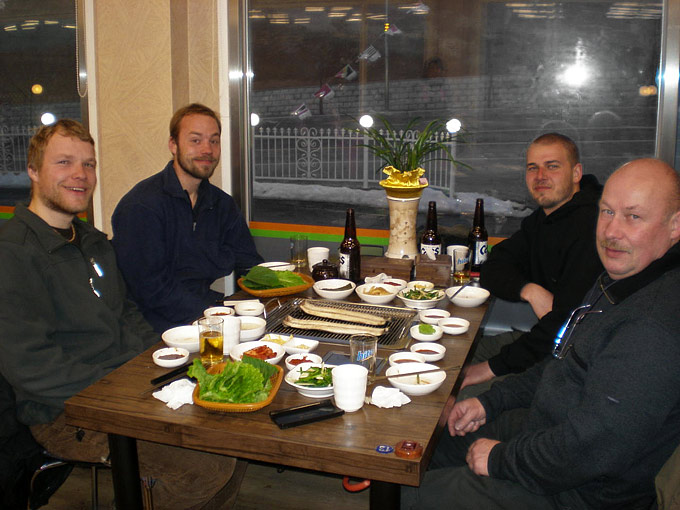 Last night at Incheon, Photo © Gunter Ehlers
Annotated list of birds:
This species list follows the Birds Korea Checklist, August 2009. It contains of 158 species including 4 species only heard or that were only seen by Nial (marked with *). Common Pigeon (Columba livia forma domestica) / Haustaube does not occur on our trip list. Names are given in English, scientific and German.
Japanese Quail (Coturnix japonica) / Japanwachtel – 1 bird was flushed at Yangyang River and two more were seen at Suncheon Bay.

Common Pheasant (Phasianus colchicus karpowi) / Fasan – The "real ones"! Commonly encountered in rice fields and on farmland.

Swan Goose (Anser cygnoides) / Schwanengans – Very high on our wish-list! We saw 2 individuals at Joonam Reservoir.

Taiga Bean Goose (Anser fabalis middendorffii) / Taigasaatgans – After we had checked single flocks to separate this and the following species we did not check carefully anymore later on – shame on us…

Tundra Bean Goose (Anser serrirostris) / Tundrasaatgans – See above.

Greater White-fronted Goose (Anser albifrons frontalis) / Blaessgans – Several groups feeding in rice fields at various places.

Whooper Swan (Cygnus cygnus) / Singschwan – A common waterbird seen on most wetlands.

Common Shelduck (Tadorna tadorna) / Brandgans – Only seen in the south but numerous at Nakdong Estuary.

Ruddy Shelduck (Tadorna ferruginea) / Rostgans – Just 1 individual at Joonam Reservoir.

Mandarin Duck (Aix galericulata) / Mandarinente – At Gwangneung Arboretum we were able to find a pair of this species at the same stretch of river where the Solitary Snipes were seen.

Gadwall (Anas strepera strepera) / Schnatterente – Only few individuals at Han River, Nakdong Estuary, Mokpo Marshes and Buan / Julpo Tidal Flats.

Falcated Duck (Anas falcata) / Sichelente – First encountered on Guryongpo Peninsula. Became numerous in the south and seen at most wetlands in good numbers.

Eurasian Wigeon (Anas penelope) / Pfeifente – Similar encounters as with species above.

Mallard (Anas platyrhynchos platyrhynchos) / Stockente – Along with following species commonest waterbird. Seen daily.

Eastern Spot-billed Duck (Anas zonorhyncha) / Fleckschnabelente – See above.

Northern Shoveler (Anas clypeata) / Loeffelente – Not uncommon but localised. Observed at Nakdong, Joonam and Mokpo.

Northern Pintail (Anas acuta) / Spiessente – Another localised waterbird. Low numbers at Han River, Nakdong, Joonam and Mokpo.

Baikal Teal (Anas formosa) / Gluckente – First individuals seen at Joonam (about 25 totally) with a few more at Mokpo Marshes and +15,000 individuals at Geum River, wow!

Eurasian Teal (Anas crecca) / Krickente – Fairly common winter visitor. Seen in good numbers almost every day.

Common Pochard (Aythya ferina) / Tafelente – Several birds at Han River, Joonam, Haenam area and Geum River.

Tufted Duck (Aythya fuligula) / Reiherente – Seen at same sites as above species but in lower numbers.

Greater Scaup (Aythya marila mariloides/nearctica) / Bergente – Surprisingly only seen in Haenam area with a few individuals in a mixed flock together with Pochards and Tufted Ducks.

Harlequin Duck (Histrionicus histrionicus (pacificus)) / Kragenente – Beautiful birds! Regularly observed at the Northeast coast as far down as Guryongpo.

White-winged Scoter (Melanitta deglandi stejnegeri) / Amerikanische Samtente – Most birds were seen off Hwajinpo on the northeastern corner of South Korea. Gets more uncommon as you move south. No encounters whatsoever on Guryongpo Peninsula.

American Scoter (Melanitta americana) / Amerikanische Trauerente – More regular than above species – still seen on Guryongpo.

Common Goldeneye (Bucephala clangula clangula) / Schellente – Few individuals seen almost daily on rivers and at the coast.

Smew (Mergellus albellus) / Zwergsaeger – Good numbers at Joonam with only few birds at Geumgang.

Common Merganser (Mergus merganser comatus) / Gaensesaeger – A common sight especially on rivers.

Red-breasted Merganser (Mergus serrator) / Mittelsaeger – Very common at the East coast.

Scaly-sided Merganser (Mergus squamatus) / Schuppensaeger – Definetly one of the highlights of the entire trip! Gorgeous birds. 4 birds at Northeast river, 10 at Southeast river together with River Otters, amazing!

Red-throated Loon (Gavia stellata) / Sterntaucher – Especially common off Nakdong Estuary with one oiled bird there. Also recorded at Guryongpo.

Arctic Loon (Gavia arctica viridigularis) / Prachttaucher – Most common loon, seen on almost any occasion at the East coast. Some oiled birds as well.

Pacific Loon (Gavia pacifica) / Pazifiktaucher – First (definite) birds were observed off Donghae. Moderately common there and around Guryongpo Peninsula.

Yellow-billed Loon (Gavia adamsii) / Gelbschnabeltaucher – 1 adult (winter-plumage) off Donghae.

Little Grebe (Tachybaptus ruficollis poggei) / Zwergtaucher – Regularly encountered in low numbers.

Red-necked Grebe (Podiceps grisegena holboelli) / Rothalstaucher – Together with P. auritus and P. nigricollis good numbers were seen off the East coast.

Great Crested Grebe (Podiceps cristatus cristatus) / Haubentaucher – Commonest Grebe.

Horned Grebe (Podiceps auritus auritus) / Ohrentaucher – See Red-necked Grebe.

Black-necked Grebe (Podiceps nigricollis nigricollis) / Schwarzhalstaucher – See Red-necked Grebe. Also seen at Nakdong Estuary.

Oriental Stork (Ciconia boyciana) / Schwarzschnabelstorch – Highly unexpected and therefor one of the trip's highlights! 5 individuals at Buan / Julpo Tidal Flats.

Eurasian Spoonbill (Plataea leucorodia major) / Loeffler – About 5 birds at Joonam Reservoir and at least 14 at Buan / Julpo Tidal Flats.

Eurasian Bittern (Botaurus stellaris stellaris) / Rohrdommel – 1 bird having a sunbathe near Joonam Reservoir was a surprise.

Black-crowned Night Heron (Nycticorax nycticorax nycticorax) / Nachtreiher – First bird seen at dusk near Nakdong Estuary and then about 10 birds at Joonam Reservoir.

Grey Heron (Ardea cinerea jouyi) / Graureiher – Single birds every now and then with larger concentrations at Nakdong Estuary and Joonam Reservoir.

Western Great Egret (Ardea alba) / Silberreiher – Similarly encountered as above species.

Little Egret (Egretta garzetta garzetta) / Seidenreiher – Less recorded than A. cinerea and A. alba but still reasonably regular.

Pelagic Cormorant (Phalacrocorax pelagicus) / Meerscharbe – Good numbers especially off the Northeast coast.

Great Cormorant (Phalacrocorax carbo hanedae) / Kormoran – Only seen at Nakdong Estuary, Joonam Reservoir and Suncheon Bay.

Temminck's Cormorant (Phalacrocorax capillatus) / Japankormoran – Very well seen off East coast and usually closer to shoreline than P. pelagicus.

Western Osprey (Pandion haliaetus haliaetus) / Fischadler – Upt to 6 individuals at Nakdong Estuary.

Black Kite (Milvus migrans lineatus) / Schwarzmilan – Only seen at Nakdong with 5 birds.

White-tailed Eagle (Haliaeetus albicilla albicilla) / Seeadler – Seen almost every day with a high count of about 6 birds at Han river.

Steller's Sea Eagle (Haliaeetus pelagicus pelagicus) / Riesenseeadler – For most of us the bird of the trip! 2 amazing adults at Han river followed by 2 immatures at Yangyang river were incredible sightings.

Steller's Sea Eagle Haliaeetus pelagicus, Photo © Andreas Seeger

Cinereous Vulture (Aegypius monachus) / Moenchsgeier – We experienced great views of this species especially at the DMZ where up to 180 birds gathered. Among them 2 1st cy birds with wing-tags (1 of them from Central Mongolia). More sightings at Jirisan NP and Suncheon Bay.

Cinereous Vulture Aegypius monachus, Photo © Gunter Ehlers

Eastern Marsh Harrier (Circus spilonotus) / Mangroveweihe – One female sitting and later flying over Nakdong Estuary.

Hen Harrier (Circus cyaneus cyaneus) / Kornweihe – Not uncommon especially around reedbeds, seen on 7 days.

Eurasian Sparrowhawk (Accipiter nisus nisosimilis) / Sperber – Singles seen at the DMZ and Joonam.

Northern Goshawk (Accipiter gentilis schvedowi) / Habicht – One individual perching on a pole that sticked out of Han river and another one flying over a woodland near the Savoy Incheon Airport Hotel.

Eastern Buzzard (Buteo japonicus) / Japanbussard – A very common raptor of open habitats.

Upland Buzzard (Buteo hemilasius) / Mongolenbussard – Only one definite record over rice fields near the Savoy Incheon Airport Hotel.

Rough-legged Buzzard (Buteo lagopus menzbieri) / Raufussbussard – A beautiful adult bird seen soaring over Suncheon Bay (presumably this ssp.).

Common Kestrel (Falco tinnunculus interstinctus) / Turmfalke – Not as commonly encountered as Buteo japonicus but still very reasonably distributed.

Merlin (Falco columbarius insignis) / Merlin – 1 female perching and later hunting at Buan / Julpo Tidal Flats.

Peregrine Falcon (Falco peregrinus japonensis) / Wanderfalke – Singles seen on 5 days with 1 bird using a love motel's window sill as a perch.

Eurasian Coot (Fulica atra atra) / Blaesshuhn – Only observed on larger waterbodies and including Han river and Nakdong Estuary.

White-naped Crane (Grus vipio) / Weissnackenkranich – Magnificent birds! First seen at the DMZ. Later more birds at Joonam (+80 individuals) and Suncheon Bay (3 ind.).

White-naped Crane Grus vipio, Photo © Gunter Ehlers

Hooded Crane (Grus monacha) / Moenchskranich – About 160 birds at Suncheon Bay including 1 probable hybrid (Common Crane (Grus grus) x Hooded Crane (Grus monacha)).

Red-crowned Crane (Grus japonensis) / Mandschurenkranich – One of the most beautiful crane species showed off at the DMZ with about 15 birds.

Far Eastern Oystercatcher (Haematopus (ostralegus) osculans) / Austernfischer – Only seen at Mokpo Marshes with 7 individuals.

Northern Lapwing (Vanellus vanellus) / Kiebitz – 3 birds roosting on mudflats at Suncheon Bay.

Long-billed Plover (Charadrius placidus) / Ussuriregenpfeifer – At least 3 birds foraging between rocks and icy bits at Yangyang river.

Kentish Plover (Charadrius alexandrinus nihonensis) / Seeregenpfeifer – 4 individuals on our first day of birding near the Savoy Incheon Airport Hotel plus 2 or more at Nakdong Estuary.

Solitary Snipe (Gallinago solitaria) / Einsiedlerbekassine – About 3 birds at their usual stake-out at the Gwangneung Arboretum.

Solitary Snipe Gallinago solitaria, Photo © Andreas Seeger

Eurasian Curlew (Numenius arquata orientalis) / Grosser Brachvogel – Few birds at Nakdong Estuary and Buan / Julpo Tidal Flats.

Green Sandpiper (Tringa ochropus) / Waldwasserlaeufer – 7 birds were found feeding together in a small ditch in Haenam area.

Common Sandpiper (Actitis hypoleucos) / Flussuferlaeufer – 1 individual at the coast of Guryongpo Peninsula and another one at Mokpo Marshes.

Sanderling (Calidris alba (rubida)) / Sanderling – A few birds at Nakdong Estuary.

Dunlin (Calidris alpina articola/sakhalina) / Alpenstrandlaeufer – A flock of 30 birds on the first day near the Savoy Incheon Airport Hotel plus 25 birds at Guryongpo Peninsula and probably some hundreds at Nakdong Estuary.

Red (Grey) Phalarope (Phalaropus fulicarius) / Thorshuehnchen – This must be the first mid-winter record for the species so rather unexpexted. 1 bird off Guryongpo Peninsula.

Black-legged Kittiwake (Rissa tridactyla pollicaris) / Dreizehenmoewe – Only few individuals showed up especially around harbors on the Northeast coast.

Black-headed Gull (Chroicocephalus ridibundus sibiricus) / Lachmoewe – A common bird of estuaries in the south. Not seen in the northern parts of the country.

Saunders's Gull (Chroicocephalus saundersi) / Saundersmoewe – About 40 birds at Nakdong Estuary and another 5 birds at Suncheon Bay.

Black-tailed Gull (Larus crassirostris) / Japanmoewe – Commonly encountered both along the East and West coast.

Common Gull (Larus canus kamtschatschensis) / Sturmmoewe – Good numbers only along the East coast.

Glaucous-winged Gull (Larus glaucescens) / Beringmoewe – 1 immature bird at Hwajinpo lighthouse and a fine adult at Guryongpo Peninsula.

Glaucous-winged Gull Larus glaucescens, Photo © Gunter Ehlers

Glaucous Gull (Larus hyperboreus pallidissimus) / Eismoewe – Mainly 1st cy birds and adults were seen as far south as Guryongpo. About 30 individuals totally.

Glaucous Gull Larus hyperboreus, Photo © Gunter Ehlers

Iceland Gull (Larus glaucoides glaucoides) / Polarmoewe) – A well-observed and photographed bird at a small beach on Guryongpo Peninsula might have been this species although some doubts remain (length of the bill, overall jizz). Mysterious…

Iceland Gull Larus glaucoides, Photo © Gunter Ehlers

Iceland Gull Larus glaucoides, Photo © Gunter Ehlers

Vega Gull (Larus vegae vegae) / Ostsibirienmoewe – Possibly the commonest of all gulls especially along the coast.

Mongolian Gull (Larus mongolicus) / Mongolenmoewe – Seen almost daily at a variety of habitats but nowhere numerous.

Caspian Gull (Larus cachinnans ponticus) / Steppenmoewe – One bird was briefly seen by Nial at the same beach where the 'Iceland Gull' was roosting.

Heuglin's Gull (Larus heuglini taimyrensis) / Tundramoewe – Single birds were noted along the East coast.

Slaty-backed Gull (Larus schistisagus) / Kamtschatkamoewe – Regularly encountered along East coast. Single birds also along Northwest coast.

Brunnich's Murre (Uria lomvia arra) / Dickschnabellumme – Off Okye one bird was seen floating on the water not too far away.

Spectacled Guillemot (Cepphus carbo) / Brillenteiste – Unfortunately only poor views were gained from Hwajinpo of about 4 birds.

Long-billed Murrelet (Brachyramphus perdix) / Langschnabelalk – One bird off Guryongpo gave great views swimming next to a buoy.

Ancient Murrelet (Synthliboramphus antiquus antiquus) / Silberalk – Some encounters along the East coast. Especially good to observe around Guryongpo Peninsula.

Rhinoceros Auklet (Cerorhinca monocerata) / Nashornalk – First sighting off Donghae followed by much better views of several birds off Guryongpo.

Hill Pigeon (Columba rupestris rupestris) / Klippentaube – 2 birds flying and later roosting on temples at Hwaeomsa / Jirisan NP.

Hill Pigeon Columba rupestris, Photo © Andreas Seeger

Oriental Turtle Dove (Streptopelia orientalis orientalis) / Orientturteltaube – Common throughout.

Oriental Turtle Dove Streptopelia orientalis, Photo © Andreas Seeger

Common Kingfisher (Alcedo atthis bengalensis) / Eisvogel – One bird heard and briefly seen at Gwangneung Arboretum.

Japanese Pygmy Woodpecker (Dendrocopos kizuki nippon) / Kizukispecht – Seen and heard almost every day in suitable habitat. Seems to be the most common woodpecker.

Grey-capped Pygmy Woodpecker (Dendrocopos canicapillus doerriesi) / Grauscheitelspecht – Great record of a single bird at the Gwangneung Arboretum. A rare bird in Korea.

Grey-capped Pygmy Woodpecker Dendrocopos canicapillus, Photo © Gunter Ehlers

White-backed Woodpecker (Dendrocopos leucotos leucotos) / Weissrueckenspecht – Only one record but of a stunning male working on a tree right next to the footpath at Gwangneung Arboretum.

Great Spotted Woodpecker (Dendrocopos major japonicus) / Buntspecht – Single birds seen on 5 days.

Grey-headed Woodpecker (Picus canus jessoensis) / Grauspecht – Healthy populations seem to exist at Gwangneung Arboretum, Dadaepo and Jirisan NP.

Bull-headed Shrike (Lanius bucephalus bucephalus) / Bueffelkopfwuerger – First seen on our second day in Korea. Most encounters in the south with single birds usually lingering around hedge rows near rice fields.

Chinese Grey Shrike (Lanius sphenocercus sphenocercus) / Keilschwanzwuerger – 1 on these magnificent birds seen near a military checkpoint in the DMZ. Another bird was seen the next day at Yangyang river.

Eurasian Jay (Garrulus glandarius brandtii) / Eichelhaeher – A small party in a patch of pine forest near the Savoy Incheon Airport Hotel on our second day followed by single birds at the Arboretum and the Northeast coast.

Azure-winged Magpie (Cyanopica cyanus koreensis) / Azurelster – Groups seen in the DMZ with 50+ birds, at Jirisan NP with 35+ birds and near Buan / Julpo Tidal Flats.

Eurasian Magpie (Pica pica sericea) / Elster – Abundant resident.

Daurian Jackdaw (Coloeus dauuricus) / Elsterdohle – On our way to Busan we found a flock of corvids near Gyeongju consisting of 150+ Daurian Jackdaws and Rooks.

Rook (Corvus frugilegus pastinator) / Saatkraehe – See above plus another flock enroute to Seoul near Gunsan.

Carrion Crow (Corvus corone orientalis) / Rabenkraehe – Apparently quite uncommon in S Korea, two observations of this species in the DMZ and near Han river caused quite some excitement with our guide!

Large-billed Crow (Corvus macrorhynchos mandschuricus) / Dickschnabelkraehe – Very regularly seen throughout.

Marsh Tit (Poecile palustris hellmayri) / Sumpfmeise – Daily encounters, common.

Varied Tit (Poecile varius varius) / Buntmeise – First seen near the Savoy Incheon Airport Hotel, then single birds at the Arboretum, Dadaepo Park and Jirisan NP.

Coal Tit (Periparus ater ater) / Tannenmeise – Only seen near Daebo (Northeast coast) and at Dadaepo Park.

Eastern Great Tit (Parus minor minor) / 'Oestliche Kohlmeise' – A very common species with birds seen daily.

Eurasian Skylark (Alauda arvensis lonnbergi) / Feldlerche – A heavy influx near Hwajinpo lighthouse with hundreds of birds moving south and a mixed flock of A. arvensis and A.japonica in rice fields at Jirisan NP.

Far Eastern Skylark (Alauda japonica intermedia) / Japanlerche – Few birds at the banks of Yangyang river and in rice fields at Jirisan NP.

Brown-eared Bulbul (Microscelis amaurotis amaurotis) / Orpheusbuelbuel – Common throughout.

Brown-eared Bulbul Microscelis amaurotis, Photo © Andreas Seeger

Long-tailed Tit (Aegithalos caudatus magnus) / Schwanzmeise – Small flocks at Dadaepo Park, Jirisan NP and near Geum river.

Vinous-throated Parrotbill (Paradoxornis webbianus fulvicauda) / Braunkopf-Papageimeise – Flocks seen at almost any kind of reedbed plus 25+ birds at Gwangneung Arboretum.

Japanese White-eye (Zosterops japonicus japonicus) / Japanbrillenvogel – Only a few birds but well seen at Dadaepo Park.

Goldcrest (Regulus regulus japonensis) / Wintergoldhaehnchen – Small parties (associated with other species) at the Arboretum, along the East coast and at Dadaepo Park.

Winter Wren (Troglodytes troglodytes dauricus) / Zaunkoenig – Surprisingly few records with one bird at Yangyang river and another one heard at Joonam Reservoir.

Eurasian Nuthatch (Sitta europaea amurensis) / Kleiber – Regularly seen at woodlands and along the East coast.

Chinese Nuthatch (Sitta villosa villosa) / Chinakleiber – 3+ birds near Daebo (Northeast coast). One female having a sunbathe gave exceptionally good views.

Chinese Nuthatch Sitta villosa, Photo © Gunter Ehlers

Eurasian Treecreeper (Certhia familiaris daurica) / Waldbaumlaeufer – A rare bird in South Korea. 1 was heard and then seen at Gwangneung Arboretum.

White-cheeked Starling (Spodiopsar cineraceus) / Weisswangenstar – Only few birds were seen around Joonam Reservoir.

Pale Thrush (Turdus pallidus) / Fahldrossel – Few birds at Dadaepo Park and a very obliging male at Seoul Zoo plus one thrush-like bird near the Savoy Incheon Airport Hotel that might have been this species.

Naumann's Thrush (Turdus naumanni) / Rostschwanzdrossel – One bird near the Savoy Incheon Airport Hotel (on the second and last day of our trip) plus another one near Daebo.

Dusky Thrush (Turdus eunomus) / Rostfluegeldrossel – First birds at Joonam Reservoir with more at Jirisan NP and Haenam area.

Red-flanked Bluetail (Tarsiger cyanurus) / Blauschwanz – 1 female showed off very well at Dadaepo Park.

Red-flanked Bluetail Tarsiger cyanurus, Photo © Andreas Seeger

Daurian Redstart (Phoenicurus auroreus auroreus) / Spiegelrotschwanz – Regular encounters of single birds during the whole trip.

Daurian Redstart Phoenicurus auroreus, Photo © Gunter Ehlers

Blue Rock Thrush (Monticola solitarius philippensis) / Blaumerle – A stunning male at a small harbor near Savoy Incheon Airport Hotel on the first day was followed by two more birds seen along the East coast.

Blue Rock Thrush Monticola solitarius, Photo © Gunter Ehlers

Brown Dipper (Cinclus pallasii) / Pallaswasseramsel – Only recorded at Southeast river with about 3 birds.

Eurasian Tree Sparrow (Passer montanus saturatus) / Feldsperling – Common throughout to abundant.

Siberian Accentor (Prunella montanella montanella) / Bergbraunelle – More often encountered than expected. Single birds seen near Savoy Incheon Airport Hotel, in the DMZ and along the East coast with particularly great views of one bird near Daebo.

White Wagtail (Motacilla alba lugens) / Bachstelze – Not uncommon along all kind of riverine habitats. Seen on 6 days.

Japanese Wagtail (Motacilla grandis) / Japanstelze – First seen at Han river. Further encounters along Southeast river, Yangyang river and Northeast river. Maximum of 5 birds at Yangyang.

Olive-backed Pipit (Anthus hodgsoni hodgsoni) / Waldpieper – A flock was observed on Guryongpo Peninsula. More observations made in the south, especially around Joonam and Jirisan NP.

Buff-bellied Pipit (Anthus rubescens japonicus) / Pazifikpieper – More regularly seen than the former species but always only few birds or singles. Seen on 7 days.

Brambling (Fringilla montifringilla) / Bergfink – Flocks of these birds seen every now and then, not uncommon.

Grey-capped Greenfinch (Carduelis sinica ussuriensis) / Chinagruenling – Seen in larger flocks than former species (e.g. 60+ birds near Yangyang river) on 7 days.

Asian Rosy Finch (Leucosticte arctoa brunneonucha) / Rosenbauch-Schneegimpel – Completely unexpected. A surprising find of 37+ birds feeding on grass seeds near Daebo was higly appreciated.

Asian Rosy Finch Leucosticte arctoa, Photo © Gunter Ehlers

Long-tailed Rosefinch (Uragus sibiricus ussuriensis) / Meisengimpel – Seen on 4 days near Savoy Incheon Airport Hotel, in the DMZ, around Yangyang river and along the East coast. Totally about 15 birds.

Pallas's Rosefinch (Carpodacus roseus roseus) / Rosengimpel – 2 birds heard and briefly seen next to the temple near the Gwangneung Arboretum. At the Arboretum 2 adult males gave fantastic views sitting and feeding on Deutzia crenata.

Pallas's Rosefinch Carpodacus roseus, Photo © Gunter Ehlers

Eurasian Bullfinch (Pyrrhula pyrrhula rosacea) / Gimpel – Another unexpected sighting with a flock of 15+ birds at the same site the 2 male Pallas's Rosefinches were seen. The flock possibly held other ssp. than rosacea as well.

Hawfinch (Coccothraustes coccothraustes japonicus) / Kernbeisser – This charismatic bird was observed regularly around areas with taller trees, like the Arboretum, the DMZ and along the East coast.

Meadow Bunting (Emberiza cioides castaneiceps) / Wiesenammer – The biggest flock seen on the first day near the Savoy Incheon Airport Hotel with about 30 birds. More observations made along Yangyang river, near Hwajinpo and Joonam.

Meadow Bunting Emberiza cioides, Photo © Gunter Ehlers

Little Bunting* (Emberiza pusilla) / Zwergammer – Only one bird heard by Nial near Yangyang river.

Rustic Bunting (Emberiza rustica) / Waldammer – Almost daily encountered. More numerous than following species with which it sometimes formed mixed flocks.

Rustic Bunting Emberiza rustica, Photo © Gunter Ehlers

Yellow-throated Bunting (Emberiza elegans elegans) / Gelbkehlammer – See above. Seen daily.

Yellow-throated Bunting Emberiza elegans, Photo © Andreas Seeger

Black-faced Bunting* (Emberiza spodocephala ssp.) / Maskenammer – Only two birds heard in the reedbeds of Yangyang river.

Grey Bunting* (Emberiza variabilis variabilis) / Bambusammer – At least one bird was heard in the woods of Dadaepo Park.

Pallas's Reed Bunting (Emberiza pallasi polaris) / Pallasammer – Commonly encountered in reedbeds near Yangyang river, around Joonam, Suncheon and Geum river as well as around the Savoy Incheon Airport Hotel.

Ochre-rumped Bunting* (Emberiza yessoensis continentalis) / Mandschurenammer – At least 2 birds were briefly seen (only by Nial) and heard at Yangyang river.
Annotated list of mammals:
Although only few mammals were encountered during our trip some of them have been memorable sightings, e.g. the otter observations.
Rat (Rattus sp.) / Ratte – Some rats (presumably House Rat - Rattus rattus / Hausratte) were feeding on turtle food inside one of the Tropical Halls in Seoul Zoo.

Eurasian Red Squirrel (Sciurus vulgaris koreae) / Eichhoernchen – 3 or 4 individuals harvesting pine seeds at Seoul Grand Park/Seoul Zoo.

Amur Leopard Cat (Prionailurus bengalensis euptilura) / Amurkatze – At Dadaepo Park (Busan) we almost stumbled across one of those incredible creatures that are so hard to see, usually. It wasn't even far away from the walk way that leads through the park. After realising us it moved away quickly and we could only guess its route because of some harassing bulbuls and tits. One of the trip's highlights! (Note: Sometimes treated as a distinct species Prionailurus euptilura).

Eurasian River Otter (Lutra lutra lutra) / Fischotter – On our last day with Nial we experienced some truly amazing wildlife observations! At SE-River at least 2 family parties of River Otters were playing around just next to Scaly-sided Mergansers! It was a bit hard to tell how many clans there were but at least 8 individuals were counted.

Chinese/'Korean' Water Deer (Hydropotes inermis argyropus) / Wasserreh – At the DMZ this species still seems to be fairly common. On one occasion we saw 4 of them at a site which we stopped at for passerines, Hazel Hen and woodpeckers.
Acknowledgements:
A huge Thank-you to Nial Moores who didn't just guide us around but was a great tour companion. It has been such a pleasure to travel with him, learning about the conservation issues in South Korea, witnessing his bird identification skills and being introduced into daily korean life (at least a bit)! Thanks for showing us some of the greatest birds of Korea and providing information for the rest of our tour!
Thanks to Andreas Kim who showed us around Mokpo Marshes and gave informations about some areas along the West coast, too.