The "Magic Island"
Eocheong Island, Gunsan City, Jeollabuk Province and its Potential for Birdwatching-based Ecotourism
Written by Nial Moores, edited by Charlie Moores in 2003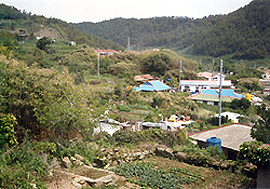 Eocheong, a small island in the Yellow Sea 70 km out from Gunsan City, has become the latest Korean birding "hot spot". Not only relatively easy to reach, Eocheong has rapidly built an international reputation for the quality of its migrant birds, and was also the first of many islands visited in Korea where villagers greeted this foreign bird researcher with a smile and a "You should be here when it rains or when its foggy…there are so many birds then: today it's so quiet!"…
In bright sunshine in April 2002, the island did indeed seem fairly quiet - but the first bird seen flying across the harbour was a Grey Thrush (a Japanese-breeding species hardly recorded in Korea before 2001), and within an hour, flocks of summer-plumaged Bramblings and various buntings had been encountered, along with the country's second ever swiftlet!
Within a week, the first foreign birding group arrived, and the island's new nickname coined: "Magic Island"- one up on China's much better known "Happy Island".
Sometimes quiet, but often spectacular (where else in the region can you see 122 species in a day?) with only a few shifts in planning approaches Eocheong island has the potential to be the leading non-wetland site in Korea for birdwatching-based ecotourism, providing multiple benefits for the islanders, birders and the birds.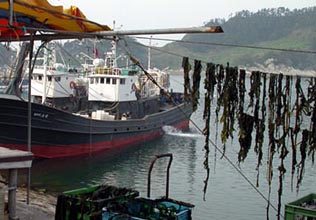 Fishing and seaweed harvesting, important industries on Eocheong. Photo © NM.
Following on from that first visit in mid-April 2002, NM spent a further 61 days counting birds and guiding on the island, in late-April, May and again from late August to the end of October 2002. Covering only the accessible part of the island, no less than 228 species were recorded in total, including 4 first records for the Korean peninsula (Ferruginous Flycatcher, Crag Martin, Rose-colored Starling and Chinese Bulbul), and at least two other species, Himalayan Swiftlet and Hume's Leaf Warbler, which have only been recorded elsewhere in Korea before on Gageo island [Details of all of these records can be found on this website go to New Species Records for Korea.].
Moreover, Eocheong's bird list contains a further 24 species classified as "Rare" and 15 classified as "Vagrant" by Lee, Koo & Park (2000), 7 threatened species listed in the Asian Threatened Bird Red Data Book (maintained by Birdlife International), and several species recorded here in higher concentrations than anywhere else nationwide.
The total of 228 species is in itself one of the highest bird lists of any similarly-sized area in Korea, only exceeded on present knowledge by Gageo island (ca 247 species), which was covered by NM and other researchers on many more dates (including in March and November) between 2000 and 2002.
Eocheong Island: location and habitats
Eocheong Island (the name is said to mean, "Wow, So Green an Island!") supports a population of ca 320 islanders and a significant military presence. It's located at 36 Degrees 06 North, and 125 Degrees 59 East, approximately 70 km west northwest of the city of Gunsan, 40 km out from the Saemangeum reclamation project on the west coast of South Korea. Although 40 km distant from the land to the east, and more than 80 km to the south, it is not as remote as some other more waiting-to-be-explored islands (especially those in the more north-western Gyeongii Bay). Indeed, it is only 15 km southwest of its nearest neighbour, being the south-westernmost of a chain of inhabited and easily accessible islands that stretch southwestwards out from the southern end of the Taean Peninsula. Critically, however, it is one of the most westerly of South Korean islands, lying about 400 km east of the Chinese mainland, but only ca 200 km southeast of the Chinese Shandong peninsula - presumably a major bird migration route in both spring and autumn. This proximity to China is well-talked about by the islanders, who say that the island used to be known to the Chinese for its chickens, whose crowing could be heard all the way across the waters of the Yellow Sea!
It seems somehow fitting therefore that Eocheong was the first place that the highly vocal (but rather more attractive) Chinese Bulbul was recorded in Korea.
Although perhaps not scenically as striking as some more southern islands, the island is still "green", and its approximately 2.5 km west-east and 2 km north-south area contains several very different and productive bird habitats, including a small freshwater reservoir and stream (ca 250 m in length); a small area of tidal-flat (less than 5 ha at lowest tide) and a sand beach; areas of overgrown allotments and fruiting trees; patches of more open grasses; and extensive areas of woodland, largely planted pine, but including a significant number of broadleaved plants.
Although hilly, with a largely rocky shoreline, the island's highest point is only 198 m: though this point is contained within a military no-access area (covering nearly 50 % of the island) a hilltop pagoda set at ca 120 m still allows for good views over much of the island.
Birding Eocheong
During guided trips a visit to Eocheong can best be combined with a few days of birding the Geum estuary and the vast Saemangeum tidal-flats.
Leaving the massive flocks of shorebirds behind, the sea crossing provides a real change of scenery, as well as close-flying Streaked Shearwaters and the odd party of Ancient Murrelet - even the occasional Pomarine Skua, a species not listed in Lee, Koo and Park.
Arriving on the island, the typical birding day will produce between 60 and 120 species in spring, and 30 and 70 species in autumn. Like other places in East Asia, many of the birds are really shy, and birders need to move quietly and carefully to get the most out of their time ….a familiarity with calls too will save much time and effort! With patience though, many birds here give better views than anywhere on the mainland.
Main habitats
The Beach and Harbour

A typical day starts in the village, with a careful check of the harbour. Although the tidal-flat is small and rather degraded (being used for ship repairs and other activities) it still supports small numbers of an excellent range of shorebirds, especially in inclement weather conditions.

In April and May, look for Red-necked Stint and Sharp-tailed Sandpiper on the main beach, and check the Egrets for the occasional Chinese. Gulls in the harbour can provide plenty of excitement too, with good numbers of the "Herring Gull Assemblage" and even the occasional Pacific Black-legged Kittiwake.
Highlights here have included both Black-faced Spoonbill and Black Stork.

The "gardens"

Behind the village are a series of semi-overgrown paths, up through areas of allotments and fruiting trees.
Thrushes can be numerous here: both in terms of species and individuals, and this is THE place in South Korea to look for Common Rosefinch. "Good" birds in these gardens have ranged from singing Red-throated Thrush and Red-billed Starling to Latham's Snipe and Chinese Bulbul.

Coming down past the island's school (checking the trees for flycatchers [this is where Korea's first Ferruginous Flycatcher was found] and Bramblings) the next essential stop is the stream.

The stream

The stream runs up the center of the "central valley", and although small and "dirty" it is exceptional for big numbers of buntings (with flocks of Tristram's and Yellow-broweds in spring, and as many as 200-300 Black-faced, Chestnut and Rustics in October 2002 for example), as well as hosting several Ruddy and Baillon's Crake, Purple Heron, White-breasted Waterhen and even a female Baikal Teal for several days!

It leads to an area of in-use allotments, that were excellent for Hoopoe in early spring, Siberian Stonechats and Siberian Rubythroats, and a few good pipits including both Blyths and Eurasian Tree - the latter has ocurred just a handful of times in Korea.
The open area next to the stream is also excellent for pipits and buntings when not disturbed by building activities, and even held Little Whimbrel and Oriental Pratincole.

The reservoir

Climbing the hill up towards the pagoda, the reservoir is another good place for birds. Dry in spring and full in winter, this was a great place to witness warblers moving across the island in spring (one day saw probably 100 Eastern Crowned Warblers pass through in only an hour…), as well as a few shorebirds and ducks in autumn…up to 10 Black-crowned Night Herons are present here much of the year.

The pagoda and hilltop

Although the pagoda is not the highest point of the island (that lies within a military area), it is still a great place to count raptors on good days (typically when visibility is very high).
Spring is excellent for arrivals of small flocks of Chinese Sparrowhawk and for movements of other species including White-throated Needletail (over 300 in one day at maximum). This is also apparently THE place to see swiftlets in the Yellow Sea. At least one was identified as Himalayan, but others perhaps could be the so-called Beidaihe Swiftlet.
While autumn is less predictable, other good birds have included near daily Crested Honey Buzzard, and records of Greater Spotted Eagle, Upland Buzzard and Black Stork.

The road

Moving down the hill, the excellent area of open forest supports good numbers of buntings and thrushes. Tristram's Bunting and Red-flanked Bluetail are numerous in season, as are Broad-billed Roller and flycatchers.

The lighthouse

At the end of the track (the last section unpaved and great for birds), is the lighthouse, an area apparently dreamt up by a birder - open grassy patches, clumps of trees and low scrub, with a stream trickling down to the sea!

Although seawatching has not really proved productive (best sightings being occasional Streaked Shearwater flocks, Swinhoe's Storm Petrel and groups of Finless Porpoise), this can be a great area to watch migrants moving out to sea, especially in autumn. Rarities seen here include Korea's first Rose-coloured Starling, a Rufous-bellied Woodpecker apparently coming in off the sea, flocks of Chestnut-flanked White-eyes etc etc. Spring was less rewarding here, but still included a Little Whimbrel down to 1 m, and Korea's first Crag Martin!

Eocheong: the future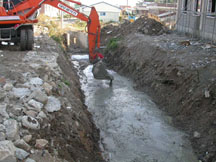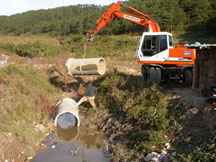 Following the success of the spring tour and the survey work in 2002 an increasing number of birders are mailing us for information on the island. Several of the islanders too have expressed a real interest in encouraging birdwatching tourists to their island. They already boast that there is no hunting on the island, and that people do not use pesticides in their vegetable plots.
However, several significant threats to the birds' habitats remain, and it is essential that ways are found to benefit the islanders' through habitat and bird conservation.
At present the major threat involves the complete concreting of the stream, from the village to the reservoir.
This will remove the only shallow, vegetated wetland on the island. We would like to propose maintaining the stream, and even extending it, to create a greater area of wetland habitat.
Further threats include building a road around the beach; changing parts of the harbour floor from mud to stone; concreting of the road all the way to the lighthouse; and general progression of vegetation in open areas making access difficult and reducing significantly the potential areas for larks and pipits.
Bird Gallery
Eocheong is a superb place for both common and rare birds: the following images were all taken on the island during survey work by NM in September and October 2002.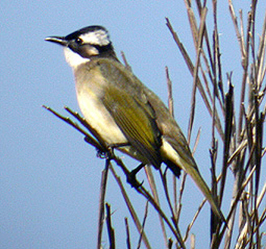 Chinese Bulbul, Eocheong. Photo © NM
One of FOUR "firsts" for Korea found on Eocheong in 2002, Chinese Bulbuls have spread eastwards in the last few years, and perhaps more will be found on outlying islands in the coming months.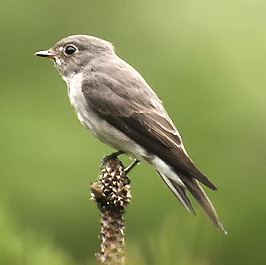 Dark-sided Flycatcher, Eocheong. Photo © Nial MOORES. 8 species of flycatcher are regular on the island - and many will give excellent views if a little care is taken.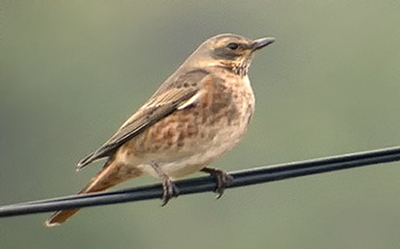 Naumann's Thrush, Eocheong. Photo © NM
Less numerous than Duskys (which peaked at 100+ in the gardens in April 2002), naumanni are still regular, and often fairly confiding here.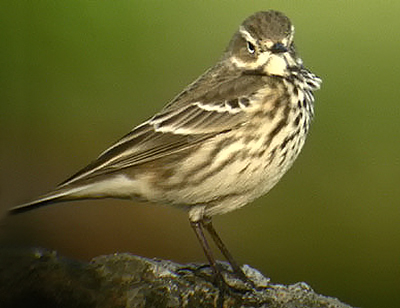 japonicus Buff-bellied Pipit, Eocheong. Photo © NM. A common late autumn and early spring migrant to Korea, these pipits can be very confiding in the harbour and on open ground next to the stream.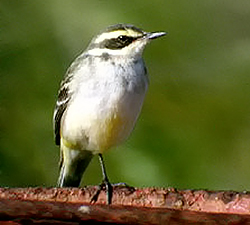 Autumn taivana Yellow Wagtail, Eocheong.
Photo © Nial MOORES.
Of the several flava subspecies, the far east nesting taivana is amongst the most attractive and regular on the island.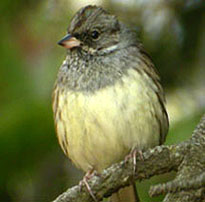 Black-faced Bunting, Oct., Eocheong.
Photo © Nial MOORES.
Black-faced Buntings are the commonest bunting in early spring and much of the autumn: this is a bright-plumaged male spodocephala, very well-marked for mid-October.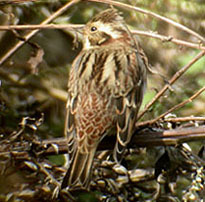 Rustic Buntings, Oct., Eocheong.
Photo © Nial MOORES.
Rustic Buntings are a late autumn and early spring migrant and a very common winter visitor to South Korea: about 80 were in the "stream" by the end of October.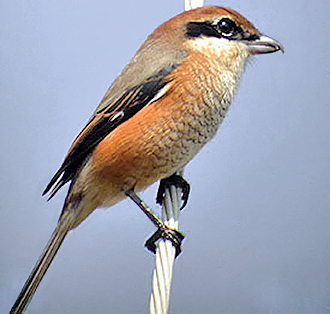 Male Bull-headed Shrike, Eocheong. Photo © Nial MOORES.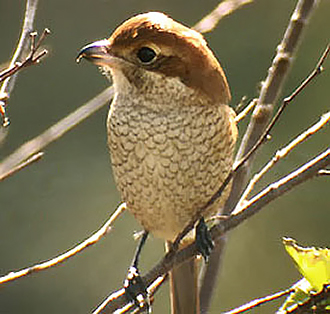 Female Bull-headed Shrike, Eocheong. Photo © Nial MOORES.
South Korea's and Eocheong's commonest shrike, there are probably 2-3 pairs nesting on the island.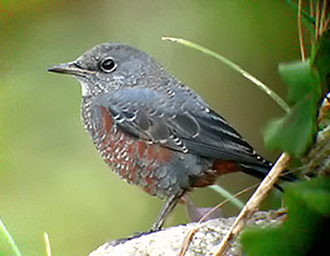 Male Blue Rock Thrush, Eocheong. Photo © Nial MOORES. Males of the philippensis subspecies are strikingly different from those of other subspecies. Almost exclusively a summer visitor to Korea, 2-3 pairs appear to breed on Eocheong, their number further swollen by migrants.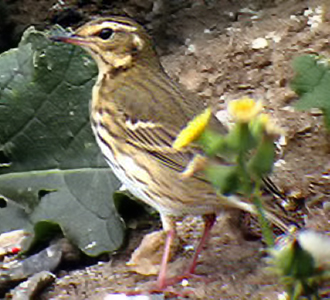 Olive-backed Pipit, October, Eocheong. Photo © Nial MOORES. A numerous species on migration throughout the peninsula, a record-breaking 3 000 plus were recorded on one day on Eocheong in spring.
Data and records (and many more images) from Nial's first guided trip to Eocheong and his survey work in the autumn are already on this site, and can be found on the following pages:
Latest News April 2002, Latest News May 2002, Latest News September 2002, Latest News October 2002
Update (08 May 03)
Nial Moores has been surveying Eocheong in spring 2003, arriving in mid-April and remaining for almost a month.
We will be writing an article on the superb species seen on this visit, but in the meantime we've posted here some of the best images taken by Nial so far...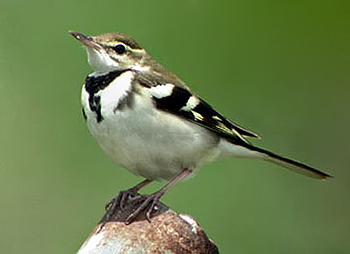 Forest Wagtail, Photo © NM
Yellow-rumped Flycatcher, Photo © NM
Eastern Crowned Warbler, Photo © NM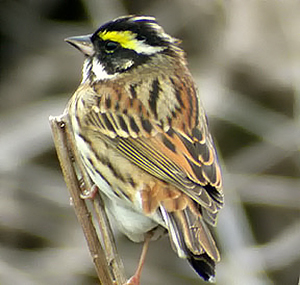 Yellow-browed Bunting, Photo © NM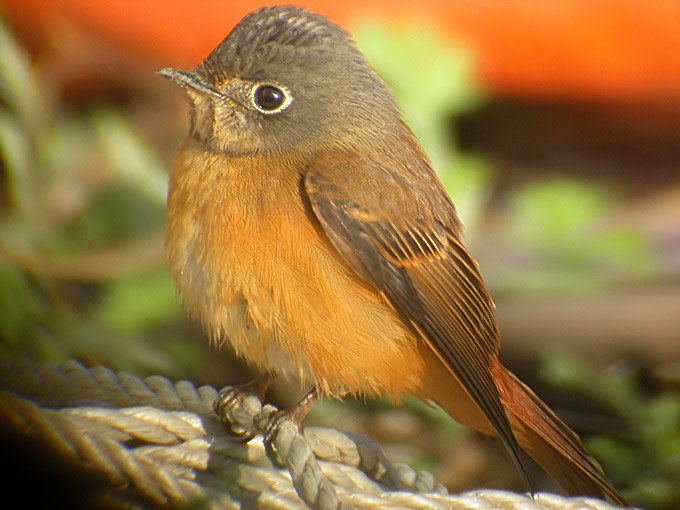 Ferruginous Flycatcher, Photo © NM
Additionally, daily records are already on the site at:
Latest News April, Latest Bird News